Canon has recently launched its two new DSLR cameras namely Canon Eos R7 and R10. These cameras are a little bit different from Canon's other Eos R series models because they come with ABS-C sensors.  
R10 is an entry-level model and is good for those travelers and lifestyle vloggers who need a powerful performance on a budget while R7 comes with some high-end specs and is good for nature and wildlife photographers. 
If you want to use these amazing cameras for a long time you need a sturdy, compact, comfortable, and feature-rich camera bag that not only looks great but also keeps your cameras, lenses, and other accessories secure. 
Before we jump into the recommendations lets, have a look at the R7 & R10 dimensions and weight to choose a camera bag that fits perfectly and holds tightly our expensive cameras. 
R7 & R10 Dimension, Size, And Weight Comparison Chart
Don't be confused with their numbering. In terms of dimension and weight R7 is larger and heavier than the R10.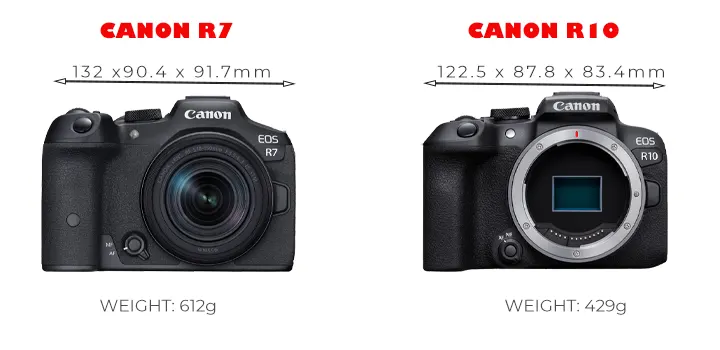 How To Choose The Right Camera Bag & Backpack For R7 & R10?
After buying expensive gadgets like a DSLR camera, the next thing is to ensure their security during travel. Here, handy and feature-rich camera bags make your day. 
Choosing a camera bag also depends on what type of user you are. Do you like a camera backpack, sling bag, or a cross-body, and how much camera gear do you need to travel with most frequently. 
Have a look at what is my consideration for choosing the right camera bag for Canon R7 and R10.
It must be compact.
Lightweight.
Sturdy and durable.
Has enough room to hold all of my needy camera gear.
Should not be expensive (Under $200).
Provide at least two to three different ways to carry around on my body. 
Comes with padded and thoughtfully designed dividers, and proper bottom support to secure the camera and lenses. 
A camera bag or a backpack that provides a snug fit to my R7 & R10 is preferable. 
The market has numerous choices of different camera bags from tons of different brands. Choosing one that can match your requirement and justify its price is really a tricky task.  This is why I'm here.
As per my years of experience, and after researching the current market for all the best possible options for you, I've listed the 7 Best Canon R7 & R10 Camera Bags And Backpacks that are compact, lightweight, roomy, and come with proper bottom support to protect your camera.  
So without further ado…
Let's get started.
7 Best Canon Eos R7 & R10 Camera Bags & Backpacks 2022
1. Best Camara Backpack For Canon R7 & R10 From Tenba Store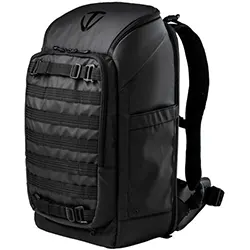 Features
Dimensions: 9.5 x 12.5 x 20.25
Weight: 1.5 pounds
Colors: Black
Capacity: 20L, 24L, 32L
Pros
Made of high-quality material having a waterproof front and rugged design.
Can hold R7 and R10 with 5 to 7 lenses (20L model) up to 300mm f2.8, DJI drone, etc.  
Padded and customizable touch fasten dividers that can be removed when needed.
Dedicated tripod holder at the front. 
Three different places for easy-to-access camera and lens. 
Reflective molle system to carry additional gear without altering the main compartment. 
Nice padded laptop sleeve which does take extra space of its main compartment if you don't carry a laptop.
Fully adjustable and air mesh shoulder straps for extra comfort. 
Cons
Its side water bottle pockets are small in size.
Expensive
If you are looking for the best outdoor camera bag to carry your R7 or R10 safe and secure with easily accessible pockets then this is Tenba Axis. 
The backpack is best for outdoor photography or videography. You can explore wildlife, and enjoy outdoor hiking, and wild camping with this backpack without compromising the space and comfort. 
The backpack comes with a rugged construction body having thick material outside. Its front is coated with a high-quality hydrophobic material that repels water very well. Whether you are shooting near a waterfall or stream you don't need to worry about the safety of your gear. Just put the bag and give it a shake and all the water vapors are just gone. 
The bag comes with a fully adjustable torso length, which is really helpful to achieve the desired fit if you are struggling to achieve a perfect fit for most of the bags. The shoulder straps feel soft and have an air mesh design for better breathability. Its hip belt is removable and good to support the overall weight of the backpack. 
You don't face any problem carrying R7 and R10 in its main compartment. It has padded, touch fastened, and fully adjustable dividers. You can adjust them according to the size of your DSLR.  
You can access its main compartment by using its rear zippered panel. I think this is a perfect design to access all of the gear at one time.
The bags that have a front opening just far from the straps have some problems when you set the bag down from the strap side on a muddy and wet surface to access gear from the main compartment. It makes the back of your backpack and shoulder straps wet and dirty. This is not the case with this backpack. 
The backpack doesn't have too many confusing compartments. It has one main camera and lens compartment, main compartment opening has a thick padded laptop sleeve (up to 15") and a front zipper pocket with several small organization pockets. 
The backpack has three different ways to access your gear, from the top, side, and rear. Top and side access pockets allow you to access your camera and lens without taking off the backpack. 
I loved its molle system which is spread across the front and side of the backpack. You can use them to attach different sizes of pouches to carry extra gear like memory cards, hard drives, phones, pens, lens covers, etc.
Overall a nice camera bag that has a water shield front, a comfortable and breathable back panel with adjustable shoulder straps, and a fully functional design. 
2. Mindshift Photo Backpack For Canon Eos R7 And R10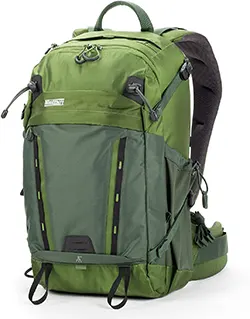 Features
Material: 420D velocity and high-density nylon
Dimensions: 19.49 x 12.24 x 10.87 inches
Weight: 3.5 pounds
Capacity: 18L
Color: Available in three colors
Pros
Highly durable backpack with water resistance outer body.
Top and rear panel access without taking off the backpack. 
Dedicated laptop and tablet compartment. 
Air mesh back panel with lumbar support. 
Large size side water bottle pockets.
Various loops, daisy chains, and lashing points make it possible to tote extra gear on its body. 
A seamed seal rain cover is included. 
5l front compartment to carry personal gear. 
Cons
Expensive
Molle system is missing.
Only two ways of accessibility
The second camera backpack in this list is from Mindshift. The backpack is for those photographers and videographers who have to carry their laptops, and tablets all the time in their backpack. The backpack is good for hiking, skiing, and mountaineering with your R7 or R10. 
The backpack comes with two distinct features which make it different from the Tenba Axis.
It has a wide-opening rear panel compartment to access all of your camera gear without taking off the backpack. 
It has dedicated pockets for your laptop and tablet. 
Large side water bottle pockets. 
The backpack is made of 420D velocity and high-density nylon which is known for its long-lasting durability and strength. The body of this backpack is water resistant and a seamed seal rain cover is included for full waterproofing. 
The main compartment of this backpack has enough room for a standard size DSLR like R7 or R10, 2 to 3 lenses, a mirrorless camera, a flash, etc.  To ensure that your R7, R10, and lenses fit snug and tight it has touch-fastening dividers. 
It has dedicated pockets at the front for a laptop and tablet in which you can carry up to 13″ laptop and 10″ tablet safe and secure. 
The main compartment can be accessed from the top and rear panel. The good thing about this backpack is that you don't need to take it off to access its rear panel. This is a good feature especially if you are in a muddy, dirty, and wet location. 
It has big side water bottle pockets which can also be used to carry a tripod. You can also attach a tripod at the front using its monopod mounting system. It has various loops, lashes points, and daisy chains to attach additional gear outside of the backpack. 
Overall the backpack from Mindshift is a perfect choice for outdoor shooting. The size of the backpack is allowed as a carry-on bag on most airlines. 
3. Lowpro ProTactic Camera Bag For Canon R7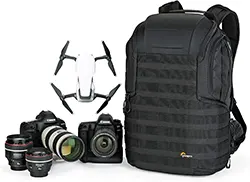 Features
Material: 900D Polyester Fabric
Dimensions: 30 x 16 x 44 cm
Weight: 2.84 kg/5.72 lbs
Capacity: 25L
Color: Black 
Pros
A fully functional and practical Camera bag for R7 and R10 users.
Slip lock webbing loops with 50 attachment points to carry a tripod and other gear with ease.
Sturdy and quiet zippers.
4 different access points.
Build in an all-weather AW cover to protect your camera and other gear from rain. 
Cons
Front U shape opening makes your backpack back panel and shoulder straps dirty and wet if the ground is wet and dirty.
Left and right access points may puzzle you about which gear is there.
If you are looking for a durable, lightweight, and feature-rich camera bag for Canon R7 or R10 for under $200 then look no further than Lowpro ProTactic. 
The design and the material of this backpack make it highly durable, thanks to the lightweight composite shell material. A backpack in which you are going to throw your expensive gear must have an impact-resistant body. 
The backpack is designed by using Foamshell Technology which makes it impact resistant. The main compartment of this backpack is opened using a large U shape zipper at the front.  
I personally don't like the front opening in a camera backpack because every time when you take your backpack off, you need to put it down from the back panel and shoulder straps.

The problem is, back panel and shoulder straps become dirty, muddy, and wet if the surface is wet and is full of debris. 
Its main compartment is large enough to carry:
Canon R7 or R10 with 2 extra lenses. 
Up to 15″ laptop in its CradleFit Pocket.
R7 or R10 batteries.
360° camera.
GoPro Hero 5 & Mavic Pro with 3 batteries and charger.
Drone controller.
Bunch of memory cards and readers.
Slip lock webbing loops with 50 attachment points at the front with slip lock attachments.  
The price of this camera backpack is reasonable and the level of security and the number of features it offers are totally worth it. The backpack has a front U-shaped opening, if you don't want to use it then there are 3 more different places from which you can access its main compartment which are 
Top
Left 
Right
The back panel is designed using Molded EVA to maximize breathability and comfort. It has a detachable hip belt which provides support when your backpack is stuffed. 
This could be the one choice for those photographers and videographers who want a functional backpack at a very reasonable price range. 
4. Lowpro Top Loader Compact And Lightweight Camera Bag For R7 & R10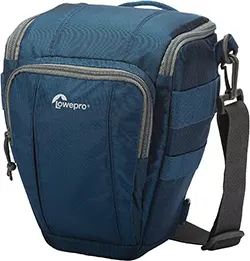 Features
Material: 900D Polyester Fabric
Dimensions: 30 x 16 x 44 cm
Weight: 2.84 kg/5.72 lbs
Capacity: 25L
Color: Black 
Pros
A stylish and compact camera bag for Canon 90D with great built quality.
The all-weather rain cover is attached at the bottom.
Sturdy and quiet zippers.
Lightweight and easy to carry around.
Nice grab handle.
Cons
It would be better to provide false bottom support.
Sometimes I don't want to travel with a bulky and heavy backpack to carry my camera. I want something small, compact, and a lightweight camera bag that is very handy to move around with my DSLR camera. 
If you are also looking for the same camera bag as I am, then have a look at Lowpro Top Loader. The camera bag is compact, lightweight, and available in 3 sizes and 2 colors. 
It looks small but has enough space to carry your camera along with some other gear such as an SD card, filter, etc. The main compartment can carry Canon R10 or R7 with 24-70mm F2.8 or 24-105mm lenses attached. 
I personally like its thick bottom which is good enough to protect your R7 or R10 and lenses from small bumps. 
You can adjust its shoulder straps as per your need and they are detachable if needed. You can carry it in multiple ways such as
By using a built-in belt loop.
With Top Load Chest Harness
Crossbody
The camera bag comes with a weather protection cover. Overall a value-for-money camera bag for Canon R7 and R10. 
5. A Stylish Camera Bag For Canon R10 And R7 From Peak Design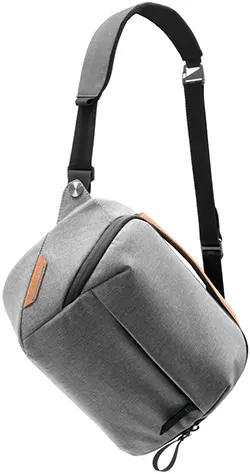 Features
Dimentions: 12.2 x 4.33 x 7.48 inches
Weight: 1.2 pounds
Color: Grey
Material:  400D Nylon Canvas Shell
Pros
Different carrying options Cross-body sling, Fanny pack, and Waist bag carry.
Comes with a protective tablet sleeve.
Zippers with rubber coating prevent intrusion of water vapor inside pretty well.
Comes with a lifetime warranty.
If you want to look stylish with your camera on your body, without losing the functionality of a camera then have a look at PeakDesign. 
The camera bag looks very stylish due to its design and minimalistic look. This is the best choice for street photography.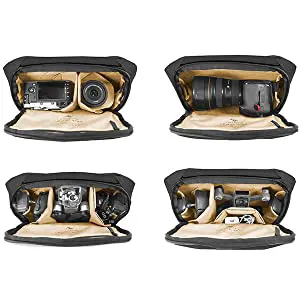 You can carry R7 with the lens attached or separate. Its main compartment has enough room for:
R7 Or R10 + 1-2 lenses.
DJI Mavic or Spark Drone + Controller, batteries, charger.
Full frame DSLR + lens.
A padded tablet sleeve ( up to 11″)
I really love the space of its zipper flap pocket. It has several small organizer pockets for memory cards, lens covers, cords, batteries, etc. Its waterproof zippers make it easy to access the main compartment without taking the camera bag off. 
Overall a Fast, Light, and Damm Cool camera bag with the top-notch built quality and a lifetime warranty. 
6. Best Budget Camera Bag For R7 & R10 From Bagsmart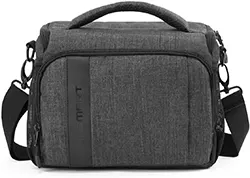 Features
Dimensions: 25 x 13 x 19 cm
Weight: 1 pound
Material: Water repellent and rugged polyester
Not every photographer is willing to spend more than $100 on a camera bag. If you are a videographer then I've something for you in your tight budget. 
The camera bag from Bagsmart is not only cheap but also functional. Where other brands give space for cameras and don't take care of other gear, Bagsmart has significant space for everything I have mentioned so far.
Its build quality is not like some top brands like LowPro, Mindshift, and Tenba but it can protect your camera and other gear. 
I found the internal padding of this camera bag is thin as compared to other camera bags, but this sacrifice provides more space for other gears in its internal compartment. 
Pros
Two elastic water bottle pockets that can fit my Nalgene water bottle perfectly.
Roomy camera bag which has large pockets at its front and back. A large lid pocket, good to carry cords and other gear.
The rain cover can cover the full bag, which is missing in Lowepro.
Cons
Looping the rain cover through the opening required frequent clipping and unclipping of the shoulder strap.
Quick zipper on the top is missing for easy opening and closing.
7.  Best Sling Bag For Canon R7 From Caden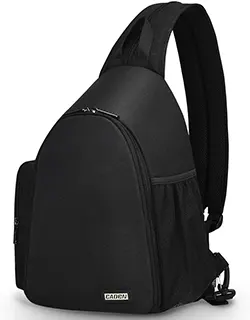 Features
Dimensions: 13 x 9 x 5 inches
Weight: 0.6 kg
Color: Black
Material: Nylon.
1 Year of Warranty
Pros
A perfect accessory bag to carry your Canon R7 or R10 + battery grip.
Sturdy and lightweight sling camera bag for your DSLR.
Water resistance body.
Carry as a sling bag or as a backpack.
Plenty of space for one DSLR, 3 lenses, and other accessories.
Front zipper opening for quick access to your camera.
Cons
Might be big for those who want to carry only a single camera with lens and battery grip attached.
Most photographers need a camera bag in which they can put their camera with a battery grip attached. This is a versatile camera bag that can be carried as a backpack, and as a shoulder bag. 
Nylon + water resistance coating over its body makes it water resistant and can bear drizzling rain without any problem, but you have to throw it in a rain cover for heavy rainy days.
The camera bag is spacious that can fit R7, R10, 90D, 80D, and other similar size DSLRs without any problem. 
You can carry your phone and power bank in a separate pocket. Side mesh pockets are good to carry water bottles, umbrellas, etc.
Its main compartment has thick padded dividers, which can be adjustable to get a snug fit for your camera and lenses. Dividers are designed very well and are capable of safe our expensive camera, and lenses from small bumps. 
It has two shrinkable straps at the bottom to attach a tripod. You can access its main compartment through its front zipper opening. 
Overall a nice sling bag for R10 and R7 that is spacious, versatile, and water resistant. 
Conclusion
Canon R10 and R7 are recently launched to attract budget photographers, and every camera buyer wants to protect his expensive camera and lenses during traveling. 
There is no big difference between R10 and R7. R10 is smaller and lighter in weight than R7. R7 is almost double in price as the R10. The performance of the R7 is also better than the R10. 
Whichever DSLR camera you own having a durable, water resistant, compact, and functional camera bag is a must. I've listed some best camera bags available in the market right now. You can also check out them in this article.
Ans: It totally depends on the nature of using a camera. Are you a traveler, wildlife photographer, or street photographer? For every activity, you need a different camera bag that can protect your expensive gear and provide easy accessibility. 
If you are a traveler then you must have a roomy camera bag, a camera backpack. I personally love to carry a backpack to haul my camera and accessories. 
Ans: The more money you spend, the more features, better build quality, and comfort you'll get. A good camera bag with all the needy features and decent build quality will cost you around $200 and more. 
Ans: A camera bag that can carry all the needy gear comfortably and safely is the main criteria for choosing a camera bag for DSLR like R7 & R10.  
Some needy camera gear that I personally like to carry in my bag are:
Canon R7 or 10
Some batteries
Lenses 28-70
Wide angle lense for R7
Go-Pro with floating handle, Remote, Tripod.
Charging cord, power bank, phone.
SD cards