Backcountry skiing is one of the most adventurous sports that a backpacker wants to experience in his life.
A backpack that you want to buy for backcountry skiing must have dedicated pockets for goggles, avalanche gears, and also well-made straps to carry a snowboard. 
Heaving proper gears for your backcountry skiing or mounting journey make your experience way better without facing any bad experience. 
Choosing a backpack that could help in surviving tough weather conditions and carrying all the essential skiing gear: Water, foodstuff, snowboard, snowshoes, and extra safety avalanche gear properly is not an easy task.
But don't worry we are here to do all the manual tiresome research for you.
In this article, you will find the best backpack for your backcountry skiing and mountain journey that comes with proper safety features.
A proper buying guide that can help you figure out the best backpack on your own for your next adventurous winter trip.
So without further delay let's get started…
Recommended Top 3 Backcountry Skiing Backpack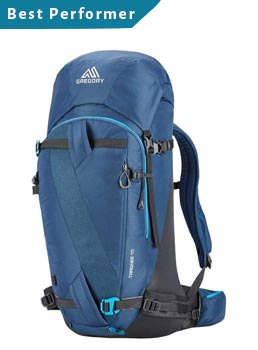 A spacious backpack that organizes skiing gears properly.
The 50L capacity make it little bit heavy.
Weight: 3 lbs.11 oz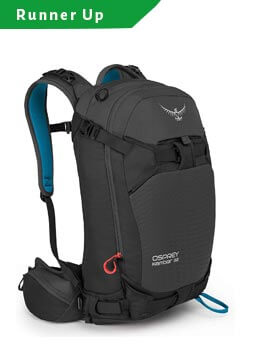 Spacious high quality build.
Scratch-free goggle pocket.
Well, organizer of ski, snowboard & snowshoes.
Weight: 3.22 lbs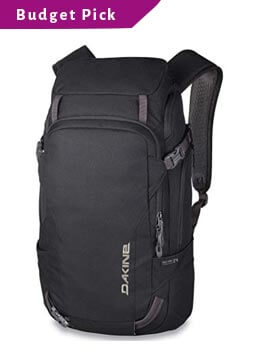 Lightweight and compact.
Budget-friendly.
Not good for a long trip.
Weight: 1lbs.90z
Best Backpack For Backcountry Skiing Review And Buying Guide
1. Osprey Kamber 32 Men Ski  Backpack Review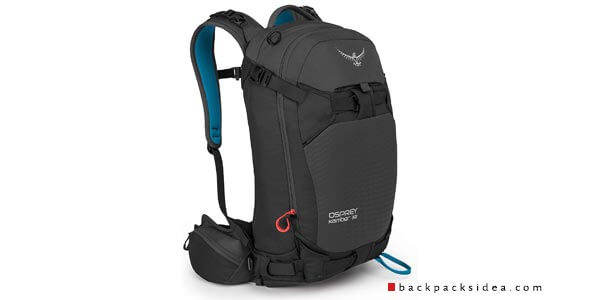 Its Features
Scratch-free goggle pocket.
Diagonal ski carry.
Verticle snowboard & snowshoes carry.
Ice tool attachments.
Insulated hydration.
Stowaway helmet carry.
The first cross-country ski bag for travel on this list is from a well-known backpack manufacturer Osprey. This midsize backpack is perfect for backcountry skiing and comes with lots of essential features.
Let's check out…
Carrying of ski frame is very easy with this backpack as it provides two ways. You can carry your ski diagonally by using its upper and lower reinforce carry wings that provide a comfortable and secure grip. 
You can also carry skiing with an A-frame style by using its lower loop and upper strap also it has some ice tool attachments to carry skiing gear safely and with comfort.
If you are looking for a snowboard bag with backpack straps then the Osprey backpack comes with a dual front panel Hyplon that makes it simple and comfortable to carry your snowboard and snowshoes vertically.
This is also very convenient to carry your helmet by using a stowaway helmet carry pocket. The backpack comes with a hydration pack for your long skiing adventure trip.
2. Gregory Targhee 45L Alpine Backpack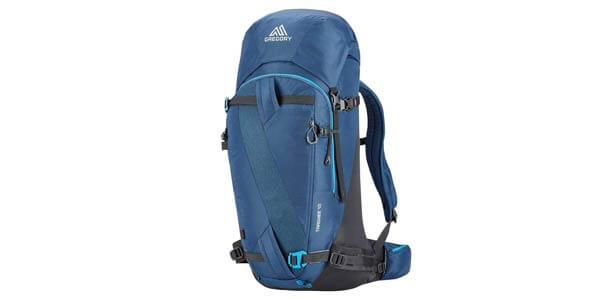 Its Features
Available in 2 colors.
Material: 1000D Cordura fabric for protection against the metal edge.
The main compartment is accessible from the back panel.
HDPE frame sheet for proper weight management and well-padded sleeves.
A-frame and front diagonal ski carry.
Weight: 3 lbs, 11 oz
I love its front pocket which is made with high-quality 1000D Cordula material that provides protection against the metal edge. The tool attachment bungees are made with aluminum which is lightweight and durable.
For carrying a skiboard and snowboard, its front can be used to put them in either vertical or A-frame style.  
The backpack is roomy as its main compartment can be accessed through its back panel. you can put your ski clothes, helmet, goggles, gloves, and other essentials securely.
The snow safety upper zipper pocket is spacious. Its hip belt also carries a zipper side pocket that can be used to carry mobile and other small gear.
The backpack from Gregory features a durable and roomy compartment with snow resistance zipper pockets that make it perfect for backcountry skiing. This is one of the best ski mountaineering packs in 2023. 
3.
Dakine Heli Pro 24 Liter Snowboard And Ski Backpack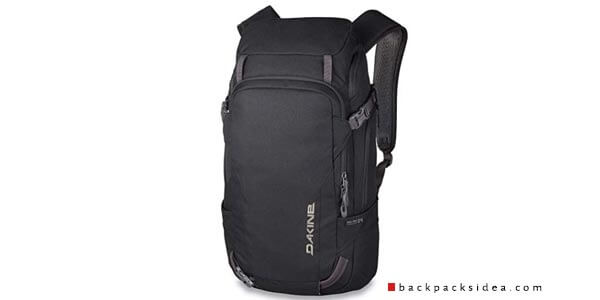 Its Features
Verticle snowboard carry.
Diagonally/A-frame Ski carry.
Fleece-lined google pocket.
Helmet attachment front loop.
Material: 600D polyester 
Weight: 2lbs.
The third cross-country ski backpack is from Dakine. The company was established in 1970 and it has a wide range of backpacks from 12L to 30L especially keeping in mind the needs of skiers. 
It has enough room for carrying your goggles scratch-free also it has room to carry 2 extra swap-able lenses. Due to its lightweight, it could be a good backpack for snowboarding.
The backpack provides very convenient accessibility. It has a hydration pocket with an internal insulated sleeve at the left shoulder strap. Its top load zipper really helpful to access the main compartment without packing off.
You can carry 2 pairs of skis with this backpack. one pair is vertical and the other pair is A-frame style. The backpack comes with a number of adjustable straps that can be adjusted as per body shape.
You can carry some snow tools and shovels by using its front access pocket. you can clean your dirty backpack by hand wash and rubbing it with a soft brush also you can throw it in a front load washing machine.
If you want a snowboard backpack with hydration then this could be the right choice for you.
4.
Wildhorn Brimhall Ski Boot Bag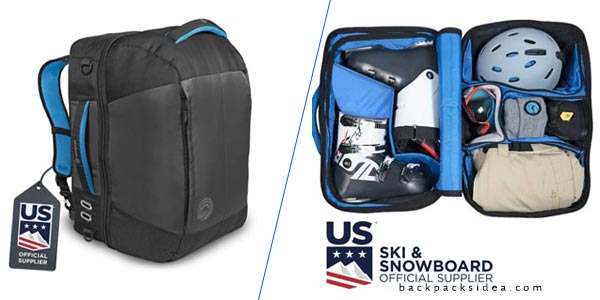 Its Features
3 Ways to carry.
5 separate storage compartments.
Material: 420D Nylon & 210D polyester water resistance.
Properly ventilated Ski boot compartment.
Wildhorn is a US-based company that provides ski and snowboard-related high-quality products to the Ski & snowboard teams.
The backpack is designed in such a manner that can hold all the essential ski gears well organized especially your snow boot.
It has a separate compartment to carry your snow boot and this compartment is well ventilated that releases water outside and keeps away bad odor from the snow boot.
The ski boot bag is made of high-quality material as its outer shell & base are made of a water resistance 420D nylon and the inner part is made of  210D polyester that is also waterproof. 
It has well-made 5 separate compartments to carry your ski gear such as your helmet, ski goggles, socks, ski wear, etc.
You can carry it in 3 ways. you can carry it as a shoulder bag, carry it with your hand using the handle, and as a backpack.
5.
Unigear Ski boot, Ski and Snowboard Backpack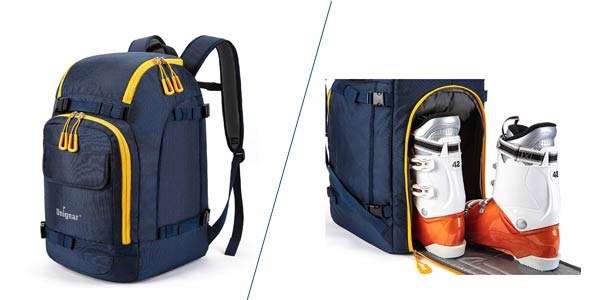 Its Features
Waterproof and durable Made with tarpaulin and 1050D nylon.
Have separate compartments for each gear with 50L capacity.
Dimentions:11.8 x 12.6 x 19.7 inches
Best for carrying snowboard, ski helmet, goggles, snowboot & other accessories.
The backpack is perfect for carrying each and every ski accessory with its 50L of capacity.
The backpack is made of high-quality material which is a combination of tarpaulin and 1050D nylon that is highly durable and water-resistant.
The backpack is well padded to keep each gear secure and safe and its waterproof base also has low-temperature resistance that prevents the snow to soak inside it.
Its back panel is well padded which prevents nudging the snowboot into your back. This is such a backpack that holds a snowboard securely.
The backpack is roomy that can carry your ski boots of sizes up to 12.5 inches and 3 separate compartments for helmets, goggles, and other ski gear. 
Don't bother about your skis and snowboard as its external adjustable webbing can hold them securely. You can change your snow boot to keep your feet dry simply by its back panel.
Overall the backpack from Unigear makes it simple to carry your bulky snow boots and other essentials. 
6. Thul Roundtrip Ski & Snowboard Boot Backpack
Its Features
Available in 5 colors combination.
Rear loading compartment to carry snowboot.
Top and front access for ski gears like helmet, goggles, etc.
Special soft pocket for smartphone, sunglasses. 
Well-padded shoulder straps, easy to carry.
Thul backpacks are designed to keep your ski gear well organized in their premium and durable body. The cross-country skiing backpack from Thul is perfect for all age groups.
Let's check its features:
The backpack comes in 5 colors combination and is made with a high-quality water-resistance material. 
The back panel snowboot pocket is well made. You can put your snowboot here and can access them easily. It has a convenient flap in which you can put your bear & dry feet on to change the boots.
Its Top protective pocket is useful to hold your goggles, sunglasses, phone, and other small items. Its side pocket has enough space to carry gloves and other accessories.
After the whole day of skiing, you can carry your skiboard onto either side of this backpack.
7. Zipline Waterproof Skiing & Snowboarding Backpack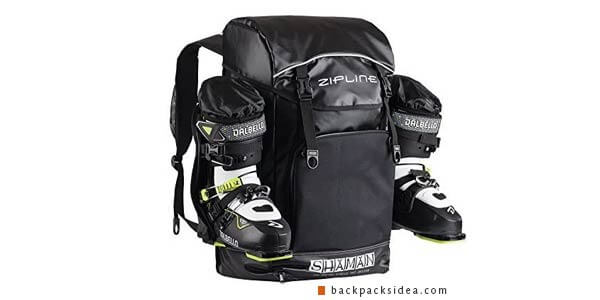 Its Features
Available in 4 vibrant colors.
Vinyltek waterproof material.
Ipad and laptop sleeve.
Spacious internal compartment with a waterproof zipper.
If you want a perfect skiing backpack that is not only durable but also waterproof then Zipline skiing and snowboard backpack could one choice for you. 
The backpack is made with high-quality vinyl teak material that provides a waterproof outer surface and its internal main compartment zippers are also waterproof, this is a very important feature that this bag offer.
The backpack comes in 4 vibrant colors so choose the best one that best suits your outfit.
The roomy internal main compartment has a separate sleeve to carry an iPad and a MacBook this is also a good feature for those bloggers who make videos. 
It has outside webbing to hold the snowboot which is also a good arrangement to provide a spacious internal space to carry extra ski gear.
No doubt the build quality of this backpack is good and it has some extra features that no other backpack on this list can provide.
How to choose the best backcountry skiing backpack?
Having a perfect backcountry backpack for your skiing trip is most important because without proper gear you face so many difficulties while touring the mountain at a very low temperature.
This buying guide will help you to figure out your need and according to your need, you will be able to choose the right backcountry skiing backpack on your own.
So let's get started…
 Size
The size of the backpack totally depends on what is your need. 
Men's needs and women's needs are different. some guys want a lightweight skiing backpack that will be helpful to go fast on the other hand women to need a backpack that is spacious to carry some books, a laptop, and other needy things.
On average, the volume of a backcountry ski backpack should be between 20L to 40L. A 25L backpack is good for a day of hiking and short bike riding. 
A backpack between the sizes 40 to 50L is good for a week-long trip.
What should I pack for backcountry skiing?
It depends on the person to person what they want to carry with their backcountry skiing backpack. 
We have listed the 10 most essential things that must carry in your backpack.
A snow shovels to clear the path that is stuck with snow.
Avalaunch safety equipment.
Navigation gear like a compass, map, GPS, etc.
To keep your skin moist a moisturizing cream and a sun cream.
Helmet and goggles for comfortable and safe skiing.
A first aid kit to deal with any kind of injury.
Some food containers to keep foodstuff for your trip.
To keep warm yourself some winter resistance clothes like a jacket, gloves, etc.
Water bottle and a hydration reservoir that is insulated to prevent it from being frozen.
For the night some shelter gear like a tent, bevy, or sleeping bag and some flashlight equipment to tackle the low light situation.
Do you need special boots for backcountry skiing?
The cross-country snow boot should be flexible and for turning and stopping it also has the capability to be torsional. 
It is also nice having a lace cover or gaiters attaching rings in a snowboot to protect the feet to become wet from the snow that inserts inside it.
The weight of a racing snow boot should be light and to perform proper motion it must have lower cuffs.
Some metal edge touring skiing boots are stiffer and perform well in turning. Some boots are designed to perform classic skiing and skate skiing. These are also known as combi boots and to perform well in both types of skiing they come with some special features.
How do you pack a backcountry ski backpack?
It is very important to pack your backcountry skiing backpack properly before starting the tour.
A well-packed backpack allows you to ski and maintain comfort and make your tour enjoyable no matter how much weight you carry with your backpack.
The first thing is that use the bottom part of your skiing backpack to carry those items which you don't frequently use during your trip like a headlamp, extra layers, repair kit, etc.
The midpart is the most important part of your backpack that is capable to manage the overall weight of your backpack. Put some heavy items in this section like water, gloves, sun hat, etc.
You'll access most often this section from your backcountry skiing trip. You can put some neediest things in this section like goggles, foodstuff, sweaters, etc.
Also, a skiing backpack comes with a separate compartment to carry your snowboot and in some cases, it can be accessible from the back panel of the backpack.
For other snow gear like snow ax, helmet, snowboard, and skiboard it has several buggies and straps outside to hang them properly.
How dangerous is backcountry skiing?
No matter how expert you are, there are always chances to cause an accident or face some dangerous situation while touring backcountry skiing. 
You have to prepare yourself before going into the field as without taking proper knowledge you just simply throw yourself into the risk.
Take proper avalanche lessons on per daily basis from either any skilled trainer or follow online videos to gain the knowledge to avoid any risky situation.
You must carry a beacon, and some snow gear like a snow ax, shovel, and prob and also gain proper knowledge about how to use them properly.
How do I prepare for backcountry skiing?
Without any earlier experience and practice, you can't experience the beauty of backcountry skiing.
Physical fitness 
The first thing that is very necessary for backcountry skiing is the fitness of your body.
especially the lower portion of your body like the hip and thigh play an important role to hike the straight slope of the snowy hill. 
Increase Stamina
Outdoor hiking is not a task of sitting down and enjoying. It is a physical activity in which you have plenty of stamina to hike for a long way and after that return back to your camp or car spot.
Final Word Before Wrapping Up …
I hope this article will help you in making the right buying decision regarding the best backpack for backcountry skiing. 
All the backpacks come from well-reputed brands and have plenty of features that will make your skiing and mountains trip memorable.
You have to take care of a few things to ensure your safety in backcountry skiing such as always carrying essential gear with your backpack. A compass, map, avalanche safety tools, and first aid box are very essential things to carry.