Looking for some best backpacks for your next canyoneering trip…
You are in the right place.
Canyoneering is one of the few adventure sports which require strength, courage, and eagerness to explore something new every time.
All of these activities are not possible without proper gear. But the big challenge is to haul those lifesaver gear comfortably and securely. 
You can't go wrong in choosing the right backpack for your canyoning trip. 
so the question is…
How To Choose The Right Backpack For My Next Canyoneering Trip?
Every adventure trip comes with some challenges. You can go through all these challenges if you have all the neediest gear. 
A backpack for canyoneering must be highly durable to carry your climbing or abseiling ropes, have abrasion resistance, withstand when dropping from a height, and be fully waterproof so that it can survive inhospitable wet conditions.
I Personally Use Those Backpacks For Canyoning Which Has These Features
The right features make a backpack perfect but it depends on which type of adventure trip you are planning. For Canyoneering a backpack must have these features to survive…
Material & Build Quality
A backpack for a canyoneering trip must build with a high-quality rip-stop, abrasion resistance, and waterproof material. It must have nice drainage so that you can swim worry-free. I found PVC and Polyester are most commonly used in the backpack manufacturing industry.
PVC is known for its waterproof and inflammable properties, on the other hand, Polyester is known for its durability, stretch and abrasion resistivity, and anti-mold property, but it is not inflammable.
Capacity 
I've learned from my experience that a backpack for canyoneering like sports should not be too big that its excess space can not be utilized and it should not be too small that your gear can not fit in it. 
If you are planning for a canyon trip alone or have 2 members in the group then you must have to carry a backpack with a large capacity. 
For a group with more than 4 people, everyone can carry one small size backpack and can share their gear. I would recommend a backpack with a capacity between 15L to 45L is more than enough according to the size of the group and the length of the trip.
External Loops And Bungee
Canyon-like adventure sports demand carrying some additional gear like helmets and harnesses that can be hung just outside of the backpack, by using loops and bungee. 
Comfortable To Carry
No one wants to tote a backpack that will give him/her mussels strain, and tiredness at the end of the day. It must have padded shoulder straps, a breathable mesh back panel, and an adjustable sternum strap.
| Canyoneering Backpacks | Our Rating | Speciality | Weight | Volume | Material | Price |
| --- | --- | --- | --- | --- | --- | --- |
| | | Heavy Duty Roll Top, 100% Waterproof, Specious, Cushioned padded back panel. | | | | |
| | | Canyoneering Rope Bag With Good Drainage System. | | | PTU material with unbreakable aluminum buckles. | |
| | | Roll Top Waterproof Design, Budget Friendly. | | | Eco-Friendly 5MM PVC Tarpaulin. | |
| BackSåk Floating Backpack | | High Frequency Welded Seams, Splashproof front & Waterproof interior. | | | Made From 500D Waterproof PVC, EVA foam. | |
| SealLine Canyoneering Backpack | | A Canyoneering backpack with a large capacity, and nice suspension. | | | | |
| Mammut Crag Rope Backpack | | Large Capacity, Comfortable, Roll top closure, highly padded. | | | | |
| Black Diamond Messenger Bag | | Know For Simplicity & Easy To Haul, Best for s short approach. | | | | |
7 Best Backpacks For Canyoneering In-Depth Review
My past few years have gone into trying several different backpacks for Canyoneering like adventure sports, and here, I've mentioned some top-quality backpacks that are totally worth buying. 
1. Waterproof Backpack For Canyoneering From EarthPack
I personally like this backpack very much and had it on several canyoneering trips. This is highly durable and well-built.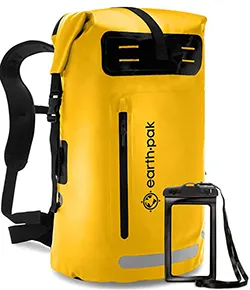 Features
Capacity: 35 & 55L
5 different color options
Weight: 2.51 pounds
Material: 500D PVC material
The backpack from Earth Pack is made of waterproof 500D PVC. Here everything is waterproof. The backpack has plenty of pockets both inside and outside with splashproof zipper protection. Its roll-top closer allows you to dump and access the inside gears with ease.
The canyoneering backpack can be folded 3 to 4 times and external buckles allow it to turn in any size. It has a nice external pocket with a splashproof zipper for carrying some neediest things and built-in zipper pockets, a mesh pocket, etc, inside.
Molle system looping allows you to attach your helmet, and harness just outside without touching the inside compartments. Not only this it has a waterproof phone case inside that is also a plus point.
Overall the canyoneering backpack from Earth Pack is perfect for a week-long canyon adventure trip and its padded shoulder straps, hip belt, and ergonomic back panel could make your canyoneering trip memorable.
Pros
500D PVC makes it waterproof to keep your gears dry and safe.
Available in 2 sizes and 5 elegant colors.
Molle looping system to hang some neediest gears outside.
Cons
Poor weight distribution.
2.
PETZL – ALCANADRE, 45L Pack 
Canyoneering Rope Bag With Good Drainage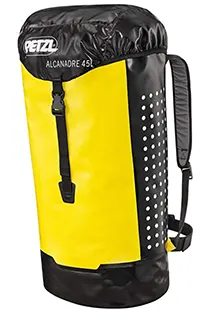 Features
Dimentions: 27 x 21 x 5 inches
Capacity: 45L
Weight:  2.54 Pounds
Material:  Made of PTU material with unbreakable aluminum buckles.
The backpack from Petzl is best for die-heart canyoners. Its water submerges design is just flawless. It is not like a life vest. You can swim with this backpack in the canyon pools.  
The backpack is made of high-quality PTU material which is known for its durability. The aluminum buckle is unbreakable and is useful to hang some extra gears outside.
Due to its submergible design, it is not waterproof, though you can pair this with a good dry pack to save your belongings from being wet. 
Its lined back panel, padded shoulder straps, and sheathed carrying handle make it very comfortable to wear. Its 45L capacity is best for 4 to 5 days long canyon trips.
Overall a nice backpack for serious canyons that is accessible from inside and outside.
Pros
Comes with good capacity.
Highly durable backpack with good drainage.
Aluminum buckles to attach extra gears.
Loopholes to attach a rope.
Cons
Not a waterproof backpack.
A Budget Dry Pack For Canyoneering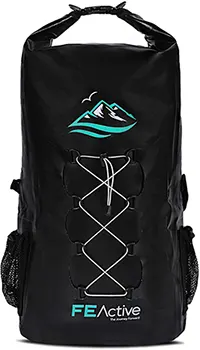 Features
Dimentions: 2.91 x 19.09 x 11.61 inches
Capacity: 30L
Weight: 2.2 pounds
Material: Eco Friendly 5mm PVC Tarpaulin.
This is going to be a budget backpack for new canyons, who want to learn new adventurous lessons and want to upgrade their tools and backpacks later on.
This is a budget dry pack from FE Active. The backpack is made of eco-friendly Vinyl Tarpaulin with high-frequency welded stitching. It is certified with IPX8 which means it is completely submerged and is best for scuba diving and other water sports.
Bungee cords and additional straps allow you to hang the tackle boxes, shoes, and other small gear just outside. its roll-top waterproof design allows dumping your electronic gadgets, etc dry and safely. The length of the bungee cord is short though.
Overall a nice budget canyoneering backpack for beginners that allow them to learn something new and mature their skill, for their next adventure.
Pros
A budget waterproof and water submerge backpack for canyons.
Roll-top waterproof design keeps your tech gears dry and safe.
Lightweight
Best for beginners canyons.
Cons
Average built quality.
The waist belt strap is short. 
4. WaterProof Floating Canyoneering Backpack From Skog Å Kust
This is another budget waterproof floating backpack for canyons from Skog Å Kust. Let's have a look over its features.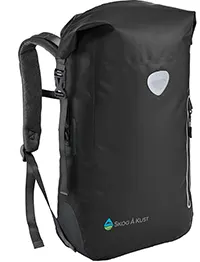 Features
IPX6 waterproof protection
Material: 500 Denier Waterproof PVC with high-frequency welded seams.
Available in 25L & 35L capacity with several color options.
Weight: 2.3 to 2.5 lbs (as per different capacity)
During canyoneering, almost everything got wet except the things inside this portage backpack. The 500D waterproof PVC with vinyl lining makes it watertight. The backpack is top accessible. You can stuff it in its several internal compartments and roll it from the top and snag with using side buckles.
You can also make it handle accessible by clicking the top clip. The backpack comes with nice waterproof separate zipper pockets to keep your electronic gadgets dry and safe from wet towels and swimsuits and to take care of your neediest easy-pick belongings its splashproof front pocket is very useful.
Overall a nice cheap canyoneering backpack for a canyon trip if you plan a short canyoneering trip with your friends. Its main compartment is IPX-6 waterproof.
Pros
A backpack with a splashproof front pocket and waterproof interior.
Available in a variety of colors and in two sizes.
Lightweight about 2.5lbs.
Side D ring to attach water bottle.
Cons
The quality of zippers needs improvement.
5. SealLine Canyoneering Backpack 
Earth Pack has only two sizes 35L and 55L, and if you are a gear freak then this pack is of no use to you. If you don't want to break the bank for a large-size canyoneering backpack then SealLine offers something for you with a large capacity.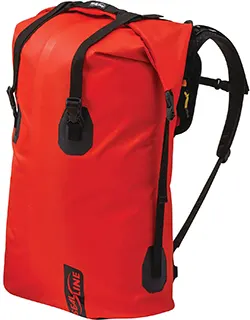 Features
Dimension: 19 x 14 x 6 inches
Capacity: 115L, 35L, 55L
Available in 4 different colors
Material: Polyester
Weight: 2.65 pounds
The canyon backpack from SealLine is made of polyester that is 100% waterproof and keeps your gears dry. It has a nice suspension system which is very effective when you carry heavy weight for canyoneering. The backpack is only accessible from the top and its rolled-up top closer offers intuitive sealing.
Its interior is colored light so that you can find the right gear in no time. Its padded shoulder straps and removable harness make your canyon trip fun.
The backpack is made in the USA and comes with a limited lifetime warranty and is perfect for canoeing, canyoneering, and travel.
Pros
Made with polyester that provides complete waterproof protection for your gears.
Available in 3 sizes and 4 elegant colors.
Padded shoulder straps and removable harness.
SealLine top closer provides an intuitive sealing.
Cons
External pockets are missing for easy to access things.
6. Crag Rope Bag For Canyoneering
After a few canyon trips, I found carrying a messenger-style bag very uncomfortable and not a practical way to haul my climbing gear.
Then I found the solution.
Let's see what.
A Crag Rope Bag.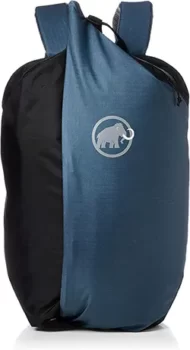 Features
Dimension: 17.72 x 5.91 x 9.45 inches

Capacity: 33L
Material: Hardware Main Fabric.
Weight: 0.3 pounds.
The backpack come in a large capacity and its roll-top design makes you feel like you carry a backpack that is similar to a school bag. 
Its size is perfect for carrying stuff for a one-day climbing trip. I'm able to pack these things inside this backpack:
Rope (80 meters)
Harness
Shoes
Water bottle
Snacks
Its roll-top closer creates problems when I tried to roll it after filling it with lots of gear. 
Its back panel and shoulder straps are thickly padded and you can feel the comfort when you wear it. This is an expensive rope backpack that justifies its price with its unique features. 
Some pros and cons of this crag bag is mentioned below.
Pros
Value-for-money crag backpack for those a long approach a day of climbing.
Nice roll-top closer. 
Supple back panel and padded and adjustable shoulder straps. 
Spacious & Comfortable to carry.
Cons
Roll top closer is difficult to roll when stuffed and close to empty.
Not good for those who climb indoors. 
7. Climbing Backpack For Canyoneering (Messenger Style)
Know For Simplicity & Easy To Haul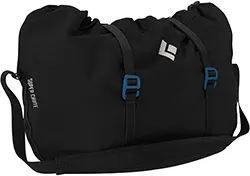 Features
Dimension: 7.87 x 4.72 x 7.87 inches
color: Black
Material: Synthetic
Weight: 1.08 pounds
Carrying a rope and other climbing gear for a canyon is really a cumbersome task without a proper carrier. 
I prefer a messenger-style gym bag to carry rope and other gear with ease, carrying a gym-style messenger bag on a long trek is not that comfortable but this bag is good for a short walk on your canyon trip.
You can carry a 70m rope, 12 draws, 2 alpine draws, and a few carabiners, it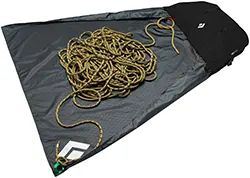 feels bulky when stuff like this though. I personally like its simple design. Just roll your rope up into the bag and you are ready to go.
Overall this is a nice messenger-style rope bag for those canyons who are eagerly searching for a rope bag when the location has a short approach.
Pros
Messenger-style rope bag for canyoneering.
Best climbing gears carrier if the site has a short approach.
Keep your gear organized and clean.
Cons
Not good for long-distance walking.
Heavy if stuffed.
Ans: Without proper safety gear and an expert guide, definitely it is a dangerous adventure sport. Heading into a canyon trip with 2 or more fellows is recommended.
Ans: It totally depends on the complexity of your canyoneering trip and your expertise. Some equipment can be bought second-hand like, a swimsuit, shoes, and bags, but others are mandatory to purchase brand new.
Here, are a list of some essential belongings that can be carried for a canyoneering trip as a beginner…
A fully functional, waterproof, water submerge backpack.
Shoes (Canyoning)
Harness (Canyoning)
Of course a safety helmet 
Abseil devise with locking scewgate carabiner.  (1) Climbing Belay device for beginners (2) I personally use Petzl Pirana (recommended for trained canyons)
Cowstail with two locking carabiner
Wetsuit
Dry waterproof backpack
Whistle (sound funny but it is useful to contact others in loud noisy surroundings).
At least two large carabiners (locking)
First Aid Kit
Conclusion
Not every backpack is perfect for anyone. It depends on several factors. But most backpack brands offer such great features and also spend lots of resources on research to improve their product.
This will make your adventure trips much easier, more comfortable, and more enjoyable. Here, in this article, I've tried to list some such backpacks that can make your canyon trip memorable without any fatigue.