Are you looking for the Best Backpack For Bikepacking in 2023?
Let's explore it…
Outdoor backpacking and hiking are the most adventurous trips for backpackers. You can explore more if you have a bike or cycle.
Normally many people avoid paved and mud roads for hiking and camping but riders with backpacking are choosing the off-road trip having a bike and bike packing gears to explore the hidden adventure and to camp in wild areas.
Such a type of trip requires backpacking gear to enjoy your outdoor backpacking journey from the heart. To transport backpacking gear riders use the seat, frame, and handle of the bike and obviously a lightweight backpack on their back.
Normally typical bike-packing bags are not much spacious you should have to be a bit choosy in that segment.  
You have to take care of a few things before choosing the best backpack for bike riding.
We have written a detailed guide about how to choose the right backpacking backpacks for your next adventurous ride.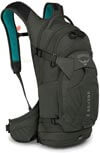 Weight: 1.75 lbs
Volume: 14L
Bladder capacity: 2.5L
Breathable and comfortable.
Excellent storage.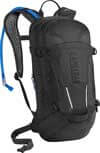 Weight: 1 lb 12.8 oz.
Volume: 9L
Bladder capacity: 3L
One of the easiest drinking system 
Decent storage 
The ventilation system should be improved.
The hip belt is missing.
It takes time to clean the water bladder.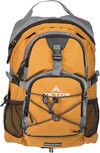 Budget pick
Weight:  2 lbs
Volume: 18L
cheap and durable backpack.
Sewn-in rain cover
Zipper quality should be improved.
7 Best Backpacks For Bikepacking in 2023 Review And Buying Guide
1.
Ortlieb Back-Roller Plus
Best Pannier Bag Ever Made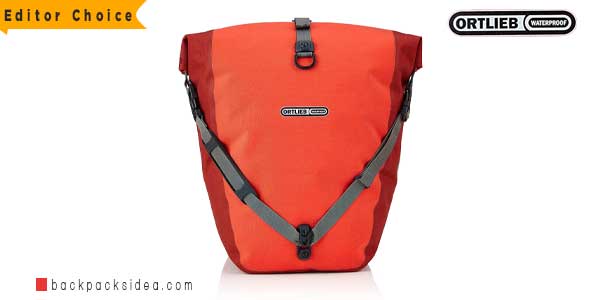 Its Features
Material: Polyester

Robust, waterproof Cordura fabric.

Very spacious and durable.
Comes with easy and secure attachments.
Weight: 4.2 lbs (Pair)
The backpack from Ortlieb is one of the best bike bags and we have listed it in our Editor choice list due to its best features listed below.
The best bag for biking comes with a hook and latch-style mounting system that is fully adjustable, secure, easy to attachable, and detachable. To secure its bottom from the tire rubbing, it has a large lower adjustable hook.
The bike bag from Ortlieb is the best choice for a long bike ride as it has huge space to carry a heavy load. Such type of two bags can easily be attached from both sides of the bike rack.
The bag is highly durable and waterproof. It is made of some kind of abrasion-free material that performs well on rough road rides. 
Overall the bag is mainly made for hardcore cycling lovers as its multifunctional adjustable shoulder straps, roomy space, and zipper pockets make it perfect for bike packing adventures and this is one of the best pannier bags for biking.
2. Raptor 14 Osprey (Best Mountain Biking Backpack with Best Hydration System

)
Overall Best MTB Backpack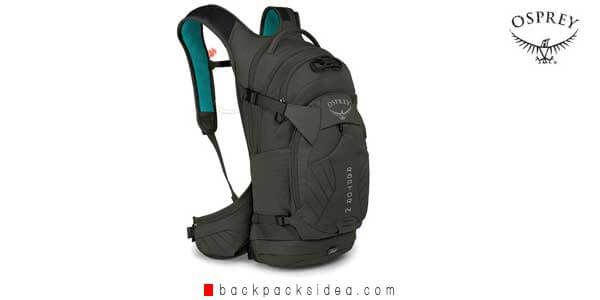 Its Features
Available in 3 colors and 2 capacity 10 and 14L.
Lid-lock bike helmet attachment.
Dedicated hydration compartment with 2.5L reservoir Hydration pack included.
Air Escapes suspension.
Magnetic sternum strap.
Removable rollup tool pouch.
Weight: 1.75 lbs
The second bikepacking backpack is from Osprey a well-known brand established in 1974. 
The Osprey backpack is specially designed to keep in mind the need for bike packers. The backpack comes with several useful features. 
Let's take a look…
Extra rigid foam is used that is mesh covered for proper ventilation and it keeps the load close to the body. Its wing-shaped harness wraps the upper shoulders to maintain stability.
This cycling and biking backpack comes with an Osprey 2.5L reservoir that helps to keep you hydrated during the hot day trip. Its sternum strap magnet attaches to the shoulder, a wind-shaped strap that makes sipping the water very easy.
You can keep bike essential tools with a removable tool pouch that can be carried with its lower zipper pocket. Its main compartment also has space for your bike gear.
Its lid lock helmet attachment is very useful to carry a helmet while you are not wearing it.
Overall the osprey bikepacking bag comes with all the useful features and it is very lightweight to carry. 
3. CamelBak MULE Mountain Bike Hydration Backpack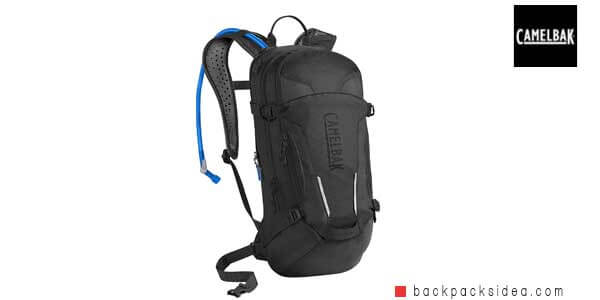 Its Features
Available in 5 eye-catching colors.
Narrow Gauge design keeps it lightweight and manoeuvre. 
Spacious backpack to carry all the gears for one day ride.
Weight: 

1 lb 12.8 oz

.
Air directed back panel.
The company was founded in 1989 since then they are the global leader in outdoor hydration. The backpack is specially designed to keep in mind the need of bike riders.
The backpack is made with high-quality material that is sturdy, durable, and lightweight. This lightweight and small backpack have surprisingly enough room for your essential gear. 
It has several pockets for your bike gears to keep them from sliding anywhere inside it. The hydration bladder is very useful that can carry up to 3L of water on the go.
The hydration system is insulated even on desert rides the hydration system is filled with some ice and water remains cool till the end of the day. The new bladder design is better than the previous one. 
The back panel is properly ventilated which keeps your back cool and dry on a hot day. 
 If you want a good bikepacking backpack with a decent hydration system so you can definitely go with CamelBak.
4. Teton Sports Running, Biking, Hiking Backpack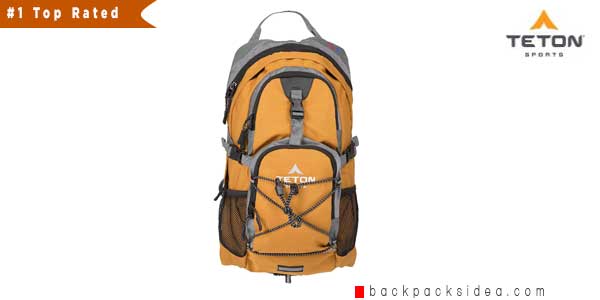 Its Features
Budget Oriented bikepacking backpack.
Available in 7 eye-catching colors.
Available in 20L & 18L of capacity with hydration capacity of 2L and 3L.
Weight: 2 lbs
Shell Material: Honeycomb ripstop 600D PU.
If you don't spend much and want to buy a bikepacking backpack that comes with all the essential features then Teton Sports is the right choice for you.
The backpack allows you to choose from 6 attractive colors with 2 capacities 20L and 18L. The backpack comes with a water reservoir to prevent you from being dehydrated during your hiking or bikepacking trip.
Its hydration bladder comes in 2 capacities and its opening ice makes it very easy to clean. The backpack comes with multiple compression straps that will maintain proper fitting and reduce bounce. 
One of the most important features of this bikepacking backpack is that it comes with a rain cover that keeps your gears dry in rainy weather.
Overall the backpack is perfect for every age group of bikers and it is very lightweight and comfortable to carry.
5. Mubasel Gear Insulated Hydration Backpack For Bikepacking, Cycling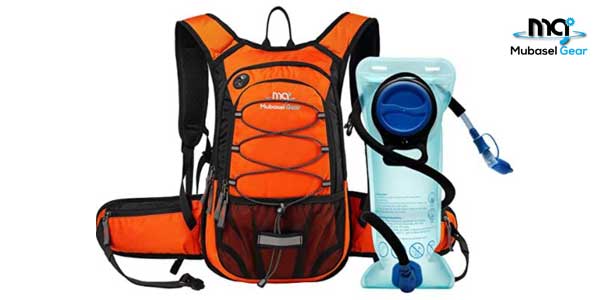 Its Features
Comes with 2L BPA FREE food grade hydration bladder.
Thermal insulation.
Comes in 14 elegant colors combination.
Spacious backpack.
Budget-friendly.
Leakage proof design.
60 days guaranty. 
Our fifth bikepacking backpack is from Mubasel. The company provides budget-oriented very fashionable backpacks, especially for cyclist tourists.
The backpack comes with 14 eye-catching color combinations that can fit your every outfit. The build quality is also decent. 
The 2L BPA-free food-grade hydration bladder included with this backpack is leakproof. The hydration bladder is thermal insulated which ensures you'll get cool water during the whole hot day hiking.
The bag is roomy and comes with 3 main compartments that can hold your clothes, purses, phone, etc, and an outside mesh pocket for some extra gear. 
The backpack comes with well-padded shoulder straps, is lightweight, and with proper ventilation at the backside. All these features make it perfect for outdoor sports within your budget.
6. Locallion Cheap Backpack For Bike Riding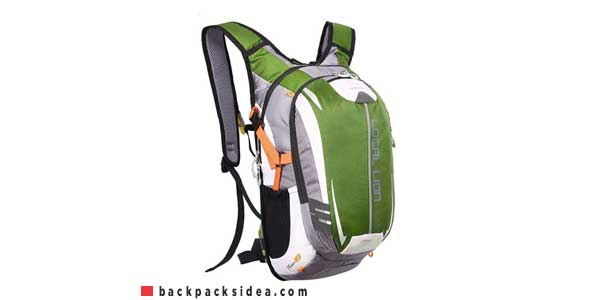 Available in 8 attractive colors.
Made with high-quality tear-resistant material.
Comfortable and ventilated back panel.
Spacious design best for carrying day-long hiking.
Separate compartment for water reservoir. 
If you want a cycling backpack that is lightweight and comes with an attractive color combination so this could be the one choice for you, within your low budget.
The backpack is made with waterproof nylon material that can bear light rain, don't put it in heavy rain. 
The backpack is roomy. You can put a water bladder in its built-in net pocket that still has room to carry some clothes, books, iPad, and other stuff.
If your helmet is not in use then it can be placed on the front side with a detachable net. The chest strap has a whistle that can be used in an emergency.  
The backpack is well padded and feels comfortable on the shoulders and to maintain proper airflow its back panel is properly ventilated.
You can put some extra water bottles in its side mesh pocket. The backpack is best for outdoor activities and riding and traveling. 
7. Pupumpack Hydration Best Small Cycling Backpack in Budget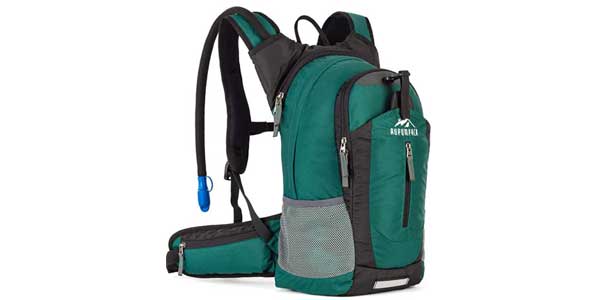 Available in 7 attractive colors.
Water bladder is BPA free EVA material.
Hydration insulated layer.
Comfortable and made with water resistance Nylon.
Capacity: 18L
Weight: 1.4 pound(650g)
This is another budget-oriented hydration backpack for your bikepacking trip. 
The backpack comes with a 2.5L hydration system. The water bladder compartment is made of aluminum foil with a hydration insulated layer that keeps water cool for up to 4 hours. 
Its right shoulder strap has a clip that can be used to fix the water hose to make it convenient to use while riding.
The build quality is ok not that great. The backpack is roomy and has enough space to carry day-long hiking gear. 
The waist pocket is good to carry small frequently used items but not so big to carry your smartphone well. The backpack is well padded with an insulating material that feels very comfortable at the shoulders, waist, and at back.
To ensure your safety, especially at night its shoulder straps and the back front is designed by using safety reflectors. 
Overall you could go with this biking backpack if you are on a very tight budget. 
Buying Guide (How To Choose The Right Bikepacking Backpack)
Selecting the best backpack for bikepacking is a tricky task. Not every backpack should be carried for a cycling trip. You have to take care of a few things to make your hiking and cycling trip enjoyable and comfortable.
How To Choose The Best Backpack For Backpacking In 2023?
We've listed some key factors that must be considered before making a buy decision…
A bikepacking backpack should be lightweight but roomy enough to hold all the essentials well organized. At least one-day trip gears should be placed easily inside the backpack. 
The ideal size for bikepacking backpack is between 12L to 20L but an Average 15L capacity backpack is best for comfortable bike riding. 
This is a very crucial point that most bike packers ignore. A lightweight backpack delivers a comfortable and stable grip during your cycling trip and reduces the risk of an accident due to unbalanced weight on your back.
The ideal weight for a bike-packing backpack should be no more than 1kg while empty. The weight between 800g to 1 kg is the best that provides a stable and comfortable riding experience.
One of the main features that can decide how long and comfortably you can ride in rough and tough terrain.
A better hydration system not only satisfies your thirst but also keeps your body cool on a long hot day. 
It is also very necessary that your backpack has an insulated mesh sleeve to carry a water reservoir that maintains the coldness of water for up to 4 to 5 hours.
The backpack has as much space to carry at least 2L to 3L of the water bladder in its thermal insulated pocket. A hose system with a magnetic clip that can attach to your shoulder strap makes it easy to sip the water during cycling.   
The backpack for bikepacking must have enough space to carry some packets of snacks, clothes, water bladder, keys, iPad, and other stuff without being too heavy and bulky.
This is also very important to have some separate compartments to prevent things from rolling everywhere inside it. 
Its front should have some sleeves or bungee to keep the helmet secure while you don't want to wear it. A waist pocket is very useful to carry keys, a smartphone, and other small things so having a large size waist pocket benefit you.
Comfortable And Ventilated
Your cycling hike might be tiresome and uncomfortable without properly padded shoulder straps and back panel ventilation.
The shoulder straps should be padded with soft foam and the back panel has a proper mechanism to maintain the proper airflow to keep your body dry and cool on the sunny day hike and trip. 
Biking with a backpack could be more enjoyable if the backpack is waterproof. A waterproof backpack for biking not only protects your essential gear but also is another fun of biking in rainy weather. 
How To Pack Bikepacking Backpack?
Having a good backpack for bikepacking is a nice thing but it is very important to pack it correctly otherwise you would face instability issues and your biking trip become tiresome due to uneven weight distribution.
That's why packing a backpack in the right way is very important. Bikepacking backpacks are lightweight and you don't have to fill them with unnecessary things. 
The bikepacking backpacks are mainly designed to keep you hydrated during your rough and tough road trip. It has a temperature-insulated sleeve pack that keeps water cool for a few hours and also keeps your body cool on a hot day of hiking.
The front pocket is useful to access some little and frequently used things such as a camera, energy bars, sunglasses, and other stuff. 
The main compartment with some separate pockets can be used to fill up with books, some clothes, an iPad, and other such things which are large in size. 
The side pockets are utilized to keep one or two water bottles. The front panel can be used to put your helmet on a detachable bungee. 
Some extra external sleeves give freedom to carry more stuff with your backpack but they also make the overall load of your backpack unstable.
backpack for bikepacking is not built for carrying too much load. You can use other bikepacking bags to carry a sleeping bag, tent gears, stove, etc for your long biking trip. 
Final Words Before Wrapping UP
The article is prepared with keen observation the keep in mind the need for bikers and we have selected some of the lightweight and roomy backpacks that best suit your comfortable cycling trip.
We have listed biking backpacks in the all-budget segment. We've also prepared a comparison table that is helpful to make the quick and right decision within a short time.
I hope this article helps to choose the right bikepacking backpack for your next trip.