Dirt biking is something the most adventurous and challenging off-road sport that gives thrill and excitement to those people who are always hungry to explore the beauty of nature.
Wherever you live in your country, some of the best off-road trails must be your surrounding, you just need to find them.
Some of the best off-road trails in the USA:
Denali Highway, Alaska.
Taylor Park, Colorado.
Red River Motor Cycle Trail, Texas.
And many more…
To experience the adventure from the heart, you don't have to be tired. To remain energetic you have proper dirt biking gear, especially the right backpack. 
Having a proper hydration system in your backpack is not enough. Some other essential gears are required to get ready to face some unintentional events of your dirt bike riding trip. 
In this article, we have listed some of the feature packs and lightweight dirt biking backpacks that will help you to enjoy the off-road adventure trip completely. 
So let's get started…
7 Best Dirt Bike Backpacks Review And Buying Guide
1. Klim Nac Pak Hydrapak Best Backpack For Dirt Bike Riding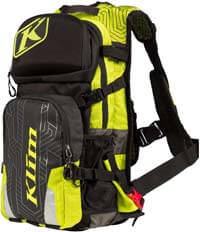 Its Features
Comes with a 3-litre hydration pack.
Removable tool kit (waterproof).
Separate Goggle pocket.
Glove-friendly zipper.
Sleeve pockets for small gears.

Fabric: Nylon
If you want a backpack that not only works as a bike-riding carrier but also matches the overall dirt biking theme then Klim Nac Pack is one of the most good-looking backpacks on this list.
The backpack comes with a 15L capacity and is made with high-quality Nylon. The 3L hydration bladder is included with this backpack. Its water hose can be adjustable on either side of the sleeve. 
The backpack has enough room for your off-road trail trip. We like its sleeve pockets, useful for carrying a mobile phone and other small gear.
A horizontally aligned waterproof tool kit is very helpful and you can remove it if needed. The front pocket has several separate pockets to carry snacks, keys, protein bars, etc.
The backpack doesn't come with a hip belt. You can also carry your laptop with this backpack but I don't think it requires for an off-road bike trip.
2. Ogio Black Dakar 3L Hydration Backpack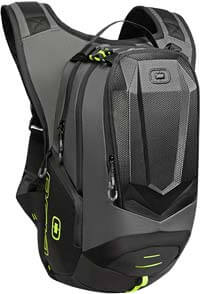 Its Features
Comes with a 3-litre Anti-sloshing hydration pack to keep water cool 30% longer.
Comfortable shoulder straps and ventilated back panel.
Thoughtful multiple pockets.
Weight: 2.05 pounds
Ogio provides a wide range of backpacks, especially keeping in mind the need for dirt bikers. Other than hydration backpacks, it has plenty of room to keep extra gear. 
The backpack is made of high-quality honeycomb nylon material. The backpack comes with a 3L water bladder inside an insulated pocket that keeps liquid cool for 30% longer. 
We like the front hardcover that can protect your phone and other gadgets even landing heavy weight on it. The straps are fully adjustable and keep the backpack steady during your rough off-road trail riding. 
It has one main compartment other than a hydration pocket to keep some tools, snacks, and other stuff. Overall this is a good backpack, especially for dirt bike riders.
3. Ogio Atlas Best Hydration Backpack For Dirt Biking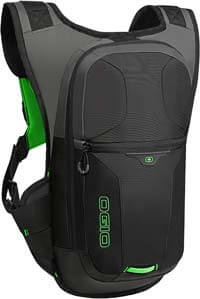 Its Features
Comes with a 3-litre hydration pack.
Insulated backpack 30% extra cooling.
Ventilated back panel.
Front mesh ventilated pocket.
Weight: 1.35 pounds
This is a lightweight hydration backpack, perfect for dirt bike riding. We like its minimalistic design and durable built quality. 
There is not much space inside it which makes it super light for off-road riding. The backpack comes with a 3L water bladder with a quick-release connector. 
The hydration pocket is properly insulated to keep the water cool for 30% longer even in this compartment you can put some extra stuff.
The front hard mesh pocket is good for keeping mobile, wallet, and keys safe. The back panel is well-ventilated and helps to keep you cool and dry on hot days riding.
You can also put 6 to 7 cans of cold drinks in place of the water bladder to be energetic during the riding break.
4. Unigear Tactical Hydration Backpack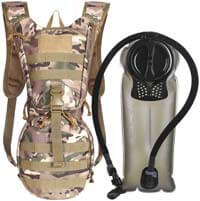 Its Features
2.5 L water bladder with wide screw cap.
Ergonomic foam padded back panel.
convenient chest strap and waist belt.
Made with 900 denier polyester.  
Weight: 3.4 lbs.
This is a budget-oriented hydration backpack good for hiking, biking, running, and also for dirt bike riding.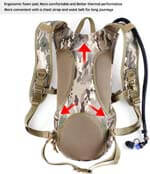 The backpack is made of some kind of durable polyester. We like its well-padded back panel. some kind of foam is used in the back on three sides look at the image. Its adjustable shoulder and chest straps ensure it doesn't bounce when you move on rough trails.
The backpack has two front pockets with multiple mesh pockets inside it, for your keys, snacks, mobile, wallet, etc. We like the band on the front side. You can put an air pump and a sock pump to ensure proper air level in your dirt bike tyers. 
Comfortability has been taken care of here as its shoulder straps are thick and well-padded. The back panel is ventilated and an adjustable waist belt keeps the backpack stable when you are riding on an unstable trail. 
5. Face Racing Dirt Bike Hydration Backpack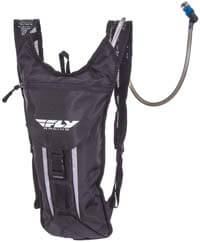 Its Features
Minimalistic low profile pack.
2L water bladder included.
Compact and lightweight.
Comes with 2 external pockets.  
Weight: 14.4 ounces
Face Racing offers a minimalistic low profile hydration backpack that is good for short off-road trail racing. 
The backpack comes with a 2L water bladder and two external pockets. One at the top is useful to keep small stuff and the second at the side is useful to keep keys, snacks, wallet, and other gear. 
That's it,  simple and good for a short ride. We don't like its shoulder straps as they are very thin. The backpack is not good to carry the extra load. 
Overall a good backpack for off-road trail riding.  The built quality is sturdy and durable.
6. Dirt Bike Backpack With Chest Protector From Leatt GPX 4.5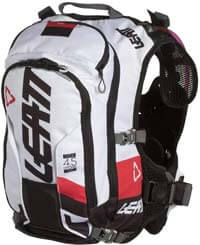 Its Features
Hydration, cargo, chest and back protection.
Comes with a 2L water bladder.
Airline mesh back panel.
Side mesh pocket for quick access.
Comes with a rain cover. 
Weight: 4.4 Pounds.
If you want to buy such a backpack that can protect your chest and back if you face an accident and fall down during dirt bike riding so there is no other option other than Leatt GPX 4.5.
Its removable back protector is made of 3DF AirFit foam which becomes hard instantly during a fall and protects your back. Its chest protector comes with adjustable straps to ensure a perfect fit for different body sizes.
The backpack is spacious, its top pocket can be used to hold extra goggles, side pockets for easy-to-access items, and the main pocket to carry a 2L water bladder. There are tons of small pockets for different- different needs.
The shoulder straps are thick and well padded, and its back is properly ventilated so there is no comfortability issue here. The downside is its white color which is hard to clean and its overall weight.
7. Cheapest Hydration Backpack From Kuyou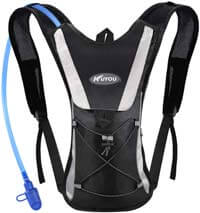 Its Features
Cheapest hydration backpack for trail dirt racing.
Comes with a 2L water bladder.
Breathable mesh back.
2 pockets one for the water bladder and the second one is for small items.
Weight: 1 pound.
The backpack is perfect for those riders, who don't want to spend much and want to try their first ride on off-road trails. 
The backpack comes with a very simple design, compact, and lightweight material. 
The 2l water bladder compartment is enough to remain hydrated for a short ride. Although the hose built quality is not that great. 
Apart from the hydration pocket, it has one more pocket to carry your keys, wallet, snacks, some small tools, etc. Its mesh back panel is properly ventilated but shoulder straps are thin even if they don't hold the hose mouth properly.
Overall not recommended to buy this cheap one. It would be better to spend extra and buy anyone from the above-listed dirt biking backpacks.
How To Choose The Right Backpack For Dirt Biking?
Choosing the right backpack for dirt biking is really a tricky task. You should not carry a backpack for off-road trail bike riding without knowing your need. You have to take care of a few things for choosing the right dirt bike backpack.
The first thing to consider is the size and weight of the backpack. Mountaineering or hiking backpacks are different from dirt bike riding backpacks as they are bulky because mountain or hiking trips are long and require carrying some extra gear.
Size:
The backpack should be lightweight and compact because you have to maintain a proper balance during riding on a rough trail. In this condition, a simple and lightweight backpack provides a stable and comfortable grip over the zigzag rough trail.
Proper Hydration System:
To keep yourself hydrated and cope with the difficulties of a rough and challenging off-road trip, you have a properly hydrated system in your backpack. 
A backpack with at least 2 to 3L of water bladder is a must thing that is necessary to enjoy dirt bike riding without being dehydrated. 
Some Additional Pockets:
Apart from a hydration pocket, there should be some additional separate mesh pockets to keep the first aid kit and other essential dirt bike trail packs.
You can put some medicines, bandages, snacks, wallet inside it. In some backpacks, some extra outside straps are given to keep extra gear such as type pump, and bike tools for extra safety. 
What Should I Bring In A Dirt Bike Trail?
Being a dirt bike rider, you should know what items to keep in the dirt biking backpack.
To face any kind of unintentional incident during off-road trail biking, you have to keep some essential gear with your backpack which are…
First Aid Kit: 
Take some pain relief medicines, bandages, and antibiotics with your backpack to deal with any physical injury.
2.  Food: 
Keep some snacks, some protein bars, and some cans of beverages to energize yourself during the break of mid-riding.
3. Tool Kit: 
Always keep a tool kit pocket with your backpack. Some essential tools like a type pump, a communication device( satellite phone), a Helmet light, a lighter, Some extra batteries, etc.
4. Goggles:
Always keep some extra pairs of goggles. It will help you in different lighting conditions. If you are riding in the daytime then you can use your normal goggle on the other hand at night you have to use night vision goggles. 
5. Gas:
This is a nightmare for a dirt bike rider having no fuel on his bike. Extra fuel will help to explore more and will help to come back to the camp from several miles away.  
There are two thoughts that appear in the mind, the first one is to strap an extra fuel tank to the bike and use it when needed or install a bigger fuel tank into the bike. 
The second option is more feasible than the previous one. 
Conclusion
In this article, we have listed some of the best dirt bike backpacks which come with the best hydration system and a lot of features. 
If you are facing any issues in choosing the best one from our top 7 list then you can consider our recommended backpacks as per your need and budget.