Apple has launched New Ipad Air with M1 chip, and I know you are as excited as I'm to own this amazing super fast device. The device is super thin and light and you can carry it anywhere you want.
For the safety of your costly tech devices such as new Ipad Air, Macbook, etc, you must have those backpacks and bags which has a thick padded dedicated compartment to keep them safe and secure and some backpacks listed in this article come with elastic corners support to protect them from small bumps. 
Now a day most bags and backpacks come with a dedicated laptop and tablet compartment without enough padding and fleece lining. Keeping your expensive gadgets in them is a little bit risky. 
There are several brands that launched their bags and backpacks specifically for the New Ipad Air having an M1 chip.
So the question is…
How To Choose The Right Backpack For New Ipad Air Having M1 Chip?
Although after several hours of research and comparing some top brands in terms of Durability, Weight, Functionality, and Security of your device, I've listed the 7 Best Backpacks and bags for your New Ipad Air (M1 Chip), you must have this crucial information so that you can choose the right backpack on your own & ensure maximum security of your New Ipad air. 
Dimension Of New Ipad Air (M1 Chip)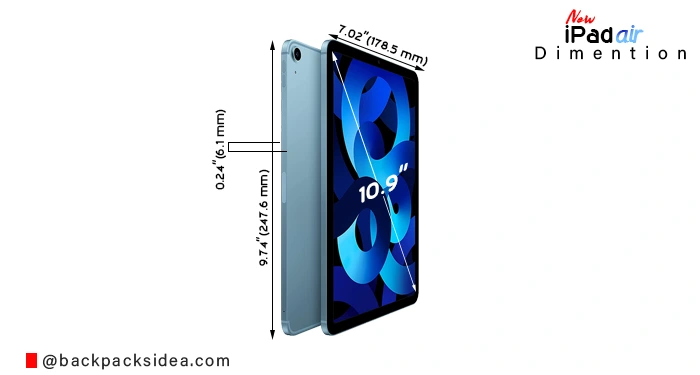 A Brief Buying Guide Of Best Bags & Backpacks For New Ipad Air (M1 Chip)
Some must-have features in a tech backpack that can protect the New IPad Air are…
Build Quality:  A tech backpack is quite different from an ordinary backpack in terms of its build quality. 
It must be made of high-quality material, that should be durable, sturdy, and wear and tear-resistant. 
Military Grade Cordula Fabric, 1200D Ballistic Nylon, and 500D Polyester Fabric are some top-notch materials that provide durability to a backpack. 
I've listed some best quality backpacks in this article made of such materials. 
Water Resistance: Your tech gadgets especially the New iPad Can't survive if your backpack gets wet, so water resistance coating on the surface of the backpack is a must-have thing that should be considered. 
Corner And Base Protection: No matter how expensive your backpack is, It will not be able to protect your costly gadgets if it doesn't have corner and base protection. 
Anti-Theft Design: What if a suspect doesn't have any idea about where is the opening zips of your backpack. What if your backpack is cut-proof. 
Secret Pockets For Your Important Cards & Document: For a worried-free traveling experience, this is necessary of having some hidden pockets to secure your passport, credit cards, Air ticket, etc from a tricky person. 
7 Best Backpacks For New IPad Air M1 In-Depth Review And Detailed Buying Guide
1. Best Anti-Theft Backpack For New iPad Air From BOPAI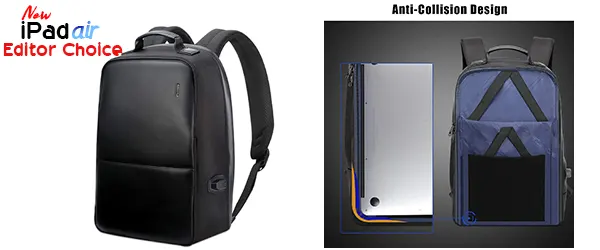 Its Features
Invisible Anti-theft Design.
Invisible card pocket.
Backstrap can hold it on the pull rod of luggage.
Invisible side water bottle pocket.
USB charging port.
Water resistance.
This is one of the best backpacks for carrying New Ipad Air, Macbook, and other laptops for college, work, and business travel. The backpack comes with some unique and innovative features which make it perfect to protect your tech gadgets.
Best Anti-Theft Backpack For New IPad Air, And Macbook.
The backpack from BOPAI is made with high-quality waterproof microfiber leather and durable ballistic nylon together to protect it from drizzle rain. 
Its back panel is designed in such a way that it keeps your back dry on hot days. Anti-collision design to protect your laptop from damage and scratches.
It has specific padded space for your laptop, IPad, IPad Mini, and many separate pockets to keep your stuff organized. One of its varient comes with a super slim design that is only 3 inches thin. 
Overall if you want a backpack that protects your belongings from being stolen, from rain that feels comfortable to wear then the backpack from BOPAI could be the right choice for you.
2. Tomtoc Backpack For New Ipad Air 5G And Macbook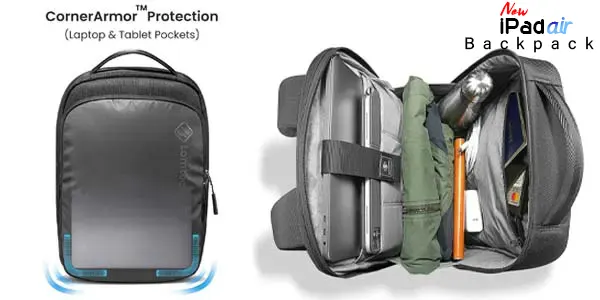 Price Under $60
Check the latest price here
Its Features
Dimension: 16.53 x 11.8 x 0.47 inches
Weight: 1.43 pounds.
Material: Military Grade Cordura fabric with YKK zippers.
Corner Armor protection at the bottom of tablet and laptop pockets.
Wear & tear resistance and water resistance material. 
16 inch laptop padded sleeve.
The design of the backpack is mainly focused to protect your tech gears especially your Macbook, IPad Air M1, and other expensive tech gear.
Why do You Have To Consider Tomtoc backpack For Your Ipad Air 5G?
If you want to secure your costly gadgets then Tomtoc is definitely the best choice for you due to its unique and feature-packed qualities. 
The build quality of this backpack is no doubt amazing. Military-grade material is used for the craftsmanship of this backpack making it wear/tear resistant and also water resistant.
The backpack comes with lots of space for your belongings. Its main compartment can hold A4 files, and books and it has a separate pocket to hold your 16 inches MacBook. 
You can carry your 10.9 inches New Ipad Air M1 with apple magic/a smart Keyboard in a separate tablet pocket. Our Experts really like its Corner Armor protection feature that ensures the secure handling of your Ipad Air 5G (M1 Chip) and MacBook and supports your tech gear from the bottom.
Its front pocket has several small pockets for your small tech gears. The quality of its zipper is quite decent. Its lockable YKK zippers in the main compartment prevent the accidental opening of your backpack. 
Overall the backpack is stylish, comfortable, and comes with lots of safety features. You can definitely go with Tomtoc for their high-tech security and durable built quality.
3. Bopai Super Slim Backpack For Macbook And Ipad Air
Its Features
Waterproof microfiber leather with durable ballistic Nylon
Invisible Anti-theft Design.
USB Charging port to charge your mobile
One of the thinnest backpack only 3 inches.
Invisible card pocket.
Backstrap can hold it on the pull rod of luggage.
Water resistance.
I've used sevral different laptop backpacks in the price range of $50 to $300, but this one is literally functional and practical. 
I've listed another Bopai backpack in this top 7 list due to its super slim and highly durable build quality. 
The build quality is remarkable as it is made of highly durable Nylon and waterproof microfiber leather. The backpack feels very convinient and comforbable on your back due to its breathable and soft fabric. 
The hidden invisible anti-theft design makes it a perfect carrier for your expensive tech devices such as the New iPad air, iPad Mini, and Pro, even it has a dedicated laptop compartment with soft flannel and bottom support. 
Its laptop compartment is crafted with soft flannel that reduces the friction between your laptop and the backpack. You can carry a laptop of size up to 15″ into this backpack. 
It has several thoughtful pockets and some hidden anti theft pockets, which make it one of the safest backpacks for your tech gear. Its back panel is designed using high-density sponge which reduces the susceptibility of this backpack to dirt and makes it easy to clean.
The backpack is waterproof that can keep your essentials dry on light to moderate rainy days. Overall the backpack is a perfect choice for students, professionals, travelers, etc.
4. Best Sling Bag For 10.9 Inches Ipad Air 5G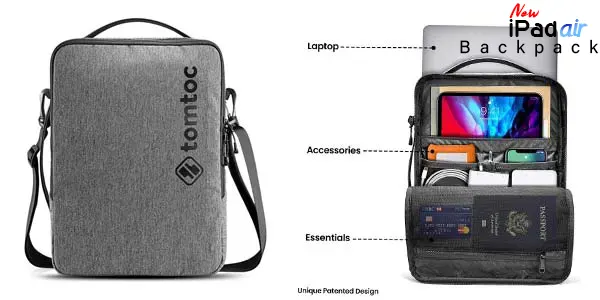 Price Under $50
Check the latest price here
Its Features
Dimension: 13.4 x 9.92 x 2.76 inches
Weight: 14.9 ounces
Specially made for carrying Ipad Mini, Ipad, and MacBook.
Corner Armor design from 4 sides.
13 inches laptop padded sleeve and Upto 12.9 inches Ipad.
This is a small, compact, and lightweight sling bag for your tech gadgets that can carry your Brand New Ipad Air (M1 chip), IPad (Up to 12.9 inches), and 13 inches MacBook secure and safe. The shoulder bag from Tomtoc is specifically designed to carry Ipad air and Macbook safe and secure.  
Why this is the Best Bag For the latest IPad Air, and other tech gadgets?
The primary goal to design this bag is to keep in mind the need of Ipad and MacBook users. 
The shoulder bag is water-resistant from the outside that can protect your gadgets from spillage of water. The inside surface is designed by using a 3D foam cushion that provides a stretch-free and stable space for your tablet and laptop. 
The bag is roomy. Its compact design has lots of space inside it in the form of different separate pockets. You can carry a charger, pen, power bank, etc inside it. 
Its YKK zippers and Duraflex buckles are durable and long-lasting. Our Expert really likes its adjustable and detachable shoulder straps.
You can use this bag inside your favorite backpack by removing its straps. 
Overall a decent compact Ipad air 5G bag with a shoulder strap that can be carried as a crossbody and by its handle.  
5. Swissgear 1900 Backpack For New IPad Air
4.2 stars, 194160 Reviews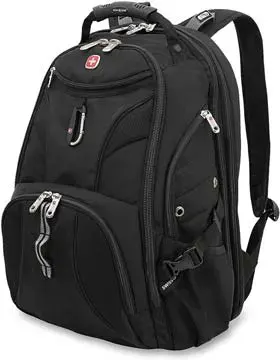 Price Under $80
Check the latest price here
Its Features
Dimension: 18.5 X 13.5 X 9 inches
Weight: 3.3 lb
Material: 1200D Ballistic nylon
Ipad Floating TabletSafe for superior electronics cradling.
17 inches laptop padded sleeve.
If you are looking for a backpack to keep your Latest iPad Air 5G and Macbook secure and safe then swiss Gear offers its two models for this.
Swiss Gear 1900
Swiss Gear 1923
If we talk about the build quality then both backpacks come with decent built with almost the same material. However, backpacks don't come with a water-resistant coating which is their downside.
The 1900 model is much better in terms of laptop & Ipad pockets than its 1923 model as the 1900 comes with a padded sleeve laptop compartment. 
Its Floating TabletSafe pocket can protect your Ipad & IPad Mini from being damaged that is missing in the 1925 backpack. 
Both backpacks come with TSA-friendly, Scan smart technology that saves your time at the airport checkpoint.  
Both backpacks come with tons of small as well as large pockets that are good to carry batteries, keys, chargers, and other techy gadgets. We like the dedicated media pocket is very handy and useful. 
backpacks are very comfortable to wear and come with proper airflow at the back panel. 
Overall the backpack is best for students, weekend travelers, and young professionals
6. High Sierra Loop Backpack To Carry iPad Air For School, Travel, Work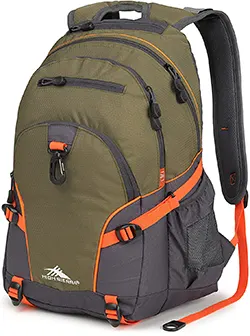 Price Under $50
Check the latest price here
Its Features
Dimension: 19 x 8.5 x 13.5 inches
Weight: 1.4 pounds
Available in tons of different colors.
Dedicated Tech Spot tablet, laptop sleeve 
The backpack is roomy that allows you to carry it for hiking, vacation, and anywhere, you want to take it. The loop backpack from Sierra comes in several elegant colors which is a good thing.
I think the backpack is made of Synthetic Canvas which is strong and durable. It has a water-resistant coating and I have tried it in snow and when melts leave my books and laptop perfectly dry. 
The backpack not only protects your laptop or iPad Air from being wet in moderate rain but also keeps it stretch-free.
The front zipper pocket has several small sections that can be used to carry your phone, power bank, charger, etc. The side mesh pockets are good to carry water bottles. It has side compression straps to reduce and enlarge its space. 
The additional bottom straps allow carrying extra gears if needed. Overall a durable, functional, and sturdy backpack to carry some gadgets like your iPad air, and lots more things.
7. Anti-theft Tech Backpack From Matein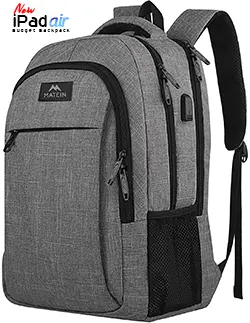 Its Physical Features
Measures 18 x 12 x 7.8 inches.
Weight 1.56 lbs.
Anti-theft backpack with the USB charging port.
Made with  High Density and Water Repellent Polyester Fabric.
Up to 17 inches laptop can behold.
USB charging port.
This backpack is highly recommended for those techy people who don't want to spend much and want to get a durable versatile and economic solution to secure their iPad Air. 
Budget Pick With Some Limitations…
The backpack is made with highly durable, water and tear resistance 100% Polyester fabric.
Separate laptop compartment for up to 15.6 inches laptop. If you want to carry a gaming laptop of 17 inches then you can choose the size accordingly.
Main compartment for carrying some books, notebooks, clothes, project files, etc.
Front compartment with multiple thoughtful separate pockets to carry smartphone, keys, pen, wallet, purses, and other small stuff.
2 mesh side pockets to carry a water bottle and an umbrella.
Theft-proof back pocket for carrying credential things like passport, wallet, phone, etc.
Over verdict: One of the most reviewed backpacks which is appreciated by numerous buyers. Overall this is an economic and feature pack backpack for iPad Air and other tech gadgets.
Wrap Up On Best Backpack For Latest iPad Air 2022 Model
Buying Apple new products is always a dream for everyone.
When you spend your hard earn money on them then you are always worried to protect them from scratches, and falling down if you commute on a daily basis with Laptop and iPad Air then having a protective backpack is a must.
I hope this article will help you to choose the best backpack for your iPad Air which has the latest m1 chip and 5G support. These backpacks are tested in tough situations that ensure extra safety for your gadgets.
Best Backpack For iPad Air 5G (M1 Chip) (FAQ)
The answer depends on the type of backpack that you are using to carry your tech gadgets, such as…
Either it is a normal backpack or it is specially designed to keep your iPad Air, and Macbook safe. 
An ordinary backpack comes with a simple design and it doesn't have enough padding and thickness in its compartment.  
On the other hand, An feature-rich tech backpack comes with so many helpful features that can protect your costly iPad Air and your laptop from small bumps and from falling down. 
Some Anti-theft backpacks are a good choice for those who travel a lot with their costly gadgets.
Here in this article, I've listed some top-notch tech backpacks that come with some advanced features and can protect your expensive tech gears from being damaged and stolen.