Shooting an appealing video of nature, science, food and other things is an art. It takes too much effort to shoot a video. If you are shooting at your studio or at outdoors you have to carry tons of different camera gear, audio recording systems, tripods, drones, and many more to make a perfect shoot.
Having a perfect backpack to carry all those bulky and very important shooting gear is a must. Choosing the best backpack for videography is quite different from what you choose for photography.
Usually, a photographer carries a camera, some lenses, extra memory cards, and some batteries in their backpack and it can easily be carried in a small shoulder backpack but videography is not the same.
If You Are In a Hurry Then Go With This Blindly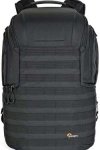 Lowpro ProTactic Camera Backpack
Deep Enough to carry all size lenses standing up straight.
Very convenient front opening to access all the gears at one time.
High quality zippers and very comfortable to wear.
There are two types of bags that a videographer needs:
Soft Camera Bag For Videographers
This is the most convenient option to carry camera gear in a backpack that can be carried over the shoulders. Filmmakers usually use these backpacks for their long shoots which provides easy access to camera gear.
Most backpacks don't allow fast access to your camera gears. Having a top-load compartment for this stuff would be more beneficial for filmmakers.
Hard Camera Bag For Videographers
The hard camera bag is a perfect solution to transport your costly camera gear securely. Such types of bags are crushproof and somewhat impact resistant. Usually, Filmmakers uses such type of backpacks to tote their costly camera gear in most challenging environment such as snow, rain, dust, etc.
These backpacks are made of high-impact plastic polymer which makes the backpack durable and lightweight. You must consider sturdy latches and hinges before making a purchase of such bags.
You can also check out our detailed buying guide to make the right buying decision for yourself. 
5 Best Camera Bags For Videographer in 2023 Detailed Review And Buying Guide
1. Lowepro ProTactic Camera Backpack For Videographer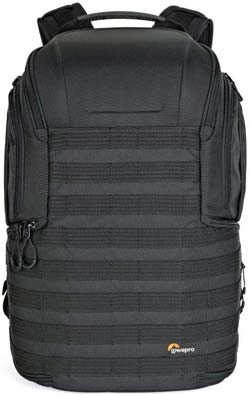 Its Features
Fit 2 Pro DSLRs, One with 70-200mm lens attached, 6-8 lenses
Weight: 5.95 lbs.
Dimension: 14.17 x 8.66 x 20.47 inches.
Material: Canvas which is water resistance.
Perfectly fit a 15 inches laptop.
Comes with a rain cover.
The backpack from Lowepro is one of the best camera backpacks for the videographer in this top 7 list due to its amazing useful features.
Why Lowepro Protactic Is One Of The Best Camera Backpacks In This List?
Its features truly justify its price. Under the budget of 250$, this is a deal-breaker backpack.
It has enough depth for your camera and lenses to keep them standing up straight in your backpack and it has a separate pouch to keep a 7 inches monitor without breaking it. On the other hand, its competitor Nomadic disappoints us in this segment. 
The backpack is very comfortable to wear for a long time and doesn't even hurt your back and shoulders but the Nomadic backpack is slightly better than this backpack in terms of comfort. 
Its zipper quality is improved than its previous model and provided its service for a couple of years no doubt. The zippers slide much faster and easier than its competitor Nomadic backpack.
In terms of accessibility, The Lowepro has side pockets for quick access to the lenses and also it has a top zipper pocket that allows you to access the camera without unzipping the whole bag. 
On the other hand, Nomadic doesn't have top quick access to the same.
The capacity of Lowepro is 25L and The Nomadic has 42L so you can put some clothes and shoes in that backpack this is the plus point of this backpack.
But most people don't want to carry clothes and shoes in their camera backpack so the choice is yours. 
The Lowepro front has 82 different loops. The 2 straps come with a backpack that can be strapped onto any one of them and can be used to hold a tripod. 
Two additional bags can be put on its waist strap and can be used to hold camera lenses for quick access during the shoot on your hips that's amazing.
On the other hand, the Nomadic backpack also comes with 2 straps but doesn't have proper loops to attach them. 
Overall LowePro can also be used as a travel backpack and this is one of the best camera backpacks for travel.
2.
NOMATIC McKinnon Camera Backpack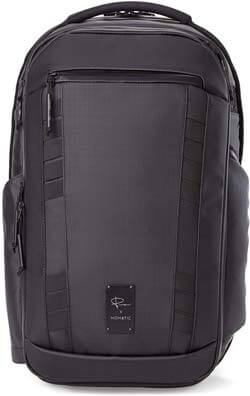 Its Features
Expandable capacity from 32L to 42 L.
Weight: 5.75 lbs.
Dimension: 22″ H x 13.5″ W x 9″  inches.
Material: Canvas which is water resistance.
Perfectly fit a 16 inches laptop.
The backpack from Nomadic is perfect for those videographers who want to carry their camera gear for a 1 to 5 days hiking trip. This could be the Best Camera Backpack For Hiking.
Also Read: Best Camera Bag For Sony A7iii 2023:[Latest Top Pick]
But in terms of price to performance, the Backpack from Lowepro is definitely destroyed Nomadic.
Why Nomadic Backpack Is Second In This List?
The main drawback of this backpack is its price. The backpack is very expensive.
Our Expert finds the depth of its main camera compartment is less than Lowepro, which is a downside of this backpack.
After putting Some camera lenses and 7 inches monitor inside the main compartment and keeping them standing up straight there is fear of extra pressure on your costly camera gears when you zip it. 
In terms of comfortability, the backpack is slightly better than Lowepro. Its shoulder straps have some extra coating of foam that feels really good while wearing it when loaded.
Accessibility is really good for those videographers who don't like the side access pocket of both sides in their backpack.
It has only a one-sided pocket that won't confuse you to find out your gear in one attempt. Its zip quality and access to the whole camera compartment feature are really time-saving and convenient. 
Nomadic doesn't have such type of mechanism to quickly access your camera without unzipping the whole backpack. 
The Nomadic has a 42L capacity makes it big and heavy compared to Lowepro but it is definitely liked by hikers and travelers.
The Nomadic backpack comes with a waist belt that can be detachable when needed. The backpack comes with 2 straps but we don't find a convenient space to loop them. 
Overall the Lowepro is definitely a clear winner in many segments and cheaper than the Nomadic backpack.
3. Peak Design Everyday Backpack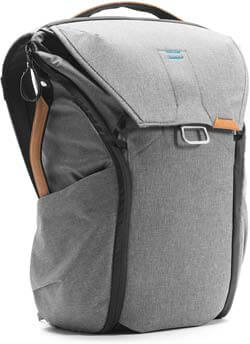 Its Features
The expandable capacity of 20L & 30L.
Weight: 5.75 lbs.
Dimension: 18 x 12 x 6.75 inches
Material: 400D Nylon Canvas Shell with water resistance capability.
Perfectly fit a 16 inches laptop.
The third most popular backpack in this list is from Peak Design. The backpack comes with the same price segment at which Lowepro comes.
The Peak Design is best for those who want to carry more everyday items and lots of small setups but if you want to carry more camera gear with your backpack then Lowepro is definitely a perfect choice.
Why Lowepro is a better choice than Peak Design?
The backpack comes in a price range of $250 but does not justify the need for a videographer.
Lowepro has a decent depth inside the camera compartment and stores the camera gears securely on the other side, Peak Design comes with flex four dividers that don't provide much flexibility and customizing the inside compartment.
Accessibility: The Peak Design offers only side and top accessibility of the camera gears. Side pockets always confuse you while accessing the gears. 
Lowepro offers better accessibility that has a fully accessible camera compartment in a single unzip that is very convenient.
The Peak Design doesn't have back access which creates problems while organizing the camera gears. Lowepro can be accessed from the top and also from the back which is more convenient.
Peak Design doesn't offer weather protection while Lowepro does.
The external straps in Peak Design are unable to hold your tripod and other gears tightly and seem to get loose easily, on the other hand, Lowepro offers a military webbing design that holds external items tightly.
4.
Endurax Extra Large Camera DSLR/SLR Backpack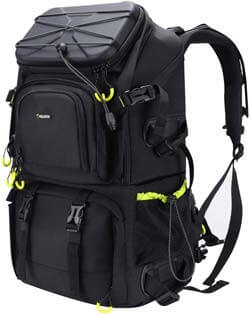 Its Features
Weight: 6.5 lb.
Dimension: 23 x 13 x 9 inches.
Free waist/shoulder camera bag included.
Rain cover included.
Space for a 15.6 inches laptop.
If you want to buy a camera backpack that has enough space to carry multiple cameras and lenses and want to carry multiple tripods with your backpack then you can consider this backpack.
Endurax A Budget Pick Backpack With Lots Of Space.
We really like its top Armour's small pocket to carry some small sensitive gears securely. 
The backpack is large in size and its weight is more than other listed backpacks.
The backpack provides huge space to carry multiple cameras inside it. Its main compartment is divided into two parts:
You can either put 2 cameras and 8 lenses or remove its divider to allow storing your long lens such as Tamron 600 mm zoom lens inside it.
It has tons of thoughtful pockets to carry small stuff. The tripod arrangement of this backpack is better than other backpacks. You can carry one large and one small tripod with its side straps. 
You can get one waist bag with this backpack that can be carried as a shoulder bag. This bag allows carrying an extra camera or lenses just outside the backpack on your hip belt. 
We don't like its laptop compartment as after inserting all the gears its laptop sleeve becomes tight and could hardly carry your laptop securely.
If your budget does not allows buying a Lowepro backpack then this is the Best Budget Camera Backpack in this top 5 list.
5. Best Hard Case For Videographer From
Pelican 1510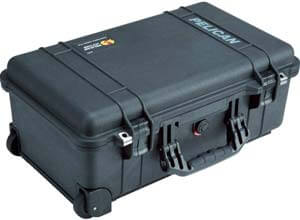 Its Features
Comes with a lifetime guarantee. 
Watertight, Crush-Proof and dust-proof.
Foam Divider to carry sensitive gears safe and secure.
The maximum carry on size is 64.15 pounds
The Fifth and last hard case bag is one of the most selling and most appreciated bags for videographers. 
If you shoot in very extreme locations and want to transport your most expensive cameras, lenses, and sound equipment securely without being damaged then you must buy Pelican.
The bag is robust, completely watertight, crush-proof, and comes with a lifetime guarantee. Whether you are shooting on hills, see side, desert place this bag can bear all the weather conditions. 
The dimension of this bag is 22 x 13.8 x 9-inch. The bag is designed to meet the FAA carry-on requirements, which allows you to travel with this bag without being worried about checking your bag.
For easy transportation its robust wheels and handle make the job done. You can manage its foam divider as per your camera and lens size to ensure they sit in their position tightly without being crushed.
Some Important Key factors To Choose The Right Backpack For Videographers
Whether you are a photographer or a videographer having a dedicated backpack to carry your camera gears well organized is a must.
If we talk about the videographer backpack then their need is quite different from the need of a photographer.
A videographer has to carry a complete sound system with their backpack that a photographer really carries.
Camera backpacks are costly so it is very important to do proper research before making any buying decision. 
We can definitely help you in this segment as we have a detailed buying guide that can help you to figure out the right backpack that can truly justify your need and the money that you are going to pay.
This is the most important part that every videographer must consider in their backpack.  A videographer's backpack should have enough depth in the camera compartment.
Like Nomadic backpack comes with a $400 price segment but we find its main camera compartment depth is less to carry some camera gears standing up straight. 
On the other hand, Lowepro that price is just half that of Nomadic but offers decent depth in the main compartment.
The second most important thing to consider is how easy to access the internal gears from a backpack. 
Our Expert finds most videographers don't like a side access arrangement that is irritating and time-consuming to find the right gear from the side pockets. 
A backpack with top access and an easy one-time unzip mechanism to access all the gears at the same time is very beneficial for a videographer that Lowpro provides.
Customizable Camera Compartment
The best backpack comes with fully customizable dividers that can change their shape and adjust the space according to the size of the component. 
This way the inside space is utilized properly and creates more room for other small gears apart from the large cameras.
A good backpack has lots of loops at the front panel to put the straps on them to carry extra gears outside the backpack.
In that way, we can carry some extra stuff without disturbing the inside volume of the backpack. For example, we can carry a tripod with side straps and a mesh pocket to carry a water bottle.
You can carry more gears with your waist. You can put some small pockets on your waist belt to carry an extra camera and some other small gear like a memory card, battery, etc.
Durable And Water Resistance Body
A camera backpack must be durable and made with a water/ dust resistance material. In that way, your expensive cameras and lenses remain safe inside your backpack. You will find most of the best camera backpacks for hiking in 2021 from different brands. 
Padded Laptop Compartment
A videographer works on big size video footage and to keep them and transfer them from camera to laptop a dedicated laptop compartment with proper safety is a must-have thing in their backpack. You can choose either a 17-inch laptop camera backpack or a lower size according to your need. 
Conclusion
Choosing the right backpack for your next shoot is really a tricky and cumbersome job because it takes lots of time to do proper research. 
In this article, we have tried our best to provide all the useful information about all the best backpacks for videographers. 
In our research, we find the Lowepro is one of the best videography backpacks that give you the best value for what you are paying for that. 
Our detailed buying guide would help you to make the right buying decision by yourself.