Looking for the best camera backpack for Safari…
You are in the right place.
As usual, a camera backpack is not going to be lightweight because of the camera and its lenses, your DSLR is much much higher in weight. 
But I've tried to list some lightweight backpacks which are not only comfortable, sturdy, and durable but also comes with a nice camera compartment that can be accessible in multiple ways. 
But wait…
How To Choose A Right Camera Backpack For Safari?
If you are going to your local shop or an online shop choosing the right camera backpack for safari is a tricky task as several different brands introduce tons of backpacks every year. 
But this brief buying guide really helps you to understand some very basic but crucial points that help you in choosing the right camera backpack for African Safari.
If You Are In Hurry Then Go With This Feature Pack Backpack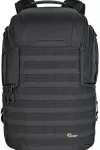 Lowpro ProTactic Camera Backpack
Deep Enough to carry all size lenses standing up straight.
Very convenient front opening to access all the gears at one time.
High quality zippers and very comfortable to wear.
Buying Guide of Best Backpack For Safari in 2022
Although I've listed some best backpacks available in the market right now, if you want to make the right decision on your own then must read this brief buying guide.
Build Quality
A backpack especially a camera backpack must be made of high quality and durable material. It also has double stitching for rough and tough use.
It also has a water resistance quality that helps to keep your expensive camera gears safe from drizzling rain. 
Buckle & Straps
The buckles, straps, and zippers of a camera backpack must be sturdy and as much padded as require. Too much padding makes your backpack heavier than normal.
But protection and safety of your expensive gears must be a priority, some feature-rich backpacks are heavier but it is very important that they can save your camera geares.
Comfortable 
A backpack with padded shoulder straps, a properly ventilated back panel, and some useful external bungees to hung your tripod, etc make a backpack best for wild safari trip. 
Accessibility
A camera backpack must have multidirectional accessibility. some backpacks are featured with side accessibility, some have a large u shape zipper opening in the main compartment that make it much easier to see all the gears at the same time. 
This is a brief summary of what to look for to choose the right camera backpack for safari. If you want a more detailed buying guide then must read it at the end of the review section.
5 Best Camera Backpacks For Safari in 2022 Detailed Review
1. Lowepro ProTactic Camera Backpack For Safari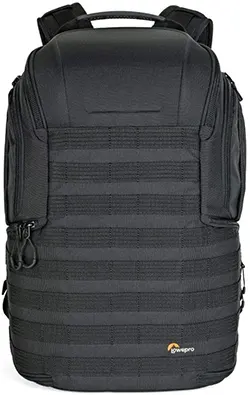 Its Features
Fit 2 Pro DSLRs, One with 70-200mm lens attached, 6-8 lenses
Weight: 5.95 lbs.
Dimension: 14.17 x 8.66 x 20.47 inches.
Material: Canvas which is water resistance.
Perfectly fit a 15 inches laptop.
Comes with a rain cover.
The backpack from Lowepro is one of the best camera backpacks for the wild safari in this top 7 list due to its amazing useful features.
Why Lowepro Protactic Is One Of The Best Camera Backpack For Safari In This List?
Its features truly justify its price. Under the budget of 250$, this is a deal-breaker backpack.
It has enough depth for your camera and lenses to keep them standing up straight in your backpack and it has a separate pouch to keep a 7 inches monitor without breaking it. On the other hand, its competitor Nomadic disappoints us in this segment. 
The backpack is very comfortable to wear for a long time and doesn't even hurt your back and shoulders but the Nomadic backpack is slightly better than this backpack in terms of comfortability. 
Its zipper quality is improved than its previous model and provide good service for a couple of years no doubt. The zippers slide is much faster and easier than its competitor Nomadic backpack.
In terms of accessibility, The Lowepro has side pockets for quick access to the lenses and also it has a top zipper pocket that allows you to access the camera without unzipping the whole bag. 
On the other hand, Nomadic doesn't have top quick access for the same.
The capacity of Lowepro is 25L and The Nomadic has 42L so you can put some clothes and shoes in that backpack this is the plus point of this backpack.
But most people don't want to carry clothes and shoes in their camera backpack so the choice is yours. 
The Lowepro front has 82 different loops. The 2 straps come with a backpack that can be strap onto any one of them and can be used to hold a tripod. 
Two additional bags can be put on its waist strap and can be used to hold camera lenses for quick access during the shoot on your hips that's amazing.
On the other hand, the Nomadic backpack also comes with 2 straps but doesn't have proper loops to attach them. 
Overall LowePro can also be used as a travel backpack and this is one of the best camera backpacks for travel in African safari.
2.
NOMATIC McKinnon Camera Backpack For Safari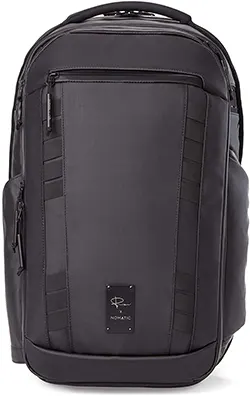 Its Features
Expandable capacity from 32L to 42 L.
Weight: 5.75 lbs.
Dimension: 22″ H x 13.5″ W x 9″  inches.
Material: Canvas which is water resistance.
Perfectly fit a 16 inches laptop.
The backpack from Nomadic is perfect for those  Photographers who want to carry their camera gear for a 1 to 5 days Safari trip. This could be the Best Camera Backpack For Safari. 
But in terms of price to performance, the Backpack from Lowepro is definitely destroyed Nomadic.
Why Nomadic Backpack Is Second In This List?
The main drawback of this backpack is its price. The backpack is very expensive.
Our Expert finds the depth of its main camera compartment is less than Lowepro, which is a downside of this backpack.
After putting Some camera lenses and 7 inches monitor inside the main compartment and keep them standing up straight there is fear of extra pressure on your costly camera gears when you zip it. 
In terms of comfortability, the backpack is slightly better than Lowepro. Its shoulder straps have some extra coating of foam that feels really good while wearing it when loaded.
Accessibility is really good for those safari videographers who don't like the side access pockets of both sides on their backpack.
It has only a one-sided pocket that won't confuse you to find out your gears in one attempt. Its unzip and access the whole camera compartment feature is really timesaving and convenient. 
Nomadic doesn't have such type of mechanism to quickly access your camera without unzipping the whole backpack. 
The Nomadic has a 42L capacity makes it big and heavy as compare to Lowepro but it is definitely liked by hikers and travellers.
The Nomadic backpack comes with a waist belt that can be detachable when needed. The backpack comes with 2 straps but we don't find a convenient space to loop them. 
Overall the Lowepro is definitely is a clear winner in many segments and cheaper than the Nomadic backpack.
3. Peak Design Everyday Camera Backpack For Safari Lovers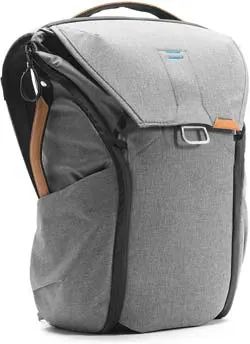 Its Features
The expandable capacity of 20L & 30L.
Weight: 5.75 lbs.
Dimension: 18 x 12 x 6.75 inches
Material: 400D Nylon Canvas Shell with water resistance capability.
Perfectly fit a 16 inches laptop.
The third most popular backpack in this list is from Peak Design. The backpack comes with the same price segment at which Lowepro comes.
The Peak Design is best for those safari video experts who want to carry more everyday items and lots of small setups but if you want to carry more camera gears with your backpack then Lowepro is definitely a perfect choice.
Why Lowepro is a better choice than Peak Design For Safari?
The backpack comes with a price range of $250 but not justify the need for a safari videographer.
Lowepro has a decent depth inside the camera compartment and stores the camera gears securely and the other side Peak Design comes with flex four dividers that don't provide much flexibility and customization inside the main compartment.
Accessibility: The Peak Design offers only side and top accessibility of the camera gears. Side pockets always confuse you while accessing the gears. 
Lowepro offers better accessibility that has a fully accessible camera compartment with a single unzip that is very convenient.
The Peak Design doesn't have back access that creates problem while organizing camera gears. Lowepro can be accessed from the top and also from the back that is more convenient.
Peak Design doesn't offer weather protection while the Lowepro does.
The external straps in Peak Design are unable to hold your tripod and other gears tightly and seem to get loose easily, on the other hand, Lowepro offers a military webbing design that holds external items tightly.
4.
LowPro FlipSide Camera Backpack For Safari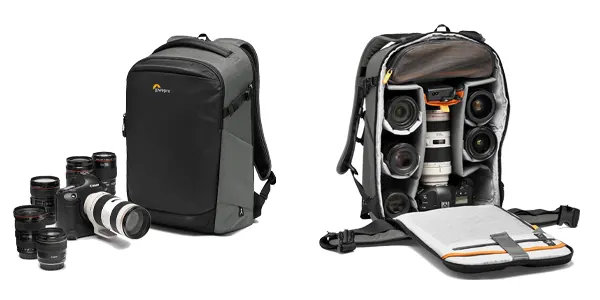 Its Features
Weight: 3 pounds.
Dimension: 12.99 x 9.45 x 18.9 inches
EVA bumpers and front PU coating for durability & protection.
Space for a 15 inches laptop.
This is another very famous camera backpack that comes for LowPro. 
Let's have a look at its features…
The backpack is a little bit smaller than LowPro Tactic and I found the depth of its main compartment is low as compare to Tactic pro. 
It has a large U shape zipper opening that helps to see through all the gear at once. Its main compartment has lots of dividers that can be adjusted according to the shape of your camera equipment. 
I found the velcro straps at the front panel as I saw on Tactic pro are missing in this model. 
It has a side access pocket that makes it much easier to access the camera from the main compartment. 
If we compare this model with the Tactic Pro then this is not a good deal at this price range.
5.
Endurax Extra Large Camera DSLR/SLR Backpack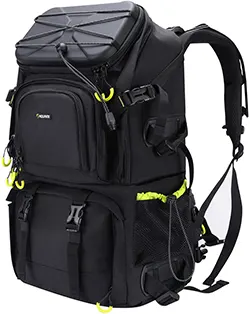 Its Features
Weight: 6.5 lb.
Dimension: 23 x 13 x 9 inches.
Free waist/shoulder camera bag included.
Rain cover included.
Space for a 15.6 inches laptop.
If you want to buy a camera backpack that has enough space to carry multiple cameras and lenses and want to carry multiple tripods with your backpack then you can consider this backpack.
And one of the best backpacks in terms of carrying extra stuff for safari.
Endurax A Budget Pick Backpack With Lots Of Space.
We really like its top Armour small pocket to carry some small sensitive gears securely. 
The backpack is large in size and its weight is more than other listed backpacks.
The backpack provides huge space to carry multiple cameras inside it. Its main compartment is divided into two parts:
You can either put 2 cameras and 8 lenses or removing its divider allows storing your long lens such as Tamron 600 mm zoom lens inside it.
It has tons of thoughtful pockets to carry small stuff. The tripod arrangement of this backpack is better than other backpacks. You can carry one large and one small tripod with its side straps. 
You can get one waist bag with this backpack that can be carried as a shoulder bag. This bag allows carrying an extra camera or lenses just outside the backpack on your hip belt. 
We don't like its laptop compartment as after inserting all the gears its laptop sleeve becomes tight and you could hardly carry your laptop securely.
If your budget does not allows buying a Lowepro backpack then this is the Best Budget Camera Backpack for safari in this top 5 list.
Best Camera Backpack For Safari (FAQ)
What is The Best Camera Backpack To Take On A Safari?
A camera that can protect your most expensive camera gear, comes with robust and durable build quality, and is also easier to haul could be the backpack for safari. 
In my research, Lowpro Tactic is the best camera backpack for safari due to its military-grade build quality and tons of useful features.
Some other key features that must be considered to choose the right backpack:
This is the most important part that every Safari traveler must consider in their backpack.  A safari backpack should have enough depth in the camera compartment.
Like Nomadic backpack comes with a $400 price segment but we find its main camera compartment depth is less to carry some camera gears standing up straight. 
On the other hand, Lowepro that price is just half than the Nomadic but offers decent depth in the main compartment.
Customizable Camera Compartment
The best backpack comes with fully customizable dividers that can change their shape and adjust the space according to the size of the component. 
This way the inside space is utilized properly and creates more room for other small gears apart from the large cameras.
Wrap Up On Best Backpack For Safari 
In this article, I have listed all the top-quality backpacks that are available in the market. 
And if you don't want to go through out listed backpacks and want to make the right buying decision then must read our buying guide that helps you a lot.