Sony launched a masterpiece in the camera industry at the end of 2021 with the model name Sony A7 IV and it is highly appreciated by photographers and videographers. 
Apart from all the latest features, the sony a7iv is an expensive camera and requires additional safety.
If you are looking for some Best Camera Bags For Sony A7 IV then this article is featured all the latest and highly durable camera bags which are compatible with your Sony A7 IV.
Before we proceed further let's have a look at the dimension of the Sony A7 IV, which helps us to choose the right Camera bag that fits well.  
Dimension Of Sony A7 IV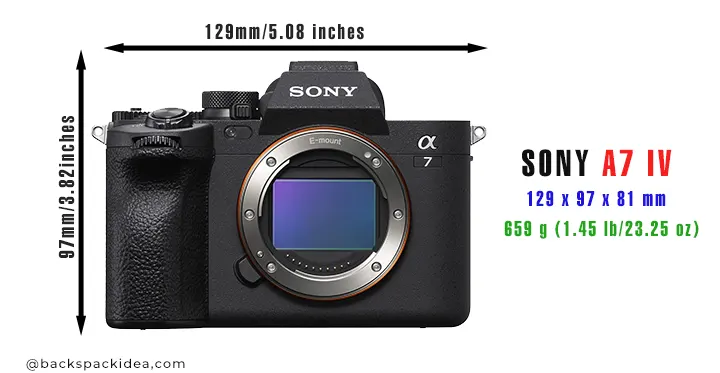 Now you have the knowledge about the dimension of your camera but before jumping to our recommendations directly, It would be a nice idea to know some criteria for a camera bag so that you can choose the right camera bag for your Sony A7 IV by yourself.
How To Choose A Right Camera Bag For My Sony A7 iv?
Choosing the right bag to carry your camera is very important not only for the safety of your expensive camera and accessories but also for making your work easy and enjoyable. 
There are some key points that you need to know to pick the right camera bag from tons of available options in the market. 
Size: The overall dimension of our camera is 129 * 97* 81 mm, keep this in mind and choose a bag that has an internal compartment that is slightly bigger than this. Make sure the camera bag is larger enough to fit Sony A7IV with all the needy lenses and accessories. 
Choose The Right Type That Suits Your Need: Do you like to carry a sling bag, a backpack, or a shoulder bag? This totally depends on your personal preference. A backpack is a spacious and very comfortable option if you travel a lot, for street photography you would consider a sling bag. 
Choice Of Material: Usually bags look very attractive no matter how cheap quality material is used in their making. Must keep your eyes on the material types.
Padding: Padding also plays an important role in making a camera bag highly secure and safe for your expensive camera and lenses. Padding should be thick and soft so that it resists impact and scratches effectively. 
 Accessibility: A camera bag has more than one way to access your camera and lenses. It also has some thoughtfully designed pockets to quickly access most needy small items on the go. 
How Much Money Should We Spend On A Camera Bag?
I don't want that you spend hundreds of dollars on a camera bag, you can buy some most useful camera accessories with the remaining money. 
Our target is to spend not more than $300 on a top-notch camera bag that has all the functionalities and safety features that must be in an expensive camera bag. 
Comparison Table (
Updated List

)
| Sony A7 IV Camara Bags | Our Rating | Speciality | Dimension | Weight | Material | Price |
| --- | --- | --- | --- | --- | --- | --- |
| Lowepro ProTactic Camera Bag | | A Backpack For Professional Photographers & Videographers | | | | |
| | | Comes with thick padding, premium waterproof zippers, Spacious, Premium build-quality. | 10.24 x 8.46 x 9.06 inches | | | |
| Peak Design Camera Bag For Sony A7 IV | | One of the most stylish and good-looking camera bag. | 12.2 x 4.33 x 7.48 inches | | | |
| | | Best Molded Base Camera Bag For Sony A7iv | 9.25 x 6.14 x 7.17 inches | | Polyester & durable, custom-molded base | |
| | | | | | Water repellent and rugged polyester | |
| CADeN Camera Bag Sling Backpack | | Best Budget Battery Grip-Friendly Camera Bag | | | | |
| Sony LCS-AMB/B Alpha Soft Carrying Case | | small and lightweight camera bag From Sony | 9.45 x 7.09 x 5.91 inches | | | |
Note: To know each and every feature of these camera bags and the number of camera lenses and other gear that you can keep in these camera bags must read the detailed review below. 
7 Best Camera Bags For Sony A7 iv In-Depth Review
Sony Alpha 7 IV Backpack For Professional Photographers & Videographers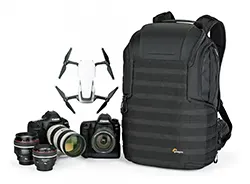 Features
Material: 900D Polyester Fabric
Dimensions: 30 x 16 x 44 cm
Weight: 2.84 kg/5.72 lbs
Capacity: 25L
Color: Black 
Pros
A fully functional and practical Camera backpack defined for professionals.
Slip lock webbing loops with 50 attachment points well to carry a tripod.
Sturdy and quiet zippers.
4 access points so that you be ready for any critical moment.
Built-in All Weather AW Cover that protects camera gear from rain.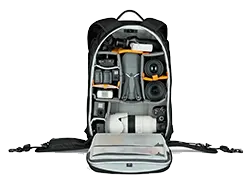 Lowpro is a brand known for its best-quality camera bags and backpacks. This is why the first camera bag in our top 7 list to protect and secure your Sony A7IV is Lowepro Protactic450. 
If you are a traveler or a professional photographer then a compact camera bag is not suitable to carry your camera, lenses, laptop, drone, clothes, etc. For this, you must have a highly durable, functional, secure, and comfortable camera backpack.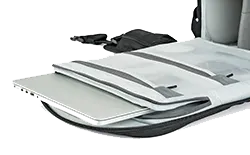 Lowpro Protactic is that type of camera backpack. It is made of 900D Polyester fabric which is a highly durable and sturdy material.  All weather AW cover protects your camera and lenses from unexpected weather conditions. 
Its main camera compartment is very spacious, let's have a look at what we can  pack inside this compartment:
You can carry 2 Pro size DSLRs in this compartment. 
DJI Mavic Pro
Sony A7IV with lens attached (70-200 mm).
It has space to carry up to 8 lenses.
15″ Laptop sleeve.
Tablet sleeve.
Tripod in the outside straps. 
Accessories
All of these things are easily accessible too with this camera backpack because it has four different ways to access your gear such as from the top, sides, and from the large U-shaped zipper. 
For carrying a laptop it has a specially designed CradleFit Laptop pocket that protects it from impact, and scratches.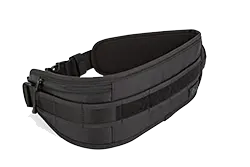 Its hip belt has two small side pockets located on both sides which are good to store most needy small gear and also provide support when you haul it on your back. 
Overall a nice feature-rich and highly functional camera backpack for your Sony A7IV and lenses. I personally like its space, 4 ways to access channels, water bottle, tripod space, and thick padded and fully adjustable dividers in its camera compartment. 
2. Lowepro Nova (A Compact Camera Bag)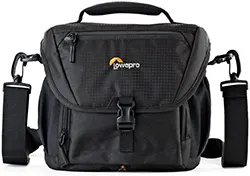 Features
Dimensions: 10.24 x 8.46 x 9.06 inches
Weight: 1.19 pounds
Color: Black
This is Lowepro LP37121 Nova 170 AW II. The Lowepro Nova is made of highly durable material that comes with A weather protection cover, waterproof zippers, and thick padding inside its camera compartment.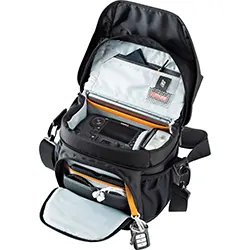 Lowepro Nova is available in sizes such as Nova 140, 160, 170, and 180. Nova 170 AW II is perfect for carrying my Sony A7IV with a sigma 24-70 lens. 
Apart from my camera and lenses, it has enough space in its front pocket for carrying extra pair of batteries, some SD cards, a compact drone, etc. Its camera compartment is divided into two thick padded dividers which ensure the safety of your camera and gear. 
Its top flap opening also contains one interior and one exterior pocket for carrying your smartphone, and other belongings. 
The camera bag is best in terms of portability and security. Its shoulder straps and handle make it very convenient to carry and its back has a zip pocket that can be used to attach this bag to the trolley of your trolley bag.   
Overall LowPro Nova 170 has every feature and plenty of space to carry your Sony A7Iv and other essentials safely and securely, under the price of $100.  
3. PeakDesign Everyday Camera Bag 5L (Stylish Camera Bag For A7 IV)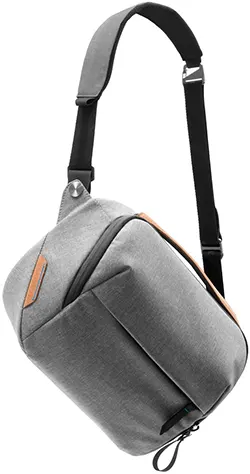 Features
Dimentions: 12.2 x 4.33 x 7.48 inches
Weight: 1.2 pounds
Color: Grey
Material:  400D Nylon Canvas Shell
Peak Design is a San Francisco-based company that is known for its design, innovation, and quality camera bags and accessories. 
A Camera Bag That Not Looks Like A Camera Bag
Peak Design 5L camera bag comes with a minimalistic design durable and sturdy build quality. Its outer body feels very sturdy maybe it is made of 400D Nylon canvas shell which has a water-repellent coating.
Its zippers come with water resistant coating and prevent water vapor from entering the camera bag.  
The bag doesn't lose its shape due to the thick padding in its internal compartments. 
Let's have a look at its special features:
Its camera compartment comes with two flex fold dividers which make space to keep your camera lenses and other gear snugly fit. Its zipper opening flap has one large zipper pocket with 4 small stretchy pockets that are good to keep some batteries, an SD card, earbuds, and a large horizontal section for carrying large items. 
Its front has a small pocket to keep your phone, lip balm, and other accessories. 
This is a demonstrated image that shows the different ways to carry your camera and its accessories inside its main compartment. 
What you can carry in its main compartment?
Mirrorless camera + 1-2 lenses

DJI Mavic or Spark drone + controller, batteries, charger

Full-frame DSLR snug fit.

You can carry a tablet in its top flap pocket. (Not suitable for Ipad Pro 10.5″).
This is a sling bag that can be carried as a fanny pack by adjusting its shoulder straps using its metal carabiner clip. It has a nice small gap near its carabiner clip which allow you to hide extra straps after adjusting it.  
Theft Protection Zipper Handle:
Its main compartment zippers come with a snap closer loop handle which could be attached to its front pocket zipper closer loop to make it tough for a burglar to open it. 
Clip Attachment (Very Useful)
The good thing about this camera bag is, you can attach some clips on its outer body to hang some items away from its main compartment, this way you can carry extra gear with your bag. 
You can use a camera capture clip to hang your camera on its outer body safely and securely.
The clip attaches to the shoulder strap or waist belt of the bag and can hold your camera in a horizontal or vertical position.
This allows you to keep your camera easily accessible and ready to use while you are on the go.
Overall a small, compact, lightweight, functional, and feature-rich camera bag to protect your Sonly AIV and your camera gear. 
Pros
Different carrying options Cross-body sling, Fanny pack, and Waist bag carry.
Comes with a protective tablet sleeve.
Zippers with rubber coating prevent intrusion of water vapor inside pretty well.
Comes with a lifetime warranty.
Cons
Expensive
Its flex fold dividers are smaller in size to fit a 7-14 zoom lens. 
4. Molded Base Camera Bag For Sony A7iv From Lowepro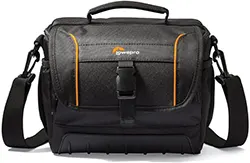 Features
Dimensions: 9.25 x 6.14 x 7.17 inches
Weight: 0.88 Pounds
Color: Black
The forth camera bag is compact and lightweight and comes with a molded base. 
This is Lowepro Adventura. LowPro Nova and Adventura are different in terms of space and bottom support. Adventure has better bottom support than the Nova due to the implementation of the molded base, which is sturdy provides a rigid surface, and protects your camera and lens from impact, and water. 
Apart from a nice space for your Sony A7IV and lens, it has a nice front zipper pocket to carry your phone, cords, SD cards, batteries, etc. You have also additional space at its top flap and its sides to carry other small gear. 
Unfortunately, the camera bag doesn't come with a rain cover. You have to purchase it separately. 
Overall a compact, spacious, and highly durable camera bag for your DSLR that comes with a molded base.  
Pros
Sturdy and durable built quality is its USP.
An adjustable padded divider in the main compartment
Three ways to carry by the handle, by adjustable and removable shoulder strap, and by its belt loop.
The molded base for extra protection.
5. Budget Sony A7iv Camera Bag From Bagsmart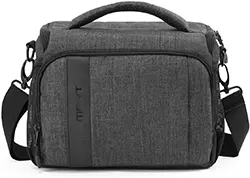 Features
Dimensions: 25 x 13 x 19 cm
Weight: 1 pound
Material: Water repellent and rugged polyester
I have a budget-friendly camera bag in our top 7 list which is compact, lightweight, thick padded from all sides, and spacious for Sony A7Iv and gear. 
This is bag smart. The camera bag seems durable because the company used rugged and water-repellent polyester in its outer body. Its external dimension is  9.8L x 7.4 Hx 5.1W inch which is the same as you find in some top brands of camera bags such as LowPro, etc. 
Although the build quality is not as great as you found in some top-brand camera bags it is decent to protect your camera and gear. 
It has a concealed rain cover on its backside to deal with rainy weather conditions. Its reverse zippers also prevent water vapors from entering the camera bag. 
Its main camera compartment has two detachable dividers with 10mm thick padding. It has 3 sections in its camera compartment for your DSLR with an attached lens or you can carry a camera and two other lenses. 
It has 6 mesh pockets to carry other essentials. Its bottom is made of thick vinyl to protect your camera and lens from the bottom.  
This is a budget option for those photographers who want a decent camera bag for their Sony A7Iv under their tight budget. 
Pros
Two elastic water bottle pockets that can fit my Nalgene water bottle perfectly.
Roomy camera bag which has large pockets at its front and back. A large lid pocket, good to carry cords and other gear.
The rain cover can cover the full bag, which is missing in Lowepro.
Cons
Looping the rain cover through the opening required frequent clipping and unclipping of the shoulder strap.
Quick zipper on the top is missing for easy opening and closing.
6. Caden Camera Sling Backpack For Sony A7iv with Battery Grip Attached
Best Budget Battery Grip Friendly Camera Bag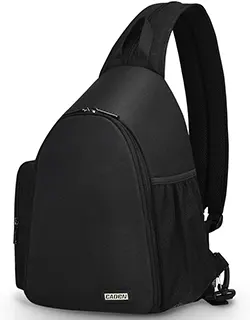 Its Features
Dimensions: 13 x 9 x 5 inches
Weight: 0.6 kg
Color: Black
Material: Nylon.
1 Year of Warranty
Many photographers want to save time in the assembly and disassembly of their camera gear, in this case, a bag that allows carrying a camera with a battery grip attached would be beneficial.
This sling bag comes from CadeN. Another good thing about this sling bag is it can be used as a backpack by pulling away its strap zipper. 
The external body of CADeN D17 is made of Nylon which has a water-resistant coating so that you can keep it in unexpected weather conditions. 
Not only Sony A7IV, but you can also carry A7IV, Canon 90D, and many other models with attached battery grip inside this sling bag. 
One side has a water bottle pocket and the other side has a small pocket to carry some batteries, SD cards, phones, etc. Its camera compartment has a mesh pocket for your iPad. 
Overall a nice package of all the needy features with the protection of your camera and essentials. 
7. Sony soft Carrying Case For A7IV

Features
Dimentions: 9.45 x 7.09 x 5.91 inches
Weight: 0.57 pounds
Color: Black
In most cases, accessories provided by the brand come with decent built quality, and to keep it in mind the last camera bag in this list is from Sony itself.
This is a small-size camera bag from Sony that can accumulate your camera with a lens attached inside it. 
Its orange color internal lining and soft and padded dividers keep your camera with a lens snug fit and your camera won't juggle when your walk. 
Its front pocket has space to carry batteries, SD cards, etc. Side pocket to keep lens covers. 
Note: If you have a 24-70 mm f2.8 lens then it will not fit inside this camera bag. 
Pros
A small sleek and soft camera bag for your Sony A7IV.
Soft internal dividers keep your camera and lens snug fit.
You can carry some batteries, an SD card, lens cover with this camera bag.
Padded, adjustable, and removable shoulder strap. 
Cons
A branded camera bag with very limited space and functionality.
A rain cover is not included.
Best Camera Bag & Cases For Sony A7iv (FAQ)
Q.1 Which camera bag is best for my Sony Alpha 7Iv?
I personally love the PeakDesign Everyday 5L camera bag to carry my Sony A7IV camera. I love its design, and minimalistic look. It has tons of useful features such as its water-repellent design, reversible zippers,  theft protection zipper handle, clip attachment, and many other features.  
Go with LowPro ProTactic, if you are a professional videographer or a photographer. It has numerous thoughtfully designed pockets and compartments for each and every camera gear. 
Nice front Slip lock webbing loops with 50 attachment points well to carry a tripod.
Q.2 How To Carry Sony A7IV In A Camera Bag?
I personally love to carry a camera backpack to carry all the needy camera gear. It helps a lot especially if you travel a lot. All the lenses, cameras, and other gear you can pack in one bag. 
For street photography, I love to carry Peak Design as a cross body. When I'm on my bike I prefer to carry my camera in a fanny bag. 
Q.3 Camera Bag Or Case Which One Is The More Convenient And Secure Option To Carry A7iv?
The camera Case is like a cover for your camera's body to protect it from scratches, and impact.
But a camera bag is a spacious, highly durable, and functional option to carry your camera and gear safely and securely. 
Wrap Up On Best Sony A7IV Camera Bags
My favorite camera bag to carry Sony A7Iv is PeakDesign, LowPro Protactic. 
PeakDesign is a compact, lightweight pack for street photographers, whereas Lowpro Proteactic is best for professionals.