As a software engineer having a perfect backpack carrier for your day-to-day task is very important.
If you are looking for the best backpack for software engineers either gifting someone or for yourself then this article is the right place for you.
But the question is…
What Features Make A Backpack Perfect For A Software Engineer?
Whatever backpack you are carrying as a computer science student now is the time to update what you carry in your backpack and in some cases your backpack also.
As a software engineer, you have to carry lots of techy gadgets apart from some office documents, your lunch, water bottle, etc.
It is fine to carry your lunch, office documents, water bottle, and other small essentials in your existing backpack but It would be not fine to carry your expensive gadgets like your MacBook, IPad, and iPhone in an ordinary backpack.
Must check out these features in your backpack to secure your expensive gadgets from being damaged or stolen.
If you are in hurry and don't want to go through the whole article then go with this feature-rich backpacks…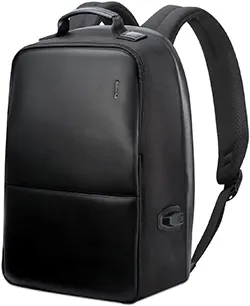 Premium Anti-Theft Backpack For Software Engineer
Anti-collision design.
Very durable, compact, sleek, comfortable, and professional backpack.
water-resistant microfiber leather and ballistic nylon material. 
Flight Approved Design with High-quality zippers.
Invisible water bottle pocket, a hidden back pocket, and one hidden and easy-to-access card pocket.

How To Choose The Right Backpack That Can Truly Satisfy The Need Of A Software Engineer?
Check Out these features in your backpack…
Concealed Main Compartment
As a software engineer, you have to commute daily with your expensive gadgets most commonly with a laptop. A backpack with an anti-theft design is a must for you. 
You would never want to get robbed during commuting.
As you are going to carry some tech gear in your backpack, then it is very important for your backpack to be waterproof. Not mandatory in some cases like if you are using your car for commuting.
Fleece lining And Finely Padded Laptop Or Tablet Compartment
This is a must-have feature whatever brand you are going with. Apart from that having a false bottom or bottom support in the laptop or tablet compartment would be great.
Other noticeable features such as build quality, the quality of the shoulder straps, external pockets, side pockets, etc should be examined in your backpack.
For a Detailed In-depth buying guide, you can check out this section after the review section.
Now you have all the useful knowledge about what features to look for before buying a backpack as a software engineer.
but wait…
The market will confuse you because there are tons of brands both old and new have launched their backpack with attractive features. 
I know you don't want to trap yourself in daunting research stuff. 
Even you don't need to do that because I'm here to do all the boring cumbersome research for you, and have listed some top-notch backpacks with all those features, that are must-haves in a software engineer backpack. 
so without further ado, let's break it down…
7 Best Software Engineer Backpacks In-Depth Review
1. Best Backpack For Software Engineer From BOPAI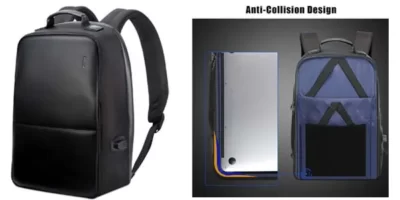 Its Features
Invisible Anti-theft Design.
Invisible card pocket.
Backstrap can hold it on the pull rod of luggage.
Invisible side water bottle pocket.
USB charging port.
Water resistance.
This is one of the best backpacks for carrying your MacBook and books and other office essentials either for work or for business travel. The backpack comes with some unique and innovative features which you can't find in any other brands.
The backpack from BOPAI is made with high-quality waterproof microfiber leather and durable ballistic nylon together to protect it from drizzle rain. 
Its back panel is designed in such a way that it keeps your back dry on hot days. Anti-collision design to protect your laptop from damage and scratches.
It has specific padded space for your laptop and iPad and many separate pockets to keep your stuff organized.
Overall if you want a backpack that protects your belongings from being stolen, from rain, and feels comfortable to wear then the backpack from BOPAI could be the right choice for a software engineer.
2. Best Dual Laptop Backpack For Software Engineer From NorthFace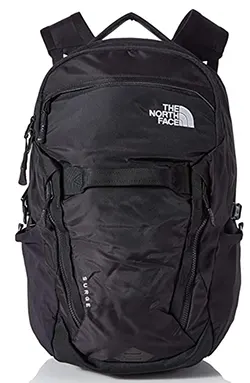 Its Physical Features
Measures 20'' L * 13.25 '' W * 10.5'' H.
Laptop Sleeve: 10.25″ x 14″ (26cm x 35.6cm)
Volume: 31 Liters
Weight 10 ounces.
Material: 1680D ballistic Nylon with water repellent coating
15 inches laptop compartment & a dedicated tablet pocket with

false bottom support

.
The second backpack on this list is from NorthFace. The backpack is designed to keep in mind the needs of techy people.
It has a nice mobile tech compartment that takes care of all of your tech gadgets inside it. The laptop compartment is large enough and you can stash two laptops of the same sizes in its separate compartments, an Ipad, some notebooks, and documents.
It has tons of small pockets with a fleece-lined mobile pocket and two vertical large pockets for even more organization for your gear.
The sporty look of this backpack is best for those Software Engineers, who want a cool and spacious backpack for their day-to-day task. 
3. Spacious Backpack For Software Engineer From SwissGear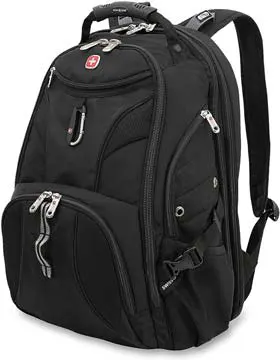 Price Under $80
Check the latest price here
Its Features
Dimension: 18.5 X 13.5 X 9 inches
Weight: 3.3 lb
Material: 1200D Ballistic nylon
Ipad Pro Floating TabletSafe for superior electronics cradling.
17 inches laptop padded sleeve.
If you are looking for a backpack to keep your laptop, iPad, and other tech gears safe and secure then the swiss Gear offers two models for this.
Swiss Gear 1900
Swiss Gear 1923
If we talk about the build quality then both backpacks come with decent built with almost the same material. However, backpacks don't come with a water-resistant coating which is their downside.
The 1900 model is much better in terms of laptop & Ipad pro pockets than its 1923 model as the 1900 comes with a padded sleeve laptop compartment. 
Its Floating TabletSafe pocket can protect your Ipad pro from being damage that is missing in the 1925 backpack. 
Both backpacks come with TSA-friendly, Scan smart technology that saves your time at the airport checkpoint.  
Both backpacks come with tons of small as well as large pockets that are good to carry batteries, keys, chargers, and other techy gadgets. We like the dedicated media pocket is very handy and useful. 
the backpack is very comfortable to wear and comes with proper airflow at the back panel. 
Overall the backpack is best for software engineers, weekend travelers, and young professionals.
4. Osprey Arcane Role Backpack For Software Engineers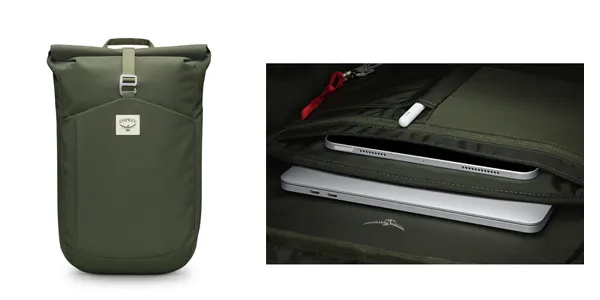 Its Features
Fabric: 55% Hemp 45% Recycled Polyester Blend in main and bottom.
Available in 9 eye-catching colors.
15″ padded laptop sleeve, document sleeve
Dimensions: 20 x 12 x 9 inches
Weight: 1.72 pounds
This is another top-quality backpack for Software Engineers from Osprey.
The build quality is no doubt incredible as the backpack comes from a very reputed brand. 
The backpack feels and looks premium. It feels very soft and comfortable on the shoulders and back due to its padded and well-made shoulder straps. 
Its Roll top opening makes it very easy to access the inside belongings and comes with an Aluminum closure. 
I really like its main compartment which is roomy and can hold your 14 inches Macbook Pro in its padded sleeve.
As the thickness of the 2021 model of Macbook Pro is slightly more than its previous models, the Arcane laptop compartment can hold up to 15″ models.  it can easily fit inside it. 
Also, It has a nice space for Apple Pencil, other small accessories, and a separate zipper pocket for the power cord. 
Additionally front stash pocket provides nice iPhone storage and I really like the side vertical zipper pocket that is easily accessible. 
Apart from all the good things, It would have been nice if the body had water resistance. 
Overall a nice backpack specially for techy professionals like software engineers.
5. Budget Anti-theft Backpack For Software Engineer From Matein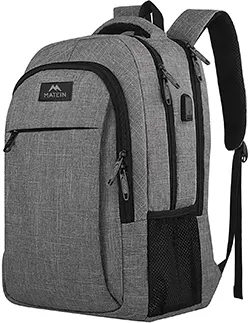 Its Physical Features
Measures 18 x 12 x 7.8 inches.
Weight 1.56 lbs.
Anti-theft backpack with USB charging port.
Made with  High Density and Water Repellent Polyester Fabric.
Up to 17 inches laptop can behold.
USB charging port.
This is a budget pick for techy professionals, especially software engineers. This is a budget category backpack for those who don't want to spend much but wants a decent performance with a backpack. 
Why You Should Consider Matein in Budget Segment?
The backpack is made with highly durable, water and tear resistance 100% Polyester fabric.
Separate laptop compartment for up to 15.6 inches laptop. As the space is pretty large, your thick laptop can easily rest inside it.
Main compartment for carrying some books, notebooks, clothes, project files, etc.
Front compartment with multiple thoughtful separate pockets to carry smartphone, keys, pen, wallet, purses, and other small stuff.
2 mesh side pockets to carry a water bottle and an umbrella.
Theft-proof back pocket for carrying credentials things like passport, wallet, phone, etc.
Over verdict: One of the most reviewed and appreciated by numerous buyers, economic and feature pack backpack for software engineers.
6.
Oscaurt Laptop Backpack With Anti-theft Design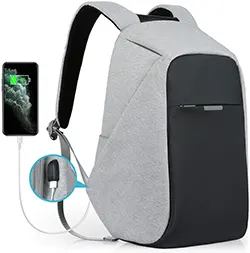 Its Physical Features
Measures 11 x 5 x 17 inches.
Weight 2.30lbs.
Anti-theft design hidden main compartment zippers.
Reflective strips for safe night travelling.
Made with strong anti-scratch/cut, water-resistant fabric.
Up to 15.6 inches laptop can hold with proper protection from shock with an elastic band.
The backpack from Oscaurt provides true anti-theft protection due to its minimalistic design with a hidden zipper in the main compartment.
A Backpack With Unique Design & Hidden Zipper
Our Expert really impressed with its minimalistic anti-theft design. The backpack is best for those Software engineers, who travel a lot and are afraid of losing things. Its reflected strip is looking good and makes it safe to travel at night. 
The one thing that makes it different from Bopai is its hidden zipper in the main pocket. 
As compared to the Bopai backpack it has less space in the main compartment but has enough pockets for small things and some clothes. It has 2 side pockets for a water bottle and umbrella and one hidden back pocket to keep credential things safe.
The external USB port is useful to charge your phone. The backpack is comfortable to wear due to the High-quality EVA material at the back. 
The build quality is no doubt just amazing due to its anti-scratch/cut design and water resistance fabric. 
Our Verdict: The backpack from Oscaurt is best for those software developers who can't afford the Bopai backpack. The backpack is designed so well and will not change its shape when loaded and protect your back and laptop.
7. Best Stylish Backpack For Software Developer From Moboker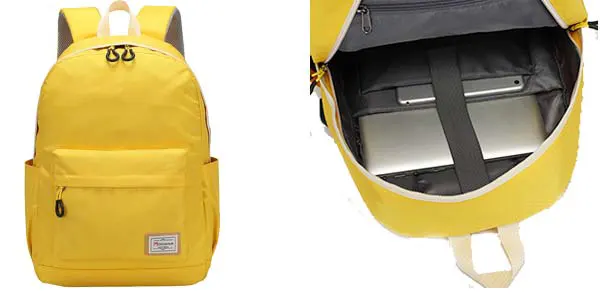 Price Under $30
Check the latest price here
Its Features
Dimension: 16.5 x 7.5 x 11.5 inches
Weight: 1.94 pounds
Material: 600D Nylon 
Scratch/tear-resistance and anti-water splashing.
Padded sleeve for 15.6-inch laptop and 12.9 inches Ipad pro.
If you are on a very tight budget and want to buy a backpack that is stylish and also carries your Laptop safe and secure then take a look at Modoker.
Why this backpack is a deal-breaker in the budget segment of Software Developers?
Let's check its features which make it a killer choice in budget.
The backpack is so stylish and comes with 2 eye-catching color combinations.  
Our Expert really likes the quality of this backpack. Nylon 600D is a wear/tear-resistance and water-repellant fabric which makes it a durable and long-lasting backpack.
It has enough space to carry a 14 inches MacBook Pro (Up to 15.6 ") and a 12.9 inches IPad Pro with its separate and padded sleeves. 
Apart from your tech gears, it has still some space for your notebooks. The side pockets are good for carrying a water bottle and an umbrella outside. 
USB charging port and right shoulder strap have a hook to hold glasses. 
The backpack is very comfortable and breathable from the back and shoulder straps are adjustable which makes it a perfect fit for wide-shoulder people as well. 
Overall the backpack is available in 2 colors and under the budget of $30 this could be the best value-for-money backpack for you.
Best Software Engineer Bags Detailed Buying Guide
Choosing the right backpack as a software engineer is a tricky task as there are many different brands that launch their backpack every month. 
This is enough to confuse you with which one to choose and which one to leave. 
I have listed some of the best backpacks in this article that come with some very useful features and sturdy build quality. 
Some are very good to carry your gadgets like your laptop and iPad in their thick padded separate laptop or tablet compartment. 
Still, if you want to choose the best backpack for software engineers on your own then this buying guide will definitely help you a lot.
 Space:
One of the main criteria that make a backpack perfect for a software developer is its space. 
A software engineer's backpack must be roomy because a software developer needs to carry a laptop, a tablet, hard disk, headphones, etc in his/her backpack so having a good space with multiple different compartments in a backpack could be beneficial. 
Apart from other things having a thick padded laptop compartment is a must. 
Material:
A backpack should be made of high-quality material that would be sturdy and water-resistant. 
There are different types of materials are used in making a backpack which are:
Both materials are plastic made and invented in 1930. Both are more similar than different. 
Nylon and polyester are mostly used in travel backpacks. Due to their durability, sturdiness, and long-lasting property, they are widely used materials in the backpack industry.  
Cordula:
Cordula makes your backpack lightweight and tear-resistant but its price is very high.
Cotton canvas:
Most people like cotton-based backpacks. A cotton canvas backpack is a mixture of natural and synthetic materials that make it water-resistant and improve its strength. 
Zipper Quality:
Zippers are a very important part of a backpack. The quality of zippers talks about the quality of a backpack.
That is the reason that most people are willing to spend hundreds of dollars on a good backpack. 
Once you have purchased a good backpack, it will be with you for years. 
What Should I Carry In My Backpack As A Software Engineer?
As a software engineer, if you are working 8 to 5 daily then you won't leave some essential things at home or in your room. Here, I'm going to list some neediest things that must be there in your backpack.
Although this totally depends on personal preferences.
Things that can be carried by a Software Developer in his backpacks…
A Laptop (Macbook 15 inches or Air)
Ipad (To run emulator)
Android Phone (If you are an Android Developer)
External Portable Hard Disk
Power Cord (To charge your laptop)
Power bank
Headphones
Glasses
Lunch
Water bottle
Snacks
Energy drink
Stationary Essentials (Pen, Pencil)
You can add or avoid the things that you think are not useful for your work.
Wrap Up On Best Software Engineer Bags 2022
If you are a software engineer then choosing the right backpack is very tricky. 
I would recommend you to buy Bopai, a sturdy, water repellent, and anty theft backpack with a padded and secure laptop compartment.
Buy NorthFace to carry two laptops at the same time in its nice mobile document pocket. Its sporty look suit most young software developers.
You can also go with an Osprey backpack that looks premium and well build to carry your tech gadgets.
For the budget category definitely go with the Matein backpack.