Whenever I'm on a hiking trip, I usually carry a binocular for bird watching and a camera to capture the beautiful surrounding sceneries and also those beautiful birds.
But the problem is how to carry cameras and binoculars in a very convenient and easy-to-access manner.
Here, in this article, I'm going to shorten this problem with some very simple and effective tips and tricks, so keep reading…
Some Easiest Ways To Carry Camera And Binoculars During Hiking
If you want to carry a camera and binoculars together without putting them in a backpack or sling bag then this guide will really help you.
If you want to carry a small to medium size camera along with a Binocular [Easieat Method]
This is one of the easiest methods that I found. You can carry either a single camera or multiple cameras, lenses, binoculars, and more by using this method anywhere you want.
With this method, your neck is free and you can access both devices just by using a single hand.
A very small and sturdy device makes this process very simple which is…
Capture From PeakDesign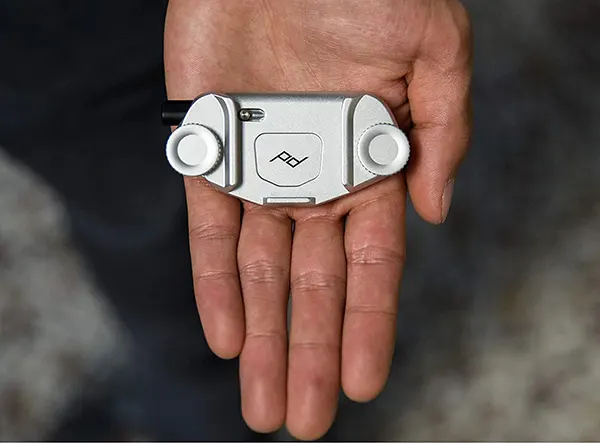 Specification
1 x Capture Clip
1 x Standard Plate
2 x hand drive bolts & 2 x hex drive long bolts
1 x 4mm hex wrench
1 x microfiber pouch
Capture keeps your camera, lenses, binoculars, etc stable and this is one of the most convenient and secure ways to carry them.
Also Read: Best Camera Backpack For Safari 2023 [Latest Top Pick]
Whether you are on a hiking, biking trip, or walking on a trail, carrying your camera, lenses, binoculars and other gear is not so easy without this small device. It keeps your gears stable and unlike a camera bag, it provides instant accessibility with the click of a button.
How It Works
It has two components, one is a metal clip and the other is Arca tripod-compatible plate.
The metal clip can be clipped on the shoulder strap of your backpack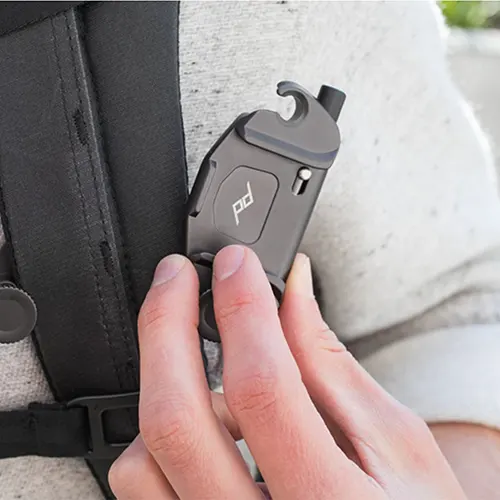 Acra tripod-compatible plate is screwed into the bottom of your camera and locked into the clip securely and rigidly.
Also Read: 3 Best Camera Bag For DSLR With Battery Grip
The camera or binoculars can be clipped on your belt.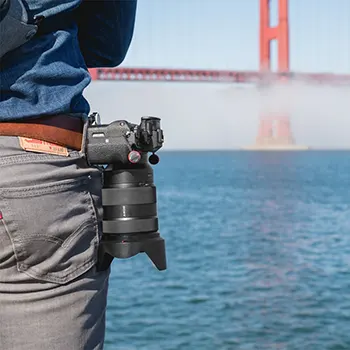 on the outside of your sling bag.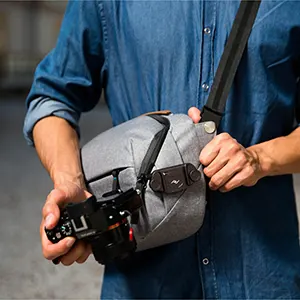 It can hold up to 200 lbs of weight securely and you can carry a pro camera with a lens attached to it without any problem.
It looks like this is on your chest with attached to the shoulder strap of your backpack.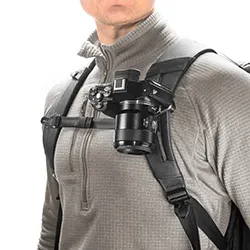 Note: you can use multiple attachments to carry more than one camera and binocular together.
Cons of this device
Some users complained that its screw gets loose if you attach a full-size DSLR with this device.
Camera And Binocular Harness
The second approach is you can use a camera harness for birding. The harness is designed specially to carry the camera and binoculars together in different-different spots on this harness.
The harness is designed by Cotton Carrier and this could be another option for outdoor photographers and birders to carry a camera and binoculars together so that attachment and detachment are much easier.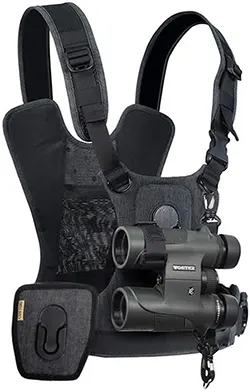 Specification
| | |
| --- | --- |
| Dimensions | 4.13 x 9.45 x 9.45 inches |
| Material | Nylon |
| Weight | 2.04 pounds |
Its Features
1. Twist and lock mechanism for security and stability for your costly gears.
2. Spread load across your body for better stabilization during walking on the trail.
3. Adjustable shoulder straps with ventilated and padded front and back.
4. Comes with a water-repellent coating.
5. Anodised Aluminium camera hub mounts to secure your camera to the harness.
I think the harness performs well in terms of handling heavy DSLRs when you walk on the hiking trail.
Look at the below image…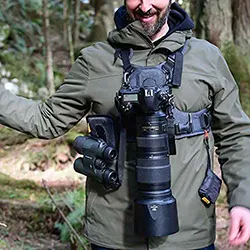 It has the full support of your body to provide better stability than Peak Design provides. If your plan is to carry heavy cameras with lenses then Cotton Carrier Harness is definitely the most secure and convenient option to hike hand-free with easy-to-access cameras and binocular gear.
Overall this is a comfortable and secure option to carry your costly camera gear along with binoculars hand free.
Cons of this harness
Some people may not like to use harnesses.
Peak Design Capture Vs Cotton Carrier Camera & Binocular Harness
I found that Peak Design is better in terms of design, and also for attachment and detachment of your gears.
You can use multiple capture clips to carry extra cameras, lenses, and binoculars that can be attached to the different areas of your body.
Peak Design Capture is a very small and sturdy device that can hold up to 200 lbs of weight without any problem.
The camera And Binocular Harness is Better Than This Peak Design Bino Kit In Terms Of
One of the main advantages of using this harness is, that it has full support for your chest and shoulders that ensures the better and more secure handling of your costly gears.
If you want to carry a heavy camera then this harness is better than the Peak Design.
It has a padded & ventilated front and back with easy to attach an detach mechanism that makes it very convenient to use.
Wrap Up On How To Carry Camera And Binoculars
If you are confused that which one is best for you then just think about your need. If you don't want to carry a heavy DSLR then Peak Design is one of the best devices that work for you.
If you want to carry a Heavy camera then a Cotton carrier harness is one of the best options for you.