Backpacking with family members is always being a great experience although this is not always possible to hiking with family members.
If you are backpacking with your family then you never want to leave your dog alone at home. some times kids are also forced to take the dog with them to make this backpacking trip more enjoyable.
I planned such type of backpacking trip with my family and dog. I usually avoid animal prohibited places for backpacking with my dog.
When we were planing, it was a cold month, and we had the challenge of keeping ourselves and our dog warm.
Here we are going to share some effective and self-applied tips to keep your dog warm and safe during your backpacking trip.
So without further ado's let's get started…
1. Dog Camping Blanket To Keep Warm Your Dog
Always keep a thick blanket that your dog uses at home. It helps to maintain an extra warm layer around the body of your dog.
Also Read: Best Backpack To Carry Corgi 2021[Safe & Comfortable]
2. Cuddle With Your Dog
One of the best ways to keep warm your dog fast is to snuggle. Dogs really like cuddling with their family members.
But if your dog is large enough as I have. He is 70 lbs and it is quite hard to fit under the sleeping bag with my dog.
I give you an effective hack in this situation that works very well.
You have a blanket for sure, if you have one then keep it over the surface of your tent sleeping pad then lay on it with your dog, now unzip your sleeping bag, in this way it acts as a large blanket.
Simply put it on the top of you and your dog and hold its sides tightly with your body. Now allow your dog to snuggle.
This is one of the most effective ways I found to keep your dog warm quickly.
Also Read: Best Backpack To Carry French Bulldog 2021[Comfortable]
3. Give A Proper Nutrient Rich Diet To Your Dog
Always keep enough water and nutrient-rich foodstuff along with you, if you are backpacking in the winter.
If it is summer then some places get too much hot in the day and become chilled at night. If your dog's belly is filled with a nutrient diet then it helps to keep his body warm.
It is also very necessary to keep you and your dog's body hydrated that also helps to survive in the chilled night.
Also Read: Best Backpack To Carry Dachshund 2021[Latest & Comfortable]
4. Campfire With Your Family And Dog
As you are backpacking with your family then it is a must to have campfire gear if it is winter. You can collect some woods from the surroundings for that. As you and your dog's body become cold normally and your sleeping pad, bag, and blanket are also cool at night.
Campfire helps to keep you and your dog's body warm before going inside the tent for sleep.
Also Read: 7 Best German Shepherd Backpack Harness 2021[Durable & Soft]
5. Warm Up Your Dog With Some Games
Physical activity is always beneficial to energize the body and that way your body temperature increases and helps to survive on a chilly night.
You can play some games with your dog before sleep to warm up the body. This will help to reduce the cold when you face the tent cold blanket or sleeping bag.
6. Buy A Sleeping Bag Or Sleeping Pad For Your Dog To Keep him Warm
Sleeping with your dog in the same sleeping bag maybe not be so much comfortable and this can affect you and your dog sleeping.
It's always good to have a separate sleeping bag or sleeping pad for your dog. There are lots of sleeping bags and pads are available in the market. You can choose the best one which comes from a very reputed brand Ruffwear Sleeping Bag (View On Amazon) or Sleeping Pad specially designed to keep your dog's body warm.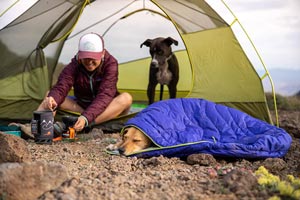 Also Read: Is It Illegal To Leave Your Dog In The Car With The Ac On?
7. Use A Water Bottle In The Tent During Sleeping At Night With Your Dog
A water bottle (View On Amazon) filled with hot water works really great in reducing the effect of coldness at night. Keep this close to your tent at night and this helps to provide warmness at the chilled night to both of you.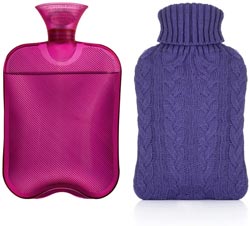 The bottle comes with a wool cover that prevents your and your dog's skin from the burn from hot water.
8. Use A Dog Jacket To Protect Your Dog From Huge Tempreture Drop
At night who knows how much the temperature goes down so having an insulated jacket for your dog provides an extra warm insulation surface over his body that helps to survive in this tough situation.
You can choose anyone that you find best in the market. I prefer Ruffwear insulated jacket (View On Amazon) for your dog that I personally used.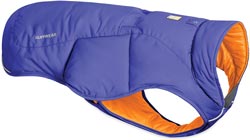 Unlike other company's jackets, this Insulated Jacket is made of synthetic down material that is lightweight and warmer than others. The jacket comes with a stuff sack so you can stuff it in a very tiny stuff sack.
9. How Cold is Too Cold To Camp With A Dog?
In most cases, if the temperature is around 20 degrees Fahrenheit or more, you don't need to worry about your dog.
But if you are camping with your dog in such a place where the temperature goes down below 20 degrees Fahrenheit then in this situation some breeds feel cold more than others.
In this situation, you need extra care of your dog to keep his body warm on the chilly winter night.
10. Winter Car Camping With Your Dog
Car camping is a different thing and much better than Tent Camping in an open area. Car camping allows you to either stay inside of your car or Put your tent outside that is also attached to your car backtrack.
You can keep your dog inside the car and its closed window keep the inside space warmer than the outside.
This is more convenient than camping outside with your dog.
Wrap up on How To Keep Warm Your Dog While Backpacking
If you are planning a winter backpacking trip with your family then there is no reason to leave your favorite dog at home alone.
If the temperature is around 20 degrees Fahrenheit or above then you don't need to worry about your dog. Most breeds can easily survive at this temperature.
But if the temperature is below 20 degrees Fahrenheit then you can follow the above-mentioned tips to keep your dog warm from the chilled night.
You Can comment below and share your experience about which technique have you applied to keep your dog warm on a chilled night backpacking trip.