It is a good thing to like someone. If you are a girl then having an attraction to a guy is natural. Whether you are a college student or work in a company, the possibility is high that someone attracts you and you're thinking of asking a guy out on a trip.
Planing a trip with a nice guy can be full of fun. If you ask a guy to go on a trip with you first time then there are two possibilities:
1. Maybe he will agree to this and start planning things like where to go, what to see, etc. 
2. Maybe he doesn't like traveling much and can refuse your offer. 
The situation can be anything but here are some pro tips which I am going to share in this blog. The chances of rejecting your travel trip proposal will be less by following them. 
So without further ado.
Let's get started…
10 Pro Tips To Ask A Guy To Go On A Trip With You:[Ultimate Guide]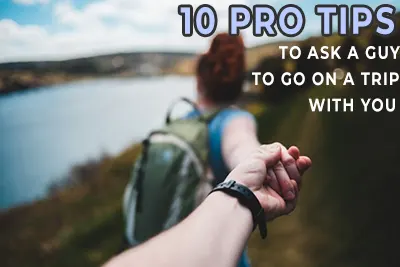 1. Don't Be Hesitant
Hesitation is a normal behavior of a person, who want to ask something from a guy whom he/she loves. You shouldn't be hesitant to ask a guy you want to take on a trip because this trip is an opportunity for you to get to know him better. 
2. Tell Him About The Place You Choose To Visit
Choose the best place to visit and tell him about it. If this is a place where he has never been there before then he has no idea about this trip and his chances of telling no will be reduced. 
3. Get Him Excited About What You Are Doing
Tell him some interesting things about this trip. How many friends are coming with you on this trip? Tell him about how amazing the place is and what exciting moment he will miss if he won't come with you on this trip.
4. Tell Him How They Can Benefit From Going
People remember some trips forever while some trips are hard to remember. You have to plan this trip very carefully so that every single moment of this trip becomes unforgettable for both of you. 
5. Keep It Simple.
If you want to go out with a guy on a nice trip then Try to keep things simple and don't exaggerate things. This trip can be a lot of fun when you explain things in a simple manner. Make sure to keep things focused and don't overdo them. This will increases the possibility of saying yes to the trip from his site. 
6. Don't Over-Promise
Don't promise impractical things to the guy if you expect him to say yes to the trip. Over-promise things make him feel like he is pressurizing for the trip and the chances of him saying no can be increased. Straight forward and clear talk makes him feel better about the trip. 
7. Ask If There Is Anything Else You Could Do To Make The Experience Better
Don't hide things about the trip from him. Share your ideas and take his suggestions about how to make this trip better. Tell him all the things about the trip without thinking about his opposite decision. 
8. Remember That You Don't Always Need To Be Right
There are many such things that make his decision change such as he might be busy with work, or other responsibilities, might his plan is something else and might not want to go anywhere on a particular day, etc. In this situation, he can refuse to go on that trip with you. 
9. Do Not Take Rejection Personally
He has the right to reject your offer to go on a trip with you. If he decides to not go with you on a trip then keep calm and don't keep it personally. You have also the option to go on that trip with your significant others. 
10. Knowing The Reason Why He Refuses 
If you still want to plan your next trip with the same guy after the rejection of your current trip with him then you must inspect the cause of rejection. Might be the cause of his rejection is genuine.
Also Read: How To Carry A Camera Without Looking Like A Tourist [Solved]
---
How to Convince Someone to Go on A Trip with You Next Time
The good thing to do is negotiate with each other and work on those causes with common sense without getting hampered. This can clear all the misunderstandings between both of you and might be he and you can go out on a trip next time. 
Going Away for the Weekend with A Guy
If your dream trip is canceled due to some reason, don't be upset. You can do other good things to celebrate with your guy. 
You can plan a short weekend trip with your guy. I really love to enjoy my weekend going away with someone special. 
If you both are interested in a romantic date on a weekend night, you should definitely visit a local restaurant for that. You can order some delicious food and you can use this moment as an opportunity to talk about your relationship. 
---
Things To Know Before Going On A Trip With Someone You Just Started Dating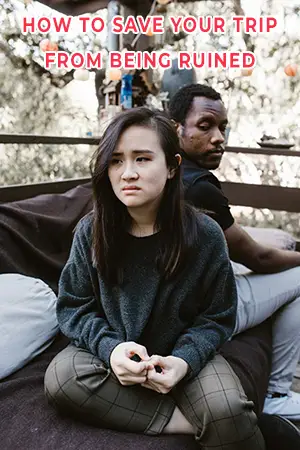 Going on a trip with a guy whom you know from only 4 dates, is exited on one side but might fizzled out your relationship on the other side. 
Such types of impromptu trips are a fast-track process of knowing each other on the way. Spending time in a new city is certainly more exciting than doing the same in your own city. 
But you need to take care of a few things in such type of relationship:
You have to face so many problems on a trip such as flight delays, traffic jams, etc. 
Dressed in front of each other.
You have to deal with a lack of privacy there, like doing makeup, applying foundation, Curley your eyelashes, and hair in a hotel room in front of someone seems funny and irritating. 
Stay in a hotel room 24/7 builds a little bit of intimacy. 
This type of continuous togetherness will clear soon if you both are comfortable with each other company or not. I really want that your trip would be enjoyable and memorable but there are chances that something unwanted happened. 
I've listed some advice to prevent such kind of bad experience on a trip with a guy.
Check The Person's Loyalty
Before planning any trip with such a guy whom you know from a few dates, think about are you comfortable with that guy. Check his loyalty by checking his social media feeds. Inspect carefully what he is telling about himself and what is on his Facebook and Instagram feeds. 
If you find something unreal about that guy, avoid thinking about going on a trip with that guy. 
Avoid Choosing The Wrong Place To Visit On Your Trip
It is a safe site to plan a weekend trip for not more than 3 nights. People curiously plan so many things to do on a trip but there is very little possibility that your expectation matches up. 
If your day plan to swing on a pool, and visit a nightclub at night, but he is planning to surf during the day and watch a movie at night then your trip will be ruined. 
---
Conclusion
Planning an impromptu trip with such a guy whom you know only for a few dates is excited but at the same time, it has so many risks. This article has a complete guide on how to convenience a guy to go with you on a trip and also I've discussed some key points to avoid any unwanted incidents during the trip.  
I hope you like my effort to bind some of the best advice and tips together to make your trip enjoyable and memorable. 
FAQ
Q.1 How To Ask Someone To Travel With You?
Ans:  If you want to travel with someone who you like then you can take your proposal in front of him/her in many ways. Keep in mind it does not look like you are forcing him/her to travel with you. 
Ask him in a simple and easy way. I've mentioned 10 pro tips to ask someone to go on a trip with you so that he won't refuse your proposal. You can check out them to plan a successful trip with your loved one.  
Q.2 If A Guy Invites You On A Trip Does He Like You?
Ans: If someone invites you on a trip then it doesn't mean he likes you. Although there is a possibility that he could like you but not necessarily. 
Q.3 What Does It Mean If A Guy Wants To Go On A Vacation With You?
Ans: Might be he like you but it is not necessary. But it is true that he wants to spend some time with you. But his intention might be something else. Many people love someone else but trust others to share their feelings. You can clear this by simply directly asking him about what is in his mind. 
Q.4 Should I Go on A Trip With Someone I Just Met?
Ans: Obviously not. Whether you are going on a road trip or on a week-long trip out of the country, it could be risky. 
A single meeting doesn't tell much about a person. You've to ensure that you both are comfortable with each other. You have to stay in a hotel room 24/7, there is no privacy, you have to dress in front of him, do makeup which is really a funny thing when you do in front of someone. 
You might be don't like some of his habits, and many other things could make your trip ruined.