If you love to take walks or run, you know how frustrating it can be trying to juggle your cell phone and keys as you go.
Keeping a phone with you while you run or walk can be a daunting task, especially when it comes to avoiding accidents. A recent study by the Boston Globe found that, in 2018, runners and walkers were injured while carrying their phones in their pockets or totes an alarming 67% of the time.
But, carrying a smartphone can be beneficial in many ways such as Many people like to listen to Music, Podcasts, or Audiobooks when they running or walking.
Others use a phone for GPS purposes and want to know where they are going. Some people feel the need to talk with somebody while they are running or walking. Whatever their reason, it is important that they have a phone on them in case of emergencies.
In this article, we'll explore different ways that will help you stay connected and comfortable whether you're on the move or just out for a stroll.
How To Carry Your Phone Without Pocket?
If you're someone who likes to take your phone on a walk or run, then you may have had this issue before. You can't really carry your phone in your pocket and it keeps bouncing up and down, because of the motion while running.
Carrying your smartphone on hand while running or walking is also not so convenient. Let's find out some best possible ways to carry your smartphone without a pocket conveniently and safely.
1. Use An Armband
The best way to carry your phone when on the go is with a hands-free armband. These bands attach to your arm and hold the phone close to your body so that you can easily access it.
They are lightweight and comfortable, with many styles and colors to choose from. Some armbands have a pouch for storing your keys or money too!
2. Use Hipbelt
Another option is a waist pack or belt that can be worn across the torso, leaving both hands free. It's important not to wear these items too high on the hips or too low on the waist because they will bounce when you run and cause unnecessary discomfort.
3. Cellphone Lanyards For Walking With Your Cellphone Without Pocket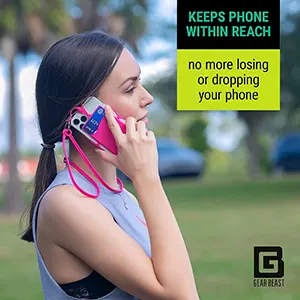 A cellphone lanyard is a perfect tool to carry your smartphone during walking or hiking. This wearable device is a more convenient way to carry your phone not only for walking even you can use this device for shopping, travel, conference, events, concerts, etc.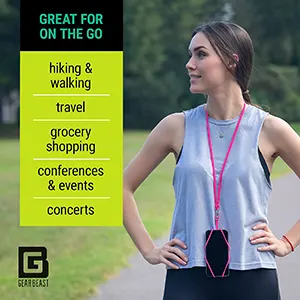 You can wear this small device around your neck. It has some bungees with flexible silicon that can fit a variety of smartphones.
This device is good for walking and might be not suitable to wear during running as your phone will bounce a lot and make your running experience worse.
4. Cellphone Holder For Pants Without Pockets
A cellphone holster is another great device to carry your smartphone safely during running and walking. Just put your smartphone inside this cellphone holster and attached it to your pant belt.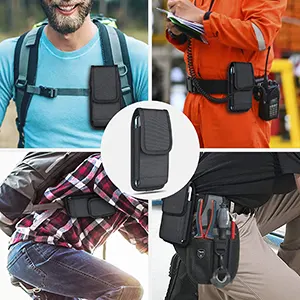 It is very easy to access your phone with this holster anytime you want. This cellphone holster is most suitable for each age group of people having no pocket to carry their smartphone during running or walking.
Also Read: How To Carry A Bong In A Backpack: [Easiest Ways]
---
How To Carry Keys And Phone While Walking?
If you're a busy person on the go and find yourself frequently running or walking with your keys and phone in hand, you may be asking yourself how to keep them safe.
There are a few easy steps you can follow to carry your keys and smartphone while walking, running, or doing any other form of activity.
Keep them attached to a sturdy holder or key ring, make sure the holder is comfortable to wear and easy to access, and avoid carrying them in your pockets.
If you absolutely must carry them in your pockets, make sure to put the phone inside a protective case or sleeve.
And last but not least, make sure you know how to use the built-in security features on your phone!
How Do You Carry Your Keys When Walking?
Looking for a practical and convenient way to carry your keys while on foot? Look no further than a keyring! Keyrings make it easy to keep your keys close at hand, without having them jingling and making a noise. Plus, since keyrings are small and lightweight, you can easily slip them into your pocket or purse when you're on the go.
If you're worried about losing your keys, make sure to invest in a keychain that includes a built-in flashlight. This way, you can always find your keys no matter how dark it gets.
---
How To Run With A Phone Without Pockets?
There are several convenient and safe ways to run with your smartphone having no pocket to carry it such as:
Wear an armband on either of your arms and attach your smartphone over it. You are not only walking with an armband, but it is also a very convenient device to run with your smartphone and it doesn't need any pocket of your shirt or pant.
The second most safe and most convenient way to carry your cell phone during running or walking without pockets is using a cellphone holster. We've already discussed it in this article.
You can run with your phone without pockets by using a waist belt. But remember not to wear it too high or too low on your waist.
My Phone Is Too Big To Run With
Running with a big smartphone can be a bit inconvenient task because of its large size and its weight, but it's important to take steps to ensure a safe run. Here are some tips to help you run safely with a big smartphone:
Make sure your phone is securely fastened to your body.
Avoid running with the phone in your hand or pocket.
Run-on softer surfaces if possible, as this will reduce the chances of your phone breaking.
Avoid running in tunnels or near water, as these areas can be dangerous for your phone.
Use a protective case or sleeve if you have one, and make sure it's fitted snugly to your phone.
---
How To Keep Phone Dry While Running?
If you run with your smartphone then there are two possibilities to wet your smartphone:
This one solution will keep your phone dry from any condition. Keep your phone inside a waterproof case. This will prevent water from entering the case and that way your phone remains dry and secure.
If you don't have a waterproof case and if you get caught in the rain then put your phone screen upside down under your pant or jeans pocket.
---
Conclusion
Running and walking are great exercises to stay fit that is the reason you will see new runners on the street and garden every day. People love to carry their smartphones everywhere.
If you want to enjoy jogging and walking carrying your smartphone then this article has all the safety and useful ideas and suggestions which can be helpful to you.
We hope this blog was helpful!
---
FAQ
Q.1 Is it bad to run with your phone in your pocket?
There are definitely some benefits to carrying your phone with you while running, but there are also some drawbacks. Running with your phone in your pocket can be dangerous because it is easy to lose track of it.
If it falls out of your pocket, it can be easily damaged or stolen. But some fitness apps will help you to track your pulse rate, calorie burn, number of footsteps, etc. These are some plus points of carrying a mobile while running.
If you must carry your phone with you while running, make sure to put it in a secure case or place where it is not easily accessible.
Q.2 Does running with your phone damage it?
A study conducted by Consumer Reports showed that running with a phone in your pocket is the number one cause of screen damage. Not only does this cause scratches and dents, but it also puts a lot of stress on the phone's screen and battery.
If you absolutely have to carry your phone with you while you run, make sure to keep it in a case or pouch!
Q.3 Can you run while holding your phone?
Yes, definitely you can run while holding your phone. There are plenty of phone cases, straps, and other accessories available that allow you to carry your phone securely and discreetly without having to worry about exposing it to the dangers of the physical world.
You can continue your sprinting adventure by using an Armband and waistband like mobile accessories because they prevent any accidental damage to your phone.