If you are searching for something really interesting but get confused about it, don't worry, we are here to help you.
After school starts, this question takes place in the mind of most teenage girls…
Where we will get the Best Backpacks For Teenage Girl that  looking fashionable, cute and give the best value of what we pay for?
Even working teens find it difficult to find out a Cute backpack: Especially a backpack that is fashionable, stylish, and well aggregate your college/ school or office outfit. 
Whether you are working at your office due to a covid pandemic or continue your work from home, a backpack is one of the most important things that you have to carry every day.
The backpack organizes your belongings in one place and ensures that you can complete your task in time. 
While you are studying or working from home it also helps to organize all the scattered items from the table.
In this article, we have listed some of the best backpacks that will suit every personality. From vivid color to funky cool design here is a huge variety you will get that satisfies your soul. 
So without further delay, let's get started…
1. Cute Backpack For Teenage Girl From Fjallraven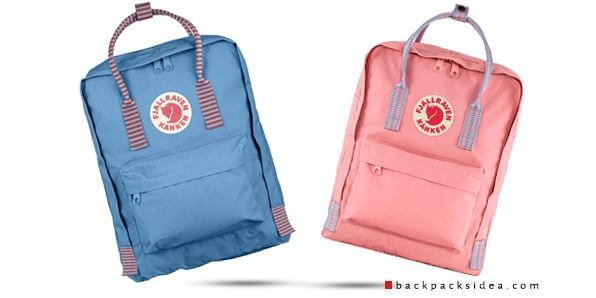 Its Features
Water resistance.
Available in a wide range of color variation. 
Outer Material: Vinylon
Pattern: Striped
Fjallraven is a Swedish brand that invented this book backpack in 1978 to relieve the student from back pain.
It has undergone many changes now in 2022, they use Vinylon outside that is a perfect canvas with a proper waterproof layer.
Never bother about the weather for your outdoor adventure as the backpack is highly durable and that can easily bear your hardcore activity. 
The backpack is very appreciated by teenage girls as it provides an option to choose the right color that perfectly matches their outfit.  
I must say that this is a solid backpack option for your school, college, and for your outdoor adventure. 
Don't bother about its size. It has enough room to carry not only your small essential things like keys, sunglasses, umbrella, etc but also holds your some notebooks, clothes, and many more. 
2. Stylish Teen Backpacks From Kipling(Multicolour)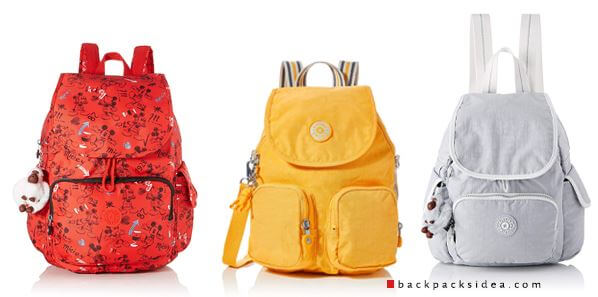 Its Features
Available in So many colours and pattern.
Perfect match with every outfit. 
Outer Material: Top quality fabric.
Teenage girls love different styles and colors for their different-different events. Kipling understands well what teenage girls want, this is why they introduce their stylish backpacks with the name of Kipling.
Now your every outfit well matches the style of your backpack. Each backpack in this section has a different design and various compartments for carrying your belongings. 
The backpack is perfect for students and for traveling especially your short ride. The backpack is as beautiful from the outside as it is strong from the inside. 
The backpack is made with high-quality and durable nylon and is equally comfortable and lightweight in use. 
3. Cool Bags For Teenage Girl From
Herschel Classic Store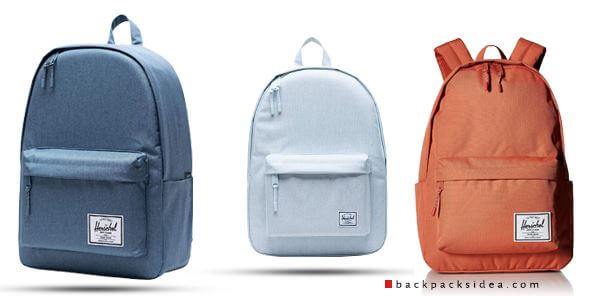 Its Features
Wide range of pattern with cool colours.
Well, padded colourful straps. 
Hold up to 15 inches Macbook.
Outer Material: Top quality fabric.
The backpack is as cool as the teenage girls, this is why we have listed it as a cool backpack for teens. 
We have tried to list all those backpacks that come with funky and stylish patterns and are available in multiple colors so you can choose one that can match your attitude.
Herschel a company based in Vancouver Canada is trying to deliver cool backpacks to keep in mind the teenage girl's ongoing fashionable trends. 
The backpack is very comfortable to carry as it is well padded on your shoulders and back. The backpack has enough room to carry all of your essential things whether it is your books, laptop, umbrella, or small but frequently used items.
4. Pretty Backpacks For Teens From Leaper Floral
Its Features
Weight : 0.6 kg.
Available in 8 beautiful colours.
Side pocket to carry a water bottle.
Outer Material: High-quality canvas with a water-resistant layer.
Leeper has been delivering their quality backpacks for 15 years. They are updating the design to meet the ongoing global fashion trend.
The backpack is specially designed for pretty teenage girls. Teenage girls really like its floral pattern. Not every girl likes to buy the same color, leaper keeps it in mind and designs it with 8 different colors.
The backpack is made with durable and water-resistant material that gives the freedom to go outside without worrying about the weather.
This easy-to-clean backpack is very comfortable at the shoulders as well-padded straps are used.
Never run out of power on your smartphone on your trip or work as it has a USB charging port simply put a large capacity power bank inside it.
We love Anker Portable Power Bank comes with a 20100MAH battery.
Overall this is the Pretty Backpacks For Teens available in 8 eye-catching colors.
5. Unique Backpacks For Teen Girls From Vaschy Store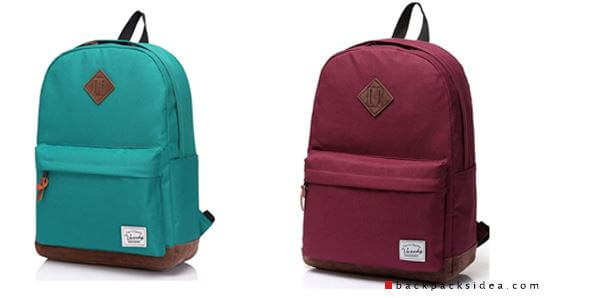 Its Features
Available in 14 unique colours with  vintage pattern.
Material: Polyester with Waterproof coating.
Water bottle pocket.
Style: Laptop backpack
Everyone wants something new, something unique. Our teenage girls are quite demanding so keep in mind their needs Vaschy store landed some of the Unique backpacks for teen girls.
Don't compromise to choose a backpack that doesn't match your outfit as Vaschy provide 14 unique color combination for this backpack.
Your outdoor trip won't be canceled due to rainy days as the backpack is made with durable and water-resistant polyester. 
You can carry up to 15.6 inches Macbook into it with all of your essentials. In the rainy season, you can put your phone inside it and listen to music with an earphone port residing outside.
Overall these could be the Best Backpacks For High school Girls.
6. High School Backpacks For Teenage Girls From Meisohua Store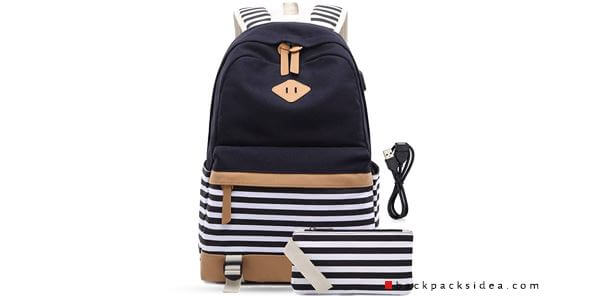 Its Features
Black strip canvas backpack.
Available in 6 elegant colours and different pattern.
Lunch bag and pencil bag included.
USB charging port 
Material: High quality polyester canvas.
Style: Laptop backpack
Meisohua introduces some of the best High School Backpacks For Teenage Girls. The backpack comes with all the necessary compartments with an additional lunch bag and pencil bag.
High school teenage girls would love the pattern and colors as there is an option to choose the best one from 6 eye-catching colors and patterns.
The backpack comes with a well-padded separate laptop compartment (15.6 inches MacBook) and it has a large room to carry essential books, smartphones, etc.
To avoid any kind of stress on the shoulders it has well-padded straps and back. Its lightweight makes it super comfortable to carry it wherever you want.
A USB charging port to charge your phone is a very handy feature, but you have to buy a good quality power bank with a high capacity battery to utilize this feature. Overall this is a Cute Teen Backpacks For School.
7. Best Backpacks For Teenage Girls From Vancropak Store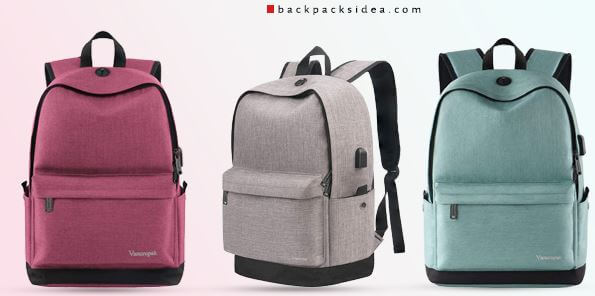 Its Features
Available in 6 attractive colours.
USB charging port and headphone jack port.
Material: Anti-Scratch and Water Resistant high-quality polyester fabric.
separate compartment for 15.6 inch Laptop.
Teenage girls are very demanding and Vancropak introduces their backpacks to fulfill their demand.
The backpack is designed in such a manner that appeals to teenage girls very much. The backpacks are equipped with all the latest features that teens want into their backpacks.
The backpack is available in 7 spectacular color combinations and is made with high-quality polyester that is water-resistant so don't stop flying on a rainy day.
It has a USB charging port and a headphone jack port so use your phone smartly with these smart features.
It has a separate well-padded compartment for carrying Macbook up to 15.6 inches. Multiple compartments help you to well organize all of your essential things. 
Overall all these could be Fashionable Backpacks For School and the perfect gift solutions for your loved one.
Things Every Teenage Girl Should Have In Her Backpack
Every girl remembers that she has to put books, lunch boxes, pens, pencils, notebooks, and laptops into her backpack, but what about other essential but forgotten things that may help her in a difficult situation to save from being embarrassed. 
Here we are trying to give some simple yet important ideas about …
What Should A Teenage Girl Have In Her School Bag?
After putting some of the very common stuff for your everyday uses like books, Macbook, pen, pencil you must have to carry some most important things those are listed below…
In this pandemic situation, Corona is spreading all over the world so to protect yourself, you must carry a pocket hand sanitizer in your backpack to avoid any kind of chances of being infected.
Now, this should be a habit to wear a mask before going outdoor. Carry some pieces of mask in your backpack so if you forget to wear the mask so you can easily grab it from your backpack.
It also helps you to moisturize your dry lips to carry a lip balm. After washing, your hand become dry and create a bad impression among others, so carrying a pocket-size lotion could be beneficial. 
Having a tissue packet in your backpack should be beneficial for you especially if you are suffering from a runny nose, tears, or spills. 
Especially in the winter season when the majority of students suffer from cold. 
You don't want to someone notice during the conversation what you have launched. You have to carry either mints or gum in your backpack to avoid being embarrassed in front of others.
This could help a lot in an emergency situation if you lost your smartphone so keep some piece of paper with important contact numbers in the backpack essentials pocket.
Best Backpacks For Teenage Girls (FAQ)
Q.1 What Backpacks Are Cool For High School?
High school teens are loved to carry a cool backpack. A cool backpack must have a funky, colorful combination with some attractive patterns.
We have listed some cool backpacks for teenage girls that are available in some eye-catching colors with cool patterns. You can check out this article.
Q.2 What Backpacks Are Popular Right Now?
Our main focus is to provide trendy and latest Backpacks that are popular in 2020 and still grab the attention of youth in 2022. 
All the backpacks listed in these articles are so popular among teens.
Q.3 What Things Should Every Teenage Girl Have?
In spite of notebooks, laptops, lunch, and water bottles some essential things must be put in your backpack before going outdoor. 
We have listed some of the most essential things in this article that must be carried with your backpack. You can check out this section just above the FAQ section.
Wrap Up On Best Backpacks For Teenage Girl
I hope this article helps you to find out the best, cute, pretty backpack that is a little bit tough task to directly choose from an online store.  
Our list is prepared with keen research of the material quality, trend, and eye-catching color combinations that make your first impression memorable wherever you go.
If you have any suggestions or any questions regarding this topic feel free to put them in the comment section below. I will definitely figure out all of them as soon as possible and try to answer all of them.
Also Read: