Are you looking for the best sleeping bag for teenagers?
You are in right place…
Whether you are planning for camping with friends or with family, if you are a teen having a sleeping bag that fits perfectly according to your body shape, feels comfortable, and keeps your body warm on a dazzling cold night is a must.
Also, there are different sleeping bags are available for different weather conditions so choosing the right kind of sleeping bag according to different weather conditions becomes very important. 
But this is not the end, you have to be aware of all the useful features that should be there in a good sleeping bag. 
A feature pack sleeping bag allows you to take a deep restful nap and can energize you for the next day's adventurous hiking trip. 
So the question is…
How To Choose The Best Sleeping Bag For Teenagers?
There are lots of sleeping bag brands available in the market with their different sleeping bags, and choosing the best one among them is really a tricky task. 
But don't worry we are here to help you. There are a few very essential features that must be there in a sleeping bag so that you can sleep comfortably inside it. 
Features That A Teenager Sleeping Bag Should Have…
 Types of sleeping bags
There are two types of sleeping bags companies manufactured:
Polyester-based sleeping bags
Down sleeping bags
I would recommend going with Down sleeping bags due to their several advantages over a Polyester based sleeping bag such as: 
It is highly compressible
Lightweight and very convenient to carry on your backpack.
Comes with a decent amount of insulation,
Provide a long-lasting performance.
On the other hand, a polyester-based sleeping bag is heavy, and bulky has less warmth capacity than a Down sleeping bag, and is also not so durable. 
But one advantage of a polyester sleeping bag is it's cheaper than a down sleeping bag and also it doesn't lose its warm capability even if it gets wet. 
This is always beneficial to spend a good amount for comfort, durability, and for a good sleeping experience outdoors choosing a good sleeping bag if you are a teenager. 
After 20+ years of experience in outdoor hiking trips, I know well which sleeping bag to choose and which one to avoid. 
so without further ado let's get started… 
Teenager sleeping bags

Our Rating

Speciality

Weight

temperature

insulation type

Price

Soft lining and fiberfill, Extra fill in the foot box, Leightweight, Anti-snag zippers, Water-resistant.

Microfiber insulation

(More Loft and Cozy).

Small and light as a 500ml water bottle, Compact, Water Resistant.

Extreme to comfort 48F to 68F.

Best For Warm Weather, Soft and breathable P5 high count internal linning, Sturdy water resistance with internal storage pocket.

Best for a temperature range between 30 to 40 F.

Kelty Tuck Synthetic Mummy Sleeping Bag

Budget-friendly, Footbox zipper, tuck zipper opening.

Budget friendly, 100% polyester.
5 Best Sleeping Bags For Teenagers Detailed Review
1. Teton Sports LEEF Sleeping Bag


Its Features
Available in 2 sizes Teen & Adult.
Dimension: Teen Scout 75″ x 30″ x 20″ 
Available in 2 colors black & green
40D Water-Resistant Ripstop
Lining: Brushed Poly-Flannel
Interior pockets for smartphones and keys.
Weight: 3.5 pounds
Look at this sleeping bag cocoon shape design, it's really appealing and effective warming solution for sleeping outdoors on a cold night if you are a teenager.
This is one of the best sleeping bags in terms of build quality and comfortability and I really impressed with its quality at this price range.
The company used microfiber insulation in LEEF that has more loft and more compression capability than others. 
There are two models of Teton sleeping bags under the budget of $100.
Which one is best Teton Sports LEEF Or Teton Altos?
If we talk about the build quality then no doubt Teton LEEF is the clear winner because it is made of  40D Ripstop and Double-Brushed P5 Poly Hi-Count Liner.
Which is highly durable and in terms of keeping your body warm on a chilled night LEEF is better than Altos.
The Altos is made of 20D Ripstop and only 20D Nylon lining.
I found LEEF is more comfortable than Altos due to its 40D Ripstop and double-layer Hi-count liner.
The weight of both sleeping bags is almost the same.
In terms of warmth experience, LEEF is better than Altos. Many people feel the sweat at 32 degrees F. 
Both sleeping bags are water-resistant and come with a compression sack so no rolling is needed simply start from the bottom and stuff the bag in.
In terms of price, LEEF is a little bit cheaper than Altos which is also a plus point for it.
Overall a durable, very comfortable, and warm sleeping bag under the budget of $100 for teenagers. 
2. Ultralight & Compact Sleeping Bag For Teenagers (Litume Store)
Small and light as a 500ml water bottle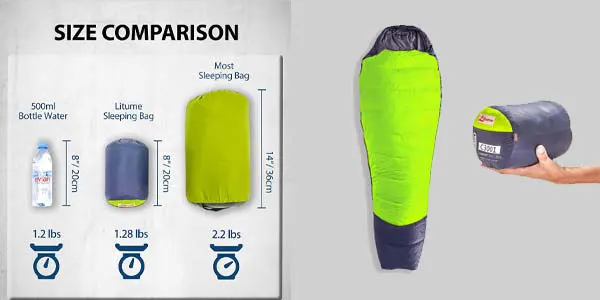 Its Features
Dimension: 8 x 5 x 5 inches
available in 2 colors Green & Red.
Outer material: 100% Nylon
Temperature Rating: Extreme to comfort 48F to 68F.
Weight: 1.28 pounds
This is what you are looking for, an Ultralight super compact sleeping bag that almost unnoticed on your rucksack. 
The sleeping bag from Litume Store is known for its compact size. Look at the above picture, its height is just 8 inches in a compression sack. 
The one downside of this sleeping bag is, it is available only in one size but I found it has enough room for a 6′ teenager. 
The built quality is also good due to the Nylon fabric being used. The sleeping bag is water-resistant and breathable so it keeps you warm but keeps the moisture out.  
The sleeping bag is comfortable due to the Nylon fabric being used and it has enough room for your feet and keeps them warm.
The company claims that this is good for temperatures between 8 to 20 degrees Celsius and this is true even though some people find this sleeping bag comfortable and warm at 6 to 7 degrees Celsius.
Overall this is an Ultralightweight sleeping bag for your upcoming adventure trip that size is almost a 500ml water bottle. 
3. Teton Sports TrailHead 
A summer camping teenager's sleeping bag temperature rating should be 30+ degrees (F) or higher.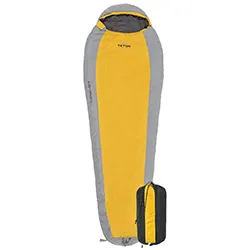 Its Features
Teen Size:  75″ x 30″ x 20″ inches
available in 4 colors.
Outer material: Taffeta.
Filled Material: Synthetic
Temperature Rating: 20F+
Weight: 2.4 pounds
If you are searching for a good sleeping bag within a budget then must have a look at Teton Sports TrailHead. 
This is the best summer camping sleeping bag for teenagers on a tight budget.
I've already listed one of the best Sleeping bags in this list which also comes from Teton Sports, that is Teton Sports LEEF. 
The sleeping bag is made of Taffeta material that is also durable, and sturdy but not as much as Nylon fabric which you find in LEEF.
This creates a clear difference between TrailHead and LEEF. 
The sleeping bag comes with a water resistance property and keeps you warm on a chilled outdoor night in temperatures 30 to 40+ F. 
If you are planning a trip in which the temperature can go 15 to 20 degrees F low then you have to consider above listed best sleeping bag. This performs worse in this scenario. 
All the other feature of this sleeping bag is identical like internal pockets, extra feet support, etc.
Overall a very good sleeping bag at a very reasonable price range, if you don't want to spend more.
4. 
Kelty Tuck

45F Teen Sleeping Bag For Warm Weather
A summer camping teenager's sleeping bag temperature rating should be 30+ degrees (F) or higher.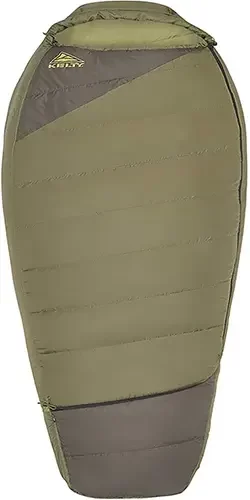 Its Features
Teen Size: 19 x 9 x 8 inches
Green color.
Outer material: 75D High Filament Polyester Taffeta
Insulation type: Thermapro Synthetic.
Temperature Rating: 31°F/0°F
Weight: 2.65 pounds
This is another sleeping bag for teenagers for a warm-weather adventure trip. 
Its mummy shape provides a closer and more comfortable fitting and provides better insulation to survive on a chilled night. 
The outer material is made of synthetic fibers with Thermapro insulation that keeps you dry and warm even in moist weather. 
I really like its tuck zipper opening that is useful to keep one or both feet outside to regulate the inside temperature. 
The Thermal comfort hood is also nicely built to cover up your face in its mummy shape. The sleeping bag comes with a stuff sack and when packed, its size is just 8×14 inches which is good for easy maneuvering. 
The additional pocket is missing to carry your smartphone, lighter, and other small accessories. 
If you are a teenager then this could be the best value-for-money sleeping bag if you don't want to spend much on a sleeping bag. 
5. Coleman Sleeping Bag 40F For Teenagers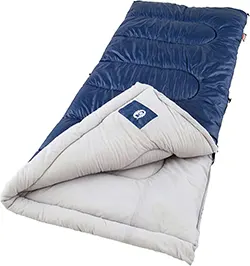 Its Features
Teen Size: 10″ x 17.8″ x 10.4″ 
Color: Nevy.
Outer material: synthetic
fill material: Polyester
Temperature Rating: 40F
Weight: 2.45 kg
The sleeping bag from Coleman is best for those teenagers who are carrying their tent with them. 
The design of the sleeping bag is rectangular in shape which is not good if you are thinking to stay the whole night underneath the sky. 
The sleeping bag is made of completely synthetic material means its inner lining and filling and outer material are made of synthetic. 
The sleeping bag seems bulky and rolling it and removing it from the stuff sack is really frustrating if you do it frequently. 
The sleeping bag is good for temperatures up to 35 F and provides a comfortable sleep the whole night. 
Overall I don't like the craftsmanship of this sleeping bag and its zippers are poorly made. 
If your budget is around 50 to 60 dollars then must check out the above-listed best sleeping bags that will give you complete satisfaction for your purchase. 
(FAQ)
1. I'm a teenager and can I use a sleeping bag for my camping trip?
The companies keep in mind that the whole family members should take advantage of an outdoor adventure trip. 
That's why they manufacture sleeping bags for kids, teenage boys, and girls. Usually, kids' bags are made of polyester as down material is not used in that case. 
On the other hand, you will get a feature-rich sleeping bag if you are a teenager (13 to 19 years old).
2. Which sleeping bag is best for winter camping for a teenager?
If you are looking for the best winter camping sleeping bag that can keep your body warm on chilled nights outdoors then you can go with Teton Sports LEEF. 
This sleeping bag would be perfect for you, its weight is light so teenagers can easily carry it on their backpacks, it is highly compressible, easy to maneuver, and a durable sleeping bag among others. 
3. Which Teenager sleeping bag is perfect for summer camping?
For summer camping always choose a sleeping bag with a temperature rating of 30F+. 
Here, in this article, I've listed the two best summer sleeping bags that fulfill this criterion. One is from Teton Sports and another is from Kelty Tuck. 
If your budget allows, must go with Teton sports due to its highly durable fabric body, warmth properties, highly compressible, and lightweight.
If you are on a tight budget then go with a Coleman Sleeping bag with some limited features.  
Conclusion
Teenagers come under the age group of 12 to 19 years and youth come between 15 to 25. 
Usually, teenagers grow really fast and 5 to 6 feet in height is pretty common these days. You can easily get a sleeping bag that has all the latest features without compromising comfort and durability. 
Here, in this article, I have listed some durable, and warm sleeping bags that are available in the market and also come from reputed brands. 
I hope this article will help you in choosing the right sleeping bag so that you can enjoy your vacation with your teenage friends.