I think for every outdoor adventure lover, nothing can be better than a good, comfortable, peaceful, and restful sleep if you are tired of walking a long and challenging trail. 
In this situation, an ultralight sleeping bag can relieve your fatigue so that you can be ready for the next day's adventure.
I've tasted all of these sleeping bags in these parameters:
Weight
Warmth
Comfortable
Versatility
Design
Features
And have listed the 5 Best Ultralight Sleeping Bags Under 100 which meet all these parameters to some extent. 
So without further ado let's get started…
5 Best Ultralight Sleeping Bags Under $100 Detailed Review And Buying Guide
Comparison Table
| Sleeping Bags | Our Rating | Speciality | Weight | Temperature Rating | Insulation Type | Price |
| --- | --- | --- | --- | --- | --- | --- |
| | | | | | | |
| | | | Available in 3 sizes and 3 different weights | | | |
| | | | | | | |
| | | | | | | |
| | | | | | | |
1. Best Lightest & Warmest Sleeping Bag  (Teton Sports)


Its Features
Available in 2 sizes Adult & Scout.
Dimension:

Adult / 0f / 87″ 34″ 22″

Available in 2 colors black & green
40D Water-Resistant Ripstop

Lining: Brushed Poly-Flannel

Interior pockets for smartphone and keys.

Weight: 3.5 pounds
Look at this sleeping bag's cocoon shape design, it's really appealing and effective warming solution for sleeping outdoors on a cold night.
This is one of the best sleeping bags in terms of build quality and comfort.
The company used microfiber insulation in LEEF that has more loft and more compression capability than others. 
There are two models of Teton sleeping bags under the budget of $100.
Which one is best Teton Sports LEEF Or Teton Altos?
If we talk about the build quality then no doubt Teton LEEF is the clear winner because it is made of  40D Ripstop and Double-Brushed P5 Poly Hi-Count Liner.
Which is highly durable and in terms of keeping your body warm on a chilled night LEEF is better than Altos.
The Altos is made of 20D Ripstop and only 20D Nylon lining.
I found LEEF is more comfortable than Altos due to its 40D Ripstop and double-layer Hi-count liner.
The weight of both sleeping bags is almost the same.
In terms of warmth experience, LEEF is better than Altos. Many people feel the sweat at 32 degrees F. 
Both sleeping bags are water-resistant and come with a compression sack so no rolling is needed simply start from the bottom and stuff the bag in.
In terms of price, LEEF is a little bit cheaper than Altos which is also a plus point for it.
Overall a durable, very comfortable, and warm sleeping bag under the budget of $100. 
2. Best Light Weight Hydrophobic Sleeping Bag ( Hyke & Byke)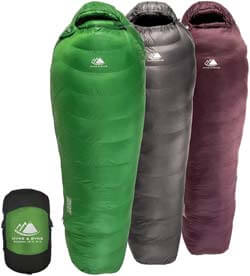 Its Features
Available in 3 sizes short, regular & large.
available in 3 colors.
Available in 3 temperature options.
Weight as per size: Short: 2.63 lbs., Regular: 2.8 lbs. & Long: 3.13 lbs.
400T 20 D ripstop nylon fabric
If you are looking for an ultralightweight sleeping bag for your next adventure trip then must check out this one.
The sleeping bag from Hyke & Byke.
Also Read: Best Sleeping Bag For Teenager [Latest Top Pick]
The sleeping bag is made of 400T 20D Ripstop Nylon fabric which is I think not good as compared to Teton LEEF which is made of 40D Ripstop Nylon and is better than this.
In terms of weight, it is better than Teton LEEF. 
The sleeping bag comes with internal down filling which is better than synthetic filling variants in terms of comfortability. 
If we talk about its size then my height is around 5.7  and my weight is 150 and I feel comfortable in its regular size and have room to move around.
Now, let's talk about the Warmth performance. The sleeping bag is not suitable for winter when the temperature is 15 degrees F or below. You can feel comfortable and sleep well if the temperature is between 30 to 50 F or more. 
I think it is good for summer camping and if you want a sleeping bag for your winter adventure then go for the Teton LEEF which is a great option at a less price. 
3. Best Ultralight & Compact Sleeping Bag(Litume Store)
Small and light as a 500ml water bottle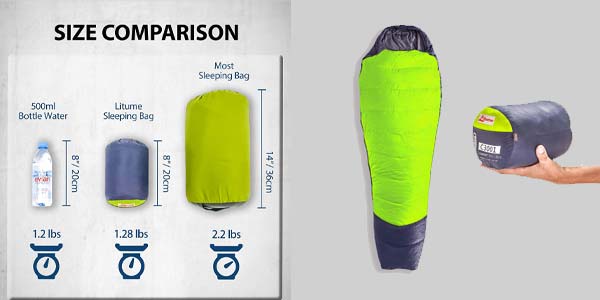 Its Features
Dimension: 8 x 5 x 5 inches
available in 2 colors Green & Red.
Outer material: 100% Nylon
Temperature Rating: Extreme to comfort 48F to 68F.
Weight: 1.28 pounds
This is what you are looking for, an Ultralight super compact sleeping bag that almost unnoticed on your rucksack. 
Also Read:How To Pack A Sleeping Bag Without A Bag [Easy Tips]
The sleeping bag from Litume Store is known for its compact size. Look at the above picture, its height is just 8 inches in a compression sack. 
The one downside of this sleeping bag is, that it is available only in one size but I found it has enough room for a 6′ person. 
The built quality is also good due to the Nylon fabric used. The sleeping bag is water-resistant and breathable so it keeps you warm but keeps the moisture out.  
The sleeping bag is comfortable due to the Nylon fabric being used and it has enough room for your feet and keeps them warm.
The company claim that this is good for temperature between 8 to 20 degrees Celsius and this is true even though some people find this sleeping bag comfortable and warm at 6 to 7 degrees Celsius.
Overall this is an Ultralightweight sleeping bag for your upcoming adventure trip that size is almost a 500ml water bottle. 
4.
TETON Sports TrailHead Sleeping Bag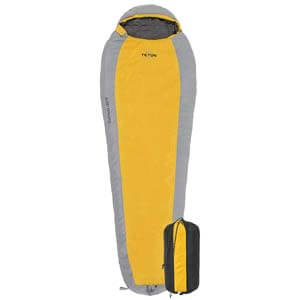 Its Features
Available in two sizes Adult & Scout.
available in 2 colors Orange & Green.
Material: Taffeta
Temperature Rating: +20 F
Weight: 2.9 Pounds
If you are searching for a good sleeping bag under your budget so maybe Teton Sports can be an option.
I already listed one of the best Sleeping bags in this list which also comes from Teton Sports, Teton Sports LEEF. 
The sleeping bag is made of Taffeta material that is also durable, and sturdy but not as much as Nylon fabric which you find in LEEF.
This creates a clear difference between TrailHead and LEEF. 
The sleeping bag comes with a water resistance property and keeps you warm on a chilled outdoor night in temperatures 30 to 40+ F. 
If you are planning a trip in which the temperature can go 15 to 20 degrees F low then you have to consider above listed best sleeping bag. This performs worse in this scenario. 
All the other feature of this sleeping bag is identical like internal pockets, extra feet support, etc.
Overall a very good sleeping bag at a very reasonable price range, if you don't want to spend more.
5.
Winner Outfitters Winter Sleeping Bag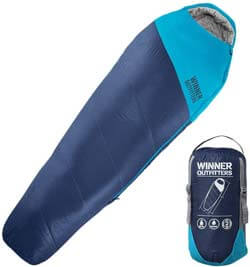 Its Features
Dimension: 87 x 32 x 4 inches
available in 4 colors.
Material: Polyester
Temperature Rating: 35F
Weight: 2.8 Pounds
This sleeping bag is for those hikers or campers who seek a good sleeping bag on a very tight budget. 
The sleeping bag is from Winner Outfitters. 
The sleeping bag comes with a compact stuff sack that allows you to plan a multiday backpacking trip over a car camping.
I found the sleeping bag surprisingly thick and comfortable. I ordered two of them one for me and another for my friend.
The company claims that its zipper is snag-free but I found it snags a little bit.
My experience with their customer service is pretty satisfying as they politely figure out my problem and fixed the zipper issue.
The sleeping bag is water-resistant and machine washable but it doesn't have an internal pocket as many others have.
I used it for my outdoor trip at a temperature little below 39 and I felt comfortable and warm inside it. 
Overall a nice sleeping bag at a very tight budget segment. 
How To Choose A Best Ultralight Sleeping Bag Under $100? [ Buying Guide]
There is nothing better than having a blissful sleep outdoors. Choosing the right sleeping bag is a very important task that creates a difference between your good and bad experience. 
Choosing a sleeping bag is now tricky because lots of new brands introduce their sleeping bag at every price segment. 
So the question is…….?????
What to consider when buying a sleeping bag?
Some people love camping while some are backpacking. Both are different fields and both have their own fun.
you might have some doubts here…
What is the difference between a Camping and a backpacking sleeping bag?
A camping sleeping bag has a large space to move around as you haul it in your camping car or somewhere else but a backpacking sleeping bag should not be heavy.
An ultralight sleeping bag is good for backpacking outdoors because it is easy to tote it over your shoulder in a rucksack.
Due to its minimalistic design, it has not have much space as you will see in a camping sleeping bag.
The other most important thing to consider before purchasing a sleeping bag is Temperature.
Sleeping bag temperature comfort guide
Always buy a sleeping bag with the lowest temperature rating because in summer when the temperature is not too cold, you can unzip it if you feel warm inside it. 
Here I'm providing a temperature chart that gives a better idea about the temperature rating of a sleeping bag.
Choose the right shape for your sleeping bag
Many people get confused here…
Sleeping bags come in mainly 3 basic shapes which are …
Campers need plenty of space in their sleeping bag that's why a rectangular-shaped sleeping bag is the right choice for them.
Rectangular sleeping bags allows them to stretch out both legs and arms well.
Mummy-type sleeping bags are more lightweight and warm than other sleeping bags and come with a snuggish fit.
Al last the semi-rectangular sleeping bags are modified bags and come in a variety of shapes.
In summer
The temperature bearing capacity of your sleeping bag must be 30+ degrees Fahrenheit or higher
3 season
It should be between 15+ to 30+.
Winter
It should be 15+ or lower.
Cheap in Price
Dries fast
Comfortable
Elegry free
Pricy
Very comfortable
Water resistance 
Best in cold and dry condition
You can compress smaller for easy packing
Lightweight
Highly durable and retain warmth and lofts over the year.
Sleeping warm on a chilled night is very important to energize yourself for the next day's adventure trip. 
Here in this article, we have listed some of the best ultralight sleeping bags that are under your budget and give you the best value for what you pay. 
Among all the sleeping bags I personally prefer to buy Teton LEEF due to its durability, comfort, and warmth property.
If you are on a tight budget so you can go with Teton TrailHead or for highly budget concentric backpacks I prefer Winner Outfitter.