A sleeping bag is one of the most important items in your backpack. Improper packing leads to a wet and nugget piece of your sleeping bag.
Packing a sleeping bag when you don't have a bag (most probably lost) is a tricky task.
How do you pack a sleeping bag without a stuff sack?
Packing a sleeping bag without a bag might be helpful in creating a few inches more space in your backpack. Your frameless backpack might be gain shape and stability.
Advantages Of Packing A Sleeping Bag Without A Bag:
There are some benefits of packing a sleeping bag without a bag which are:
Placing a sleeping bag inside a stuff sack needs to compress it a lot which creates some pressure on your back and packing it without a bag makes it fluffier and a fluffier bag retains warmness inside it.
The sleeping bag wraps the other stuff inside it and prevents them from shifting and colliding with others.
Also Read: Best Ultralight Sleeping Bag Under $100 [Latest]
How To Fold A Sleeping Bag Without A Bag?
Folding a sleeping bag in a convenient size when you don't want to put it inside the bag is only helpful if the volume is not an issue. This method benefits you if you do car camping.
The first step is to fold your sleeping bag in half from its width. In this way, the thickness will be double the previous condition.
Now start rolling it by pressing tightly through your knee until you reach the end.
Now when the rolling process is completed, use the compression straps to bind it tightly. Remember don't use a thin and sharp strap otherwise it will tear your sleeping bag.
Now take a plastic bag and put your folded sleeping bag inside it to avoid it getting wet if you don't have a stuff sack.
Now if the volume of your backpack allows then put this plastic bag inside your backpack. Otherwise, you can hang it outside of the backpack by using its external compression straps but here there is a risk of the sleeping bag will be torn due to external disturbance during hiking.
Also Read: Best Hiking Backpack For A Tall Guy 2023
How To Roll A Sleeping Bag Into A Stuff Sack?
Rolling is not a good idea to put a sleeping bag inside a stuff sack. Every time when you roll or fold your sleeping bag it put stress on the same part of your sleeping bag that causes tears in the fabric or lumps in the stuffing. Folding a sleeping bag increases its volume due to excess air entering it.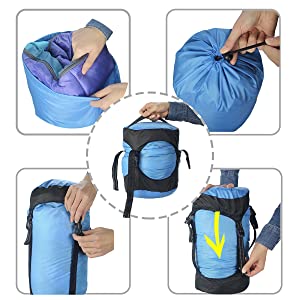 Every inch of your backpack is very important if your backpack has no space inside it.
One of the easiest and time-saving approaches I'm listed here:
Just hold one end of your sleeping bag and start stuffing it inside your stuff sack by pressing it tightly to remove excess air.
Continue stuffing until it's all in.
Also Read: How To Attach A Tent To A Backpack 2023
Keep Your Sleeping Bag In A Dry Bag
Sleeping in a wet sleeping bag on a winter night will be a nightmare for a hiker. So preventing the sleeping bag from getting wet should be your first priority.
You can use a waterproof stuff sack or a backpack for this but it cost you more and is not a reliable solution.
You can also use a quality dry bag for extra protection.
Cause Of Getting Your Sleeping Bag Wet
Only rain is not a reason for getting your sleeping bag wet. Most of the time you put your backpack on a wet surface unintentionally. When you cross a waterfall then the humid atmosphere is another reason.
You can use a plastic liner bag (also known as a trash compactor bag) inside your stuff sack if it is not waterproof.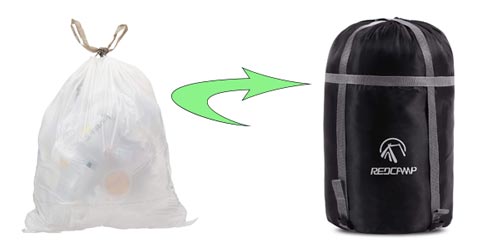 You can also use a garbage bag if you don't have a trash compactor. Simply line the garbage bag inside the stuff sack and twist the upper portion after inserting the sleeping bag inside it so that no water drops enter under the stuff sack.
How To Pack A Sleeping Bag In A Backpack?
A sleeping bag is something that you don't need during the daytime. Placing it in the bottom compartment of your backpack just below everything else is a good idea.
Sometimes The backpack is filled with all the essential gear and doesn't have more space inside it to put other things.
In this situation, you have to use external Bungie and compression straps to hang the larger items like a tent and sleeping bag outside.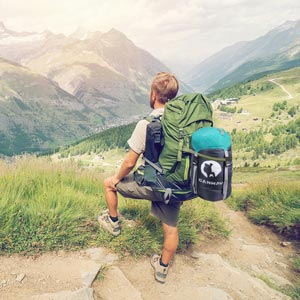 lash your sleeping bag at the top of the backpack and the tent at the bottom. This helps to keep your sleeping bag dry when you take the pack off at the rest point and put it on the ground. This will help when the ground is wet and muddy so that the tent gets wet not your sleeping bag.
What To Do If Sleeping Bag Is Too Big For Backpack?
If you have a big size sleeping bag and you have doubts about how to put it into your backpack then here we are providing some very simple hacks to deal with this situation.
Most sleeping bags come with the capability to compress super small inside the stuff sack that comes with those bags but some bags don't come with a stuff sack.
still having a problem putting your sleeping bag just inside the backpack means you are using a small size backpack or you have bought a big size sleeping bag.
Stuff Your Sleeping Bag Inside The Stuff Sack
I've already discussed this at the top. Just stuff your sleeping bag inside the stuff sack by holding one corner and pressing as much that all the air comes out. Most sleeping bags have a good compression capability.
Pack Your Sleeping Bag Directly Into The Bottom Compartment Of Your Backpack
You can do this if still, your sleeping bag is big enough to put inside the stuff sack or if you don't have a stuff sack. Here you need attention to a few things such as:
Take care that any portion of the sleeping bag doesn't snag with the zipper.
Don't compress tightly as it creates lots of pressure on the sleeping bag in its different areas that cause it will tear off.