This is the most common problem in almost all families that they find it difficult to organize their daily used household such as shoes, socks, clothes, and many more.
Our main focus in this article is how to perfectly organized different types of backpacks in a small space that not only makes some extra space in your small room but also looks stylish.
In this article, we have introduced 7 Backpack Storage Ideas For Small Spaces even if you don't have a large space in your home.
How To Keep Your Backpack Organized And Tidy
If you are a businessman, a student, a hiker, a fitness lover, or a traveler organizing the backpack is a tough and a time taking task especially if you have a large collection of backpacks at home.
Don't worry about that I will share some very simple storage ideas without spending too much time and money on planning a long project or operating tiresome machinery for it.
1. How To Use Doors For Storing Backpacks And Bags
Mostly we are using doors to enter and exit our homes, but how is that if you can use them for a backpack storage purposes?
This may be your garage door, main door, or your bedroom door. You can use either inside or outside space according to your convenience and the availability of free space.
you can use a wall mount hook on which backpacks are hanged on.  A wall mount hook (check on Amazon) can be used either inside or outside of the door.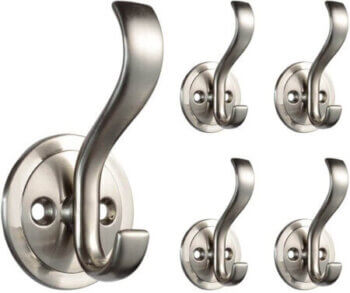 Don't forget to use high-quality anchors and screws for assembling the Backpack Storage Hooks tightly to make sure your costly backpacks won't crash down as I experience personally.
If you don't want to be stuck with such kind of hectic assembling task so you can use an over-the-door hook organizer rack. The door top hook comes with an attached handle simply put it at the top of the door and that's it.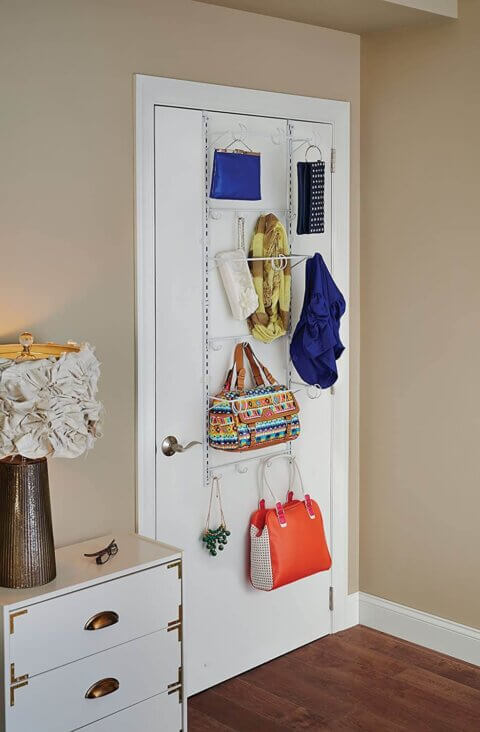 2. Ideas For Hanging Backpacks For Small Space
You can also use your home walls for organizing backpacks a good quality Backpack Storage Shelf will definitely make your task easy. There are lots of backpack wall organizer available in the market that not only take a very small space for installation but also comes in a very attractive look.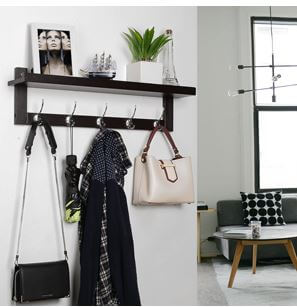 This Homfa entryway wall shelf is made from 100% natural bamboo that is strong, stylish, and easy to install. It comes in 3 colors so you can choose one that can perfectly match your room belongings. 
If you want to choose the more stylish option for organizing backpacks then the Rustic wall-mounted rack will be the right choice for you.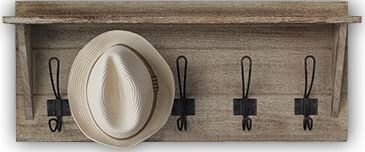 They used Russian pinewood for making it and there is no question about its sturdiness. The space between hooks is 4.5 inches that are bigger than any other wall mount rack.
This will be the best choice for your small room, entryway, bedroom, etc. It comes with screws and anchors out of the box which makes its installation very cost-effective.
3. Best Hanging Idea To Store Backpacks effectively
Sometimes people carry multiple backpacks for different-different purposes. If you have lots of backpacks and purses so here you can use an Over the Rod bag Hanger (Check On Amazon).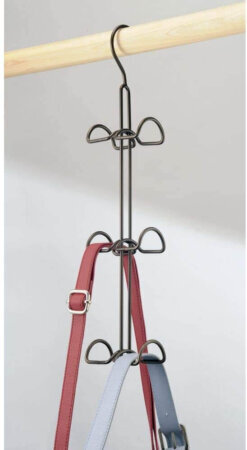 This is a two-sided closet organizer that can securely hold your backpacks and purses of different sizes and shapes. The plus point of using this verticle hanging closet is that you can simply hang it on the rod and it doesn't require hectic installation.
This type of simple yet effective storage idea is very helpful for such a situation when you have to go for a very important meeting, an interview, or a very first date.
As your belongings are well organized so just put them whenever needed without wasting your valuable time to find them at the last moment.
4. How To Use Entryway Effectively For Backpack Storage
Most of us ignore the most important place in our room and never use it perfectly, guess what?
Yes, you are right an Entryway.
One of the most usable and important places in our home is Entryway. An entryway is the right place for storing backpacks, shoes, and some other useful belongings.
You don't want to waste your time finding your backpacks, purses, and shoes if you are in hurry. Here you can HOMFA Metal Entryway Coat and Backpack Rack (Check On Amazon). you can also check a wide range of Entryway rack that comes with more attachments and beautiful design.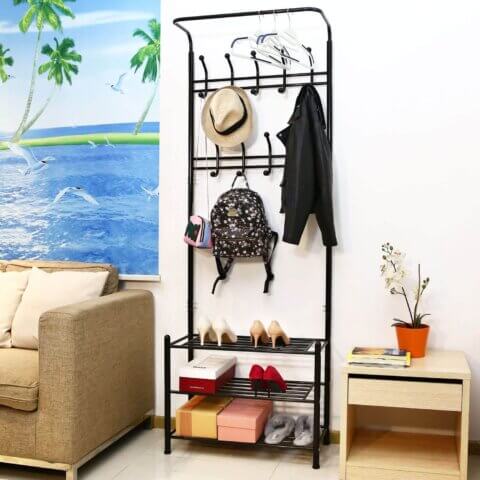 Its body is made of iron that is highly durable and capable of holding your heavy backpacks as well as coats, purses, etc.
The main USP of this entryway rack is that it takes up very small space, you can move it anywhere you want. It will take hardly 15 minutes for the whole setup and within a few minutes, you are ready to hang on your backpacks, kid's bags, purses, soccer bags, etc.
5. Effective Backpack Storage Idea For Student
It is always a better idea to create a dedicated storage hub for your backpacks, school bags, purses, etc. Sometimes a very exasperating thing happened when you don't find your belongings at the right place when you are running late.
There are several benefits of creating a backpack storage organizer, where you can put your school or college backpacks and other belongings. 
Having a dedicated drop zone for school and college backpacks can easily avoid a dilatory start to the college day as you know all of your belongings will always be easy to find. 
 You can make a dedicated drop zone for your backpack by using a cube storage cubby unit. You can choose 6 cubes, 8 cubes, or 9 cubes according to the available space and how many backpacks you want to store.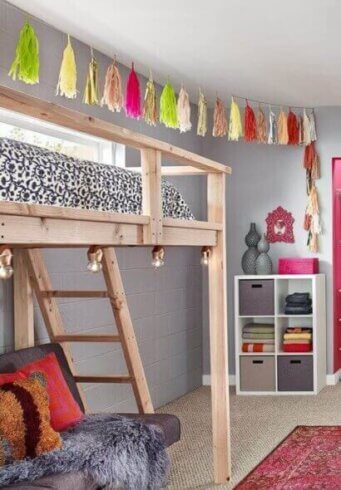 This is a very good option to store your backpacks, bags, and other useful things that can be easy to find and keep your morning from being too chaotic and disorganized.
6. How To Use Corners For Storing Backpacks
Normally most of us don't use effectively nooks and corners of our homes. How is that if you can use nooks and corners for storing your backpacks and other daily needs items in a fashionable manner?
Yes, you can do so…
Things needed for recreating your home corners for storing backpacks and shoes:
You can install 2 pieces of floating wall mount rack side by side in two attached walls and at the bottom, you can place the storage bench for storing other useful stuff.
If your corner is in a straight line so you can install a wall-mounted rack together as you can see in the below image.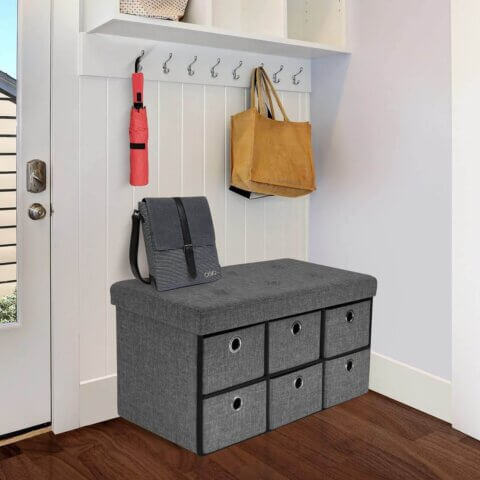 you can hang your backpacks, coats, hats, and other stuff on the floating rack, and a bench in the corner can be used to sit to put on your shoes.
The upper side of the wall-mounted floating rack would be decorated with the designer watch and pots that increase the overall appearance of the corner.
7. Backpack Storage Ideas For Bedroom
Not every backpack can be thrown away in an entryway or hung on the wall-mounted rack that is installed other than in the bedroom.
Sometimes you have to work late-night to complete your office work and if you are a college or a school student so for completing urgent assignments you have to work in your bedroom late at night. 
Having a Backpack Storage Cabinet in your bedroom is a must that not only keeps your belongings but also does not deteriorate the look of your bedroom.
A foldable footrest toy box (Check on Amazon) can be used for storing some of the most important belongings that you can use for late-night work.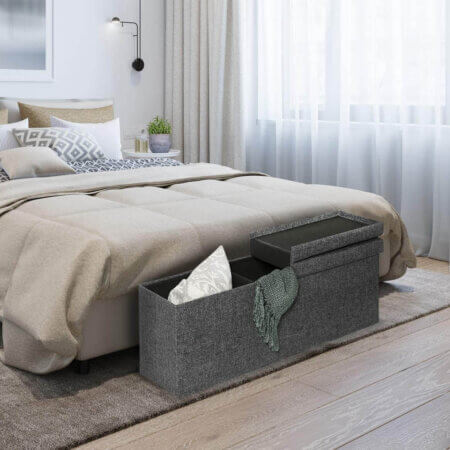 It would take up a very small space in your bedroom not only the bedroom you can use it anywhere at your home. The small size, modern look, and lightweight make it the perfect storage solution for your bedroom.
Unused Backpack Storage Ideas For Small Spaces
On every occasion, we bought something especially if you are a traveler so you have a bunch of backpacks in your collection, most of which you rarely used for your trip. 
This could create a bunch collection of unused backpacks that require a proper place to organize them. Often you don't want to throw away some pieces of art as these are very close to your heart maybe you feel some emotional touch with them.
If you have backpacks that you are not using very often you can organize them with these simple tips without spending extra money.
If you want to organize a few backpacks simply put the smaller one into the larger one, it is the same as Russian nesting dolls, so you are in peace of mind as at least you are always going to know that all of your backpacks can be easily accessible when needed.
But if you have a large collection of unused backpacks so you can put them either into your bedside rack or put all of them into a big zipper bag and you can use the floating rack of your home to organize them properly.
Storing backpacks at home especially when you have no mudroom or have a very small space is not as hard as it looks.
We frequently buy backpacks for different trips and different tasks and this will create a large bunch of things at home. If you will not organize them properly then you won't find space and peace at home.
For helping you we have mentioned the 7 Proven Backpack Storage Ideas For Small Space in this article. I hope this article helps you to organize your costly backpacks without the need for extra space. 
It is always a better idea to organize things properly as you will always be in peace of mind as you know that you will find them without wasting time when needed. 
Implementing the above-mentioned ideas takes some time and money so don't think that you won't do this just work on it.
You will get appreciation from your relatives and Nabours when they visit your home and find your home is well organized and still have some extra space in a small home.
Q.1  How Do You Store Bags In Small Spaces?
Organizing a backpack in a small space is not a tough task. You will take care of a few things to grab a decent result.
If you don't have a mudroom and have a very small space in your room so you can try these things at your home:
Wall mount hooks with rack.
Over the rod bag hanger.
We have covered all these ideas in detail in this article.
Q.2 Where Should You Store Your Purse In The Bedroom?
Sometimes having a small storage station in the bedroom is necessary because you don't want to go out of the bedroom for some most needed things that can be stored in the bedroom easily in a minimum space.
a foldable footrest toy box can be used for storing small bags and some other important belongings that occupy very little space in your room.
We have covered this in our article in detail, you can check it out.