If you love outdoor adventure so much and always look forward to a vacation so that you can go on the next mysterious adventure trip then you will definitely come across these two titans of the outdoor gear manufacturing industry namely Patagonia and North Face.
People are often confused between the two because of their same product lineup and almost similar price range, but here are some key points that make them identical to each other.
Let's have a quick glance at what factors we are going to compare them…
History & Reputation
Product Lineup & Variety
Material & Quality
Price
Warranty
Sustainability
So without further ado…
Let's begin the comparison…
North Face Vs. Patagonia: Similarities & Differences
Every popular brand has its glorious and challenging past that helps to understand them better. It also helps to understand what is the brand value and whether investing your hard-earned money in any one of them is worth it or not.
History And Brand Reputation
North Face
It was the time in 1966 when a young climber thought about changing the way climbers explore new places to feel the real beauty of nature.
Doug Tompkins started his new shop in San Francisco by his saving to implement his experience and new ideas to make revolutionary outerwear. This was the very first attempt to simplify hauling bulky gears. He created the first internal frame rucksack at that time and thus began the backpacking culture.
In 1975 NorthFace introduced Oval InTENTion. This was the a-shaped tent that is designed using minimal material but maximum performance. Currently, they have introduced VECTIV footwear an innovative footwear technology that helps runners to cover long distances on the tough trail.
Patagonia
Patagonia was founded by an American accomplished rock climber Yvon Chouinard in 1973 in California. Patagonia is known for its commitment to saving nature and aware people to make its surroundings clean and fresh for the upcoming generation.
The story has begun in 1957 when Chouinard started to manufacture handmade outdoor gear in his company named Chouinard Equipment. He didn't expect that within 13 years it is going to become one of the main suppliers of outdoor climbing gear in the USA.
---
North Face Vs. Patagonia: Product Lineup & Variety
Every brand tries to retain its identical identity through its different and unique collection of products that appeal to its customers and satisfy their needs. Every brand has its own flavor of design, pattern, and quality that keep them apart from others.
Let's find out which brand has a more versatile and vast collection of outdoor adventure gear…
---
Patagonia Nano Air Vs. North Face Ventrix
North Face Ventrix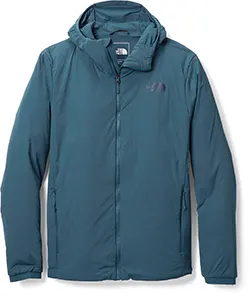 Weight: 13.4 ounces
Insulation Type: 60g Ventrix Synthetic
Material: 89% nylon
Patagonia Nano-Air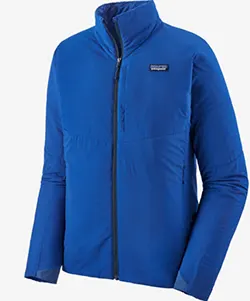 Weight: 11.2 oz
Insulation Type: 60g full range
Material: 100% polyester
If you are looking for a synthetic, warm, breathable, and light mid-layered jacket then there are two most popular options to choose from North Face Ventrix and Patagonia Nano-Air. North Face Ventrix comes with 60g of synthetic insulation which is a shift from the 80g that had in its original version.
Also Read: How To Wash Patagonia Nano Air
The benefit is the jacket becomes lighter, and thinner, and breathes better but not as warm as its earlier version. In the Prior version, you felt warm in the temperature range up to 40°F while this version seems comfortable in the mid 40°F.
I found the warmth property of the North Face Ventrix is almost the same as the Patagonia Nano-Air.
The Patagonia Nano air is made of 100% polyester(40% recycled) on the other hand NorthFace Ventrix is made of 89% Nylon( 35% recycled). The main difference between them is, Nylon is softer than polyester but polyester provided better water resistivity.
Also Read: How To Wash Patagonia Synchilla
The weight of both jackets is almost the same. I found the Patagonia Nano Air is not wind resistant if you wear only one t-shirt or shirt and if the wind is not too cold, but with some base layer, it works great.
What We Like In North Face Ventrix
Snug lining for better comfort.
Breathable and light.
Nice fitting.
The Hood is adjustable and can fit over the helmet.
Nice bigger side pockets than the Patagonia Nano air.
What We Don't Like About North Face Ventrix
Zipper's pull sometimes annoys you.
Weather protection is not that much great.
What We Like In Patagonia Nano-Air
Better water resistivity.
Breathable and lightweight.
Comfortable and dry super fast.
What We Don't Like In Patagonia Nano-Air
Not that wind resistant without a base layer.
The Hood is not that much stretchable that can fit over the helmet.
Side pockets are smaller than Ventrix.
---
Patagonia Nano Air Vs. North Face Thermoball
Patagonia Nano-Air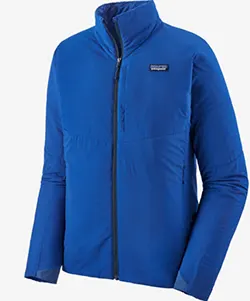 Weight: 11.2 oz
Insulation Type: 60g full range
Material: 100% polyester
North Face Thermoball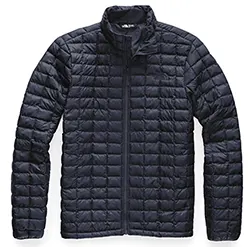 Weight: 12.3 oz
Insulation Type: Primaloft Thermoball synthetic insulation
Material: 100% nylon
If you are confused about whether to buy a mid-layer jacket from Patagonia or to buy a puffer jacket from Noth Face then here, I'm going to clear each and every doubt.
We have already discussed all the features with the pros and cons of the Patagonia Nano-Air mid-layer jacket. You can check it out. A puffy jacket is designed in a different way. Its quilted design with several sections between the stitching is filled with down insulation or synthetic fibers to provide better warmth than most mid-layer jackets.
Unlike Patagonia Nano-Air, North Face Thermoball fits a little bit loose so that you can comfortably layered clothes underneath this puffy jacket.
North Face Themoball scores well in the weather resistance test than the Patagonia Nano-Air, but I feel it is a bulky and heavy jacket as compared to Nano-Air.
What We Like In North Face Thermoball
Nice stowaway pockets.
stylish puffy jacket.
Comfortable and dry super fast.
What We Don't Like In North Face Thermoball
Poor wind resistance.
Heavier than the Patagonia Nano air.
---
Patagonia Vs North Face Fleece
Looking for a nice fleece jacket then you will definitely confuse between Patagonia and North Face Fleece collections. Here, I'm going to clear every single doubt about which brand offers the best fleece jackets and which one is value for money.
Material & Quality
Most Patagonia fleece jackets are made of 100% recycled materials such as polyester and some are with a combination of polyester and Polartec power grid and spandex.
On the other hand, the North Face fleece jackets are made of polyester, and denier recycled polyester. In terms of quality and durability, both perform well.
Weight
A jacket that is warm enough for your outdoor trip but puts extra weight on your body is not acceptable. let's find out which brand offers a cozy, warm, and comfortable fleece jacket without putting extra weight on your body.
Here, Patagonia is a clear winner. Some Patagonia fleece jackets are surprisingly lightweight without losing comfort, warmth, and coziness.
One of the best Patagonia fleece jackets I found is Patagonia R1 Air. Its weight is only 9.7 oz and it is highly breathable, warm, and cozy.
I found most of the North Face fleece jackets are heavy as compared to the Patagonia fleece jackets.
Warmth Capability
Some trips require high warmth capability, especially when you are planning for backcountry skiing or a mountaineering trip in winter.
I found North Face offers better warmth fleece jackets such as North Face Campshire Hoodie, North Face Denali 2, etc. Along with being lightweight, these jackets are heavy too.
Weather Resistivity
If we talk about weather-resistant capability then North Face is a clear winner because some of its fleece jackets such as North Face Denali 2 & others come with far better weather shield protection than what Patagonia offers.
Layering Ability
A fleece jacket with a flexible design is very convenient to layer inside and outside to tackle difficult weather conditions. I found Patagonia fleece jackets are highly flexible and carry enough space inside to layer extra clothes. Some of the best Patagonia fleece jackets with better layering capability are Patagonia R1 Air, R1 Hoody, etc.
Whereas North Face doesn't offer that much layering in its majority of fleece jackets.
Breathability
A breathable fleece jacket provides less warmth than a jacket with little or no breath capability. I found Patagonia fleece jackets like R1 Air and R1 hoody come with better breathable capability than what North Face offers.
Other Special Features
Patagonia fleece jackets come with some unique features such as Hollow-core fabric for better breathability, offset shoulder seams, Balaclava style hood, Polygene permanent odor control, etc.
North Face fleece jackets also come with some special features such as kangaroo pockets with a zip top, elbow patches, etc.
---
Patagonia Vs North Face Backpacks
An adventure trip is incomplete without a perfect travel backpack. Patagonia and North Face both manufacture different types of backpacks to meet the requirement of each buyer.
Let's see what these two most popular brands offer to their customers in their backpack segment.
Patagonia Backpacks
Patagonia has these different categories in its backpack segment…
Its everyday backpacks are specially designed for women although unisex Everyday packs are also available. Backpacks are made of organic cotton and recycled content. Patagonia everyday backpacks are available from 20L to 45L of capacity.
Technical Patagonia Backpacks are available in 6 different categories…
| | |
| --- | --- |
| Hiking Backpacks | Skiing & Snowboarding |
| Alpine Climbing Backpacks | Rock Climbing Backpacks |
| Fly Fishing Backpacks | Trail Running Backpacks |
The Patagonia technical backpacks are available in several elegant colors and sizes from 20L to 45L+. To deal with rainy weather conditions you also have options to choose whether a water-resistant or a waterproof variant.
Some most popular Patagonia Backpacks: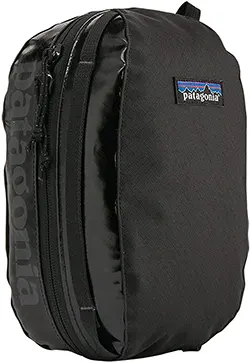 North Face Backpacks
North Face is also known for its vast backpack collections. you will get different options for men and women in its backpack segment. North Face backpacks are available in these popular categories…
| | | |
| --- | --- | --- |
| Bags & Luggage | Heritage Backpacks | Youth Packs |
| Women Backpacks | Backpacking Packs | Fanny Packs |
| Men Backpack | Commuter Backpacks | Tote Backpacks |
Among all of these categories, you will get a huge variety in their luggage and bag segments. Whether you are planning your next hiking trip, want to explore new places, or want to carry your office belonging safe and securely, every possible backpack category you will find in the North Face.
Its One Size lineup comes with some premium quality backpacks such as Borealis, Surge, Racon, etc.
North Face backpacks are also made of sustainable materials. The brand has some best future plans to become more sustainable than earlier.
Some of the most popular materials that North Face uses in its manufacturing unit are…
600D Polyester
500D and 420D Nylon
210D Cordura Nylon Ripstop
YKK Zippers with pull
Some Most Popular North Face Backpacks Are Listed Below…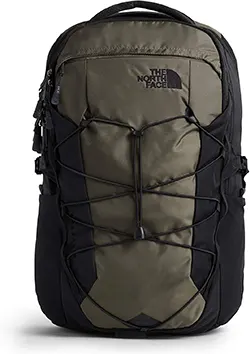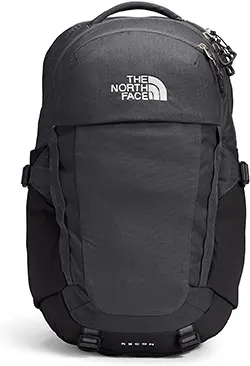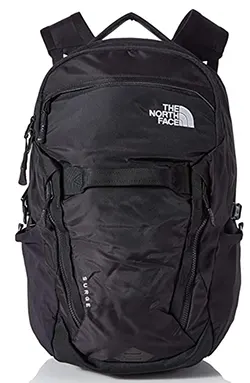 I personally love surge because of its spacious main compartment in which we can incorporate two same-size laptops in its padded separate compartment. It is made of ripstop Cordura Nylon fabric and comes with a false bottom support to protect your expensive tech gadgets from damage.
North Recon is a little bit cheaper option than the Surge. Surge and Recon both backpacks are made of the same material but Recon is a little bit smaller than the Surge. I loved its vertical front zipper pocket which is very helpful to keep quickly accessible small belongings.
North Face Borealis is a budget-friendly and feature-rich backpack. It is spacious and highly durable. It has several small, medium, and large pockets to organize your tablet, phone, power cords, laptops, etc.
---
Sustainability
Today people want to protect nature and help to revive the surrounding environment for a better future. Whether a brand is sustainable or not is decided by these two factors such as…
How does a brand monitor its suppliers nature?
How much a brand uses recyclable material?
Is Patagonia A Sustainable Brand?
Patagonia's activity to save our planet is positive because it uses recyclable materials as much as possible. Workers are exploited in many places but Patagonia is far better than others on that point.
Some supply chains of Patagonia are certified by the FLA Workplace Code Of Conduct And Fair Trade USA. It receives a positive rating in the 2021 Fashion Transparency Index which is around 51-60%.
Source: Patagonia Sustainability Data
Is North Face A Sustainable Brand?
Although NorthFace claimed that it has taken several steps to utilize sustainable and recycled material for the well-being of our earth, it is not a fully sustainable brand.
The North Face sets the goal to utilize 100% recycled and responsibly sourced renewable material in its apparel manufacturing units by 2025 and for footwear manufacturing units by 2030.
Source: North Face Sustainability Report.
Also Read: Canada Goose Vs. North Face: Choose Confidently
---
Patagonia Vs. North Face: Pricing
You will see the major differences between the prices of most of the products in both brands. Patagonia is known for its top-quality material, sustainability, and production.
North Face also provides decent quality and good warranties to its customers. Usually, Patagonia products are costlier than North Face products.
---
North Face Vs. Patagonia: Warranty
Patagonia Warranty Service & My Experience
Patagonia provides Iron Clad Warranty in most of its products which is pretty nice. You can return, exchange, or seek to repair the product, from where you have purchased it.
I had a Patagonia fleece jacket for the past 5 years the zippers were not working properly and the jacket was torn at some places, I visited the store from where I had bought it and they replaced it with the new one.
In my opinion, the money that you spend on Patagonia products is totally worth it.
North Face Warranty Service And My Personal Experience With That…
North Face provides a limited lifetime warranty to all the appeal except Footwear. The warranty is only applicable to its original buyer who purchased NorthFace products from an authorized dealer.
North Face footwear comes with one year of warranty.
I have had a North Face Laptop Backpack for the past 10 years. Its stitching was torn in some places and the zippers were also not working properly. It takes 3 weeks to complete the repair process and come back to me in perfect condition.
---
Wrap-Up On Patagonia Vs North Face: Which Brand Is Best?
Choosing the right brand to purchase the right outdoor adventure gear is really a tricky task. If you are the one who is confused between the North Face & Patagonia then, this article will definitely help to choose the right brand as per your need.
Whether you are looking for fleece, a jacket, a backpack, or any other tool, some kind of research is beneficial and could save some extra money that you can invest to buy other useful gear.