Imagine, you decided to go to your favorite fishing spot over the next weekend and found your fishing gear such as fishing rods got damaged while transporting. 
seriously…
But it may be true if you don't have a proper fishing rod case to protect it.
If you go to the market looking for a good fishing rod case, due to several different options, you will get confused about which one to buy or which one not to. 
But don't worry we are here to help you. 
After researching a lot and observing the durability, compact size, and mobility of a fishing rod case, we've listed some of the best Backpacking Fishing Rod Cases that will give you the best value for your money.
So without further ado's let's get started…
1. Best Fishing Rod Case For Air Travel (Plano Airliner)
Store Up To 8 seven Foot Rods

Its Features
4.5 inches diameter
Can extend up to 88 inches in length and collapse up to 47 inches.
Three-tier design.
If you travel to different places for fishing then a telescopic fly fishing rod case with travel approved design would be best for you. 
Plano Airliner did a great job here by introducing a sturdy and well-built Fishing rod case for fishers. 
The fishing rod case comes with an expandable design that can be expanded up to 88 inches and can hold 8 seven-foot-long rods securely.
If not in use it can be shrunk up to 46 inches in length which make it more convenient to carry. 
Good things are enough, now let's see some cons here. 
I personally find it difficult to put the fishing rods in and take them out from it due to the absence of the end opening cap. Every time pull the pin to remove the upper section is very annoying. 
It would have been better if some more foam cushions were used inside. 
Overall a nice and sturdy fishing rod case especially for those fishers who travel different -different places for fishing.
2. Best Premium Fishing Rod & Gear Case (Allen Company)
Heavy Duty Honeycomb Frame, Olive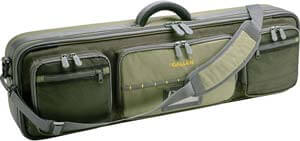 Its Features
Material: Blend (water resistance)
Weight: Olive
Dimension: 31.5 x 9.5 x 6 inches
The fishing rod and gear case from Allen Company are mainly designed for avid fishers. 
The fishing gearcase is designed with highly durable, rough & tough material that is water-resistant. 
Its non-slip weather resistance bottom can protect it from being wet and muddy from the muddy surface. 
I really impressed with its interior organization pockets. The see-through pockets are very convenient to organize and very easy to access. 
Its exterior divider is fully adjustable and makes it very easy to organize the other small fishing gears according to their sizes. 
Among other budget-oriented fishing rod cases, I found its build quality remarkable. 
The one downside of this fishing rod case is its price, which is a little bit high otherwise this could be the best fishing rod and fishing gear case for you. 
3. Fishing Rod And Reel Case Carrier Storage Bag (Allnice Store)
Can Hold Up To 5 Poles & Tackles and much more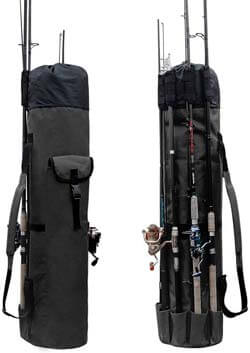 Its Features
Available in 4 different colors.
Can hold 5 rods and reels on the outside and baits, tackles, and some extra rods and reels inside.
Flat Expandable Adjustable Shoulder Strps.
I found the Allnice fishing gear organizer is truly a great deal for fishers. 
The canvas-based fishing rods and reel organizer seems durable and made with some kind of heavy-duty material. 
The fishing case is spacious, I really like its thoughtfully designed organization pockets. you can carry up to 5 rods and reels on the outside pockets and still have enough space inside for baits, tackles, and other fishing gears. 
It has nice flat shoulder straps that make it very convenient to transport. If we talk about accessibility then like a duffle bag you can access the inside belongings by its side zipper. 
One of the downsides of this fishing case is, that you have to spend on an 8 inches of concrete fill tube to make the structure of the bag stable. 
Overall a nice fishing organization bag that I found durable in one month of usage and have not found any problem with that.
4. Docooler Folding Fishing Rod Case 
Durable canvas, Water & Tear Resistance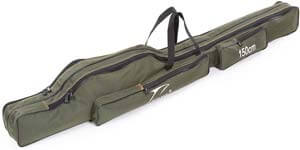 Its Features
Material: 1680D Canvas
Layer:  2 or 3 
Length : 120 cm/130 cm/150 cm
weight: 1.7 to 2.5 lb
This is another budget-oriented fishing rod carrier case that is highly durable and made with a 1680D Canvas material.
The fishing rod case from Docooler is also water and tear resistance carrier for your fishing gears. 
I highly recommend buying a 3-layer varient of this fishing rod because you will get lots of extra space with its three-layer pockets and also it provides a more convenient way to carry it by 2 adjustable shoulder straps that are missing in its 2 layer varient. 
It has tons of space to carry other fishing gears like tackles, baits, etc by using one large side pocket and a small pocket. 
Apart from shoulder straps, it has hand carry straps that make it easier to haul by your hands if you don't want to wear them on your shoulder. 
Overall a decent fishing rod case in a very handy budget range that every patcher can easily buy. 
5. Flambeau Outdoor Bazuka Pro
Can Hold 6+ Rods With Reels


Its Features
The ability to expand from 75″ to 105″
Made of highly durable Polyester material. 
Can hold up to 8.5″ long rod.
weight: 1.75 pounds
1 year of warranty.
This is another uniquely designed telescopic fishing rod case that comes with some very useful features. 
This is Flambeau Outdoor Bazuka Pro.
I really like its well-padded both ends that ensure a safe and unbreakable ride to the fishing rods.  
Due to its Airline approved design, it can be carried anywhere with ease. 
I am impressed with its hinged safety lock that ensures extra safety to your fishing gears. 
The fishing rod case is more suitable for those fishers who have fishing rods more than 6 inches long. 
Its weight is around 1.75 pounds and is made with highly durable PVC material.
Overall a nice pick fishing rod case that comes with all the necessary features. 
6. 7 Foot One Piece Fishing Rod Case (BW Sports)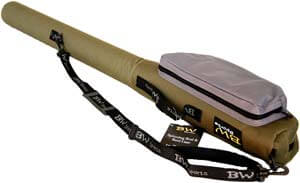 Its Features
Case Length: 45 inches
Color: Gray On Olive
The outside fabric is 600 Denier.
Comes with a PVC tube.
Weight: 2.31 pounds
This fishing rod case is the best companion for those fishers who have one or two fishing rods with a length, of not more than 7 ft.
I personally like this fishing rod due to its mobility. You can carry it on your shoulders while biking to explore some untouchable fishing spots.
The fishing rod case is made of a rigid and highly durable fabric and a PVC rod tube to protect your rods and reels. 
You can carry one 7 ft long rod with a reel attached or a shorter 2 piece spinning or baitcasting rod without any problem.
The case comes with a shoulder strap for easy hauling.
Overall a nice fishing rod case at a very handy price segment. You have to check out this if you are searching for a nice fishing rod case. 
7. Wowelife Fishing Rod Case
Plenty of space inside and outside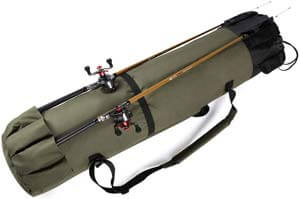 Its Features
Dimension: 48.4″L x 13.4″D
Material:  600D Oxford fabric sturdy and durable.
Available in 4 different colors.
Wowelife did a great job for day fishers or newbies. 
The fishing rod case comes in a budget segment so it'll not be going to break your bank. 
If I talk about its durability and built quality so it is decent. I found its soft material does not support its shape as seen in the picture. 
Its one shoulder strap is not able to carry on the shoulder when it is full. 
Although the fishing rod case is spacious. You can carry 5 fishing rods and reels in its outside pockets and the same with tackles and other fishing gears inside it. 
I also saw most of my friends successfully carry camping chairs with this fishing case which is good.
Overall a nice fishing rod and reel case for beginners at a very handy price segment. 
Best Backpacking Fishing Rod Case (FAQ)
Some of the very basic and important questions and doubts that we have tried to answer in this section.
1. How do you carry a fishing rod on your back?
The fishing rod is not something that can be carried easily without any proper carrier.
this is another case if your fishing spot is just a few steps away from your residence but in most cases, people like to fish some backcountry lakes and water ponds that require a proper fishing rod case that can be easily carried on the back without any problem.
In this article, we're trying to list some of the best quality fishing rod cases from the premium category to the budget segment.
2. How do you store a fly rod for backpacking?
You can carry your fishing rods in multiple ways. It totally depends on the features of the fishing rod case.
Some fishing rods and reel cases allow you to pack your fishing rod with the attached reel inside the case.
This is a convenient way to carry a fishing rod that saves your time in attaching and detaching process.
Some fishing bags such as the Wowelife fishing rod case have nice external pockets that can hold at least 5 fishing rods outside with fastener straps and the same rods and other fishing gears inside the case.
If you are traveling by car then you can carry your fishing rods inside a best fishing case and throw them into the back rack of your car.
You don't need to worry about any damage to your fishing rods and reels cause most of the above-listed fishing rod cases come with a padded foam internal linning that supports and protects your fishing gears from bumps on the road.
3. How do you carry a two-piece fishing rod?
If you have a two-piece fishing rod then there are chances of it getting damaged during carrying and your fishing trip will be spoiled.
Here is a simple and cheap hack to carry such type of fishing rod safe and secure.
One of the easiest ways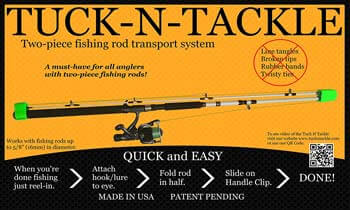 to carry two pieces of the fishing rod together is using a small and very useful gadget called Tuck & Tackles (View On Amazon).
Wrap Up On Best Backpacking Fishing Rod Case 2022
All the above-listed fishing rods and reel cases are best in some places. 
This is not possible to have all the favorite features on a single product but we are trying to collect some best fishing rod and reel cases that are best in the market and give the best value for your money.