Fishing is such a nice and relaxing thing for anyone if you have proper knowledge about how to do backpacking fishing set up properly.
In a backpacking fishing setup, one most important things are…
How do you pack a fishing pole for backpacking?
It depends on the type of fishing rod that you own. There are several types of fishing rods are available on the market.
Note: Fishing rods are something that is longer in size and packing them is not going so easy.
Fishing rods have several different parts and they tend to be damaged easily due to improper handling and are very expensive to replace.
It takes lots of time, practice, skill, and money. If you don't have time to trick some manual arrangements then must buy some best fishing rod and reel cases that benefit you a lot and save most of your precious time.
Here we will discuss some most popular fishing pole-hauling tips and tricks that benefit a beginner to enjoy more time fishing rather than pole arrangements.
Also Read: Best Float Tube For Backpacking 2022 [Light weight & Comfortable]
1. Make your own fishing rod case for backpacking
One of the most simple and easiest ways to pack your fishing rod for backpacking is to make your own fishing rod case which costs you less and also takes less effort.
Take a heavy-duty lightweight cardboard tube most probably a PVC pipe.
Cut it according to the length of your fishing rod.
You can also apply some cushion coating inside it to provide inside support for your fishing poles and reels. Some bubble wraps can also be a good option for the same.
Must ensure that you have caps to cover both ends as you would never want rods to fall out of the pipe.
Now your pipe carrier is ready to use. You can utilize adjustable straps and velcro of your backpack to attach this pipe in the most convenient position.
2. How do you pack a two-piece fishing rod?
If you have a two-piece fishing rod then you can make its height smaller by just removing its detachable part.
A small gadget called Tuck & Tackle (View On Amazon) is the best way to carry both detachable parts together.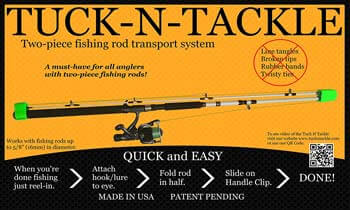 3. How to pack more rods in a DIY Tube?
A DIY tube has a very limited space that allows only one fishing rod to carry safely and securely.
Here I'm going to share a trick that allows you to carry two fishing rods in the same tube and there is no chance of any damage.
First, ensure that you have both rods of equal length.
Now you need to do this very important thing which is bubble wrap both rods individually also use some tape for more security.
Now put one fishing rod facing upside and another fishing rod facing downside in that way both the fishing rods will fit close together in the tube.
Now use packing tape to secure them together. Give a shake to the DIY tube to ensure that the
rods are not wiggled inside.
If you find some gap in both ends then put some foam in that area and close the end cap to ensure security.
4. How do you carry a fishing rod on your back?
you can carry a fishing rod in a multiple-way on your back.
How to utilize the bottle strap to carry the fishing rod in the backpack?
Yes, you can carry your fishing rod in the side bottle pockets.
Items for this setup:
Two small bottle-size cupboards
fishing rods
External straps of your backpack
You need a cupboard and cut it into the size of a water bottle so that it can easily be put inside the side water bottle pockets.
Now insert your fishing rods on both sides if you want to carry two fishing rods with you.
Now here point out if your backpack side pockets have a compression strap to hold the cupboard tightly in its place.
Now secure your fishing rods by using the external straps of your backpack to avoid any kind of shaking effect.
That's it now you are ready to go.
5. How to carry your fishing rod horizontally on your backpack?
This technique will only work if your backpack has plenty of velcro straps or compression straps outside.
Just keep your fishing rod in the horizontal direction and choose any of the compression straps that can hold your fishing rod steady and tightly in its place.
Tight them well and that's it.
6. How to use your fishing jacket to carry a fishing rod for backpacking?
Yes, your jacket can also be used as a fishing rod carrier.
Most fishing jackets come with well-pocket arrangements to carry the fishing gear. One I've seen has a well-designed large back pocket that was open from both sides.
The mouth of the pockets is compressible to fix the position of the fishing rod during walking.
If you don't have such a jacket then you can utilize your normal jacket by doing some arrangements over its body.
Like you can attach some velcro straps over its body that helps to attach a fishing rod either vertically or horizontally on your back.
7. How do you travel with a fishing rod?
Traveling with a fishing rod is possible and you can enjoy your fishing trip outside of your country if you have to take care of a few important things.
One of the most important things is to choose the right fishing case carefully.
Better to go with a telescopic fishing rod case that provides full safety for your fishing rod. It comes with a rigid build quality with a proper cushion inside.
This is a perfect fishing rod carrier, especially for those fishers who travel a lot for fishing.
If you have a long fishing rod then you can choose the telescopic fishing case that will match the size of your fishing rod because telescopic fishing tubes are available in multiple sizes.
Conclusion
Here I've tried to figure out some very simple but effective tricks and tips that will help you to carry your fishing rod safely and securely for backpacking.
This is a beginner guide that I hope will help you to enjoy your fishing time more rather than be stuck on arranging your fishing gear.