I love fishing very much and maybe you too. The weekend is coming and if you want to enjoy fishing in your favorite spot then a feature pack and lightweight float tube would definitely make your day. 
The Best fishing float tube helps reach those areas that you can not get with an ordinary bulky float tube.
It's not easy to choose the right one as tons of brands introduce their float tube to confuse you. 
After researching a lot, according to their mobility, features, ease to carry, and comfort level we have listed some of the Best Float Tube For Backpacking that gives you the best value for your money.
So without further ado let's get started…
| Fishing Float Tube | Our Rating | Speciality | Its Weight/ Weight Hauling Capacity | Storage Options | Price |
| --- | --- | --- | --- | --- | --- |
| Cumberland Float Tube From Classic Accessories | | Extra high seat that is thick padded and height adjustable provides a warmer fishing experience | | Huge storage options with double zipper. | |
| Goplus Inflatable Float Tube | | Heavy load bearing capability with light weight. | | Side zipper pockets and a large fish net at the back. | |
| Bighorn Inflatable Fishing Float Tub | | Extra large and comfortable backrest | | Its storage is huge with lots of pockets. | |
| Teton Inflatable Fishing Float Tube | | Best in Budget & Light Weight | | extra storage space and a D ring to carry extra gear. | |
| Caddis Wyoming U-Shaped Float Tube | | Its sit up higher in the water | | | |
1. Cumberland Float Tube From Classic Accessories
Secure, Comfortable And Durable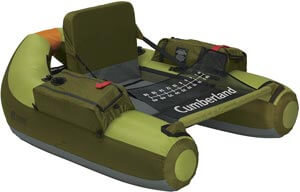 Its Features
Dimension: 15 x 44 x 19 (Inches)
Color: Apple Green/Olive 
Its Weight: 14 lbs.
Max Weight Capacity: 350lbs 
1 year of warranty
Cumberland Float Tube is for those fishers who prioritize Security, Comfortability, and Durability over its weight.
Cumberland did a great job and packed its float tube with every feature that a fisher wants.
Why This Float Tube Better Than Others?
The float tube is made of High-quality rugged PVC bottom which is abrasion-resistant. 
Its hydrodynamic hull shape makes easy tracking and steering and enhances your fishing and floating experience. 
One of the main highlighted features of this float tube is its extra-high seat which is better than others.
The extra high thick padded seat with an adjustable backrest keeps your body above the surface of the water and ensures a comfortable and relaxing fishing experience if you spend the whole day on the lake.
Cumberland did a great job in their storage section. It has a huge space to carry extra stuff. 
Double zipper 2 cargo pockets, mesh stuff pocket at the backside of your seat and two interior zip pockets provide enough room for your fishing gear.
I really like two drink holders that are very useful to carry your beverage cups or bottles for a long day of fishing.  You can hardly find two-rod holders in any other brand at this price range.
I really like the design and tons of useful features of this float tube that truly justifies its price. This is a one-time investment for a comfortable, secure, and warm fishing experience at the weekend.
2. Best Budget Fishing Float Tube
Best Value Fishing Float Tube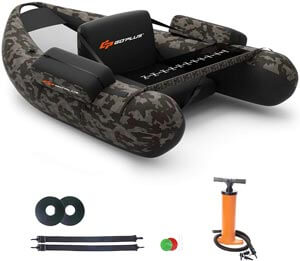 Its Features
Dimension: 53.5 x 41.5 x 21 (Inches)
Color: Camouflag
Its Weight: 12.5 lbs.
Max Weight Capacity: 350lbs 
Pump and repair kit included
The second fishing float tube in this list is from GoPro. Although it has some limited features the price segment it falls in is totally worth it.
If we compare GoPro Fishing Float Tube with Cumberland Float Tube then no doubt Cumberland offers far better features and a better sitting experience than this but the price is high. 
If budget is not an issue go with Cumberland otherwise GoPro is totally worth buying a fishing tube at this price range.
GoPro Vs BigHorn Which One Is Best?
Both come in the same price range and both have some special features with some pros and cons listed below.
GoPro comes with a Pump and repair kit without spending extra money while Bighorn does not.
The weight hauling capacity of GoPro is 350 lbs but BigHorn has only 250 lbs.
BigHorn is more lightweight than GoPro.
The Storage capacity is much better in BogHorn than in GoPro but I really like the fishnet storage in the back of the seat.
GoPro has backpacking adjustable straps while BigHorn doesn't.
The external D ring on the BigHorn is very useful to carry extra gears that are missing in GoPro.
Overall some features are great in BigHorn and some are in GoPro. Choose one according to your need.
3. Bighorn Inflatable Float Tube From Classic Accessories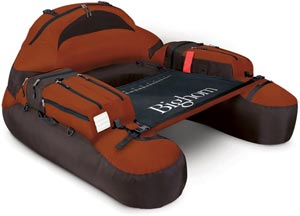 Its Features
Dimension: 54 x 50 x 27 (Inches)
Color: Apple Copper/Brown 
Its Weight: 11 lbs.
Max Weight Capacity: 300lbs 
1 year of warranty
If you can't afford the Cumberland float tube then you must take a look at Bighorn. 
Its price definitely grabbed your attention although you will not get features like Cumberland offers. 
What did I like Most In Bighorn?
I really impressed with its storage capacity. The inflatable float tube comes with a Roomy armrest with additional reel pockets, gear pockets, and small mesh pockets. 
It also has a rear big pocket and exterior mesh storage pockets. Such a huge storage space and I have hardly seen it in any other brand.
You will not get a padded seat in this model but its extra large and comfortable backrest is quite impressive.
Cumberland comes with 2-rod holders while you will get only a horizontal rod in Bighorn.
The company limited some of the other features in this model like the drink holder although you can put your drink inside the zipper pockets.
The build quality is durable and long-lasting. I really impressed with it. 
Overall a decent float tube at a very reasonable price point. The company provides 1 year of warranty and in my experience, the life of such kind of float tube would be 3 years if you handle it properly so not an issue with that. 
4. Light-Weight Fishing Float Tube From Teton
Best in Budget & Light Weight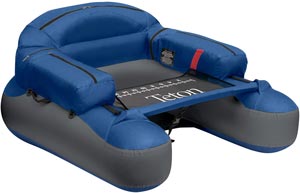 Its Features
Dimension: 42.5 x 40 x 18.5 (Inches)
Color: Blue/Grey 
Its Weight: 8.5 lbs.
Max Weight Capacity: 250lbs 
1 year of warranty
This is one of the best inflatable float tubes in the budget category from classic accessories. 
This is a lightweight float tube and its weight is only 8.5 lbs. Due to its minimalistic design and lightweight its weight hauling capacity is only 250 lbs, so if you are a heavy person so this is not for you.
If we talk about the sitting experience then it's not the same as some above-listed models but good for non a very technical person.
If you want a warmer fishing experience for a long time then you have to figure out some of the best options listed above. 
I really impressed with its extra storage space which is surprisingly comparable to some expensive models. My favorite is External D rings to store some extra gear. 
Overall a great option for a newbie and for those who want to enjoy outshore fishing on a very tight budget.
5. Caddis Wyoming U Shaped Float Tube
Best in Budget & Light Weight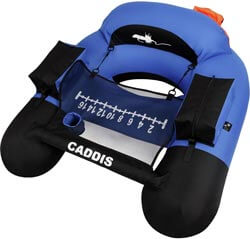 Its Features
Dimension: 15 x 10 x 8 inches
Color: Blue/Black 
Its weight: 9.28 pound.
Max Weight Capacity: 250lbs 
1 year of warranty
This is another option for budget float tube seekers from Caddis Wyoming. 
Difference Between Caddis And Teton Float Tube
The one major difference between the Caddis and Teton is that its stripping basket has a built-in cup/rod holder while the Cup holder is missing in Teton. 
The second most important difference is Caddis sits up in the water which keeps you warm from cold water. This feature helps when the weather is fairly cloudy and windy but not pleasant on a hot sunny day.
On the other hand, Teton stays on the surface of the water not sitting up as Caddis does.
Teton has a D ring for better organization and toting some extra fishing gear while Caddis does not. 
Teton has better storage space rather than Caddis.
Overall some features are good in Caddis while some are in Teton. The choice is yours what feature you need most. 
Buying Guide 
How To Choose The Right Fishing Float Tube For Backpacking?
I had a great fishing experience last year with my friend John. This was a 2 days weekend trip and we really enjoyed fishing the whole day. 
He had an old fishing floating tube that is lightweight with adjustable shoulder straps so we didn't face difficulty hauling the fishing tube from the car parking to our favorite lake spot. 
I also got a chance to experience fishing on the floating tube when he was exhausted after a few minutes. 
Here I'm sharing my experience with a float tube and if you want to buy the one then there are a few key factors that you have to understand before making a buy decision. 
Secure Comfortable and Durable
A floating tube must be comfortable because this is what decides how your overall fishing experience is going to be. 
Some of the top-notch fishing tubes come with a well-padded seat with a proper backrest that supports the lumbar area of your back and help to do fishing much longer than normal. 
Cumberland fishing tube comes with a high adjustable backrest that keeps your body just above the surface of the water on cold days. 
But in summer when days are hot then you can lower the height of the seat so your body gets cold from the water and feel comfortable and enjoy fishing. 
Most experienced fishers prefer a secure, comfortable, and durable floating tube rather than a lightweight fishing tube. 
Don't worry all the fishing floating tubes in this article are lightweight. 
2. Weight hauling Capacity
Choosing the right fishing floating tube is very important especially if you are a big guy. 
Some fishing floating tube comes with a hauling capacity of 350 lbs which is good for a big guy. 
I've listed all types of floating tubes that are suitable for all types of fishers whether they are a tall guy or a small guy.
3. Storage Capacity
Storage capacity is a choosy criterion. Some people want a minimalistic design, compact size, and a lightweight fishing floating tube while some are more space-demanding. 
In this article, we have listed some feature-packed and very spacious floating tubes that come with plenty of space for your fishing gear. 
4. Inhaling And Exhaling Capability
You feel very bad if you spend too much time inhaling and exhaling your fishing floating tube. 
All the fishing tube comes with an air pump that can be pressed by the legs and Inhaled the fishing tube within a few minutes. 
5. Build Quality
No one wants that his fishing floating tube to burst in the middle of a deep cold lake so having a rigid build quality is very important. 
All the fishing tube listed above are made with high-quality, rigid and durable Polyester fabric which is water and tear-resistant and comes with a minimum of one year of warranty.
FAQ
1. How Much Weight Can A Float Tube Hold?
A Float tube with a weight hauling capacity of 350 lbs is more than enough even for a big tall guy.
Float tubes are available in these weight-hauling capacities:
200 lbs
250 lbs
300 lbs
350 lbs
Choose according to your need and budget.
2. What Is The Best Float Tube On The Market?
If money is not an issue then no doubt Cumberland is a clear winner because it comes with many useful features( Mentioned in detail in this article)  that make your fishing experience very comfortable and joyful. 
You can also go with GoPro with some limited features but this is also a great fishing floating tube in a budget segment. 
3. Are Fishing Tubes Safe?
It totally depends on the build quality and the features that the company provides with their Fishing tube. 
Some fishing tubes come with rigid and durable fabric which is long-lasting and waterproof. 
For a safe and comfortable fishing experience, some fishing tube comes with a padded seat with a proper backrest and well-designed armrest. 
Conclusion
I hope this article really helps you to find out the best and feature-packed fishing floating tube as per your requirement and within your budget. 
If you are a heavy tall guy then go with either Cumberland (Feature pack and very comfortable option) Or with GoPro (Also a good option in a mid-budget range).
If you want a lightweight fishing floating tube then you can go with Teton.