When it comes to choosing winter jackets, coats, parkas, and shoes for outdoor winter activities such as polar expeditions, people want super warm, cozy, functional, and stylish winter wears.
Canada Goose Vs. North Face, if you are also in a dilemma about these two most popular brands then be with us because we are going to clear every single doubt regarding these two world-famous outdoor sportswear brands.
What we are going to cover in this article to clarify your doubt about Canada Goose and North Face is listed below:
History & Reputation
Product Lineup & Variety
Material & Quality
Price
Warranty
Sustainability
So without further ado…
Let's break it down…
Differences And Similarities Between Canada Goose And North Face
Canada Goose is a way more expensive and functional brand as compared to the North Face.
You will get style and some beautifully designed outerwear in the North Face, whereas Canda Goose products are less stylish than the North Face.
The Warmth nature and capability to stand out in the extreme winter conditions are far better in Canada Goose than in the North Face.
All of the North Face products except footwear are covered under a limited lifetime warranty for manufacturing defects and workmanship, whereas Canada Goose offers a limited lifetime warranty on its all products to their original owner.
---
History And Brand Reputation
A brief history would help us to understand them in a better way.
Canada Goose History & Brand Reputation
It was 1957 when a young man named Sam Tick laid the foundation of his company Sportswear Ltd. in Toronto. Initially, it manufactured woolen vests, raincoats, and snowmobile suits. In 1980 the company manufactured Expedition Parka for scientists at Antarctica's McMurdo Station.
In recent years, Canada Goose has continued to grow and expand, opening new stores and broadening its product line to include a wider range of cold-weather clothing and accessories.
North Face History & Brand Reputation
North Face is a very reputed brand in the field of outdoor gear manufacturing. The San Francisco California-based company is founded by Douglas Tompkins in 1966, that produces outdoor clothing, footwear, and other gear that can make your outdoor trip memorable and enjoyable.
In 2000, VF cooperation acquired this emerging brand and become a fully owned subsidiary. The company changes its strategy from time to time, especially in its jacket lineup.
---
North Face And Canada Goose: Product Lineup
North Face Product Lineup
North Face has a huge collection of different winter items, footwear, accessories, and backpacks. Some most famous jackets and vest categories are Snow jackets, Rain jackets, Insulated and down jackets, softshells, and windbreakers.
North Face has a massive collection of outdoor and normal usage backpacks, which are missing in the Canada Goose. If we compare the North Face product lineup with the Canada Goose product lineup then you will find that the North Face has a huge collection of different products as compared to the Canada Goose.
Also Read: Patagonia vs North face: In-Depth Comparison
Canada Goose Product Lineup
Canada Goose has a wide range of products for men, women, and for kids. It has a very limited collection of winter shoes for men and women. One of the most popular items in the Canada Goose lineup is its winter jackets which are categorized into puffer jackets, lightweight down jackets, and lightweight jackets.
Canada Goose has an extensive range of parkas and its expedition and Trillium parkas are very popular. Unlike North Face here the choices are very limited in its shoe section.
Also Read: Canada Goose Vs Moncler: Choose Wisely
---
North Face Vs. Canada Goose Jackets: Which One Is Worth Buying?
North Face has a wide range of products in its jacket and vest category. To make this comparison feasible we are going to compare the parka jacket categories of North Face and Canada Goose.
North Face Bedford Down Parka Winter Jacket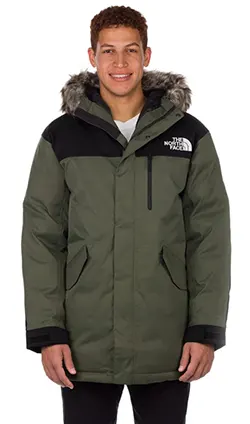 North Face Men's Bedford Down Parka
Material: Outer & Inner shell 100% rip-stop Nylon with 100% Polyester lining.
Insulation Type: 75% Down & 25% waterfowl feather
Hood Fur: Synthetic( 70% acrylic & 13% model acrylic and 17% polyester)
Weight: 1440 g
This is a true down jacket with a fill power of 550. The outer and inner material is rip-stop nylon with 100% Polyester lining. The jacket comes with 75% down and 25% waterfowl feather insulation. The fur which is used on its hood is a synthetic fabric with 70% acrylic 13% model acrylic and 17% polyester.
Due to 550 fill power, the jacket is surprisingly warm but not as much as a Canada Goose jacket has.
The Warmth Rating Of This Jacket is: 3/5
Pockets: The jacket comes with a total number of 3 pockets with very limited features. It has two Valco and zipper pockets at the belly area, which are not sufficiently deep (about 6″ deep from the hem).
I don't find any kind of warm cushion lining inside the pocket that would keep your hand warm. The third and last pocket is located in the chest area. This is a kind of shallow pocket and can be used to store your smartphone and wallet if needed.
Surprisingly there are no pockets in its internal section. You won't carry lots of stuff with the jacket due to its less functionality.
The Functionality Rating is: 3/5
Waist: It waist area doesn't have any post string to adjust its opening. This is not a good thing for a winter jacket because a post string is helpful to prevent the intrusion of the wind inside.
Unlike the Canada Goose jacket, its sleeve has a ripped cuff missing and has a velcro to adjust the fitting accordingly. YKK plastic zippers are functional and smooth.
Hood: I found that you can remove the fur but the hood is not removable. You can adjust the fitting of the hood by using its drawstring located just on its backside.
The Fitting Rating is: 3.5/5
Noise Test: A noise test is important because people are irritated by the fabric rubbing sound when they walk and move their bodies while wearing a jacket. The average rating of a winter jacket is between -15 to -18 decibels. The peak amplitude of this jacket reaches -16 DB, which means the jacket produces bearable noise when you move around wearing it.
The noise Rating Of This Jacket Is: 3.5/5
Fit & Comfort: The jacket is very lightweight and puffy and doesn't restrict your movement. The jacket is good for some outdoor adventure sports like skiing and snowboarding. The puffiness makes me feel bigger and wider than normal and the puffy cushion around the body makes it comfortable and cozy.
The Overall Rating Of The North Face Down Parka Jacket
| | |
| --- | --- |
| Functionality | 3/5 |
| Fit | 3.5/5 |
| Warmth | 4/5 |
| Quietness | 3.5/5 |
| Price | 5/5 |
| Overall Rating | 19/25 |
Also Read: Jansport Vs. North Face Backpack: Choose Wisely
Canada Goose Men Extreme Jacket For Tough Weather Conditions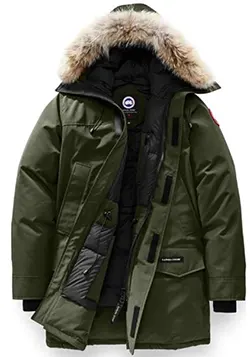 Material: Shell 85% Polyester & 15& Cotton. Lining 100% Nylon & Padding 100% Polyester
Insulation: 80/20 (duck down & feather) with fill power 625.
Weight: 2023 g
Canada Goose jackets are known for their amazing warmth property, as they can bear -30°Celsius temperature or below. Even Antarctica scientists use this jacket in their research center, so you can use this jacket in your city weather without any problem.
The jacket is made of 80% polyester and 20% cotton with 625 fillings. Its hood is different from North Face in terms of the quality of fur and feel. It is made of genuine coyote which is sourced from Western Canada whereas the north face hood has synthetic fur.
Pockets: Unlike the North Face which has a total number of 3 pockets, the Canada Goose jacket comes with a total number of 11 pockets.
But Do They Functional And Practical As Well?
Let's find it out…
Canada Goose has 2 belly pockets fastened with velcro. These pockets are huge in size having only front insulation lining. The side zipper opening reveals the insulation lining of these pockets located on the front and backside.
The chest section also contains two large pockets having no insulation but the side zipper pocket has two different sections, the first section is without insulation and the second section has insulation in the front and back area.
This pocket can keep your hand warm and cozy, due to its thoughtful design. Its right and left arm have two snug-fit large pockets and are good to carry some small belongings.
The internal section also has two functional pockets. To prevent wind intrusion, it has a nice waist belt. The post string is helpful to find the right fit and it covers the entire jacket.
Zipper: It has two ways nice YKK zipper on the left side. If you are a right-handed person then you will face difficulty with this zipper initially. Instead of buttons, it has several velcro closer strips that cover its zipper section.
Hood: The Canada Goose Hood comes in a huge size with a pole string, which is helpful to adjust the collar hood fitting. You can remove its fur section.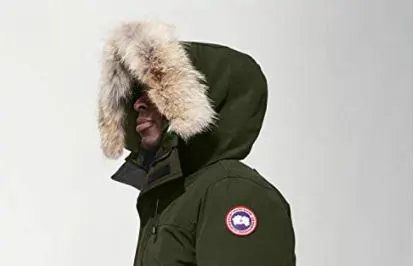 Jacket Rating In Various Parameters
Noise Test: The jacket sounds with an amplitude of -15DB, which makes it one of the loudest ones as compared to the North Face jacket.
The noise Rating is: 3/5
Fitting Test: The jacket is huge in size and would fit loose, I would recommend choosing one size down for the right fit. The jacket comes with 2023g of weight, which is heavier than the North Face jacket.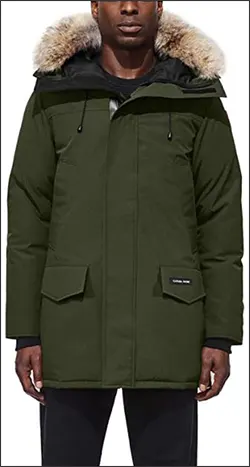 The size of the hood is pretty impressive and far better than the North Face hood. It is way more effective in keeping the extremely cold wind and snow just out of your face.
If we talk about which jacket is attractive and stylish then the Canada Goose jacket is not stylish at all.
The jacket seems bulky and is not much attractive at all. The main aim of this jacket is to keep its buyers warm and cozy in extremely cold conditions, no matter how you look with this jacket.
Fitting Rating Is: 3/5
Functionality Rating: The jacket is no doubt functional as well as practical. It has all those features which must be there in a winter jacket.
The Functionality Rating Is: 5/5
Warmth Test: The jacket is warm enough that can be worn in Antarctica like extremely cold places. The jacket can keep you warm and toasty in temperature conditions of -30° Celcius or below.
Warmth Rating is: 5/5
I think the price of this jacket is listed as very high, but in terms of its functionality and warmth capability, it is better than the others. The built quality and its amazing durability could make it be with you for several years.
The Overall Rating Of Canada Goose Jacket
| | |
| --- | --- |
| Functionality | 5/5 |
| Fit | 3/5 |
| Warmth | 5/5 |
| Quietness | 3/5 |
| Price | 3.5/5 |
| Overall Rating | 19.5/25 |
Also Read:Canada Goose Vs Moose Knuckles: Differences & Similarities
---
Quality Of Material
The quality of the material matters most. People are willing to spend a large sum on quality. Let's find out which brand uses high-quality material in its manufacturing unit between Canada Goose and North Face.
Canda Goose Material & Durability
Today people buy Canada Goose jackets not only for wearing on the slope or on their mountain trips but also want to wearing in their nearest coffee shops, mall, shopping, etc.
Canada Goose jackets are made of 90% down and 10% feather, which makes them warm enough for every situation, and the quality of down and feather is top-notch, which makes the jacket insulated without carrying extra weight.
Also Read: Canada Goose Vs Parajumpers: Choose Wisely
Apart from other qualities, Canada Goose jackets can prevent wind from entering inside, due to better insulation you feel more secure and warm in cold weather.
North Face Material & Durability
North face products are made of Polyester, Nylon, and Cotton. The company also innovates some new technology such as Future Light, which is capable of keeping you dry in the rain, and warm in the cold.
This is a kind of material with an Ultra-thin nanomembrane that is waterproof and breathable and is made of 90% recycled material.
The north face is committed to using only high-quality Goose down for insulation. The down has two characteristics: Warm to Weight Ration & Compressibility. The fill power range is between 550 to 900.
Also, North Face has an alternative to the traditional down, and for this, the company has developed a partnership with PrimaLoft.
---
Sustainability
Is North Face A Sustainable Brand?
The sustainability rating of North Face is fair and is not as good as Patagonia has. The brand is on the way to utilizing recycled and eco-friendly material in its production and also trying to eliminate the greenhouse gases produced by its manufacturing units, but it seems to be easing its commitment toward this direction.
North Face has taken a 61-70% rating in the 2021 Fashion Transparency Index but due to lack of evidence, we can't say much about its effort toward protecting laborers' rights.
North Face claimed that it uses leather and wool in its production and wool is acquired from non-mulesed sheep. Down that is used in the production is certified with the Responsible Down Standard.
Is Canada Goose A Sustainable Brand?
Canada Goose seems less sustainable than NorthFace because of using real fur in most of its manufacturing units. Canada Goose has become a certified member of the Responsible Down Standard (RDS) in Nov 2021.
Apart from all the positive efforts it still has a long way to go to be considered a truly sustainable brand.
Also Read: Canada Goose Vs Pajar: Don't Make Mistake
---
Price: Which Brand Is Cost-Effective?
Canada Goose manufactures some of the best winter wear jackets, parkas, and other outerwear which are mainly designed by using high-quality material and skilled craftsmanship which normally increases its price way higher than the other brands.
Suppose Canada Goose winter jackets will cost you between $600 to $1500 and the price of its products also depends on the type, style, material choices, and other factors.
On the other hand, North Face is a cost-effective brand if we compare its product with Canada Goose. But the products of Canada Goose are more functional, practical, warm, and cozy as compared to the North Face product.
---
Warranty: Which Brand Comes With A Longer Warranty Period?
All Canada Goose products come with a limited lifetime warranty if a buyer brought any Canada Goose product from the authorized retailer. The warranty is only claimed by its original buyer and is not transferable.
All of the North Face products except footwear are covered under a limited lifetime warranty for manufacturing defects and workmanship.
The lifetime warranty is only valid for the original buyer of the product. Footwear and some other products are covered by one year of warranty.
---
Which Brand Is Right For Me Between The Canada Goose And The North Face?
Choosing the right brand for selecting either a warm winter jacket, shoes or any other item depends on two factors:
How much is your budget for that?
Under which condition do you want to use them?
If you want a more functional and practical jacket, which can tackle extreme weather conditions without losing comfort, and coziness then Canada Goose has no competition.
Canada Goose jackets are way more expensive than the North Face jackets, even some North Face higher-range jackets will cost the same as some Canada Goose mid-range jackets.
Canada Goose jackets are known for their amazing durability and will last for a decade.