Looking for something warm, stylish, functional, and on-the-go jackets and parkas this season, then it is difficult to avoid these two most famous brands namely Canada Goose and Moose Knuckles.
The personal preference of everyone is quite different, some people love simple, minimalistic design jackets while others want to look cool and stylish with their jackets.
Both the brands are not economical, and some jackets of them are very close in terms of their functionalities and prices.
Let's find out which brand is best for whom and under which circumstances. To understand them better we are going to compare them to these parameters…
Brand History
Products Lineup
Material & Durability
Warmth Capability
Price
Warranty
Moose Knuckles Vs. Canada Goose: Which Brand Is Worth Buying
We can't skip the glorious and challenging past of any brand to judge its value and popularity, that's why this brief information about the history of these two brands is necessary.
Moose Knuckles: History & Brand Reputation
Moose Knuckles was founded in 1921 by its co-founders Noah Stern and Ayal Twik and is 36 years old brand from Canada Goose. Moose Knuckles was started with the aim of designing and manufacturing one of the leanest, toughest, and most luxurious sportswear & outerwear in the world.
Like Canada Goose, Moose Knuckles is initially a luxury outerwear and sportswear Canadian brand that was officially launched in 2007 with the name Moose Knuckles Canada.
Moose Knuckles's family has been saving the Canadians From extreme cold for a longer time with their top-quality winter Jackets and Parkas. Unlike Canada Goose, the Moose Knuckles is very famous for its high-quality design and style.
Moose Knuckles is solely connected with Canadians and their products are manufactured in Canada. Apart from designer winter Jackets and parkas, their stores are filled with an unmatched collection of weatherproof coats, lightweight jackets, knitwear, shirting, and other accessories.
In 2021 Victor Luis was appointed as Executive Chairman of this brand.
Canada Goose: History & Brand Value
Canada Goose was started with the vision to keep people warm in harsh winter conditions so that they can work in some most challenging places on the earth.
To make it possible, Sam Tick the founder of Canada Goose established a company in 1957 with the name Sportswear Ltd. Initially it manufactured woolen vests, raincoats, and winter coats for Canadian workers. In 1970 the company got its currently very popular name "Canada Goose" by changing its previous name "Snow Goose" with the invention of the volume-based down-filling machine.
Currently, the Company has strengthened its root across the globe. Its products are sold in more than 40 countries. The company has also expanded its product line to include a range of clothing and accessories, including parkas, jackets, hats, gloves, and more.
---
Canada Goose Or Moose Knuckles: Product Lineup
Moose Knuckles: Product Lineup & Variety
Moose Knuckles has a wide range of winter wear as well as outerwear. Its products are available for:
Its winter wear collections are categorized per different protection ratings which are:
Level 1 -Chilly
In the Level 1 category, you will get some jackets and parkas that come with a minimal and ultra-light design. These jackets are best to prevent the intrusion of wind and rain inside of your jacket.
Level 2- Cold
In level 2, you will get jackets and coats with added insulation to Level 1. These jackets are light as well as warm and are best to wear in average cold weather conditions.
Level 3- Crazy Cold
These jackets are designed to keep in mind your comfort, and the wildest coldness in the winter. The aim is to maximize the warmth-to-weight ratio of the jackets that belong to this category.
Level 4- Canada Cold
These jackets are designed to bear the extreme cold conditions of Canada. If you live in such a place or work in such places, where you have to face the winter wrath then this category is for you.
Moose Knuckles outerwear section is full of these products:
Moose Knuckles Outerwear Section
| | |
| --- | --- |
| Bombers | Parkas |
| Lightweight | Jackets & Coats |
In the clothing section, you can shop for sweatshirts and hoodies. For men, Polo and tees are also listed in this category. In the end, you have some accessories to choose from such as Hats and Caps.
Canada Goose has a nice collection of winter shoes that are warm, trendy, and best for any outdoor activity. Unfortunately, you will not get any shoe collection on Moose Knuckles.
Canada Goose: Product Lineup & Variety
You will not get a shoe collection in Moose Knuckles. Canada Goose shoes are trendy, warm, and best for any outdoor activity.
Canada Goose has plenty of products in its outerwear sections.
Let's see how many categories are available in Canada Goose…
| | |
| --- | --- |
| Outerwear | Apparel |
| Footwear & accessories | – |
Moose Knuckles has a wide range of products in their jackets and coats section. If you are looking for a fully functional, warm, and feature-loaded parka and jacket then Moose Knuckles could be the one choice for you.
Let's explore the Canada Goose Outerwear section…
| | |
| --- | --- |
| Parkas | Bombers |
| Lightweight Down Jacket (Special) | Vests |
| Lightweight jacket | Raincoat |
| Snow pant | – |
Both brands have a rich collection of jackets and parkas. But Moose Knuckles seems way more design concern and functional than what you will get in Canada Goose.
Also Read: Canada Goose Vs Parajumpers: Choose Wisely
---
Moose Knuckles And Canada Goose Jackets: Which One Is Best?
Both the brands are expensive and the jackets which I'm going to compare here come near the $1000 price tag. So without further ado let's find out which Jacket is best in terms of Fit, Functionality, and provide the best value.
Moose Knuckles Down Jacket For Extreme Canadian Weather Conditions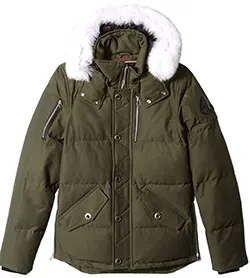 Material: Shell 74% Cotton & 26% Nylon and Linning 100% Nylon.
Insulation: 80/20(Duck Down Loft & Blue Fox Fur)
Level 4- Canada Cold Rated
The jacket from Moose Knuckles is made of core cotton and Nylon fabric which feels squishy and very soft on the skin. The hood fur is made of a mix of Arctic Blue Fox and Silver Fox furs which feels exotic, soft, and luxurious and you will love to wear it all day.
Weight: 1905 g
Pockets: The jacket comes with a total number of six pockets, two belly pockets with one button closure, and a thick cotton lining to keep your hand warm. One vertical zipper shallow pocket at the chest area comes with a warm lining and is good to carry your smartphone.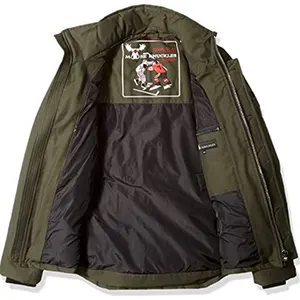 The right shoulder pocket is way too shallow which is not suitable to carry a smartphone. I think this pocket is part of its design and enhances its style. Let's talk about its internal zipper pockets. One is on the right side and the other is on the left. These pockets are good enough to carry lots of small belongings.
The funny logo around the back neck is really very funny. Its handcraft ship is really impressive. You can feel the durable stitching in the metal buttons at the front which is threaded with a black strip. The YKK solid and thick ax-shaped zipper is designed uniquely.
The sleeve zippers are so practical that you can adjust them to get the right fitting. The waist vertical zippers are also given to get a perfect fitting by adjusting them.
I also do the noise test, to understand how loud or quiet this jacket is when you move your body and hands. Surprisingly the peak noise generated by this jacket is -20DB which makes it one of the quietest jackets right now. The jacket is rated 5/5 in the quietness rating.
Jacket Rating
Functionality Test: The Moose Knuckles jacket has tons of useful features which make it a more functional and practical jacket than the other available jackets in the market.
The functionality Rating is: 5/5
Fitting Rating: The jacket surprisingly impressed me with its fitting. Its snug fit makes me look stylish without losing warmth and coziness.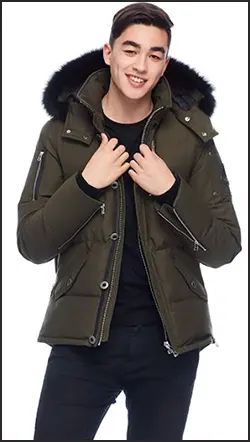 The fitting Rating is: 4/5
Warmth Rating: The Moose Knuckles jacket comes with 80% down and 20% feather filling, which keeps you warm and toasty in practical situations.
Warmth Rating: 5/5
How Valuable The Moose Knuckles Jacket is?
The jacket is listed in the online store at around a $1000 price tag that truly justifies what this jacket offers to you. The jacket keeps you warm, and cozy without losing the style.
The overall rating chart makes you more clear about whether the Moose Knuckles jacket is worth buying or not.
The Overall Rating Of Moose Knuckles Jacket
| | |
| --- | --- |
| Functionality | 5/5 |
| Fit | 4/5 |
| Warmth | 5/5 |
| Quietness | 5/5 |
| Price | 4/5 |
| Overall Rating | 23/25 |
Canada Goose Men Extreme Jacket For Tough Weather Conditions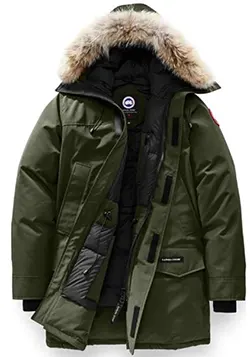 Material: Shell 85% Polyester & 15& Cotton. Lining 100% Nylon & Padding 100% Polyester
Insulation: 80/20 (duck down & feather) with fill power 625.
Weight: 2023g
Canada Goose extreme jacket is made for people who have to work in the toughest conditions. Some highlighted features of this jacket are:
Made with high-quality material.
Skilled craftsmanship.
Stylish Design.
Its outer shell is made of Polyester(80%) and cotton(20%) and 100% Nylon is used for making its inner lining. 100% white duck down filling make it a warm companion that keeps you warm even in the coldest weather.
I am personally very impressed with its natural coyote fur ruff surrounding the adjustable tunnel hood. It gives a luxury touch to this jacket and prevents chilled wind from entering inside.
Its hood is adjustable by using an adjustable bracing wire to get a snug fit to ensure you feel cozy and warm in a chilled situation.
Pockets: It has more pockets for your small essentials than the Moose Knuckles jacket which has a total number of 6 pockets, on the other hand, you will get a total number of 11 pockets with the Canada Goose jacket.
Let's talk about their functionalities:
Canada Goose has two spacious belly pockets with velcro closure. These pockets can be accessed with side zippers. Pockets are insulated from the front.
Two large size chest pockets are good to carry hand gloves and eyeglasses, and there is no insulation lining in these pockets. It also has nice side zipper pockets which are insulation from the front side and backside.
You can use these roomy and high-depth pockets to put your hands inside them to keep them warm.
Two functional pockets are located inside this jacket and help to prevent cold wind inside it. The hip belt with post string is adjustable and anyone can get the right fit by adjusting its length a little bit.
Zipper: Canada Goose jackets are made using high-quality YKK zips. This jacket has two ways YKK zip on the left side. You may face difficulty in opening and closing it if you are a right-handed person.
Hood: Canada Goose jacket has a large size hood which is made of natural coyote fur ruff with an adjustable tunnel hood. Fur feels very soft and cozy over the skin but some people have an allergy to this kind of fur and if you are such a person then you can remove its fur section.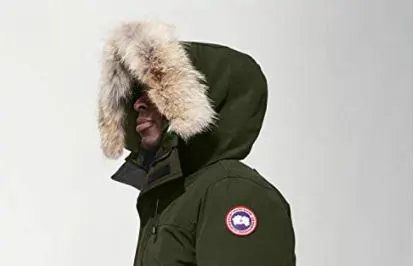 Jacket Rating In Various Parameters
Noise Test: -15dB noise level is pretty loud and is louder than the Moose Knuckles jacket.
The noise Rating is: 3/5
Fitting Test: From the appearance, it is a big size jacket which is heavy too. Its weight is 4.471 pounds which is a little bit heavier than the Moose Knuckles jacket which weighs 4.209 pounds.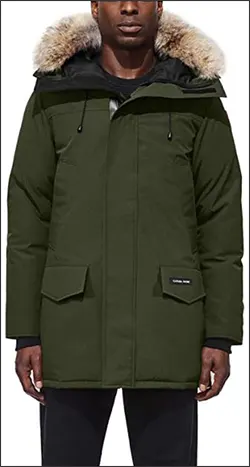 I found that the size of the hood is almost the same in the Canada Goose jacket and in the Moose Knuckles jacket. But there is a difference in terms of the quality of fur and its effectiveness in reducing the coldness and cold wind inside. Canada Goose seems more cozy and warm than the Moose Knuckles jacket hood.
If you want to look stylish with a jacket then the Moose Knuckles jacket is more attractive and stylish than the Canada Goose jacket.
Fitting Rating Is: 3/5
Functionality Rating: The jacket is heavy but fully functional. The jackets feel cozy and warm practically.
The Functionality Rating Is: 5/5
Warmth Test: Due to the utilization of high-quality insulation and filling such as down and coyote fur, it is one of the warmest and cozy winter jackets on the market.
Warmth Rating is: 5/5
. In terms of functionality and practicality, the Canada Goose jacket truly justifies its price. You pay a way more high amount for a Canada Goose jacket than its competitors but it stood with the promises that its manufacturers make.
The Overall Rating Of Canada Goose Jacket
| | |
| --- | --- |
| Functionality | 4.8/5 |
| Fit | 3.5/5 |
| Warmth | 4.8/5 |
| Quietness | 3.5/5 |
| Price | 3/5 |
| Overall Rating | 19.5/25 |
Also Read: Canada Goose Vs Moncler: Choose Wisely
---
Quality Of Material
The type of material and its quality define how long and comfortably you can use the jackets, coats, and parkas of a particular brand.
Let's find out which brand uses what type of material…
Canda Goose Material & Durability
Canada Goose material selection and its implementation to make the warmest jacket, parkas, coats, etc is a complicated process. Canada Goose utilizes various materials in making its different products and some very commonly used materials are Polyester, Nylon, Coyote Fur, white Duck Down, etc.
Polyester is used for making the outer shell whereas Nylon is used for making the lining and inner lining of Canada Goose jackets. White duck down is made of a soft and fluffy underlayer of a duck's feathers.
Canadian Coyote fur is used in making hoods.
Also Read: Canada Goose Vs. North Face: Choose Confidently
Moose Knuckles Material & Durability
Most of the Moose Knuckles Jackets, Coats, and Parkas are made of a blend of fabric which makes them highly durable, provides strength, and keeps you warm in chilled weather conditions.
The ideal ratio of the blend of fabric is 74% cotton and 26% Nylon. To prevent wind, and snow intrusion within the jacket the backside of their jackets and parkas is coated with the shell fabric.
All the Moose Knuckles jackets and parkas zippers are YKK. YKK is known for manufacturing the toughest and most long-lasting zippers.
The hood fur is imported locally from Scandinavia and Canada. Moose uses Arctic Blue Fox and Silver Fox fur. Fox fur is known for its sleekness, and for its soft texture. The fur is naturally strong and provides a natural look to the jackets.
All the Moose Knuckles jackets and parkas are made of the power of 650 fillings which are extracted from the fluffy coating of ducks and geese.
---
Sustainability 
Now people are eagerly checking the source of material, brand cruelty-free behavior, and their commitment to the advancement of our surrounding environment.
That is why the sustainability parameter is very important to consider.
Is Canada Goose A Sustainable Brand?
Canada Goose is taking its footsteps to go ahead to use more natural and recycled materials in its manufacturing units. Their aim is to become RDS verified by the end of 2021.
They use natural down to manufacture all of their products. Natural down that is used in the Canada Goose manufacturing unit is a by-product of the Canada Poultry Industry. Natural Down is biodegradable and is the natural source to make outerwear warm by keeping them lightweight.
Is Moose Knuckles A Sustainable Brand?
Moose Knuckles is also taken the necessary steps to go environment-friendly by going fur-free. Moose is committed to reducing the use of fur on its garments by the end of 2025 and includes cotton, virgin polyester, and virgin nylon in its production unit.
The company tries to implement the circular business concept, in which Moose Knuckles will try to take back, re-commerce, and recycle its all iconic products by the end of 2025, and the total emission of the carbon footprint from its all manufacturing unit is also a part of Moose Knuckles vision.
---
Price: Which Brand Is Cost-Effective?
Canada Goose and Moose Knuckles are not cheap brands but in terms of Desing, Fitting, and Style Moose Knuckles is far better than the Canada Goose.
Canada Goose jackets, coats, and Parkas will cost you $500 to $2000 depending on the material, style, and quality of the product.
Moose Knuckles jackets will cost you $200 to $1000, even a bit higher cost depending on the type of jacket.
But in comparison with Canada Goose, Moose will cost you somewhere at a similar price or even in less price.
---
Warranty: Which Brand Comes With A Longer Warranty Period?
Canada Goose offers a limited lifetime warranty on its all products to its original owner. A lifetime warranty doesn't mean your lifetime, due to the highest quality material and craftsmanship, most probably their products will last for several years.
Moose Knuckles also provide a limited lifetime warranty to its products to its original buyer, if the product is purchased from the Mooseknucklescanada.com online store or from any authorized dealer.
---
Canada Goose Vs. Moose Knuckles: Which Brand To Pick Or Which One To Kick?
Think practically, no brand is best in all terms. Choose Moose Knuckles if you want a stylish, functional, and cozy jacket and parka for moving around the city, for a coffee shop visit with friends, or anywhere. You won't look odd with the design and texture of the jacket.
The second plus point of choosing Moose over Canada Goose is its price. The Moose knuckles jacket, parkas, and coats are cheaper than the Canada Goose jackets, coats, and parkas.
Moose jackets are best in terms of fitting too, you will get a perfect and snug fit with the Moose jackets, while Canada Goose jackets are loose fit better to choose one downsize for better fitting.
Canada Goose jackets are bulky and heavy as compared with the Moose Jackets. Apart from all the differences both the brands are best in terms of functionality, warmth property, and coziness.