If you are looking for a warm, cozy, and functional parka, jacket, and coat for this winter then you will come across these two most popular brands namely Canada Goose and Parajumper.
Some people love the simple and minimalistic design of their parka while others want a more stylish and functional parka for their work.
Let's find out which brand is best for whom and under which circumstances. To understand them better we are going to compare them to these parameters…
Brand History
Products Lineup
Material & Durability
Warmth Capability
Price
Warranty
Canada Goose Vs Parajumper: Differences & Similarities
Every brand has its own identity and what position they are in now, their glorious and challenging past plays a very important role in this.
Canada Goose: History & Brand Value
The concept of Canada Goose was thought of by its founder Sam Tick around 60 years ago, with the hope of building a medium to keep people warm in extremely chilled weather conditions. 
By following his dream-like vision Sam constructed a small warehouse in Toronto with the name Metro Sportswear Ltd. 
Initially, they were an expert in producing woolen vests, raincoats, and snowmobile suits. 
The company has also been involved in many innovations for a long time and the very first innovation was made by Sam's son-in-law David Reiss in the '70s by developing a volume-based down-filling machine this was the time when the company got its real name Canada Goose by changing its earlier name Snow Goose. 
Today the performance of the company is very progressive and it is serving more than 40 countries worldwide. 
Parajumpers: History & Brand Value
The brand come into existence in 2005 when two talented people met in a bar in Anchorage, Alaska. One of them is a designer named Massimo Rossetti, and the second one has been part of the 210th Rescue Squadron.
Here, Rossetti was told the story of para jumpers, and how they risk their lives and carry out the rescue operation in some of the most challenging situations.
Here, Parajumper was born with the passion of creating something so high quality, warm, cozy, and fully functional to make people's life much easier in extremely cold situations.
Parajumpers Vs. Canada Goose: Product Lineup 
Canada Goose: Product Lineup & Variety
Canada Goose down-filled parkas are very popular but it has a diverse range of products other than outerwear. 
Let's have a look at an overview of the Canada Goose product lineup :
Outerwear Section:
The outerwear section is what in which the brand has established its name worldwide. 
Talking about the outerwear section, its most popular product is the parka, which is made of high-quality Arctic-Tech and water-resistant fabric. Some popular parkas are Expedition Parka, the Chilliwack Bomber, the Langford Parka, and the Kensington Parka.
Knitwear:
Knitwear is made of high-quality merino wool and crafted to enhance the warmth and coziness of the product with skilled handcraftsmanship. 
Sweatshirts & Sweatpants:
These are the stylish and functional products of Canada Goose. These shirts and pants are made of soft & breathable cotton and are known for their functionality and versatility. 
Fleece:
Canada Goose wool-based fleeces are very popular for their slim and warm wool material. Fleeces are stylish and ideal for layering. 
Footwear:
Canada Goose's footwear section appears empty because of very limited shoe collections but they are made to withstand extreme cold and wet environments.  Some popular styles are Toronto Boot, Armstrong Boot, Crofton Puffer Boot, etc. 
Parajumpers: Product Lineup & Variety
Parajumper jackets, parkas, and coats are very popular for their functionality. Parajamper has a wide range of products for men, women, and young ones.
Parajumper has a majority of products in its clothing section which are…
| | |
| --- | --- |
| Jackets | Hybrids |
| Polo & T-shirts | Sweats |
| Knitwear | Pants |
| Puffers | – |
Parajumper also has bags, backpacks & hats collections in its accessories category.
Canada Goose Jackets Vs. Parajumper Jackets: Which One Is Best?
Canada Goose Men Down Parka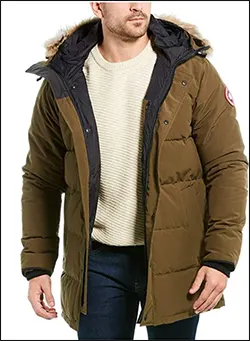 Canada Goose men's jackets and parkas are more simple and more practical. If you don't want lots of pockets on your parka then the Canada Gose parka is made just for you.
| | |
| --- | --- |
| Material | Arctic-Tech, |
| Trim | Coyote fur |
| Insulation | Power white duck down |
The parka is made of high-quality material with 625 duck-down fill. Its two-way zipper closer and coyote fur in the hook make it very convenient to wear in freezing cold situations. 
To avoid wind penetration its center zipper closer has a wind guard. A thumbhole in the wrist gaiter provides better insulation and keeps your body warm.
This is a women's Chilliwack bomber from Canada Goose. Its simple yet stylish design could be perfect for your every trip.
Product Description
Material: 85% Polyester/15% Cotton with DWR finish
Filling: Duck down softshell
Color: 5 elegant colors
Weight: 1.76 pounds
Canada Goose Women Bomber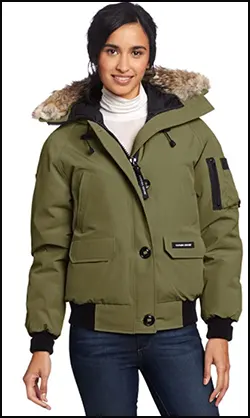 The Chilliwack bomber from Canada Goose is made of a combination of Polyester and Cotton. Its hood is adjustable and you can also remove it. CoyoteFur surrounding the hood keeps you warm in brutal and windy winter.
The jacket is available in 5 elegant colors. The duck-down soft filling makes it warm and cozy for your next trip. Its center zipper comes with a wind-resistant cover. 
The jacket has plenty of pockets both inside and outside so that you can keep some small belongings easily. The minimalistic design of this jacket is lightweight as well as cozy to bear cold winter conditions.
Parajumper Men Short Parka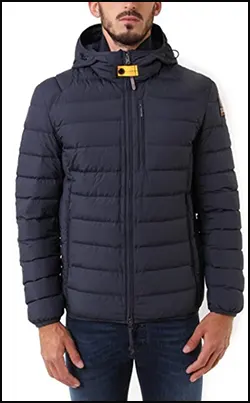 Parajumper jackets are more functional and utilitarian than the Canada Goose jackets. You will get more pockets that could be perfect to work in cold weather conditions.
Have a look at its features:
| | |
| --- | --- |
| Material | External Shell 100%PL & Internal Composition is of 100% PA fill. |
| Weight | 2.65 pounds |
The jacket from Parajumper is far better than Canada Goose in terms of look, and functionality and is best for those who have to work in extremely cold conditions.
The Men's short parka is made of polyester matte finish taffeta and 100% PL shell on its outer body and a 100% PA shell in its internal lining. The internal filling is 90/10 duct down and the duck feathers make it warm and cozy.
Unlike Canada Goose, you will get some iconic finish and texture such as a yellow strap on the collar, patches on the left sleeve, and lycra-trimmed cuffs.
But, all these features make Parajumper jackets a little bit heavier than Canada Goose jackets.
The women's jacket from Parajumper is totally different from what you have seen in the Canada Goose women's jacket, in terms of look and functionality.
Product Description
Material: 85% Polyester/15% Cotton with DWR finish
Filling: Duck down softshell
Color: 5 elegant colors
Weight: 1.76 pounds
Canada Goose Women Bomber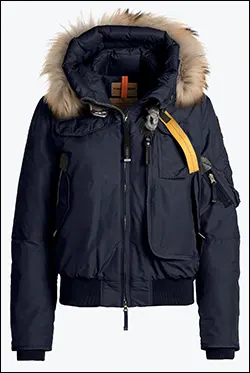 The jacket from Parajumper for women is made of high-quality recycled Nylon oxford with fabric protection and inner polyurethane lamination. Its drawstring hood is adjustable and removable. 
The jacket has plenty of pockets such as two inner pockets, one small pocket in its left sleeve, and a cargo spacious pocket with a mesh internal pocket. The jacket has several patches on the outside. 
Overall this is a nice warm, cozy, and fully functional jacket that is suitable to carry on your work in extremely cold conditions.
Quality Of Material
Canada Goose Material & Durability
Due to the high-quality material and skilled craftsmanship, Canada Goose is very popular worldwide. 
Some most commonly used materials are Artic Tech, Tri-Durance, Down, Fur, Merino Wool, etc.
Arctic-Tech is an invention by Canada Goose. This material is known for its durability, and water-resistant properties and can bear extreme weather conditions. 
Tri-Durance is a three-layered premium fabric designed by Canada Goose. Some special features of it are, it is waterproof, windproof, and breathable. It keeps your body temperature maintained in harsh weather conditions. 
Down is known for its warmth, lightness, and compressibility whereas Fur is used in hoods which is traditional and functional. 
Marino wool is commonly used in the making of fleece. 
Parajumper Material & Durability
Parajumper jackets, parkas, and coats are known for their technical quality and for detailed handcrafts. Parajumper jackets are made of high-quality Nylon, Polyester and most of the material used in the manufacturing unit is recycled. 
The material is imported from Japan, and Chine Korea and some resources are imported from Italy.
The Jackets have some cool features such as an excellent snap hook neck opening, pockets, zipper vents, double-taped snaps, etc.
Any product from Parajumber that you use is free from chemical treatment because anything that is used in the manufacturing unit is tested by R.E.A.C.H Regulation.
Also Read: Canada Goose Vs Moncler: Choose Wisely
Sustainability 
Is Canada Goose A Sustainable Brand?
The sustainability report of Canada Goose is questionable due to the use of real fur, and leather and the treatment of laborers. 
However, Canada Goose achieved  Responsible Down Standard (RDS) certificate at the end of 2021 and started using down which is a natural source of lightweight insulation. 
Canada Goose is committed to achieving net zero emissions by 2025. 
According to the latest sustainability report, some Canada Goose initiatives are reducing the carbon footprint, outsourcing sustainable materials, and investing in ethical manufacturing practices. 
Is Parajumper A Sustainable Brand?
Parajumper ensures its customer that all the coats, jackets, and parkas are made of eco-friendly materials that are free from animal products.
Parajumber uses no leather or fur but some eco-friendly and sustainable resources in its manufacturing unit.
The product FAQ section mentions the source of their fur and other materials.
Price: Which Brand Is Cost-Effective?
Canada Goose and Parajumper are not cheap. Canada Goose jackets, coats, and Parkas will cost you between $600 to $2000 whereas Parajumper jackets, and puffers will cost you between $300 to $1300. 
I found that the knitwear collection of Parajumper will cost you between $250 to $450 but in Canada Goose, this collection will cost you from $350 to $750. 
Warranty: Which Brand Comes With A Longer Warranty Period?
Canada Goose offers a limited lifetime warranty on its all collections to its original buyer who bought Canada Goose products from the authentic retailer. 
Parajumper products do not come with a lifetime warranty. Parajumper gives 2 years of warranty on the material and workmanship of the product.
Parajumper Vs. Canada Goose: Which Brand To Pick Or Which One To Kick?
Canada Goose coats and jackets are well-made. Their build quality and craftmanship seem that it would last longer. 
The coats, jackets, and parkas seem cozy and warm. The Canada Goose jackets and coats are best suited for those who want a simple and minimalistic design in their jackets.
The Canada Goose jackets and coats seem plain and simple. The standard design of Canada Goose might not be liked by some people.
On the other hand, In Parajumper, I personally like the technical quality of the jackets which are crafted with amazing details.
Unlike Canada Goose, Parajumper jackets and coats come with a ton of hidden and visible pockets both inside and outside.  Some special features of Parajumper jackets are:
Snap hook
Tons of pockets
Vents
Double Taped snap
All these features make Parajumper unique and way better than the Canada Goose jackets.
(FAQ)
Q.1 Is Parajumper A Luxury Brand?
Parajumper jackets, coats, and parkas are not cheap, but their price is less than most of the other competitors such as Canada Goose, Moncler, etc.
Q.2 Which Brand Is Better Than Canada Goose?
Canada Goose is a very popular brand even you will easily see every 6 out of 10 people wearing Canada Goose jackets or coats, in the city. 
Canada Goose jackets are simple, minimalistic, and less functional than Parajumpers, and other brands. If you want more functionality, depth of detail in design, and a utilitarian jacket then you can consider Parajumper instead of Canada Goose.
Q.3 What Fur Is Parajumper?
Parajumper commits to using sustainable and traceable sources of fur for a better future.
Most of the fur comes from Finland which is One of the leading fur production countries. The Finraccoon fur that is used by Parajumper in its classic model as a technical complement comes from Saga fur farm, in Finland.
The rabbit fur is also used by Parajumper and comes from the food industries. Sheep fur is also used but it does not come from the Cites protected animals.
Q.4 What Is Canada Goose Fur?
Coyote fur is used to trim the hood ruffs of some Canada Goose jackets and parkas. The fur that is used in the Canada Goose manufacturing unit doesn't come from fur farms.
Canada Goose uses wild Coyote fur that is imported from western North America.