Canada Goose vs Arcteryx is always being a point of concern for a buyer who wants functional, warm, cozy, and highly durable winter and sportswear for their next adventure trip.
Both the brands are based in Canada and for Canadians but are also very popular around the whole world. You can also find out some other in-depth comparisons between Canada Goose and The North Face, Pajar, Moose Knuckles, Moncler, etc.
We are going to measure them in the following parameters, which will help you to understand them better and will also help in decision-making.
History & Reputation
Product Lineup & Variety
Material & Quality
Price
Warranty
Sustainability
So without further ado…
Let's break it down…
Differences And Similarities Between Canada Goose And Arcteryx
Canada Goose and Arcteryx both are well-known and very reputable Canadian brands.
Canada Goose uses only premium quality down and insulators in its jackets, coats, parkas, and other winter and outerwear products. If your first preference is to buy a warm jacket, and parkas then Canada Goose comes at the top of this list.
Arcteryx has a much broader range of outerwear & sportswear than Canada Goose.
Canada Goose is always a higher-end brand with its higher price point, while Arcteryx products especially jackets will cost you between $200 to $400 or more.
---
History And Brand Reputation
Every brand is known for its sacrifices, challenges, and the tough decisions made in the past. Every brand has a glorious past background behind its success.
Let's know a brief history of these two brands so that we can understand them better.
Canada Goose History & Brand Reputation
Canada Goose was founded in 1957 by Sam Tick under the name Metro Sportswear Ltd. Canada Goose is known for its quite different logo made with a strange combination of red, white, and blue colors. Canada Goose manufactures a wide range of outerwear like jackets, parkas, vests, hats, gloves, etc.
Earlier Canada Goose only produced woolen vests, raincoats, and snowmobile suits until it became an expert in down-filled jackets. Later on, they mainly focused on manufacturing down-filled coats, and heavy-duty parkas, for municipal and government authorities.
Currently, the company reported rapid growth in the past years and expanding its services to more countries.
Arcteryx History & Brand Reputation
Arcteryx was born with the vision of obsessive, precise design and production. Initially, it was a design company that sells outerwear and climbing gear. The headquarter and the manufacturing unit is located in the lap of nature in North Vancouver.
North Vancouver is an exotic site for skiing, and climbing and is infamous for its harsh environment. Arcteryx founder Dave Lane found this place a perfect learning center for innovation and purposeful outdoor designs. Earlier Dave named this brand Rock Solid.
Its logo and name are inspired by Archaeopteryx Lithographica, the first bird to develop feathers for flight. The logo was designed by Micheal Hofler. Currently, the brand is known for its variety, functionality, and purposeful outdoor designs.
---
Product Lineup
Arcteryx Product Lineup
Arcteryx has a huge variety of outer and sports gear. Some of its product categories such as Ski jackets, Hiking apparel, and running shells are the best in the market. Arcteryx has broad categories for men and women.
Unlike Canada Goose, Arcteryx also manufactures backpacks, climbing gear, skis, and snowboard accessories, etc. Its products especially jackets will cost you between $250 to $1500.
Canada Goose Product Lineup
Unlike Arcteryx, Canada Goose has a very limited category of different products. Canada Goose has expertise in its winter jackets, coats, parkas, and footwear section. Canada Goose products tend to bear extreme Canadian winter situations.
In terms of warmth, Coziness, functionality, and durability Canada Goose jackets and outerwear products are way better than the Arcteryx.
---
Arcteryx Vs. Canada Goose Jackets: Which One Is Worth Buying?
Arcteryx down jacket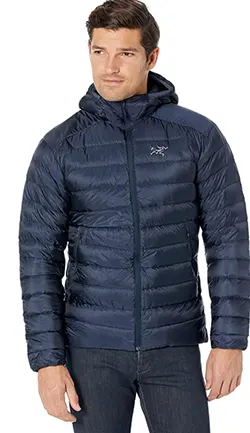 Arc'teryx Cerium LT Hoody Men's
Material: 100% Nylon Teffla on the shell with a fill power of 850.
Insulation Type: Coreloft™ synthetic insulation 
Fabric Type: DWR finish repels moisture
Weight: 313g/ 11 oz
The down jacket from Arcteryx is made of Arato 10 100% Nylon with a fill power of 850. The jacket is super lightweight and comes with a durable water-repellent finish.
For insulation Coreloft 100 is used. This is a kind of multi-layer-denier siliconized polyester yarn down. The white goose down is very lightweight, breathable, and thermally efficient.
Pockets: It has two hand pockets with zippers opening and closer facility, and one internal pocket with a zipper. This is a security pocket with a stuff sack. Zippers are smooth and easy to grab due to corded zipper pulls. You will get a chin guard on its front zipper area.
Hood: The hood is also down-insulated. You can adjust its shape by using a hem drawcord to achieve a perfect fit.
Overall the jacket is perfect to keep your body warm in moist places.
Pros:
The jacket is versatile and compact and is a cozy jacket for moist places.
Comes with better insulation due to white goose down.
Cons:
Some people prefer a slightly longer fit.
Canada Goose Parka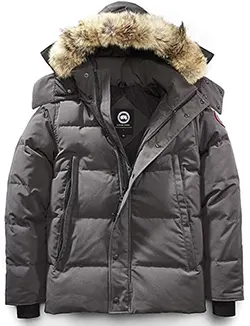 Canada Goose Men's Wyndham Parka
Material: 85% polyester/15% cotton, lining: 100% Nylon
Insulation Type: 80/20(while duck down & feather)
Weight: 3.52 ounces
Canada Goose parkas are so popular for their warmth, cozy, and fully functional design. The Wyndham Parka is made of 85% polyester and 15% cotton. The outer lining of this parka is coated with 100% Nylon.
The internal lining filling power is 625, which is ideal to handle the lowest temperature rating between 15°F to -5°F. I personally loved the Canada goose jackets and parkas because their warmth capability is unmatchable.
Pockets: It has two large fleece-lined pockets with two ways of locking the zipper closer. These pockets are deep enough to put the hands to keep them warm. Two interior pockets, one for better security, and the other is a mesh stuff pocket.
Hood: The hood has an adjustable bracing wire so that you can find the perfect closed fit to prevent the intrusion of heavy snow and wind.
Overall it is a nice warm, cozy, and functional jacket for extreme winter conditions in the Canada Goose.
Pros:
Extremely comfortable and slim fit Parka for chilled winter.
Functional and come with expert handcraftsmanship.
Cons:
---
Warmth And Insulation
Canada Goose
If you are looking for a warm jacket or parka for your work or for an outdoor adventure trip then Canada Goose has no competition. The jackets or parkas from Canada goose come with high-quality filling and insulation materials.
The majority of its jackets, parkas, and coats are made of goose down but also you will find duck down filling in some of its products.
Arcteryx
Arcteryx is also manufactured warm, cozy, and functional jackets, parkas, and coats for athletics, and adventure geeks. Arcteryx jackets and parkas come with Coreloft compact insulation of different grades.
This is a highly crimped and multi-denier siliconized polyester yarn that minimizes the thickness of the material by half, without reducing the warmth property.
The jackets and coats come with the fill power of European down to maximize the warmth capability of the jacket. Apart from that, blend-down and synthetic insulation make the jackets best for humid climates.
---
Style And Comfort
Canada Goose
Canada Goose jackets and parkas are highly versatile and can bear extreme cold weather conditions with ease. Canada Goose products are way more pricey and practical than the other brands.
The expert craftsmanship and unsurpassed quality of the material make them comfortable, warm, and cozy and don't need any additional layering.
Arcteryx
Arcteryx is a brand that is popular for its functional efficiency. Arcteryx manufactures those products which are functional and can adjust with your move. I found Arcteryx jackets and parkas are more stylish and are good for outdoor adventure sports.
---
Sustainability
Today people want to protect nature and help to revive the surrounding environment for a better future. Whether a brand is sustainable or not is decided by these two factors such as…
How does a brand monitor its suppliers nature?
How much a brand uses recyclable material?
Is Canada Goose A Sustainable Brand?
Canada Goose is taking its footsteps to go ahead to use more natural and recycled materials in its manufacturing units. Their aim is to become RDS verified by the end of 2021.
They use natural down to manufacture all of their products. Natural down that is used in the Canada Goose manufacturing unit is a by-product of the Canada Poultry Industry. Natural Down is biodegradable and is the natural source to make outerwear warm by keeping them lightweight.
Also Read: Canada Goose Vs Pajar: Don't Make Mistake
Is Arcteryx a Sustainable Brand?
Arcteryx is also very conscious of our nature and works toward improving it by taking the necessary steps. Arcteryx is a part of many organizations such as the UN Fashion Industry Charter For Climate Action, and others for collaborative low-carbon solutions.
The aim is to use the best material to produce highly durable and refined products for you ethically without harming the animals. The downs, leather, and other animal-based raw materials are sourced ethically.
---
Price: Which Brand Is Cost-Effective?
Canada Goose is a luxury and costly brand. Canada Goose jackets, coats, and Parkas will cost you $500 to $2000 depending on the material, style, and quality of the product.
Choosing Canada Goose is totally worth it when you lived in such a place where the temperature goes down below -30°C. If you have to work in extremely cold conditions then Canada Goose jackets, parkas, and coats are the only means to survive those tough conditions.
Whereas Arcteryx is also a luxury brand, some products of this brand such as insulated and shell jackets will cost you around $1000. Arcteryx is known for its performance, and quality, but still low in price as compared with Canada Goose.
---
Warranty: Which Brand Comes With A Longer Warranty Period?
Canada Goose offers a limited lifetime warranty on its all products to its original owner. A lifetime warranty doesn't mean your lifetime, due to the highest quality material and craftsmanship, most probably their products will last for several years.
Whereas Arcteryx also provides a limited lifetime warranty on some of their product lineup such as Appeal. Arcteryx gives 1 year of warranty on Packs, Footwear, Voltair airbag battery, and ski boots. Climate gears are covered with 2 years of warranty.
---
Which Brand Is Better For Me Between Canada Goose And Arcteryx?
Arcteryx and Canada Goose both are the world's best sportswear and outerwear brands.
Why Choose Canada Goose?
Canada Goose jackets and parkas are highly durable, cozy, and warm, and come with expert handcrafts. Choose Canada Goose if you are looking for a fully functional, practical jacket or parka that doesn't need extra layering.
Why Choose Arcteryx?
Arcteryx is not only a winterwear brand, but it also has a lot of things to serve its customers. If you looking for those jackets and parkas that are slim, versatile, and built for layering then defiantly go with Arcteryx.
Arcteryx jackets and parkas are multi-season and are the best choice for wearing in the city or mountain.