This is often the main reason to conflict between the family members or between the girlfriend and boyfriend that their backpacks, bags, and purses belongings are not well organized and it is difficult to find them at the last moment.
Do you think how big will be the impact of such activity in your professional as well as personal life?
It really metter a lot…
So Let's find out some of the cool and simple ideas for…
How To Organize Bags And Backpacks In 2022, with some very simple tips and tricks using some simple yet very useful household tools?
So without further delay let's get started…
7 Proven Ideas Of How To Organize Purses And Backpacks Effectively
If you are such a person that doesn't have a mudroom for organizing your backpacks, coats, and boots outside of your home so Bags Storage Ideas For Small Spaces will really help you to find out the best way to organize them properly.
1. How To Organize Tote Bags?
How relaxing is it to Carry a cute, tiny handbag at your weekend party, it is not always practical when you are on the way to your workweek.
In your working day, you definitely have carried many things such as a smartphone, lipstick, lip balm, water bottle, MacBook, and many more.
If you carry all these things this way in your backpack…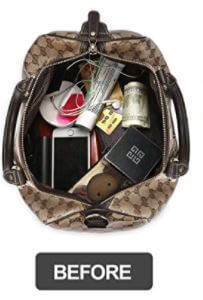 It's sometimes very difficult to find out some neediest things at the right time when your belongings are not well organized in your tote bag.
Don't worry this article helps you to make your life simple and well-organized like this…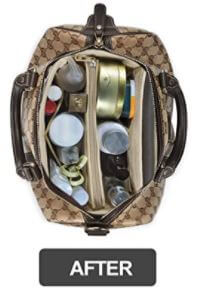 Just think how easy is it to get your needy things when your backpack is well organized so keep scrolling to get some best ideas about how to organize your tote bag properly.
One of the best and easiest methods to organize your essentials in your backpack is to buy a compact and stylish premade bag organizer.
You love your stylish and costly handbag or purse to carry in every occasion but due to a lack of pockets, you are unable to organize things properly in it.
How to organize a purse without pockets?
A Purse organizer insert (View On Amazon) would help you to utilize your favorite handbag or purse properly.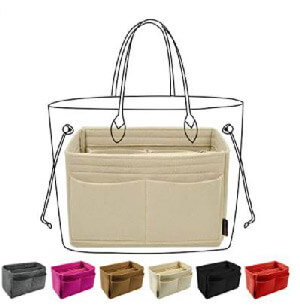 Some Benefits of using a purse organizer in your handbag…
It keeps your bag neat and clean.
Comes with 13 pockets to carry all of your essentials safely and organized.
Available in 16 different colors combination.
Sturdy and high-quality material build.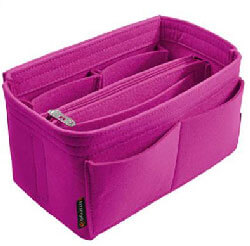 Note: The purse organizer is available in 3 sizes so take the measurement of your handbag interior length, width, and height to choose the one without any mistakes.
We also love a Purse Organizer that comes from ZTUJO (view on Amazon).
2. How To Organize Cosmetics and toiletries in Your Travel Bag?
Sometimes you have to travel for your business trips or if you love traveling so it will be very important to carry your cosmetics and toiletries with you.
But if you are carrying your normal backpack that is already filled with your wardrobes and other essentials so you don't have any other option to put the toiletries well organized except to throw them disintegrate.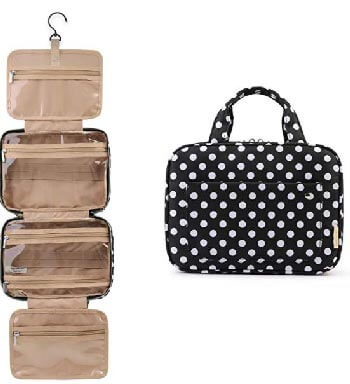 But don't worry about that, a fashionable and functional toiletry bag would help you to organize all of this stuff in a very stylish way.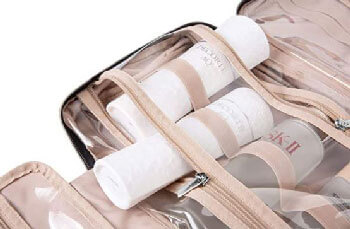 Benefits of having a toiletries or cosmetics backpack :
Build with water-resistant polyester, a well-padded back, and a handle.
4 separate compartments with zipping and the inner main pocket with elastic straps that keep your creams, and shampoo bottle upright.
A 360-degree rotating hook makes it more convenient to use.
Available in 16 eye-catching color combinations.
Note: Your trip will make easy as it can pack all men's, women's, and kids' toiletries in one place.
3. How To Organize A Travel Backpack
If you are using a backpack for travel that has only one compartment so it is hard to figure out essential belongings at the last moment.
Even your clothes are scattered throughout the bag after a long day of travel.
There are two solutions to this problem:
Use Compression Packing Cubes For Travel Packing.
If your travel backpack does not have multiple compartments to keep things well organized then you can use compressed packing cubes (View On Amazon).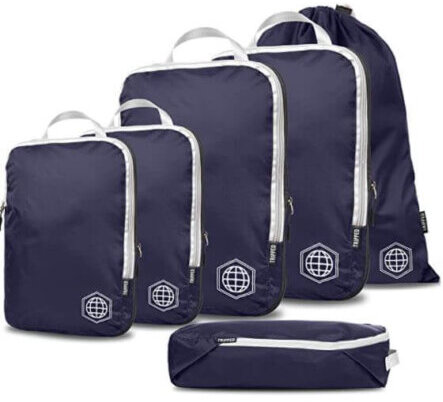 These packing cubes are designed in such a manner that your clothes remain in the same condition as they were earlier.
You can easily see in the below image how easy to use them.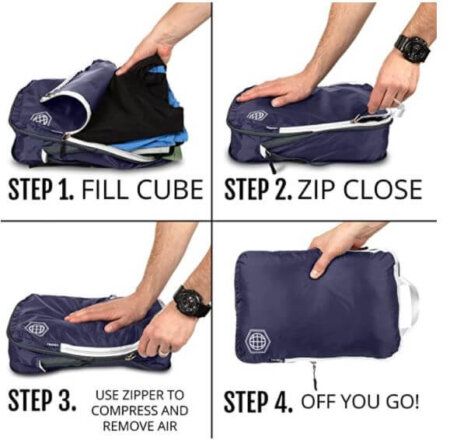 Compressed packing cubes are best for keeping your electronic gadgets, socks, bathing suits, underwear, etc well organized.
An Organized Travel Backpack
The second solution is to buy a travel backpack that comes with several separate compartments to keep your belongings well organized.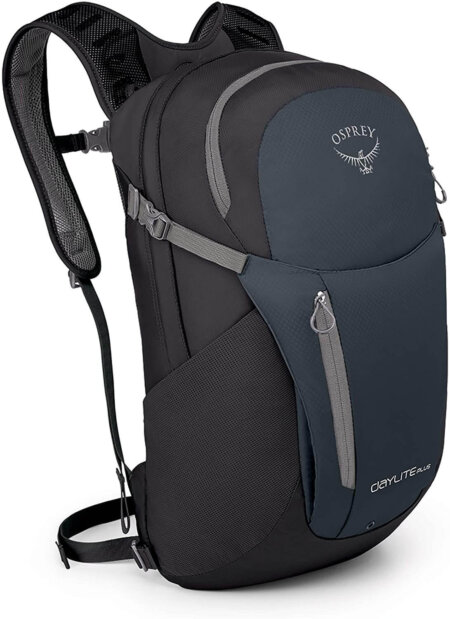 We like the Osprey Daylite backpacks (View On Amazon) That are very sturdy and made with high-quality polyester material.
Now you have an organized travel backpack now how do utilize its space to keep things well organized?
Let's figure it out…
If you want to save some more space for other things then it is a best practice to roll your clothes instead of folding them.
In this way, you can see all your shirts, and t-shirts at once rather than if you fold or stack them.
2. Take care of the size of the elements such as putting your pants, shoes, and shirts in a large pocket and putting the small elements like toiletries, chargers, etc in a small pocket.
3. To save time in your journey, this is the best practice to put your belongings in the same place where you found them.
If you will take care of these simple yet time-saving things then your journey would be easier and more comfortable than before.
4. How Do I Organize My Work Backpack?
If you are a working person and still using a normal backpack for commute so it's time to change your habit and should buy a fashionable working backpack.
A working backpack designed in such a manner that can organize your office essentials in a very systematic way so that you can pick the neediest thing quickly without being stuck in a groping task.
It has several compartments for different- different things and a well-padded separated compartment for carrying your laptop.
It is beneficial for you to check that it has an earphone port and a USB charging port that can help you to charge your phone on the way.
5. Handbag Display Ideas For Home
Normally every outdoor trip ends up with some new backpacks and purses that I like during my trip and buy them.
This habit creates a bunch of old and new backpacks in the house. If you are also in the same situation so this is the time to organize all of your backpacks in a stylish way.
Use A Door Hook For Your Frequent Used Backpacks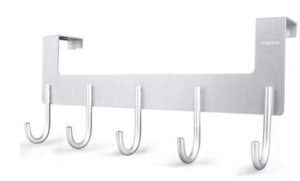 You can store your most frequently used backpacks on a door hook (View On Amazon). This idea helps you to organize your backpack in a proper way when there is no space in your closet.
If you don't want to stick with a time taking installation process so the door hook organizer will be the perfect choice for you.
You can use your wall for organizing your backpacks and purses in a very stylish way.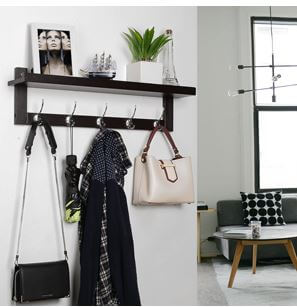 I would recommend you buy the Homfa entryway wall shelf as it is made from 100% natural bamboo and its shelves can be used to put some beautiful pots and clocks over it that enhance the overall appearance of the whole room.
Handbag Storage Containers
If you don't have enough room to organize extra backpacks or want to store your old backpacks away from your sight so a Handbag Storage Container will definitely help you.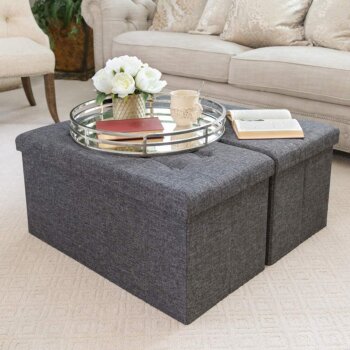 Look how beautiful this container is, just remove its lid to reveal the hidden storage compartment that can not only hide your handbags but also look very stylish.
6. How To Organize Your School Bag?
Normally students face some serious problems due to their disorganized lifestyle in school.  One of the main issues is their backpack.
Organizing a school backpack is most important, and we have discussed some very simple and stylish ways to well organize your backpack.
The first thing is if you are on a new backpack so you can skip this step, but if you are carrying your old backpack so clean it properly.
The next step is to create a list of some most frequently used items and books and put them into the easily accessible pocket of your backpack.
Always buy a school backpack that has all essential separate compartments and separate bottle and lunch box pockets.
Apart from all the other things, it is very important to keep a list of your family member's mobile numbers in a small diary and keep it in your backpack's front pocket.
this will help you to tackle an emergency situation when you lost your smartphone. 
At last, cross-check your school backpack before leaving your home that all the essentials are resided in their place or not.
7. How To Organize Your Hiking Backpack?
If you love adventure and often plan a trip for your adventurous hiking so it is very necessary to pack your hiking backpack in such a way that you won't be in a difficult situation caused some essential things are missing.
Sometimes if the backpack is not packed properly then it might create serious pain in the back, this is why it is beneficial to understand, how to pack a hiking backpack.
The first thing is to create a list of essential things that you want to carry in your hiking backpack.
Some most useful items are:
Your clothes
Cooking gear
Food
Shelter gears
Some other small needy things
If you want to properly utilize your backpack space so this is always a good practice to focus on the bottom part first.
Put the heavy elements at the center part to distribute the overall weight evenly. Some essential and small things can be kept at the top.
This is the best way that can help you to reach your needy things easily and don't need to dig into the backpack and waste your time.
Use The Bottom Properly
You can put some camping gear at this portion as they are not frequently used.
you can put …
Camping gear
loose clothes.
The sleeping bag is kind of big in size so, I use a compression bag to put them at the bottom of my backpack.
You can also put on the pillow, your clothes and some other things as per your requirement.
Use The Middle Part Properly
The middle part of your hiking backpack is designed for keeping heavyweight items.
You can put these things in the middle part to distribute the weight of the bag even.
Food container (Heaviest item)
stove
Camp mug
Footwear
Toiletries
You can put your footwear outside if there is no room in the backpack. I usually prefer a stuff sack (View On Amazon)  to carry the food item. It not only keeps your food in one place but also its bulletproof fabric keeps safe your food from hungry bears.
Use The Top Part Properly
Most often used items are organized in this section which is small in size and lightweight. This is a zipper compartment that can be removed sometimes and can be used as a daypack for hiking.
You can put these elements in this section:
You could face rainy weather in no time so it will be better to carry all of your electronic gadgets in a waterproof separate sack.
Final Words Before Wrapping Up…
Organizing a backpack is really an art to keep the heavy load on your back without any physical stress or pain. 
I hope this article will help you to organize your backpack in a very simple and professional way. If you like this article please share it with our friends.
If you have any doubts or suggestions feel free to put them in the comment section below. I will definitely figure out all of them and answer them as soon as possible.