If you are a professional gamer, photographer, or videographer, you need to travel a lot between multiple locations for the shoot. Sometimes you have to carry some big size equipment from one place to another. 
Carrying laptops, cameras, drones, tablets, etc is much more convenient but what if you have to carry a monitor in flight? Many travelers really want to know whether they can travel with a desktop monitor by plane or not. 
The answer is yes, you can carry your desktop monitor in flight, but must check the rules and guidelines of respective airlines because different airlines have different rules and regulations for carrying different items.  
TSA Rules For Carrying Desktop Monitor By Plane
I didn't find any rules for a specific term but I found some rules which are close to our terms. 
According to TSA, you can carry a television in your carry-on bag and in your checked bag. 

It is clearly stated that you must have to pack fragile electronic items such as desktop monitors, televisions, etc carefully. Make sure all the wires are wrapped. According to TSA guidelines, you must have to carry expensive, fragile electronic items in your carry-on. 
You have to make sure that the size and the weight of the item must be within the permitted guidelines and that the monitor will fit in the overhead bin or underneath the seat. 
The same rule is to carry a desktop computer by plane but you have to remove your desktop computer at the security checkpoint for X-ray screening.

Checked Baggage Guidelines To Carry A Monitor By Plane
If you are going to carry your monitor in checked baggage then you have to know about the weight limit and some additional charges that different airlines can charge you. 
Frontier Airline: 
Frontier Airlines allows a bag that weighs under 40 pounds. Beyond this weight limit, you have to pay additional charges such as for a bag weighing 41-50 pounds you have to pay an additional $50, and for 51-100 pounds you have to lose your pocket up to $100. 
2. American Airlines:
American Airlines allows carrying a bag weighing up to 50 pounds as checked luggage into their premium economy class. 
Note: Many other famous airlines such as Air Canada, British Airways, and Delta Airlines, are also allowed only 50 pounds of weight in their economy class. 
---
Carry On Baggage Guidelines To Carry Monitor By Plane
If your plan to carry your monitor in your carry-on bag then must know these guidelines of some famous Airlines:
1. Frontier Airline: 
According to Frontier Airlines, your carry-on bag must weigh less than 35 pounds, and your monitor should fit within the mentioned dimension 10 x 16 x 24″ (length, width, height) wheels and handle are included.
Note: Some airlines such as Delta, American Airlines, Alaska Airlines, etc do not mention how much weight you can carry as a carry-on, but the bag should be easy to lift so that you can put it in an overhead bin unattended. 
2. Delta Airlines:
Delta airlines have a weight limit in three places, At Singapore 15.4 pounds, At Beijing 22 pounds, and at Shanghai 22 pounds. The valid measurement of your baggage is 22 x 14 x 9″ (length, width, and height). 
Also Read: 7 Secure Ways To Carry A Laptop In A Backpack
---
User Query Regarding Carrying A Monitor In Flight And SpiceJet Airlines Reply
Abhishek wants to travel with his desktop computer in which keyboards, mouse, monitor, and other accessories are included. He asked whether he is allowed to carry his monitor in his checked baggage or not.
Can We Carry Desktop Monitors In Domestic Flights?
Here is the reply from SpiceJet Airlines: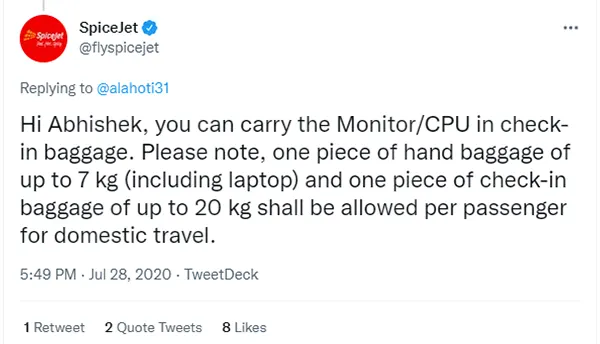 Spicejet stated that you are allowed to carry the monitor/CPU in check-in baggage. You can carry a handbag with a weight limit of 7 kg (15.4 pounds) and one piece of check-in baggage of up to 20kg (44 pounds).
---
How To Pack A Computer Monitor For Flight? 
If you want to transport your computer/desktop monitor by plane then you have to pack it properly to minimize the risk of its damage. 
Whether you are going to carry it in your carry-on bag or in your checked luggage follow these steps to pack it properly:
Step 1: Most people don't throw the original packing cardboard of their expensive and big devices such as a monitor, iMac, etc. If you have a cardboard box for your monitor then it is good otherwise you have to buy a cardboard box in which your monitor can fit perfectly. 
Step 2: Now put your monitor into the cardboard box and seal it properly. 
Step 3: Now take some bubble wrap plastic and wrap it across the packaging. You can also use your t-shirt, vest, pants, and other soft clothes to wrap them around the box so that your monitor has proper padding for extra safety.
Step 4: Make sure you have to take care of the corner protection. For this, you can stuff some folded T-shirts in all the corners. 
Step 5: Whether you are going to use a carry-on bag or checked baggage, make sure its size is perfect to fit inside the cabin after throwing a monitor inside it. 
Step 6:  The back portion of the luggage is rigid and hard, you have to put the face of your monitor down inside the bag.
Step 7:  Try to fill the gaps and empty space inside your bag to ensure a snug fit. It helps to keep the monitor steady inside your bag. 
Now you have successfully done your packaging and you are ready to travel with your monitor by plane. 
---
4 Different Ways To Carry A Monitor In Flight
After clarifying some rules and guidelines of some famous Airlines worldwide, have a look at some best ways to carry a monitor by airplane. You can carry your desktop monitor in-flight using these three methods:
Bring On Board
Do bubble wrap or wrap some clothes to carry your monitor into a checked bag.
Send it by marking it as a special item (It will cost you nearly $100 or more).
1. Bring On Board
You can carry your monitor on board but make sure it will pass all the safety and security parameters. Put your monitor inside your carry-on bag by adding extra padding and bubble wrapping it for added safety. 
This method works perfectly if the size of your monitor is less than 30″. Make sure your carry-on bag doesn't look stuffed and can easily slide under the seat of an airplane. 
2. Carry Your Monitor Into A Checked Bag
This is a more convenient way to carry a big size monitor. Usually, the company packaging is good, you just need to bubble wrap its body. You can also use some clothes and wrap them around your desktop monitor's body. 
Make sure you have padded the corners well. You can use some t-shirts and cramp them to the corner of the bag for corner support. Try to pack your checked bag tight to avoid the movement of the monitor inside the bag. 
Usually checked bags are rigid from the back, putting your monitor face down can be a good idea to protect it from damage.
3. Send It By Marking It As A Special Item
The third method is for those, whom none of the above-listed methods work for. If the monitor is pretty expensive and you have to stay at the destination location for a long time then you can ship your monitor using some separate carriers like FedEx, UPS, etc. 
4. Sold It And Buy A New One At The Destination
Most people find it difficult to carry their expensive monitors by airplane. Airline's costly fairs for shipment are another common reason for their discouragement. 
These people can sell their monitor at a reasonable price and then buy it at the destination location. But there are some drawbacks to this method:
Finding a buyer who can buy the monitor at the same price at which you have bought it is a difficult and time taking task. 
You might lose your money. 
---
Things You Need To Keep In Mind Before Carrying A Monitor In Flight
When packed, most monitors are larger than most airlines under the seat space. If it won't fit underneath the seat then crew members don't allow it. The overhead bin of an airplane also has a very limited space which is shared by all the passengers.
If you put your bag having the monitor in the overhead bin then there is very little space remaining for others, and they will push your bag to stuff their bags or put things on your bag and your monitor might be damaged. 
---
Conclusion
If you want to carry your monitor in flight then you have to pack it properly. One of the most important things to do first is to take a proper measurement of your check bag if it would fit in the overhead bin of the airplane or not. 
If you are going to carry a monitor in your carry-on bag then make sure it can easily fit under the seat of the airplane. 
I've mentioned 4 secure ways to carry your monitor in an airplane without damaging it. I hope this article will help you a lot to take your monitor on a flight without any problem. 
---
FAQ
Q.1 Can I Take A 30″ Monitor As A Checked Baggage On A Plane?
Ans: Yes, you can carry a 30″ monitor as checked baggage on a plane. You have to make sure you can lift it easily without anyone's help, and nobody put their bags on your checked bag otherwise your expensive monitor may get damaged. 
Q.2 What Are Some Ways To Carry A 27″ Monitor On An International Flight?
Ans: I've mentioned four different ways to carry any monitor smaller than 30″ in this article. Some best ways are to bring it on board, in check luggage, or in a carry-on bag. 
Q.3 Can I Take A 24″ Computer Monitor On Board? 
Ans: The 24-inch monitor is very easy to carry either in a carry-on bag or in checked luggage. I would highly recommend taking a 24″ monitor in your carry-on bag to ensure you can transport your monitor without being damaged