People love to carry their favorite tech gear anywhere they go. Today laptops become a necessity for everyone whether they are a working person, student, teacher, or someone else. 
Due to its small form factor and lightweight design, it is much easier to carry a laptop almost everywhere. Whether you have Macbook Air (M2), Macbook Pro (M1), or other expensive laptops you need a secure and safe carrier to carry them around. 
Today's market is full of tons of different laptop cases, and bags but they are unable to provide the complete safety as much as a backpack does. 
But the problem is the market is full of different types of backpacks, and not every backpack is perfect for your laptop. 
In this article, I'm going to give some best tips as per my personal experience to carry a laptop in a backpack so that it won't damage inside your backpack during travel. 
So without further ados…
Let's dig deeper into this topic…
Before we move forward…
Let me clear a very common and important doubt which is…
Is It Safe To Carry A Laptop In A Backpack?
It totally depends on the quality of the backpack. Carrying your laptop into an ordinary backpack takes your expensive laptop at risk. 
A good quality laptop backpack provides proper safety to your laptop. It has all the safety features and some backpacks come with an anti-theft design to ensure additional security to your laptop. 
All these things we will discuss in detail in this article. Kindly sit back relax and keep reading till the end. 
---
How To Carry A Laptop In A Backpack [Safest Ways]
People usually have two types of backpacks to carry things around:
An Ordinary Backpack With Lack Of Safety Features For Your Expensive Gears.
A Feature Pack Laptop Backpack.
Whatever backpack you have, there are still some pro tips to carry your expensive laptop in it safe and secure. 
How To Carry A Laptop If You Have An Ordinary Backpack?
Ordinary backpacks don't come with a sturdy built quality. They also lack safety in their internal compartment. Most ordinary backpacks don't have a dedicated laptop compartment. 
In this situation, you can buy a decent-quality laptop case. You can get some best quality laptop cases from the market at a very reasonable price. 
Benefits Of Carrying A Laptop In A Laptop Case:
If your backpack is not built with sturdy material then don't worry these laptop cases are made of sturdy materials and protect your laptop from damage. 
It is very easy to carry a laptop in a laptop case and put it into your backpack. 
Ordinary backpacks don't have proper padding in their laptop compartment, here a good quality laptop case provides thick padding inside its laptop compartment. 
Laptop cases are designed compact, slim, and lightweight and can easily carry inside your ordinary backpack. 
This is the cheapest option to carry your laptop secure and safe in a backpack if you don't have a good-quality laptop backpack. 
---
How To Carry A Laptop While Traveling If You Have A Laptop Backpack?
Unlike an ordinary backpack, a laptop backpack comes with lots of useful features which make them a perfect choice to carry your laptop and other expensive tech gadgets. 
Benefits Of Carrying A Laptop In A Laptop Backpack:
A good laptop backpack comes with several benefits especially if you are going to throw your expensive gear in it for traveling, commuting, etc such as:
A laptop backpack is made of study material which is highly durable and comes with decent stitching and handcrafts. 
It has strong and durable YKK zippers in all of its compartments and pockets. Some laptop backpacks have zippers with waterproof coating. 
Some good-quality laptop backpacks come with a waterproof coating that protects your laptop from being damaged when you are out on drizzling rainy days.
A laptop backpack has several separate compartments to carry different things such as laptops, tablets, power banks, chargers, iPods, etc.
Some best-quality laptop backpacks come with a dedicated laptop compartment that has thick padding, and the sleeve of this compartment is made of stretch-resistant material. 
A false bottom is a very important safety feature that ensures optimum protection for your laptop in a backpack. The false bottom rests a few inches above the actual bottom of a backpack and can protect your laptop when you put your backpack on a hard surface. 
Some laptop backpacks come with Anti-theft protection. The anti-theft design hides the main opening of your laptop backpack so the buglers will not find a way to enter inside your backpack when you walking wearing a backpack on your back. 
---
How To Put Laptop In A Backpack
A good backpack is beneficial to protect your laptop from severe damage during travel, but only a good laptop backpack is not a guarantee for your laptop safety until you keep it in your laptop backpack in the right way.
Right Position To Carry A Laptop In A Backpack
Many people are in confusion about
In which position do we need to carry a laptop in a backpack?
It totally depends upon the internal space of your backpack's laptop compartment. You need to check the dimension of your backpack.
In most cases, a backpack is designed with more height to weight ratio. It allows only carry your laptop vertically because it has less space horizontally. 
On the other hand, laptop cases that can be carried cross-body or most sling bags allow carrying a laptop horizontally. 
Note: In a backpack vertical position to carry a laptop is the safest position to toat it during traveling, commuting, walking on the street, etc. 
---
Some Important Safety Tips To Carry A Laptop In A Backpack?
There are some pro tips to carry your laptop in your backpack safe and secure:
Put your laptop in a laptop case, if you don't have a good quality laptop backpack.
Ensure that the quality of a laptop backpack must be sturdy and has proper padding inside its laptop compartment.
Always use a good-quality laptop backpack that is made of sturdy and highly durable material. 
The laptop compartment of the backpack must be thick padded and is made of a stretch resistance material.
The internal space should not be too wide and too narrow for your laptop. It has enough space so that your laptop is snug in its laptop compartment.  
Your backpack must be made of water-resistant material so that you can protect your expensive laptop when you are outdoor on a rainy day.
Always carry an additional rain cover to the complete safety of your laptop on a heavy rainy day.
---
How To Protect Your Laptop From Physical Damage When You Travel?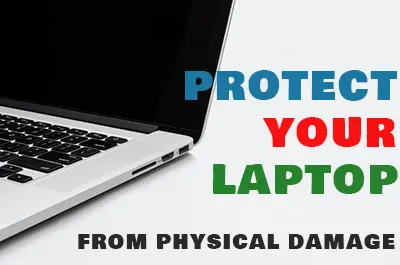 1. Shut Down Your Laptop:
If you are going to be traveling with your laptop make sure your laptop should be turned off, if your work is completed and if you don't want to use it during traveling. You can also put it in sleep mode if you want to use it during travel when the work is incomplete. It will save your laptop battery and also prevent it from overheating.
2. Unplug All The Cords And Other Peripheral Devices:
If you are traveling with your laptop in a backpack then make sure to remove all plug devices like USB cable, Microphone, Headphones, Bluetooth devices, etc.
If you do not remove or unplug these devices, it can damage or break the USB ports and even break these devices due to the lack of space.
3. Right Place For Other Accessories In Your Backpack
Accessories are important when you are doing work but they can harm your laptop when you put it in the same pocket. Don't throw other accessories in the same compartment where you put your laptop. It can damage your laptop.
Remove all accessories like charger, HDMI cable, Power bank, Mouse, and other devices and always carry them in separate pockets far from the laptop compartment. Try to avoid having a sharp object in the main compartment.   
4. Use A Protective Laptop Case In An Ordinary Backpack
If you don't have a good laptop backpack then you must have to carry your laptop in a protective case first and then throw it in your backpack. 
5. Right Space For Water Bottle And Other Drinks
If you carry a water bottle in the side pockets of your backpack and your backpack has a laptop in it then make sure the lid of the water bottle is tightly closed so the water drops won't spillage. Use a separate bag to carry soft drinks and other liquids. 
6. Take Rain Cover For Weather Protection
Always keep a rain cover in a separate compartment of your backpack. This can protect your laptop and other tech gear in unfair weather conditions. 
7. Don't Overload Your Backpack
A stuffed backpack can damage fragile items in your backpack. Overloaded backpack put excess weight on your laptop and can damage it.
---
How To Protect Your Laptop When You Travel By Road Or Train?
When you travel with a laptop by road or on a train its safety is very important. Try to keep your backpack in which you carry your laptop close to you and don't give it to the bus or train staff to throw it in a luggage bin because there is a chance that your backpack can be smashed between the other passenger bags and your laptop can damage. 
Keep your laptop bag on your lap when you sitting on the seat of a bus or a train to ensure it always remains in your eyesight and can not damage during travel. 
Also Read: How Many Electronics Can You Bring On A Plane
---
How To Carry Laptop On International Flight?
There are multiple ways to carry a laptop on international flights such as:
In Carry-on Bag.
In the checked luggage.
The best and safest way is to carry it in your carry-on bag. You can carry it in your backpack that can be put either in the overhead bin of the airplane cabin or underneath the front seat. 
You are allowed more than one laptop to carry in a backpack if your backpack has more than one separate laptop compartment. 
Don't keep your laptop in your checked luggage bag because the airline staff doesn't care about your checked luggage and it can be thrown over the other bags under the luggage bin and your expensive laptop can damage.
---
Conclusion
A laptop is a very important electronic device for everyone nowadays, and people have to travel with their laptops to several locations. 
This is why the safety of your laptop is of the utmost. In this article, I've mentioned some pro tips to carry a laptop in a backpack safe and secure, what kind of backpack is best for your laptop and what are those things to avoid when traveling with a laptop? 
I hope this article will help you to carry your laptop safe and secure in a backpack during travel, commuting, and any other outdoor trip. 
---
FAQ
Q.1 Which Way To Face Laptop In A Backpack?
Ans: You have to place the front of your laptop upside down in your backpack because the back portion provides better support and safety to your laptop than its front. 
Q.2 Is It Ok To Store Laptop Vertically In A Backpack?
Ans: Yes, carrying a laptop vertically in a backpack is good for the safety of your laptop. The majority of backpacks have been designed to carry a laptop vertically in their laptop compartment because the horizontal space is very narrow in a backpack.