Women are often confused to carry their belongings during travel or shopping somewhere, either in a backpack or in a purse.
A purse seems very compact with minimal design, Only one shoulder engages in work, which makes it very convenient to go anywhere without hurting your back muscles.
On the other hand, a backpack provides more Space, better Support to carry Heavy Items, and Security, and if you are shopping and your mind changes to buy some of those items that are suddenly like you so you don't need to think about buying an extra handbag to carry them.
Just imagine that you are walking around with a handcraft in your hand along with a purse on your shoulder.
But this is not true in all conditions.
Sometimes a purse does what a backpack can't.
Let's find out which one would be better to carry under which circumstances…
But wait this brief comparison table might help you to choose the right option between a backpack and a purse at a glance.
Purses Vs Backpacks Comparison Table
| Purse | Backpack |
| --- | --- |
| 1. A Purse looks more stylish and fashionable than a backpack. | Backpacks seem casual and some backpack purses come in adorable designs and styles. |
| 2. Purses come in very limited pockets and sizes. | Backpacks are spacious and roomy. |
| 3. You can't carry a laptop with your essentials comfortably in a purse. | You can stuff a backpack as per your desire. |
| 4. Purses are difficult to carry during cycling. | Backpacks are comfortable and convenient to carry during cycling if not overloaded. |
| 5. Purses are popular to carry for shopping, visiting restaurants, for dates, for vising a function, etc. | Some backpack purses are also very elegant to go to the mall, shopping, restaurants, office, on a date, some important parties, etc. |
Purse Vs Backpack: Which One Is Better To Carry?
Now we are going to dig deeper into every positive and negative point between purse and backpack, so that you can understand better, which one is the best suit to carry on which occasion.
Are Purses Better Than A Backpack?
Purses are compact, lightweight, and come with very limited functionalities that allow you to carry them on specific occasions.
Let's measure its usability in these parameters…
Style & Look
Purses come in so many different textures, and patterns having different colors, and accessories that not only enhance your overall appearances whatever event you are planning to attend but also tell some positive aspects of your personality to others.
In terms of style and design, purses are definitely better than a backpack. But some backpack purses are very trendy if you don't want to carry a purse.
Space & Size
Purses are not made to carry a lot of stuff with them. You can carry very few essentials such as your wallet, mobile phone, a few pieces of makeup kits, etc.
Due to their compact and lightweight design, a purse is the best choice if you are going for lunch or dinner in a restaurant, visiting a mall, or cinema theater, going on a date, etc.
But if you want to carry some extra stuff then you have to carry a backpack.
Accessibility
A purse comes with one shoulder strap that can be worn either crossbody or on one shoulder close to your body. Both options provide better and easy accessibility to its pockets so that you can pick the most essential things in no time without taking your purse off.
Also Read: How To Keep Your Purse On Your Shoulder [Easily Solved]
7 Different Ways To Carry A Purse
A purse can be carried in multiple ways, some of which are listed below…
The most common way to carry a purse is to carry it in your hand.
You can carry your purse close to your body on one shoulder.
You can also carry your purse on one shoulder that swings around your body.
Keeping both straps of your purse on your elbow is also a nice carrying option.
You can also carry it crossbody with a purse on your front.
Crossbody having a purse in your back.
Some backpack purses are also very popular.
In terms of different carrying options definitely, a purse provides plenty of different carrying options. You can carry a purse for each and every occasion with every outfit.
Things That You Can Carry In A Purse (Purse Essentials List 2023)
Being a lady, you would know better
what to carry in your small purse or what to not?
Still, I've listed some very common and must-have things that you should carry in your purse in 2022.
Makeup kit ( Most Important)
Hairbrush
Hand sanitizer & Mask
Feminite Items(Crucial)
Power bank (to charge your phone when you are not using your phone)
Hygiene kit
Cardholder( To organize them inside the purse)
Fragrances
Some essential stationaries such as pencil, pen, etc.
Some essential medicines.
It is suggested to group all of these essentials into plastic bags of different colors and label them with highlighted text so that you can find the needy things on time.
---
Are Backpacks Better Than Purses?
We can't take any one side because both are made for totally different situations and in most situations, women have to carry both of them, for example for travel, for work, etc. '
Backpacks are spacious, and functional on the other hand, a purse is compact, and is best for carrying most needy things in it.
Style And Look
Purses are more stylish and come with a fashionable look than a backpack. Girls and women love to carry a purse to parties, on dates, for dinner, and many other important events.
Are Backpack Purses In Style In 2023?
Backpack purses are the best substitute for a traditional backpack and are best for carrying for travel, work, etc. These backpack purses gradually grab the attention of teenage girls, moms, and working women.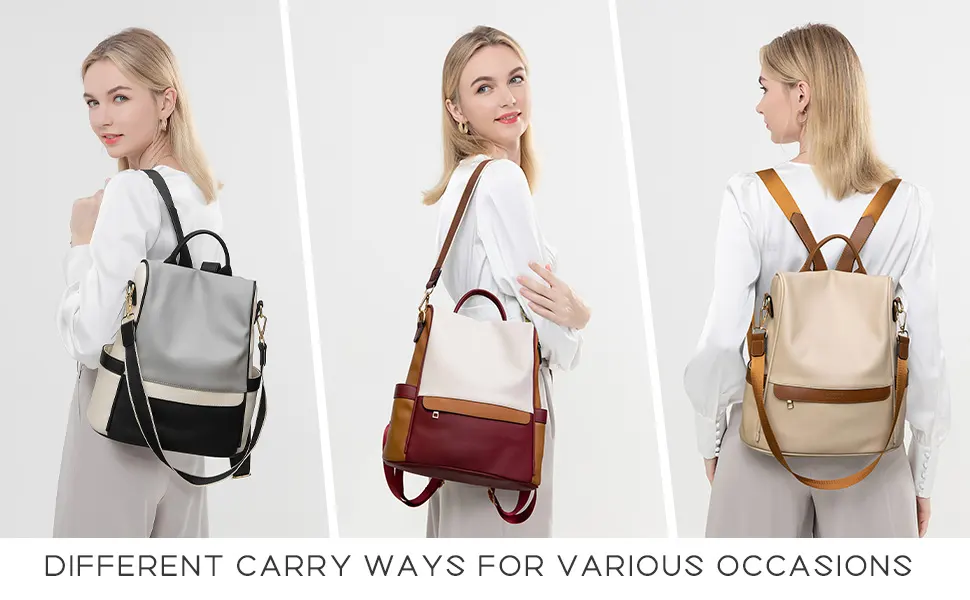 They are in trend in 2023, because of their eye-catching designs, colors, space, and functionalities. They are very functional and school and college-going girls also prefer using a stylish backpack purse these days.
Backpack Or Purse For Travel: Which One Is The Better Option?
For travel, most people definitely want to carry a spacious backpack rather than carrying a small purse alone. Using a small purse along with a spacious backpack is a very common practice for women.
Both have their own importance in a different scenario such as:
A purse is very useful to carry a small makeup kit, hand sanitizer, smartphone, headphones/earbuds, a power bank, etc. These are the items that people have to access immediately.
If you are traveling by road or by air women carry a small purse crossbody or on their shoulder for immediate access to these mentioned small most needy things.
Carrying them in a backpack and accessing them when needed is a tiresome and time-consuming task.
On the other hand, a backpack is a very useful carrier for your other most important things which are bigger in size and you don't need to access them immediately such as:
Towel
Laptop
Books
Clothes
Camera
Magazine
and many other things.
Backpack Vs Purse For Work: Which One To Choose
For work, women prefer using a small-size backpack or a handbag that has enough space to accommodate their office files, some stationaries, laptop, iPad, charge, etc.
They also want to carry their small makeup kit. Now some fashionable backpacks come with several small pockets and dividers to carry these items organize and also save you lots of time by making them easily accessible.
Do You Prefer To Use A Purse Or A Backpack? (Conclusion)
Now in this section, let's clarify some common doubts which make you more clear about your decision.
Also Read: 7 Fashionable Backpack For Work In 2023[Latest Top Pick]
On Which Occasion Should I Carry A Purse?
If you just want to go shopping with your smartphone, some cosmetics, and a little cash then carrying a purse is a good idea.
Carrying those small things in a purse is less cumbersome than carrying them in a backpack.
Another reason to carry a purse with you is when you are planning to go outside after a long period of time and don't want to hurt your back mussels.
If you are planning to attend a party or a function, then an ordinary backpack on your back might not impress others, here you can carry a fashionable backpack purse.
On Which Occasion Should I Carry A Backpack?
1. A backpack is very useful if you plan a long trip overseas.
2. A backpack is a must-have carrier for hauling your gear for a hiking or camping trip.
3. For business travel you must have a spacious and functional backpack for carrying your laptop, wardrobe, and other tech gear safely, and comfortably.
4. A backpack not only provides a large space for your gear but also keeps them safe and secure carrying them in a backpack is also very comfortable due to its padded shoulder straps and breathable back panel.
Can I Cycling Or Biking With A Purse?
Cycling with a purse seems not so convenient option because a purse sits crossbody on your body and the purse rest just below your hip so, during paddling, it swings around and causes you may lose balance.
Can I Carry A Backpack During Cycling Or Biking?
A backpack comes with padded shoulder straps that keep the load balanced between the shoulders and sternum straps keep the shoulder straps in their place and prevent them from slipping.
Some backpacks come with a hip belt that also helps to keep the backpack in its place. Cycling with a backpack is possible if you don't stuff it too much.