If you want to buy a durable and comfortable harness for your German Shepherd then you are in right place. 
There are lots of harnesses with different brands available in the market which makes it hard to buy the right one that feels comfortable for your dog and is also durable enough that provide a perfect grip so that your dog is under your control.
After researching a lot we are here with some highly durable military-grade harnesses that your money could buy.
So without further delay let's get started…
7 Best German Shepherd Harness Review & Buying Guide
1. Best Tactical Dog Harness For German Shepherd From Icefang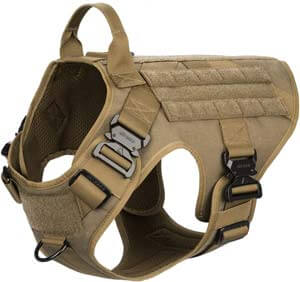 Its Features
6 Different Colors and Patterns.
Available in 4 different sizes.
4 metal buckles.
Safety control & no pull feature.
Hook and loop feature for custom patches.
If you are looking for a highly durable and comfortable harness for your lovely german shepherd then Icefang did a great job in this section.
Most of the expensive harness comes with plastic kind of buckles that got damaged during pulling or training but there is no such issue as metal buckles being used. 
To ensure a perfect fit for your Shepherd no matter how large or small he is, the harness comes in 4 different sizes. 
In my case, I choose an extra-large harness for my 90 lbs German Shepherd that fits perfectly. The harness is breathable in the chest area.
The no-pull front clip is very useful to teach your dog not to lead your trainer but to train your Shepherd to walk beside you.
It is also very easy to identify your dog by attaching some patches on the strips of hook and loop.
Overall a quality harness with a padded and breathable design that your Shepherd will love so much.
2. German Shepherd Harness From Fenrir
Expert-Approved Triple Straps Design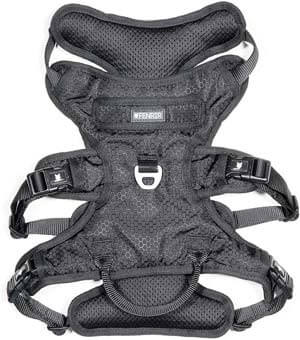 Its Features
Available in black.
Available in small size.
Triple strap design.
Made with premium material with metal clips.
Metal v ring in top and front.
Fenrir is a brand started by world-renowned canine behaviorist William Atherton.
They promise to feed a shelter dog for a day from every item they sell.
Let's check its ground performance…
The harness is specially designed to keep in mind the Security, great Comfort, and Durability to ensure that you can use this harness for a long time.
Some kind of Premium Material is used in this harness and metal clips on top and front provide more control by front clipping, top clipping, and dual clipping to control even the strongest dog during training.
We really like its padding as it has dual padding on top and bottom to provide a comfortable experience that your dog can wear for a long time.
The downside of this harness is the lack of availability and missing molle straps. Perhaps to ensure a comfortable and secure fit and durability they reduce Molle straps to their harness.
Overall a great product from Fenrir and their true dedication to the shelter dogs is really appreciated.
3. Hiking Harness With Hidden Backpack From Auroth
Adjustable Military Dog Harness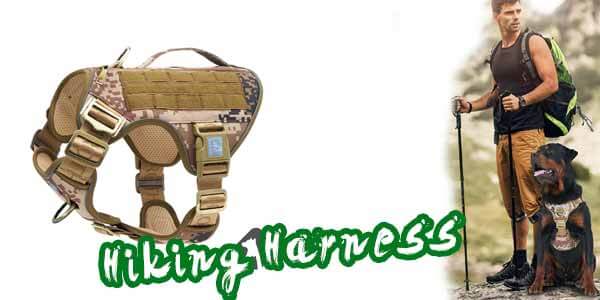 Its Features
Available in 3 colors.
Available in 2 sizes.
Weight: 1.51 pounds
Water-resistance nylon surface.
Hook and loop fastener.
Hidden zipper storage backpack.
The third harness is from Auroth Tactical. This hiking harness is a perfect choice for your German Shepherd.
One of my friends has 3 years old & 105 pounds German Shepherd and the Large size of this harness fits perfectly him. 
The harness is made with highly durable, sturdy material that will last for years. The assembling and dissembling are very easy and we really loved its adjustability that allows loosening in one area but tightening in another.
Let's talk about its hidden zipper pockets that are thoughtfully large in size that allows putting an iPhone and still have room for other small gear. 
Velcro placement is nice and my friend put some patches on it that look really nice and help to identify your Shepherd easily.
We find its molle system needs improvement and the placement of the D shape ring on the chest area is not as useful as if it would be at the rear of the vest. 
Overall the harness is durable, sturdy, and very comfortable and your Shepherd really enjoys his training session with this.
4. Babyltrl Big Dog Harness For German Shepherd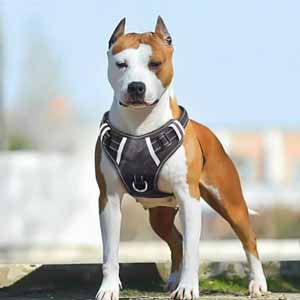 Its Features
Available in multiple colors.
Available in 4 sizes.
Extra large size.
Standby handle for control.
Babyltrl harness is specially designed for large dogs like German Shepherds. 
The harness is adjustable and easy to put on and the put-off feature is very convenient. If your German Shepherd's weight is around 50-60 lbs then a Large size of this harness is perfect to buy.
The harness stops your dog from pulling effectively so no more pulling your face during the morning walk.
The one downside of this harness is its padded chest strap is too tight for some dogs that are large in size around 70 lbs.
We really like the reflective stripes over the vest area that reduce the chances of an accident at night.
Overall a decent economic harness for big dogs with a decent build quality.
5. OneTigris Tactical Dog Harness
Comfortable Petrol K9 vest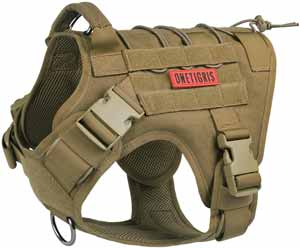 Its Features
Available in 4 colors.
Available in 4 sizes.
Material: Nylon 
Closure type: Buckles
1 year of warranty.
Our Sixth harness is from OneTigris. The harness is made with Nylon which is durable. 
OneTigris harness comes in 4 colors and sizes. To find a perfect fit, you have to measure the neck grith and the chest grith first. 
For example, If your German Shepherd's weight is between 50 lbs to 70 lbs then you have to choose a medium size harness for your dog. As the harness is adjustable so you will get a perfect fit by adjusting the straps a little bit.
We don't like its Nylon buckles as they are not durable and some customers have complained that they broke after some time.
There is a large space to attach patches and IDs by using the Hook and Loops panel.
The harness comes with 2 stainless steel metal rings. No pull front clip is to train your dog to stop pulling and the top clip is for walking and other activities.
Overall Not a good deal as its buckles are not so durable as per price point.
6. Escape Proof Harness For German Shepherd From Rabitgoo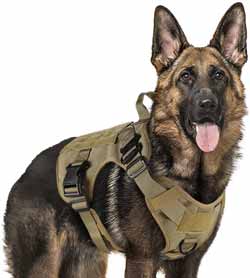 Its Features
Available in 4 colors.
Available in 3 sizes.
Material: Alloy metal buckles and leash clips.
Closure Type: Buckles
The Fifth harness in this list is from RabitGoo. The harness comes with an Escape proof design and is made with military-grade 1050D nylon.
Although some customers raise questions about its durability and its buckles broke in a few months of usage.
The company claimed that the harness is water and tear-resistant that is easy to clean.
For German Shepherds, you will definitely buy a large-size harness and do some vest strap adjustment to get a Perfect Fit.
It also has 2 metal rings, one is at the front and the other is at the top. The front clip is to train your dog to stop pulling and the top clip is for walking and other outdoor activities. 
It has nice velcro space for attaching some patches and Id badges on it and a nice molle system on both sides to carry water bottles and other essentials. 
Overall the harness is breathable and comfortable but its durability and plastic buckles need some improvement. 
7. German Shepherd Leather Harness From Pet Artist
Its Features
Available in 3 sizes.
Material: Leather
Closure Type: Buckles
If you love the handcrafted product then this handmade leather harness is definitely be liked by you and your Shepherd. This is a cute German Shepherd harness on the list.
Some people loved the aroma of Genuine leather.
The harness is crafted to take care of the comfort of your dog. The material is crafted like that it is durable yet lightweight. 
To ensure a perfect fit it has 4 adjustable buckles. Just adjust them according to the size of your dog but observe the size chart carefully to get the right size harness and avoid the return and replacement headache. 
We found that its front metal clip is missing which is helpful to prevent your dog from pulling off during walking. 
Overall a decent leather harness for those who want to buy a genuine handcrafted harness for their German Shepherd.
 FAQ
The German Shepherd breed of dogs is known for its muscular, energetic, and large body shape. 
They are best for security, rescue operation, and for emergency situations. 
so the question is …
What size harness does a German Shepherd needs?
Choosing the right size harness for your dog is a tricky task. Different brands have different measurements for the same dog so it is very crucial to measure your dog's neck girth and chest girth accurately and then match the same size with the brand size chart. 
Some most common size measurements according to Wikipedia for your German Shepherd are listed below:
Small: chest(20-31 inches), Neck(12-21 inches), Weight(18-35) lbs.
Medium: chest(22-33 inches), Neck(16-22 inches), Weight(30-50) lbs.
Large: chest(24-37 inches), Neck(18-29 inches), Weight(40-80) lbs.
Xlarge: chest(26-42 inches), Neck(20-31 inches), Weight(75-135) lbs.
Is a harness good for a German Shepherd?
Having a cute, strong, and muscular dog at home is a need of today's generation. Keeping a dog at home is a responsible job as you have to train your dog on what to do or what to not.
Sometimes you want to take your dog on an outdoor trip or most of the time for a general morning walk. At that moment you don't expect any bad habits from your dog side that embarrassed you.
A good quality harness gives control over the dog to you. Dogs are fickle in nature and a good harness teaches them to be disciplined.
What type of harness is best for a German Shepherd?
A harness that can support your dog and also feel comfortable with your dog's body, you can control your dog's behavior by using the lease attached with the top clip or the front clip is considered a good harness. 
In this article, we've listed some of the best harnesses for your German Shepherd that are better in every parameter. 
How do you put the harness on a German Shepherd?
You can do this in a very simple few steps:
Unbuckled first and release the straps.
Now slide the harness circle part over the head of your German Shepherd. 
It's time to arrange the buckles and straps. Arrange the bottom straps between the front legs.
Now attach the released buckles to their earlier position. 
Make an adjustment in the vest strap to find the perfect fit according to your dog's body shape.
Now check the harness fitting by putting one or two fingers between the doggy body and the harness. If they slide inside easily that means you are all done.
Conclusion
I hope this article helps you to find out the perfect harness that will last for years and also you and your dogs loved it very much.
We've prepared this list by researching several different harnesses and examining their pros and cons and choosing them according to their performance and functionality.