Looking for the best Maltese Backpack Carrier that is highly comfortable, durable, and fairly breathable for you and your Maltese?
You are in right place.
The Maltese breed is one of the cutest dog breeds that is known for its silky white coat. It is a great companion for families even novice dog parents find it quite adorable to live with This dog breed.
Although Maltese is a playful, obedient, smart dog breed, they loved others' company and can easily be prone to separation anxiety.
As they are so cute, nobody wants to leave them at home alone. Here the best Maltese Backpack Carrier helps you to take it with you wherever you go.
But the question is…
How To Choose The Right Maltese Dog Carrier Backpack?
Before choosing the right carrier backpack for Maltese, Let's take a look at its physical overview:
Male: 3-8 lb
Female: 2-7 lb
The size chart gives you a rough idea about the length, weight, and girth of your Maltese.
It is mandatory to measure the different-different body parts such as length, girth, and weight of your dog to select a perfect backpack carrier for your dog.
This will also help to reduce the chances of size mismatch or fitting issues and also help to save you lots of valuable time on the tiresome exchange process.
So the question is:
How To Measure Your Dog To Select The Right Carrier Backpack For Maltese?
This is a simple process, just take a measurement tape and measure the length, the girth of your dog thoughtfully as mentioned below:
Measure Maltese Length: Measure the length from the collar to the base of the tail.
Measure Maltese Girth: This is one of the widest parts of your dog's chest, measure it properly.
Which Brand Backpack Carriers Are Best To Carry Maltese?
The question is pretty obvious as there are lots of different brands that introduce their backpack carriers every year. Choosing the right one is a tricky task.
After hours of research and deep analysis about the safety, comfort, breathability, and sitting type, I've listed some best Maltese Carrier Backpacks that you and your dog will love a lot.
So without further ado let's get started…
| Dog carriers for Maltese | Our Rating | Speciality | Weight | dog friendliness rating | Material | Price |
| --- | --- | --- | --- | --- | --- | --- |
| | | Comes with dual Lumbar support, Full mesh side ventilation, Padded shoulder straps, a separate storage bag, Water bladder. | | | | |
| K9 Sports Air 2 (Forward Facing) | | Dual Lumbar Support straps & side pockets, Full Mesh Side Ventilation, Sternum Strap, Padded Resting Base. | | | | |
| | | Single Lumbar support and half mesh ventilation, Water bottle pockets. | | | Made of durable Cordura fabric. | |
| Kurgo G-Train Dog Carrier | | Water-resistant top & Armorsole bottom, Lightweight, Laptop compartment, Hydration pocket, Fully padded & Adjustable. | | | Sturdy & water-resistant fabric. | |
| PetAmi Deluxe Pet Carrier | | Several eye-catching colors, two-sided entry, cushion back support, proper ventilation. | | | | |
| Sherpa Travel Pet Carrier | | Crash Tested, Roomy & Ventilated. | | | Nylon exterior with washable plush bedding. | |
| | | Wear forward & backward, easy to adjustable straps, escape proof, cool & comfy carrier. | | | | |
7 Best Dog Carrier Backpack For Maltese Detailed Review
1. K9 Sports Plus 2 Maltese Carrier Backpack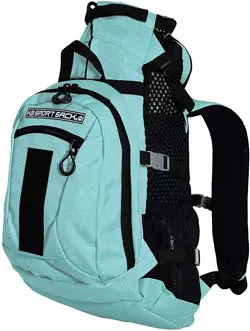 Its Features
Several Different Colors and Patterns.
Available in 4 different sizes.
Volume: 20 to 32 Litre
Weight Limit: 40lbs (18 kg).
K9 sports plus 2 is best for hiking and cycling with your Maltese. You can also use it for carrying your Maltese on a morning walk or for public transport if you remove its additional storage bag. 
Why This Is The Best Dog Carrier Backpack for Maltese among the others?
Its main USP is its additional storage bag that is good for storing small essentials for hiking or an outdoor trip.
You can cut down its weight by removing its additional storage bag.  
To ensure the comfort and security of you and your dog it has thick padded shoulder straps and a breathable back panel. 
The backpack comes with dual lumbar support straps and a padded back panel to ensure your dog feels comfortable inside the backpack. 
The full mesh side ventilation regulates proper air circulation in the dog compartment and maintains the temperature instability.  
For a hiking trip carrying enough water is very necessary. Its dual side pockets provide enough space to carry water bottles and its water bladder-compatible design makes it a perfect carrier for carrying your dog on a hiking trip. 
The backpack comes with a sternum strap which helps to keep the shoulder straps in their place and prevent them to slip from your shoulder. 
Overall the backpack is best to take your Maltese for walking, riding, hiking, and public transportation.
2. K9 Sports Air 2 Adjustable Backpack For Maltese
Best Travel Carrier For Maltese (Lightest One)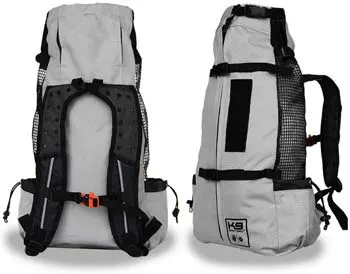 Its Features
4 Different Colors and Patterns.
Available in 4 different sizes.
Volume: 12 to 25 Liter.
Weight Limit: 30lbs (14 kg).
Weight: 0.9 pounds.
If you want a functional backpack that is lightweight, and not as big as the Plus 2 but good enough to carry your Maltese on a morning walk, for cycling, and for public transportation then must look at the Air 2. 
This is the most popular and feature-rich backpack from K6 Sports. 
Why choose this backpack carrier for your Maltese?
It is available in 4 different sizes to ensure that every size dog can fit inside it comfortably. Its XS size is good enough for a 12lbs Maltese. 
If you are in doubt about the fitting issue of this backpack then must take a proper measurement of your dog and match it with the given size chart. 
Its volume is between 12 to 25 liters and its weight hauling limit is 30 lbs. 
Its thick padded shoulder straps and sternum straps make it very convenient to haul a bog on your back comfortably. 
Like Plus 2 model, this backpack also comes with dual lumbar supports, Full Mesh Side Ventilation, and dual sides water bottle pockets.
Overall a feature-rich backpack for your Maltese to carry it all places expect hiking.
3. K9 Sport Sack Trainer (
Budget King

) 
Best in Budget & Lightweight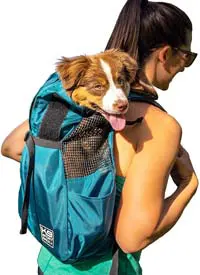 Its Features
Available in 4 different sizes.
Available in 4 colors Myrtle Green and Black.
Volume: 10 to 23 Litre
Weight Limit: 30lbs (14 kg).
If you want a compact, and lightweight dog carrier for your Maltese that is also very comfortable for you and your dog on your tight budget then must check out this backpack. 
This is K9 Sports Trainer. The backpack is designed for small dogs that are in their training period. 
Note: Make sure you buy a perfect-fit backpack carrier for your dog by taking proper measurements of its length and girth and matching them with the company size chart. 
I like its minimalistic design that is best for cycling, walking, and many other activities with your dog.
The backpack is available in 4 attractive colors and in 4 different sizes. The backpack comes with very limited space. You can put a poop bag and a small ball inside it.
Due to lack of space, you can not carry a lot of stuff with this backpack. 
Its shoulder straps are not as comfortable as its other higher models have but it is not a big issue as you can't carry a heavy load and a large dog inside it.
It has half-mesh ventilation on the side and only one side pocket for a water bottle. It has one lumbar support strap to support the Maltese's back.
Overall a basic dog backpack for those buyers who want a decent backpack for their Dog on a budget. 
4. Best Dog Carrier Backpack With Laptop Compartment For Maltese
Best For Travelling, Hiking With Maltese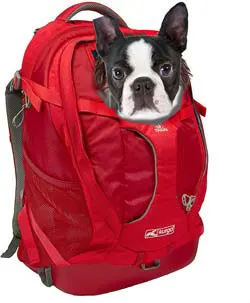 Its Features
Available in two colors black and Red.
Dimension 13" x 21" x 10". 
Fabric: Water resistance fabric.
Comes with a laptop compartment.
TSA Airline approved carrier
Weight: 4.41 ponds
If you travel and hike frequently then Korgo offers some very useful features in its backpack that are missing in other listed backpacks. 
The build quality of this backpack is somewhat what you will get in most hiking and mountaineering backpacks. 
My 11lbs Maltese fit a little bit lose in this backpack then I put a small blanket at its bottom and this idea work great. A blanket also helps to provide extra cushion. 
The dog compartment is big enough which allow your dog to move its leg. It has extra space to carry water bottles, dog toys, a folding bowl, etc. 
Its fabric has mesh that provides good ventilation when the dog sits inside it. It helps to regulate the inside temperature. 
Your Maltese enjoy the outdoor beautiful scenery with the help of its mesh front opening. 
Although it is not advisable to carry your laptop and your dog in the same backpack it has a dedicated padded (1.5 Inches) laptop (up to 13″) compartment when you are not carrying your dog. 
The addition of a hydration pocket with a hose opening makes it a perfect dog carrier for hiking.  
Its top zipper opening and bottom are made of water-resistant material which is a good feature. 
Thick padded and fully adjustable shoulder straps feel comfortable on shoulders and an adjustable sternum strap and a hip belt help to evenly distribute its weight. 
Overall a heavy-duty and quality backpack for travelers with TSA and airline-approved design. 
5. PetAmi Deluxe Pet Carrier Backpack For Small Dogs 
Another Cheapest Option For small Maltese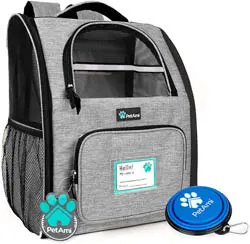 Its Features
Available in multiple colors.
Available in 1 size.
Weight Limit: 18 lbs.
This is another backpack carrier for Maltese with a different design. 
My friend's 11.5 lb Maltese can sit down and stand up comfortably inside it as it has enough space to move around. 
It doesn't hurt your back and shoulder and due to its sturdy build quality, I use it to travel in the car with my friend's Maltese. 
The backpack comes with decent ventilation. Its mesh side ventilation works great to maintain the proper airflow inside the backpack. 
The mesh side pockets are also helpful to carry water bottles with you. 
The backpack provides 2 side openings to put your dog inside and to take out. 
The top mesh opening is also good. Its shoulder straps are wide and padded but due to its large shape when you put your dog inside it, I feel its straps can be slipped off shoulders. 
Overall the backpack is best for those people who just bought a newborn Maltese whose weight is just less than 18 lbs. 
6.
Sherpa Travel Pet Carrier Bag For Maltese
Crash Tested, Roomy & Ventilated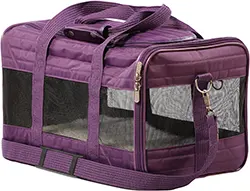 Its Physical Features
Available in 3 sizes-small, medium, and large.
Nylon exterior with washable plush bedding
Available in 7 different colors.
Weight: 1.83 Pounds
At first sight, the Pet carrier from Sherpa looks cool and roomy. This is the best carrier for Maltese to take on a plane.
The Pet carrier comes with multiple entrances that allow your dog to be put from the top and sides. 
The bag is specially designed for air travel.  Sherpa guaranteed that it is air-approved by many airlines. The bag is available in 3 sizes with a weight hauling capacity between 8 pounds(small) to 22 pounds(Large). 
I found its medium size fits a 10 lbs Maltese without any problem even you can carry two small size dogs as a carry-on. This will give you a general idea about the size. 
Its large-size Pet carrier is not an Airline approved model by most Airlines. The carrier comes in several colors combination. 
I really like its 3 sided mesh windows for proper ventilation. It has one zipper pocket to carry some needy things on the go. 
According to some customers, Sherpa gradually decreases the quality of their bags which is why you might be faced zipper malfunction and quality issues with their pet carriers. 
The bag comes with car seat belt safety straps but Sherpa is not certified by any organization to ensure 100% safety of your pet. 
Overall a nice pet carrier for your Maltese that is very easy to carry and best for Air travel with your dog. 
7. Pet Backpack Carrier For Small Dog With Front And Back Harness
Best in Budget & Lightweight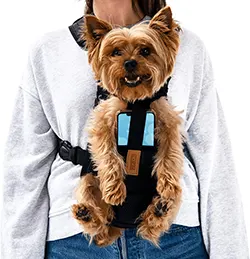 Its Features
Closure Type: Button.
Brand: Blascoe
Weight Limit:5-7 lbs dogs
This backpack carrier is different from the above-listed pet carrier backpacks. 
The pet carrier is best for small dog breeds such as Yorkie, Maltese, etc. I found the dog with a weight of fewer than 6 pounds feels uncomfortable inside it. 
Its zipper and velcro combination makes it much easier to in and out of your dog.
The shoulder straps are fairly thick and well-padded and its breathable mesh fabric keeps your Maltese cool and dry. 
You can carry it in front and back of your body. It has a small pocket placed over the chest of your dog to carry a smartphone on it. 
Overall a nice budget-friendly pet carrier harness for morning walks, hiking, and shopping with your furry friend. 
(FAQ)
1. Does Maltese Safe In A Backpack Carrier?
It depends on the quality of the backpack carrier that you are using and how you are carrying your dog. 
Now, most pet concentric brands do well research to manufacture a backpack carrier for your dog. 
They prioritize safety, comfort, breathability, and a sitting posture that can provide maximum comfort to both of you. 
After deep analysis and taking care of all the safety parameters, I've listed some best brands and their best backpack carrier for Maltese. 
2. Can Maltese Go On A Plane?
If you want to travel with your pet on a plane then you have to buy a travel pet carrier that has enough room to sit comfortably and move around. 
Because the flight journey may be several hours long so it is necessary to have proper space inside the dog carrier to sit naturally. 
I've paid proper attention to this thing and have listed the Sherpa Travel Pet Carrier for Maltese that is best in this class and can easily fit under the sit on most of the plane. 
3. What Size Crate Is Good For Maltese?
A small to medium size crate could be best for Maltese. The height of a Maltese is between 8 to 10 inches and its weight is around 3 to 8 lb. 
Its small size and lightweight make it much easier to carry on either your back, front, on a crate, etc.
Conclusion
Choosing a backpack carrier for your furry friend is really a responsible task. You can't pick any backpack carrier randomly for your lovely dog. 
This is why I've listed only those backpack carriers for your Maltese that truly justify all the safety parameters.
I hope this article really helps you a lot.