For most people when planning to visit Newyork, one question hits their mind that is…
Should I carry a backpack in Nyc?
Even though this question may seem odd at first sight but this is a reasonable question.
Linda from Tokyo wants to visit Newyork with her husband next month. In Tokyo, a backpack is very common and normal for adults.
People usually carry backpacks for commuting, in the grocery stores, and for many other activities. Linda's husband wants to carry a backpack to Newyork. He usually carries some water bottles, snacks, and some clothes in his backpack.
This is pretty convenient to carry a backpack just on your shoulder without worrying about anything.
But she read some stories about the backpack being cut off and stolen by tricky people in the crowd.
Like Linda, most people worried about their expensive electronic gadgets, cosmetics, and jewelry may be stolen in a crowded place in Newyork city if they carry them in a backpack.
Here in this article, I am going to share some pro tips regarding…
What to do and what not to do in NYC if you carry a backpack also will share some other alternatives to carry yourself that will match the current fashion trend of NYC and will look very trendy in your outfit.
If You Are Walking Around On NYC Street With A Backpack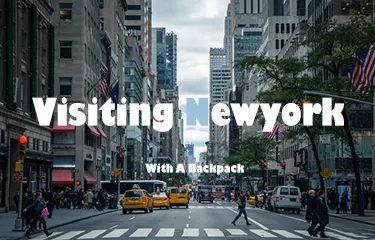 This is pretty common for Newyork people to walk around on the street with a backpack. So you can walk and ride with a backpack on your back without any problem.
What To Be Point Out Here Is…
It's ok to walk and ride on a street in Newyork if the street is not so crowded.
Still, always be alert if someone walks close to you.
If you are walking in a crowded place in Newyork then you have to always be alert if you are carrying a backpack on your back with some precious belongings.
Here ordinary backpack creates so many problems for you due to the following reasons…
The normal design of an ordinary backpack can easily give an idea to thieves about how many compartments are there and how to reach them.
Poor zippers can easily be opened and there are high chances of your precious things will be stolen.
The poor fabric allows spammers to cut some portion of your backpack in a crowded place and this can also create lots of problems for you if you are carrying your passport or credit card with your backpack.
The solution to this problem is very simple.
Spend a few dollars extra to buy the right backpack if you are planning to walk around NYC.
Here we are featuring some best backpacks that come with an Anti-theft design and rigid build quality and ripstop cutproof shoulder straps.
Also Read: Can I Carry A Gun While Hiking NY [Prohibited Things]
Best Bag For Walking Around NYC
I would strongly recommend you buy an Anti-theft backpack that has strong and sturdy built quality, craftsmanship with hidden zippers and pockets, and other tons of hidden features.
One of them I found Best in the market is …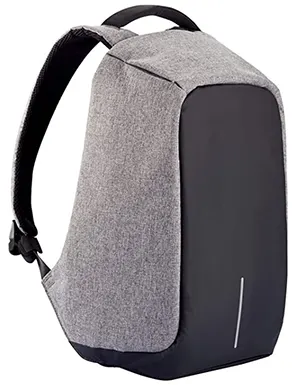 Some Highlighted Features of Xd Design Bobby Backpack
Hidden zippers and pockets, even not visible to thieves that how to open.
Made of 100% Polyester with water repellent body.
Integrated USB charging port
Protective layer with cut-proof fabric.
Padded laptop compartment (Up to 17″) and Ipad compartment with Anti Sock Foam.
Spacious Feature pack backpack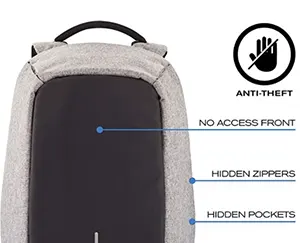 It has hidden pockets, one of the safest ways to carry your credit card, passport, and mobile phone with these pockets.
The front panel of your backpack is one of the easiest ways to open it and steal the inside belongings but this backpack has no front access which is a plus point for you.
Should I Carry A Messenger Bag In NYC?
Yes, definitely a messenger bag is also a great option for your NYC trip but there are some cons to carrying a messenger bag for a trip…
A messenger bag can be carried as a cross-body so this is good if you are carrying your belongings in your bag, but if you are carrying lots of stuff then a messenger bag creates strain on your shoulder and back muscles.
A messenger bag is good to carry a camera with you to click some photos at the most beautiful places in NYC city. A backpack is not a feasible solution where there you are going to click lots of photos and you need to keep the camera in and keep it out most frequently to take a picture.
Sitting Somewhere In NewYork City With Your Backpack
This is in our habit to leave backpacks on the side when we visit a restaurant or a cafe. When we are in Airport sitting in the waiting hall, we often leave our backpacks on the floor near our feet.
As we are busy with our mobile phones, there is a little bit of chance that someone steals your backpack and you don't even know about that.
Traveling NewYork on a crowded Bus Or Train With A Backpack
I saw many people wearing a backpack who don't even think about how much space they occupy with a backpack on their shoulders.
If you are on a bus or train with your backpack then it makes people around you more crowded.
If you carry a decent size backpack then it will take up twice as much space as you need to.
On busy train or bus travel try to keep your backpack off and keep it in front of you or keep it between your feet.
If you occupy a seat then keep it either on your lap or between your legs. Don't utilize the seat next to you to carry your backpack on it.
This is the best way to carry a backpack in Newyork or anywhere else without hurting others.
Carrying A Backpack on Subway in NewYork
A subway is a crowded place where people are close to each other and your backpack could slam on other passengers when you move around.
Some people carry a laptop for their work and snacks, water bottles, etc, during bus or train travel. if you want to read a storybook at the time of travel and want to have your hand free so there can be no better option than having a backpack.
Summary
Newyork city is always the center of attraction for tourists and most of them carry a backpack along with other luggage.
If you want to explore NYC city to the fullest, having a small-size trendy backpack with some needy things is one of the great companions for you.
Here Anti-theft backpack helps you to explore the city worried-free as compared to carrying a normal backpack with you.