If you're looking for a way to stay healthy and a convenient way of being able to grab groceries when you are riding your motorcycle then look no further as This unique mode of transportation allows you to combine the convenience of shopping with the fun of riding.
But the problem is…
Many riders don't have an idea about how to carry small or large size grocery bags on a bike if they don't have a proper carrier.
Well, you're in luck!
This article will teach you 10 tips that I've tried and have learned with time on how to carry groceries on your motorcycle in style.
From packing wisely to choosing the right grocery carrier, we'll cover everything you need to know!
So whether you're a beginner or a veteran rider, read on for some tips that will make your grocery run a breeze.
7 Handy Tips for Carrying Grocery Bags on a Motorcycle Without Losing Everything!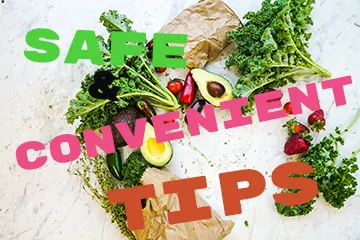 1. Use Motorcycle Topbox
Motorcycle top boxes are amazing for carrying groceries, and I'll show you just how I use mine to make grocery shopping on my bike a breeze. Apart from a helmet, it can accommodate 3 food bags inside it without any problem.
By attaching the top box to the bike's frame, it becomes easily accessible and perfect for transporting large quantities of food.
I can simply load my groceries into the box and ride away, without having to worry about anything spilling or getting ruined.
And It is large enough in which I could easily put my grocery shopping bags which are enough for a week.
Not only is this a great way to save time, but it's also a great way to stay healthy and fit since grocery shopping on your bike is a great way to get some fresh air and exercise!
Advantages Of Using A Motorcycle Topbox as a grocery carrier
It rests in its own place and doesn't grab your sitting space.
Despite this box, you can drive your motorcycle as before, as it does not affect the handling of your bike.
2. Use The Handle Of Your Bike
This method of groceries transportation will only work if you have one or two small to medium size bags to carry.
Simply attach your bags to anyone's handle then it will rest there with the support of the fuel tank and doesn't bother your ride.
Note: You can attach one medium size bag or two small-size bags to both handles of your motorcycle.
Precaution: Avoid carrying large-size and too-heavy grocery bags on your bike handles.
3. Use The Surface Of Your Fuel Tank
It sounds crazy!
But.
Yes, you can use this part of your motorcycle to carry your grocery bags on it. First, take all the small to medium grocery bags together and keep them in a large plastic bag.
Usually, plastic bags come with a large handle and you can twist them to bind a knot. Make some knots to secure your grocery items inside it.
Now use the extra portion of the bag handle to attach somewhere on the fuel tank so that it can move here but doesn't fall down.
The surface of the fuel tank supports your grocery pocket and it sits securely without even affecting your balance during riding.
4. Use Your Backpack
A backpack is also a practical way to carry some packets of groceries on your back. Whichever backpack you carry, its main compartment has some space that can accommodate some packets of grocery items easily.
Also Read: How To Bike With A Backpack 2023[No Shower]
And the rest of the grocery items you can carry either on your bike handle, top box, over the fuel tank, or other below mention places.
Also Read: Best Way To Carry Backpack On Bike [5 Easy Tips]
5. Use A Strap With a Close Buckle
What a small strap can do is a question of concern.
You can use it to haul some grocery bags on your bike to your home.
Yes, this is practical.
When you leave the grocery store, your hands are full of grocery bags. Suppose you have 4 bags. Grab their handles, use your strap, and take it through the holes of all the handles. When you cover all the bags through the strap, close it with its buckle.
Now divide equally all the bags and carry them to your every hand, this way the middle part of the strap remains empty. Now put it on the passenger seat of your motorcycle.
This acts as a pannier. This is a very convenient way to carry grocery bags on your motorcycle without losing your balance while riding.
6. Motorcycle Pannier
Pannier is one of the most convenient ways to carry groceries on your motorcycle. If you have a pair of panniers, it means you have enough space to carry a lot of groceries.
Sometimes I have to leave my motorcycle for some purpose. Pannier makes me worried free as I can lock it to ensure everything in it, remain safe and in its place.
You can find panniers for almost any motorcycle. You can find panniers for your scooter, dirt bike, moped, ATV, and motorcycle. I have been using panniers for more than 10 years.
The first pannier I bought was a Canfield pannier. It was made of canvas. I have been using it for years. It was really good. I often used it for grocery shopping.
Some Highlighted features of a pannier
Spacious
Waterproof
Lockable
Downside of pannier
Increases the rear width of your motorcycle.
7. Saddle Bag
The saddlebag is one of the most used accessories for motorcycles. If you are looking to add extra space to your motorcycle, a saddlebag is a great choice.
My experience with saddlebags is also great. I remember when I was in my college I had a saddlebag installed on my motorcycle. unlike a top box, it has a lot more space to carry extra grocery items in it.
Saddlebags are designed to fit on the seat and the backrest of the motorcycle and are available in different designs and sizes.
Also Read: How To Attach Messenger Bag To Bike Rack [Pro Tips]
---
Some Worst Grocery Carrying Ways That Should Be Avoided While Riding Your Motorcycle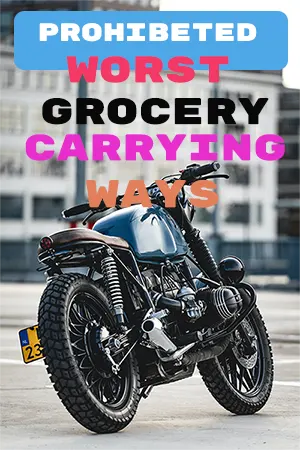 Apart from some best ways to carry grocery bags on your motorcycle, there are some worst ways to carry groceries on your motorcycle that should be avoided.
These ways are dangerous and if you want to carry your groceries on your motorcycle, then you must be careful.
1. The Shoulder Bag
The shoulder bag is one of the worst ways to carry groceries on your motorcycle. If you are carrying your groceries in a shoulder bag, then you should be very careful.
If you fall from your motorcycle while carrying your groceries in the shoulder bag, then it will be very dangerous.
2. Try To Carry Oversized Grocery packets On Your Motorcycle
If your grocery bag is bigger in size and you realize that carrying it on your motorcycle is going to be a challenge then, take your footstep backward and call your loved one to come with a car for this purpose.
This practice should always be avoided because this is so dangerous to carry a big size grocery bag on your bike. If your family members or friends are not available at that time for your help then must book a cab to carry your stuff in a safe manner.
Also Read: How To Carry Golf Clubs On A Motorcycle[Easy ways]
---
How To Carry Grocery On Your Bike (FAQ)
Q.1 How do you carry groceries on a bike without a rack?
You can carry groceries on your bike without a rack in many different ways. Some are listed below:
1. In your backpack.
2. In a saddlebag.
3. In a pannier.
4. On the fuel tank pocket or its surface.
5. In the top box.
6. Use a strap having a closed buckle.
All of these grocery-carrying methods are discussed in detail in this article. You can read them for more in-depth detail.
---
Conclusion
By reading this blog, you now know how to safely carry groceries on your motorcycle. In this blog, we want to share with you all the important things you need to know before carrying groceries on your motorcycle.
It is definitely not as risky as you may think, and can actually be a lot of fun! Not to mention, the benefits are numerous: You'll save time, money, and carbon emissions! Just make sure you know how to safely carry groceries on your bike so that everyone remains safe while enjoying this healthy pastime.
Read on for more tips and tricks on how to make grocery shopping a breeze on your motorcycle!