Women often confuse the two terms Handbag and Backpack. Women and girls are very choosy to select their personal item carriers. They want something New, Trendy, and Modern, and want to look elegant for every occasion.
The difference is very clear, a backpack is totally different thing to carry, and a handbag provides a compact, stylish, and modern look that can match your every wardrobe, and look pretty fashionable wherever you carry it.
If you think like that then you might be right to some extent but not completely. Now backpacks are not a subject of hiking, camping, or schooling but their use is now changed extensively.
Now backpacks come in some very stylish, fancy, and modern looks that can definitely confuse you about what to carry on a very special occasion between a backpack and a handbag.
If you are in the same dilemma then in this article, I'm going to clear each and every doubt regarding…
Which One To Carry For A Special Occasion, A Handbag Or A Backpack?
So without further ado let begin the comparison.
Handbag Vs Backpack: [Some Differences & Their Unique Features]
Are Handbags Better Than Backpacks?
Most women are confused between the two terms a purse and a handbag, but they are somehow different in some features.
A purse comes with two small handles and one long shoulder strap. This can be carried two ways, either by holding its handle or as a crossbody. Purses are very common to carry cash, debit, credit cards, credential cards, etc.
On the other hand, a handbag is a little bit bigger and more spacious than a purse. A handbag tends to carry cash, a smartphone, some cosmetics, car or home keys, fragrance bottles, etc. That means a handbag has more space and it is bigger in size than a purse.
Types Of Handbag
There are so many types of handbags available in the market. handbags offer a vast variety of styles that can match your personality, whatever you wear for different occasions.

On the other hand, backpacks are available in limited patterns and textures. You will find variety and style here, but not as much as a handbag offers.
Here, I've listed some different types and styles of handbags that can be carried for different occasions…
Shoulder handbag
Tote Handbag
Clutch handbag
Crossbody handbag
Satchels handbag
Duffle Handbag
Bucket Handbag
Hobo Handbags
Wristlet Handbags
Size & Space
Handbags are available in so many different sizes. Choosing the right size handbag is very important because you would never want a handbag that is stylish and fashionable but would empty 90%.
There are three types of handbags that you can choose according to your height-to-body weight ratio…
Small Scale Handbags are best to carry very limited essentials and are perfect for women or girls with a height of 5.5″ or smaller. This also helps to look larger.
Medium Scale Handbags are useful to carry some extra stuff along with cash, keys, bank cards, etc. They are perfect for women and girls with heights of 5.5″ to 6.5″. Medium-scale handbags help to look a little bit larger.
Large Scale Handbags provide more space with dedicated separate pockets. You can carry an umbrella and water bottles in these types of handbags. Only choose a large-scale handbag if you want to look smaller.
Accessibility
A handbag comes with one shoulder strap, and a handle that can be worn crossbody, on one shoulder close to your body, and by crook in your forearm. All of these options provide better and easy accessibility to its pockets so that you can pick the most essential things in no time without taking your handbag off.
Also Read: How To Keep Your Purse On Your Shoulder [Easily Solved]
7 Different Ways To Carry A Handbag
A Handbag can be carried in multiple ways, some of which are listed below…
The most common way to carry a Handbag is by carrying it in your hand.
You can carry your Handbag close to your body on one shoulder.
You can also carry your Handbag on one shoulder that swings around your body.
Keeping both straps of your Handbag on your elbow is also a nice carrying option.
You can also carry it crossbody with a Handbag in your front.
Crossbody having a Handbag in your back.
Some backpack purses style handbags are also very popular.
In terms of different carrying options definitely, a Handbag provides plenty of different carrying options. You can carry a Handbag for each and every occasion with every outfit.
Things That You Can Carry In A Handbag (Handbag Essentials List 2023)
Being a lady, you would know better
Still, I've listed some very common and must-have things that you should carry in your handbag in 2022.
Makeup kit ( Most Important)
Hairbrush
Hand sanitizer & Mask
Feminite Items(Crucial)
Power bank (to charge your phone when you are not using your phone)
Hygiene kit
Cardholder( To organize them inside the handbag)
Fragrances
Some essential stationaries such as pencil, pen, etc.
Some essential medicines.
It is suggested to group all of these essentials into plastic bags of different colors and label them with highlighted text so that you can find the needy things on time.
Are Backpacks Better Than Handbags?
Earlier it was thought that a backpack could be used for hiking, traveling, camping, or a gym, but now things are changed. Now backpacks are available in different styles, colors, and patterns, that can replace purses, handbags, and shoulder bags on some occasions.
Things that make a backpack better than a handbag are…
Style And Look
In terms of style and a fashionable appearance, a backpack is not that much appealing and fashionable as a Handbag is but now some backpacks come with a stylish and fashionable look.
Are Backpack Purses In Style In 2023?
Some backpack purses are also very popular among teenage girls, moms, and working women.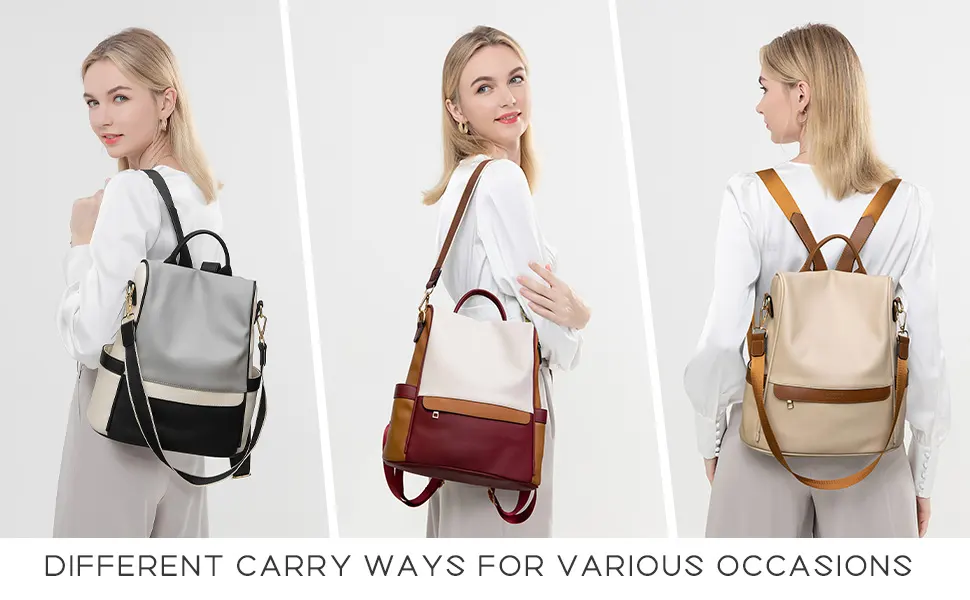 They are still in trend and due to their elegant design and premium hardware finish, they are still very popular and become style symbols for teenage girls, working women, and moms for travel, shopping, dating, commuting, etc.
Backpack Or Handbag For Travelling: Which One Is The Better Option?
If you travel a lot for your work, or if you are an amateur traveler, then carrying the right carrier with you is very important to enjoy your trip fullest.
Choosing between a backpack and a handbag for your travel also depends on how long is your trip.
If you are traveling within your hometown then you can carry a handbag, but if your trip is longer and if you are traveling out of the country then carrying a backpack along with a nice handbag could be the best choice for you.
Still, backpacks are a better choice to travel for a one or two-week trip due to their following features…
Spacious And Organization Options
The backpack comes with lots of space with several different pockets. It has a much larger space which you missed in a handbag. That means you can carry lots of stuff in a backpack than in a handbag.
Space For Your Tech Gadgets
A backpack comes with padded and cushioned separate pockets to carry your laptop, Ipad, and other tech gear. Some backpacks come with bottom support which ensures that your costly tech gadgets remain secure from small bumping.
Security
Carrying a backpack is a more secure and safe option for your essentials than carrying them in a handbag. Some backpacks come with an antitheft design that ensures your credential documents, credit cards, and debit cards remain safe in their cutproof and tearproof design.
Accessibility
A backpack can be worn either on your back or by its top handle. Carrying a backpack with its handle is not a convenient option as you can not hold it in your hand for a long time.
If you carry your backpack on your back then accessibility becomes quite difficult because it is quite a cumbersome job to put the thing in and take them out of a backpack.
Things That You Can Carry In A Backpack
A backpack allows you to carry a majority of things that you can not carry in a handbag or in a purse.
Some notebooks for your school.
A small to medium size laptop.
Water bottle in its side pockets.
Ipad
You can charge your mobile through a backpack(some) USB port connected to a power bank.
Separate compartment to carry your credential items.
Your cosmetic bag.
Hygienic items.
keys, fragrances.
Stationery items such as pencils, pens, etc.
And many more according to your preferences.
Not the end even a backpack allows carrying other items on its outside bungees, loops, and straps which is not possible in a handbag.
Is A Backpack Considered A Handbag?
No, a backpack is not considered a handbag due to the following reasons:
In terms of size and space, a backpack is a spacious and much bigger option to carry yourself than a handbag.
A backpack is either carried on your back or by using its handle, on the other hand, a handbag provides tons of different ways to carry according to your wardrobe and your personality.
A handbag offers so many different designs, textures, and patterns, that will enhance your appearance for every occasion, on the other hand, a backpack is also come with so many different designs, textures, and patterns but not as much as a handbag offers.
Handbags are very easily accessible, even if you don't need to take them off for accessing their pockets. On the other hand, you have to take your backpack off every time for keeping things in or keeping them out.
Handbag Or Backpack For Work: Which One To Choose
In a working environment carrying some office essentials along with your laptop, tablet, your smartphone, etc is very important.
Which one provides better space and functionalities to carry all the office essentials without losing the stylish appearance?
Backpacks are very popular for carrying your laptop, other tech gadgets, office folders, stationery items, water bottles, and many more things, which make them very convenient to carry.
Now the time is changed backpack designs and looks now changed completely and they look more fashionable and elegant than their traditional looks.
On the other hand, a handbag is also trendy to carry in the workplace but due to its limited form factor, you are forced to carry very few essential things with a handbag.
If you don't want to carry a backpack and are eagerly searching for some alternative, then a backpack purse will definitely satisfy your need.
Backpack Vs Handbag (FAQ)
On Which Occasion Should I Carry A Handbag?
handbags come in different designs, shapes, and textures, every type is quite different from the other and they are useful for different occasions.
1. Tote bags are very popular among college students, and working women. They are spacious and helpful to carry for some last-minute things for a long day of traveling.
2. Clutch, is a small purse that is very useful to carry cash, a smartphone, bank cards, and other small essentials. A Clutch bag can be carried on hand and is one of the best options if you don't want to carry heavy backpacks or tote bags.
3. Satchel handbag can be used to carry lipstick, a pen, a smartphone, earbuds, etc. Satchel is a medium-sized handbag (neither too small nor too big). These handbags are ideal to attend a weekend night party.
On Which Occasion Should I Carry A Backpack?
1. If you are planning for a long vacation trip, any hiking or camping trip then no other than a backpack keeps all of your things organized.
2. If you are a school student and you have to carry lots of books with a laptop with you.
3. Some fashionable and stylish backpack purses allow you to carry them on each and every occasion and look very adorable with your fancy outfit.