Having a shrunken shirt is pretty embarrassing if you are going to attend a very important business meeting, your college lecture, or on a very first date.
If you are facing the same issue that I have faced then in this article, I am going to share some self-applied simple and effective tips to stop your backpack from riding up your shirt.
So without any ado let's get started…
The first question is
Why Do Clothes Most Probably A Shirt Ride Up While carrying A Backpack?
There are several reasons behind Ride Up a shirt during backpacking.
Like…
The backpack is not close to your back properly.
The backpack has poor-quality shoulder straps.
The Shoulder straps are not adjustable.
The backpack is good quality but you are unable to adjust its straps and torso length properly.
How to Achieve A Perfect Fit of Your Backpack And Avoid Shirt Ride-Up Problem?
Most good-quality backpacks come with decent adjustable shoulder straps and a sternum strap. You can adjust the length of the shoulder straps by pulling them as much as your backpack becomes close to your back.
In that way, when you will walk or run with your backpack as the backpack is in its position, it will help to minimize the shirt ride-up problem.
Hiking backpacks have a waist belt that reduces the shaking and moving effect of your backpack. Torso length is also helpful to achieve a perfect fit that finds in most hiking or travel backpacks.
Other Methods To Avoid Shirt Ride-Up Problem
Try to tuck your shirt inside your underwear and then wear your trouser or jeans.
Tie your belt as much as you feel comfortable and your shirt won't come out easily.
Why Does My Backpack Make My Shirt Ride Up Other Reasons
Shirt Ride Up When I Lift Up My Hand.
This is a very common problem that everyone faces in his life. You want to move around but you feel trapped. Your shirt naturally moved up when you raise your hand over your head.
The solution to this problem is to wider the width of your shirt chest or sleeve.
You can also use a shirt stay Clip strap (View On Amazon) to keep your shirt in its place.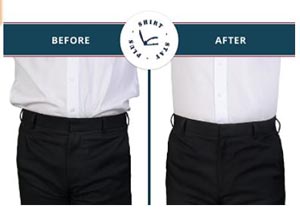 Shirt Ride Up When Running With My Backpack.
I'm a school student and I used to run to my school with my school backpack. It's good exercise and also helps to reduce laziness in my body.
But the problem is the back of my shirt rides up as I run with my backpack.
The reason for this problem is when you run, your shirt and backpack bounce.
There are two very simple solutions to this problem that I've already discussed above
1 . Try to keep your backpack close to your back.
2. Keep your shirt in its place by Tucking it inside your underwear and wearing your pant over it.
3. Wear a belt and tighten it as much as you feel comfortable.
Why Does My Shirt Ride Up When I Sleep?
I often noticed that when I sleep wearing a shirt and pants, in the morning, I find my shirt riding up to my chest and my pant riding up to my knee.
This is a very common problem that everyone faces in their day-to-day life. At night when we sleep, our body parts move to get the most comfortable position to sleep well.
Due to these body movements the shirt and pant do not stay their place and ride up from their initial position.
And sleeping wearing a shirt and pants is not the right way to get a good sleep.
Conclusion
Walking and running with a backpack can be a bad experience for you if you don't have a good adjustable backpack, or you have one but you don't know how to get a perfect fit by adjusting its shoulder straps and sternum strap.
I hope this article gives you the right solution to your problem of How To Stop a Backpack From Riding Up a Shirt?
FAQ: Shirt Ride-Up Problem With Backpack
How To Keep Shirt From Riding Up With Backpack?
You can follow some easy steps to avoid such problems…
1. Use some fixers that keep your shirt in its place and avoid losing its shape.
2. Must ensure that your backpack fits perfectly.
3. Adjust the backpack shoulder straps to achieve perfect fitting and avoid shirt ride-up problems.
Why Does My Backpack Pull My Shirt Up?
There are many reasons for this problem some of are listed below…
1. If you wear an oversized shirt or T-shirt.
2. Lose backpack shoulder straps.
3. Carrying an overstuffed backpack on your back.
4. Moving the body parts vigorously during wearing a backpack.