Gardening is an art. If you do it in a proper scientific way then it will not only make you feel mentally good but also will give a lot of health benefits to you and your family.
In the modern period where harmful pesticide is being used everywhere even in this condition, you and your family can remain healthy by growing fruits and vegetables in your garden or in the terrace.
A lot of challenges come up while gardening like plants and vegetables suffering from some diseases and chances of getting insects are also there. 
Fortunately, we have a solution to cope with such problems but the manual process takes too much of your precious time. 
You will need an applicator to spray fast and even in less time. In this article, we've listed some of the best backpack sprayers Under $100 which are easy to use, compact and lightweight. 
5 Best Backpack Sprayer Under $100 Review And Buying Guide
1. Field King 190328 Backpack Sprayer 4 Galon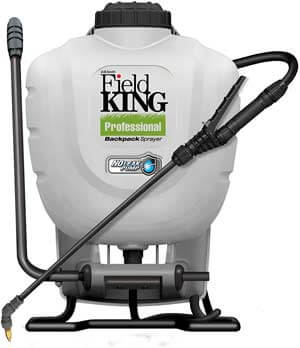 Its Features
Leakproof design.
Comes with 4 high-quality nozzles.
Easy to repair.
Well-padded straps and harness make it a comfortable and perfect fit. 
Field King is one of the best backpack sprayers on this list and we've selected it as an Editor Choice category due to its decent build, easy-to-use, and easy-to-set-up properties.
The sprayer is made with strong and rigid material. The assembly is very easy. its internal components are made with durable brass material. The sprayer is easy to repair even if you can repair it by yourself in a few minutes.
The capacity is 4 gallons and its weight might be around 37 pounds when full. Its straps are well padded. For perfect fitting on the chest and back, you can connect straps with the harness. You don't feel the weight on your back due to its good build quality.
The sprayer comes with 4 multipurpose nozzles for multiple usages so you don't need to buy extra components to make the job done. This is the Best Backpack Sprayer For herbicides.
2.
Solo 425 4-Gallon Backpack Sprayer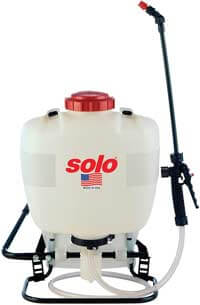 Its Features
4-gallon tank with 4.25-inch mouth opening.
Interchangeable handles for left/right-hand operation.
4 different spraying nozzles.
High pressure with 90 psi.
Well, padded polyester straps and added lumbar support.
The Solo 425 comes with a sturdy build and offers multiple functionalities which are important for a gardener.
Its shoulder straps are padded but need some improvements. We like its interchangeable handle helpful to operate with both hands.
The pressure generation capability of this sprayer is 90 psi which is good. The sprayer comes with 4 multipurpose nozzles for all types of spraying needs.
The sprayer hose length is also decent around 4 feet.  Shut off valve comes with a lock-on/ lock-off feature that can eliminate the stress from your hand.
Overall you would consider this sprayer but this is a little bit costlier than the previous one.  
3.
CHAPIN 61800 4Gal Backpack Sprayer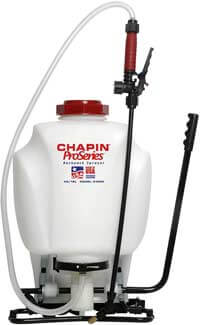 Its Features
4-gallon tank with 4-inch wide mouth opening.
3 stage filtration system.
Comes with 3 nozzles.
pressure 40-60 psi.
Well-padded & adjustable shoulder straps.
Chapin 61800 comes with a sturdy build. It is well built and provides proper protection to your shoulders. Its shoulder straps are well padded that provide comfort.
Due to its wide mouth, it is very easy to put chemicals in it.  The sprayer pressure capacity is between 40-60 psi.
We like its easy adjustable nozzle. Simply twist the nozzle to change the pattern from a fine mist to a coarse stream.
Its foam nozzle helps to figure out, how much liquid was sprayed. Its cushion grip shut-off assembly can be taken apart for cleaning and maintenance.
Overall this is a budget-oriented sprayer that could provide you the best value for your money.
4.
Roundup 190314 4Gal Backpack Sprayer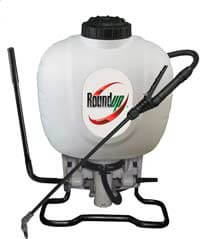 Its Features
4-gallon tank with multiple usabilities.
Comes with 3 multipurpose nozzles.
Heavy-duty poly wank with shut-off feature.
Viton seal and gasket throughout the pump.
Well-padded shoulder straps with built-in lumbar support.
This is another budget-oriented sprayer from Roundup. Its built quality is rigid and strong and it is a multipurpose sprayer that can be used for cleaning, fertilizing, sealing, etc.
The sprayer comes with a capacity of 4 gallons which is enough for your gardening need. The sprayer is comfortable to hold due to its padded shoulder straps.
It has built-in lumbar support that won't hurt your back. Its heavy-duty wank with a long hose pipe helps to spray in the hard-to-reach areas. 
The sprayer comes with 4 nozzles which are Poly adjustable nozzles that can convert the solid stream to a fine mist, High volume flat fan is useful to spray in a wide area like a lawn and a low-volume flat fan is helpful to spray in a small area of your garden. 
It also supports a Tee Jet Nozzle. Overall the Roundup sprayer comes with 1 year of warranty and could easily fit in your tight budget with lots of functionalities.
5. Oregon 518769 4 Gallon Backpack Sprayer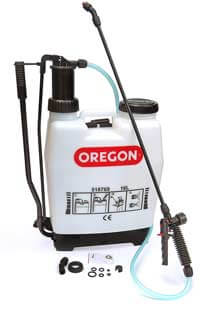 Its Features
Tank capacity- 4 gallon.
Weight- 7.75 pounds
6 feet long hose pipe.
2 choices of nozzles are a flat fan and adjustable cone.
Not everyone can spend too much on a backpack sprayer. The sprayer from Oregon is designed to keep in mind all those gardeners need who want an economical solution to deal with harmful incests to protect their fruits and vegetables.
The sprayer is economic and compact and comes with 2 nozzles placements which are flat and adjustable cones.
We don't like its straps. The shoulder straps are not so comfortable. It would have been better if some kind of foam had been used. 
Under the budget of 50$, you'll get a semi-translucent tank and filled mark for convenience of use. 
Buying Guide Of Best Backpack Sprayer Under $100
If you want to do gardening in a proper way then having all the necessary equipment is a must. 
Among them, one of the most useful pieces of equipment is Sprayer.  A backpack sprayer is a compact and easy-to-use garden gear that is very useful to keep your garden safe from harmful insects. 
In this section, we'll discuss 
How to Choose The Best Backpack Sprayer Under $100?
Not every sprayer is good for each Gardner. There are some key factors that must be understood before making a buying decision which are:
The term PSI stands for pounds per square inch and means how much pressure a backpack sprayer generates through its nozzle.
Normally an average PSI for a backpack sprayer is 70 psi. Some small models come with 40 psi pressure and a large one may use up to 150 psi. It totally depends on your need and the size of the garden. 
If your garden is small then there is no sense to buy a sprayer with more psi and in this case, a sprayer between the psi rating of 40 to 70 is enough for your need. 
If you are an owner of a large lawn with lots of hard-to-reach points then a sprayer of 70 psi or more will be right for you.
The capacity and the size of a tank depend on the size of the area where you want to spray. If you are not a professional then a sprayer with a capacity of 2 to 4 gallons is perfect for spraying a yard between 5000 to 10000 square feet.
The weight of the tank you feel heavy while it is full of pesticides or herbicides. 
Manual Pump or Motorized Pump
An internal pump is used to draw liquid outside of the tank. To operate this pump there is two procedure the first one is manual and the second one is by a motor.
In a manual way, a hand pump is used to draw liquid from the tank, which is attached to the backpack chamber. This procedure is useful only to spray in a small area. 
The hand-operated sprayer is not useful for a lawn because in this way hand mussels get tired. 
On the other hand, a motorized sprayer gets power from a battery or gas. A battery-powered sprayer is easy to set up and easy to use. Some best backpack sprayers for yards are operated on battery.
A battery-powered backpack sprayer costs around 150$ to 500$. The best backpack sprayer battery-powered is useful for a big project or long hours of spraying tasks.
The backpack sprayer comes with shoulder straps. In budget-oriented sprayers, you'll see straps are not well padded but in some pricey sprayers well-padded straps are used even though you can see some kind of lumbar support in some models. 
Conclusion
A backpack sprayer is an easy-to-use and compact tool to tackle harmful insects and take care of your garden. 
In our tight budget, a manual backpack sprayer for a small garden is a perfect choice. In our top 5 list, Feild King 190328 is a perfect choice for you that comes with lots of features with a comfortable fit.
If your budget is very tight around $50 then Chapin 61800 4 gallons could be the best value for money sprayer for you. 
If you are still confused then you can consider our detailed buying guide to choose the best backpack sprayer for Under $100 by yourself.
FAQ
Ans: A backpack sprayer cut down your time and effort in your gardening work and kills down weeds and fertilizes your garden soil in very less time. 
Ans: Usually a good quality backpack sprayer would last 4 to 5 years if care property.