If you are planning your next adventure trip and are confused between the two masterpieces namely Granite Gear Blaze 60 and Osprey Atmos then this is the right place to know every single detail about the two.
What I'm going to cover in this article is worth reading, because here, you will get all the similarities and differences between these two backpacks. 
I assure you after reading this in-depth analysis between Granite Gear Blaze and Osprey Atmos, you will be more clear about which one is best according to your need.
So without further ado…
Let's, walkthrough these two amazing hiking backpacks…
Granite Gear 60 Vs. Osprey Atmos 65: Similarities And Differences
Before we proceed further, let's have a look at their technical specification.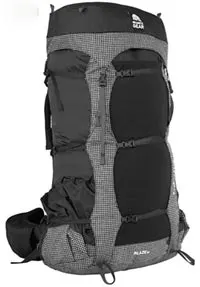 Volume: 60L
Sizes: 3 unisex and 2 women's, adjustable
Access: Top
Hydration: Yes
Material: 100D Robic High Tenacity  Nylon With Barrier DWR Main Body
Seeling Bag Compartment: No
Weight: 3 lbs
Weight Hauling Capacity: 45+lbs
Special Features: 
Lightweight  Backpack.
Comfortable with heavy loads.
6 thoughtfully designed pockets.
Fully adjustable torso length, shoulder straps, and hip belt.
Downside:
The size of the buckles is very small which is hard to operate with the gloves.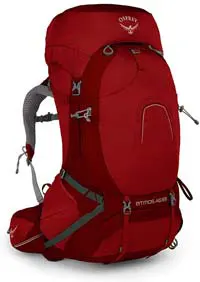 Volume: 65L
Sizes: 3 men's and women's, adjustable
Access: Top + Sleeping Bag Compartment
Hydration: Yes
Material: 
MAIN: 100D X 630D Nylon Dobby
ACCENT: 210D High Tenacity Nylon
BOTTOM: 420HD Nylon Packcloth
Seeling Bag Compartment: yes
Weight: 4.5 lbs
Weight Hauling Capacity: 45 to 50 lbs
Special Features:
9 thoughtfully designed pockets.
Nice ventilation & suspension.
Unique harness.
Nice poles attachment.
Downside:
You will feel uncomfortable with a load of more than 40lbs.
Osprey Atmos AG 65L Vs. Granite Gear Blaze 60L Rating Chart
Suspension And Comfort
Granite Gear –>

8/10

Osprey Atmos –>

8/10
Weight 
Granite Gear –>

9/10

Osprey Atmos –>

8/10
Features & Ease Of Use
Granite Gear –>

9/10

Osprey Atmos –>

8/10
Ventilation
Osprey Atmos –>

9/10

Granite Gear –>

8/10
Waterproof Body
Granite Gear –>

9/10

Osprey Atmos –>

9/10
Fitting & Adjustability
Granite Gear –>

9/10

Osprey Atmos –>

9/10
These two backpacks are best for a weekend hiking trip. You can easily go for a 5 to 6 days hiking trip with any one of them.  
but the question is which one feels more comfortable, durable, and functional so that you can enjoy your outdoor trip fullest.
Suspension And Comfort
Granite gear engineers did the best job to design its tremendous suspension. It is very effective to bear a heavy load with ease. Its Air Current frame flexes well allowing the backpack to move with your torso, also it has some channels to escape hot air and making it one of the best breathable back panels in our testing.
The quality of the foam which is used for filling in its back panel, lumbar area, and hip belt is top-notch. It is firm as well as soft at the same time and provides a comfortable healing experience with a heavy load.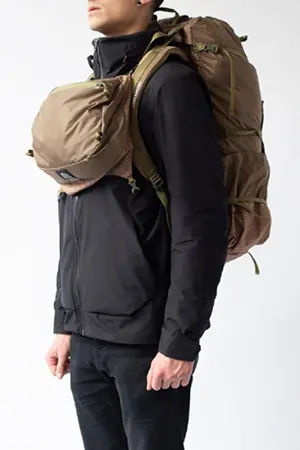 The main USP of this backpack is its Hip Belt. Its hip belt supports a heavy load very well despite not having any beefy frame. I found its shoulder straps are also effective to support the heavy load. The Downside is both shoulder straps and hip belts feel sweaty on warm days due to not having proper plushy breathable mesh on them. 
Osprey Atmos comes with Anti Gravity Suspension. Where a suspended trampoline mesh is very common now, what makes it one step ahead is its Anti-Gravity Suspension. 
Not only is its whole back panel but its hip belt is also fully suspended. The benefit of this design is that it distributes the overall weight evenly across your back and hip area.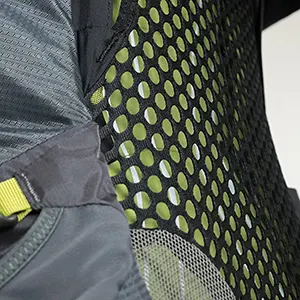 I found the backpack feels very comfortable with moderate weight. The perforated design of its shoulder straps works great to provide good comfort with moderate loads. 
Shoulder straps are thick around the shoulders and become thin at the mid-chest area. Its padded shoulder straps feel cushy but when the load goes beyond 40 pounds, I feel a little bit uncomfortable with this backpack.
Although in terms of the quality of suspension and comfort both the backpacks are identical, I feel Granite Gear is best in comfort when you carry a heavy load in your backpack.
Granite Gear hip belt and back panel seem sweaty and hot in warm weather. This is not the case with Osprey, Its well-ventilated harness makes Osprey Atmos a perfect choice for hiking in hot weather conditions.
Weight
Granite Gear Blaze 60L Weight
Weight plays a major role in any adventure trip. Sometimes we want to pack as light as possible but it doesn't happen.
In that situation, a lightweight pack that can manage a heavy load comfortably will make our day. The Granite Gear Blaze is one such backpack.
On the other hand, Osprey Atmos carries 4.5 pounds weight and it is 50% heavier than the Granite Gear. So here Granite Gear is a clear winner.
Features And Ease Of Use
Granite Gear Blaze 60L Features
Granite Gear comes with several useful features such as:
Pretty large hip belt pocket (Better than Osprey Atmos)
Nice large side pockets
Stretchy mesh pockets
Nice Top Lid (Removable)
The front has a hidden long zip for quick accessibility.
The Granite Gear hip belt pocket is large and much better than the Osprey Atmos. I'm able to stuff some neediest things such as a map, compass, some snacks, chapstick, headlamp, my go pro, or my smartphone on it.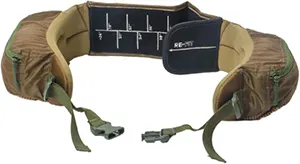 It has huge side water bottle pockets in which I'm able to store up to 750ml water bottles on each side.
I use its stretchy mesh front pocket to stuff my rain gear, pack cover, and light layer. Its top is slightly narrow and makes it difficult to access stuff from it but it's a great and useful pocket for me.
I really loved its removable top lid, I also use it as a waist belt many on my trips. It is a small size pocket that can be used to store toiletry bags, snacks, and other dirty bags inside it.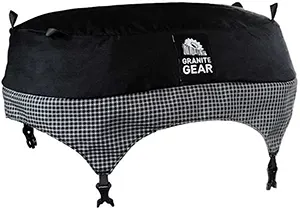 It has nice three compression straps at the front and can be used to lash something just outside the backpack.
You can see other three compression straps on both sides of the backpack which are useful to keep the load secure. Good for keeping the tent poles steady. 
Osprey Atmos AG 65L Features
Osprey Atmos also comes with some unique features such as:
Spacious and well-designed hip belt pockets.
Nice and spacious water bottle pockets.
Stretchy mesh stuff in the pocket.
Sleeping bag compartment with removable divider. (missing in Granite Gear)
Removable top lid, that can be used as a fanny pack using the waist belt.
I really impressed with the 9 thoughtfully designed pockets for different purposes while Granite Gear comes with only 6 organization pockets. 
Osprey hip belt pockets are as spacious as you've seen on Granite Gear. The side mesh water bottle pockets are designed differently. You can carry them either vertically or angled forward.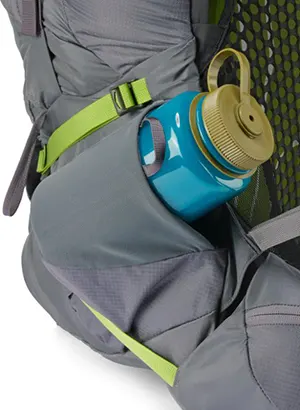 Such an arrangement has both positive and negative aspects like it makes it much easier to access them but the big bottles may encroach with the movement of our elbow.
Stretchy mesh pockets are also there as you've seen in Granite Gear. The pockets are helpful to stuff some spare layers, fuel bottles, and other items. 
Unlike Granite Gear, it has a nice sleeping bag compartment which is a plus point. The compartment comes with a removable divider, it has nice two large compression straps which can be used to carry a sleeping pad. 
Its top lid has dual zipper accessibility, you can remove it to cut access weight from the pack. The top lid can be used as a fanny pack using the waist belt.
Fitting And Adjustability
Let's find out which backpack comes with perfect fitting and adjustability.
Granite Gear Blaze 60L Fitting & Adjustability
Granite Gear comes with Air Current Frame which comes in 3 different sizes such as short, Reg, and long torso length. 
Each of them has four different spots to attach the shoulder straps. Attachment and detachment are pretty simple to get the perfect fit according to different body shapes.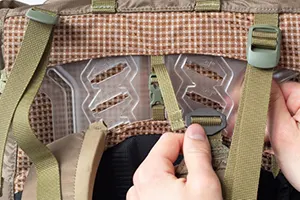 The waist belt of the Granite Gear is also expanded and compressed from 26 inches to 42 inches. The company claims that its Re-Fit waist belt is very convenient to use but I found the detachment and adjustment really hard. 
Overall the pack is pretty nice and fully adjustable and can fit every body type without any problem.
Osprey Atmos 65L Fitting & Adjustability
Osprey Atmos is available in three sizes and its Fit on the Fly System works great to achieve the desired fit.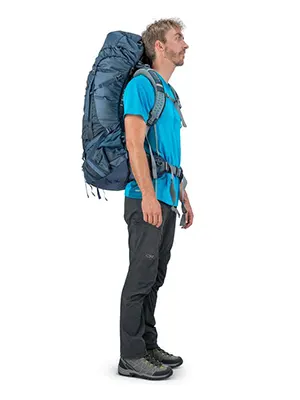 The backpack comes with several verticle points to adjust the shoulder straps according to different body shapes.
The hip belt is adjustable up to 6 inches to fit most of the waist sizes. The hip belt feels comfortable up to 40 pounds, and beyond this limit, it becomes less effective in carrying a heavyweight.
The Granite Gear hip belt is best and most supportive to carry heavyweight, while the Osprey hip belt is also effective till 40 pounds but beyond this, it's not that much comfortable as you feel with the Granite Gear.
Which One Is Worth Buying Between Granite Gear And Osprey Atmos?
Granite Gear is worth buying especially if you are planning a long hiking or outdoor adventure trip. This is a pricey backpack, but its Functionality, Lightweight, Comfortability, and quality of carrying a heavy load with ease are totally justifying its price
Osprey Atmos is known for its amazing ventilation and thoughtfully designed pockets. Osprey Almos performs better than the Granite Gear in hot weather conditions. 
This is also a great backpack but a little bit heavier than the Granite Gear.
Osprey Atmos 65 AG Vs. Granite Gear Blaze 60L: (FAQ)
Q.1 Is Granite Gear Waterproof?
Granite Gear comes with a water-repellent coating which is mentioned in its description as the backpack has DWR coating over the zippers as well as its whole body. 
Although the backpack is water-repellant for complete protection against heavy rain, using a dry pack cover is recommended.
Q.2 Is Osprey Atmos AG 65L  Waterproof?
Ospreay Atmos is also not fully waterproof. Its body comes with a water-repellent coating. Good to carry additional rain cover along with your backpack to ensure maximum protection from the water's wrath. 
Q.3 I'm Confused Between Granite Gear Blaze 60L And Osprey Atmos AG 65L, Which One To Choose?
I personally loved Granite Gear, because it is lightweight as well as a spacious backpack. 
You can stuff it for a long hiking trip, and its rolling top allows you to make it quite small when you don't want to stuff tons of gear as well. 
I admitted that the ventilation system is not that much great as you will find in Osprey Atmos but ultimately lowering a few lbs will directly affect the overall comfort of the whole body. That's why lowering a few lbs is worth the sacrifice of ventilation.