Yorkshire is one of the most famous toy dog breeds in the US. They are known for their small size but big personalities.
You never want to leave it at home if you are going on an outdoor trip, on a morning walk, a vet visit, etc.
This requires the best Yorkie Carry Bag that is secure, comfortable, and can circulate the inside temperature effectively. 
But choosing the right backpack for Yorkshire (Yorkie) is really a tricky task. 
Before going further, I am going to share some very basic but crucial information about Yorkie that helps in choosing the right backpack carrier for Yorkie. 
How To Choose The Best Yorkie Carry Bag In 2023?
The first and most important thing that you need to do very carefully is to take a proper measurement of your Yorkie so that you will not be stuck on the exchange process due to the size mismatch issue. 
How To Choose The Right Size Backpack Carrier For Yorkie?
At first, you have to measure the length, girth, and height of your dog, to choose perfect fit backpacks or bags for Yorkie. 
Just take a measurement tape to measure the different parameters of your dog that are mentioned above. 
The below size chart will give you a rough idea about the body dimension of Yorkie at different ages.  
If You Are In Hurry Then Go With This Feature Pack One of The Most Comfortable, Secure Backpacks For Your Dog.
if you don't have enough time to go through the whole article Then, I'm going to share a feature-rich dog backpack carrier for your dog.
K9 Sports PLus2 comes with a top-notch build quality with tons of amazing features which provide a comfortable and secure hauling experience for you. 
Some highlighted key features of this backpack: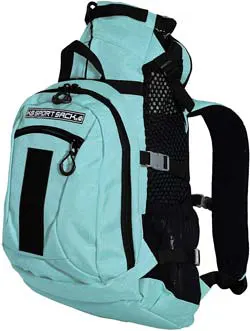 Huge storage capacity because it comes with an external removable storage bag.
Very comfortable and secure backpack.
Padded back panel and dual Lumbar support for your dog.
Full mesh side ventilation.
Sternum strap to distribute the whole weight evenly. 

| Backpack carriers for yorkie | Our Rating | Speciality | Weight | Dog friendliness rating | Material | Price |
| --- | --- | --- | --- | --- | --- | --- |
| | | Dual Lumbar support straps, Full mesh side ventilation, Detachable storage bag, Most comfortable shoulder straps, Sternum strap. | | | | |
| K9 Sports Air 2(Forward Facing) | | Dual Lumbar support straps, Full mesh side ventilation, Sternum strap, Nice resting base. | | | | |
| | | Single Lumbar support, Half mesh side ventilation, Budget-friendly. | | | | |
| | | Durable, Water resistant, nice bottom support, Laptop compartment, Hydration unable, Adjustable. | | | | |
| Knavigate Dog Carrier For Hiking | | Specially designed for hiking & biking, Internal frame, Hip belt, dog hood (Removable), Double lumbar support straps, Full mesh side ventilation, & much more... | | | | |
| | | Crash tested, roomy & ventilated, Airline approved desing. | | | Nylon with washable plush bedding. | |
| PetAmi Deluxe Pet Carrier | | Choices of several elegant colors, two sided entry, ventilated and proper back support. | | | | |
After measuring your dog's body thoughtfully, match the measurement data with the size chart that is available on the brand website and on Amazon. 
Which Brand Backpacks or Bags Carriers Are Best For Yorkie?
Most buyers get confused about which brand of backpack carrier provides a safe, comfortable, and long-lasting performance.
The question is pretty obvious because there are several brands that introduce their backpack carriers for Yorkshire (Yorkie) every year. 
Choosing the right one needs lots of research which is time-consuming. 
But don't worry we are here to help you.
After hours of research and reviewing more than 50 dog carrier backpacks of different brands in the past few months, we have listed the 5 best backpack carriers for Yorkie that came with all the latest features, security, durability, and feel comfortable for you and your dog. 
So without further ado let's get started…
7 Best Dog Carrier Backpack For Yorkie Detailed Review
1. K9 Sports Air Plus Adjustable Dog Carrier Backpack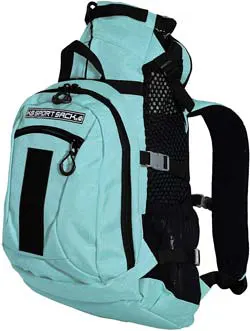 Its Features
Several Different Colors and Patterns.
Available in 4 different sizes.
Volume: 20 to 32 Litre
Weight Limit: 40lbs (18 kg).
K9 Sports Sack Plus 2 is the best dog carrier for your Yorkie if you want to go hiking, bike, & walking with your dog.
Why This Is The Best Dog Carrier Backpack for Yorkie among the others?
I really like its detachable small storage bag that is helpful to carry small dog essentials for a hiking trip. This is also beneficial if you are planning to biking with your dog.
To ensure the optimum comfort and safety of your Yorkie, it has double lumbar support straps, and full mesh side ventilation that ensure your dog feel comfortable inside the backpack, without affecting with the outside temperature instabilites. 
Padded resting base provides a good sitting experience. I found its shoulder straps are better than the other dog carriers of this series due to thick padding and soft lining. 
Backpack comes with side pockets which are good to carry water bottle and other small stuff on a trip. To ensure the shoulder straps remain its place when you are hiking or biking with your dog , a sturdy and adjustable sternum strap is given. 
Overall the backpack comes with tons of useful features which could make your experience better and enjoyable with your dog. 
2. K9 Sports Air 2 Adjustable Backpack For Yorkie
Best Travel Carrier For Yorkie (Lightest One)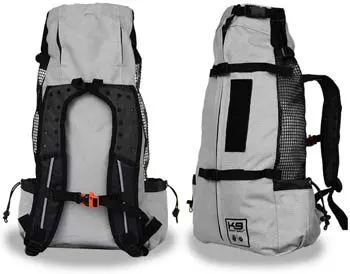 Its Features
4 Different Colors and Patterns.
Available in 3 different sizes.
Volume: 20 to 30 Litre
Weight Limit: 40lbs (18 kg).
Removable storage bag to carry extra stuff.
Weight: 12.6 ounces
The second-listed backpack is less pricey, lightweight, and small in size than the first one. This is K9 Sports Sack Air 2. 
Difference Between K9 Sports Sack Plus 2 And Air 2
Three features that are missing in Air 2 but have on Plus 2 are:
Removable Storage Bag.
Padded Back Panel.
Water Bladder Compatibility. 
These features are helpful if you often go on a long hiking or biking trip, but If you want to go on a short hiking, biking, and walking then you don't need these features. 
The backpack comes in 3 different sizes, to ensure your dog fits perfectly but must measure your dog's length and girth and match it with the given size chart to ensure the backpack fits perfectly to your dog. 
I bought a medium-sized Air 2 that was small for my 18lbs Yorkie. I returned it and a large-size bag fits her really well. 
The backpack comes with all the top features to ensure maximum comfort and security for you and your dog such as:
Full Mesh Side Ventilation.
Double Lumbar Support Straps. 
Dual Side Pockets.
Sternum Straps.
It has padded shoulder straps but they are way more comfortable and feel soft on your shoulders in Plus 2 than the Air 2.
Overall a perfect companion for you and your Yorkie, and is best for walking, biking, and for taking your dog on public transportation. 
3. K9 Sport Trainer (Budget Pick)
Best in Budget & Lightweight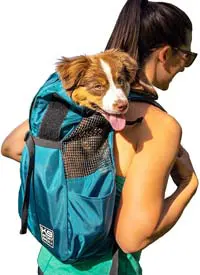 Its Features
Available in 4 different sizes.
Available in 4 colors Myrtle Green and Black.
Volume: 10 to 23 Litre
Weight Limit: 30lbs (14 kg).
If you are searching for a compact, lightweight, and comfortable dog carrier backpack under your tight budget then must try Sports Sack Trainer. 
My friend has Yorkshire whose length is 12″ and girth is 20″ and the XS size of the K9 Sports Sack Trainer makes him and his dog happy. 
Take a proper measurement before ordering a dog backpack carrier for your dog. 
Its small and compact size and minimalistic design make it a perfect dog carrier for daily morning walks, and for taking your Yorkie on public transportation.
The backpack is available in 4 sizes and 4 elegant colors. Due to its small size, it has a very small space, still, you are allowed to carry a poop bag and other small stuff inside it. 
The backpack is small in size and is made for small Yorkies, taking a large dog inside it could be not going to so comfortable and enjoyable experience for you and your dog.  
Some highlighted features are:
Half mesh ventilation.
One side pocket for a water bottle.
One lumbar support strap to support Yorkie's back.
Overall a budget-friendly small and a beautifully designed dog carrier for Yorkie, and is best for taking your dog for a morning walk and on public transport. 
4. Best Dog Carrier Backpack With Laptop Compartment For Yorkie
Best For Travelling, Hiking With Yorkie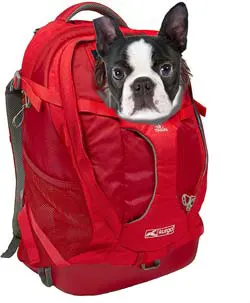 Its Features
Available in two colors black and Red.
Dimension 13" x 21" x 10". 
Fabric: Water resistance fabric.
Comes with a laptop compartment.
TSA Airline approved carrier
Weight: 4.41 ponds
The backpack from Kurgo comes with a different design and features. This is also a hiking backpack with some additional features. 
Its build quality matches the quality of hiking backpacks. My 10lbs Yorkshire feels comfortable with this backpack and this is such a few of those backpacks which he likes most. 
The backpack is spacious mainly its dog compartment is roomy and comes with mesh ventilation, which ensures proper airflow inside it. 
It has a dedicated 1.3 " thick padded laptop ( Up to 13 inches) compartment, but I won't recommend keeping the laptop and your dog in the same bag, It will hurt your dog or may damage your laptop. 
Still a good feature, that allows you to carry your laptop in case you are not hauling your dog with your backpack. 
Side water bottle pockets are nice and the mesh front opening from which your dog heads out is decent that allows your dog to enjoy the outside scenarios. 
To ensure you and your dog don't get dehydrated during hiking, It has a hydration pocket with a hose opening at the top. 
Its top and bottom part are made of water-resistant material to ensure your dog remains dry and feel comfortable when he sits inside this backpack. 
Thick padded and fully adjustable shoulder straps feel comfortable on the shoulder.  The hip belt and sternum straps distribute the overall weight of your backpack across your back.
The backpack comes with TSA and airline-approved design and is the best option for those who hike a lot and don't want to leave their dog at home. 
5. Knavigate Yorkie Carrier For Hiking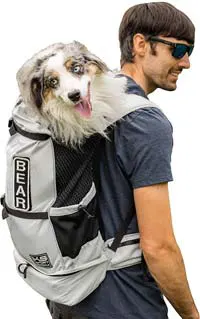 Its Features
Available in 4 different sizes.
Available in 2 colors Lunar Grey and Black.
Volume: 18 to 30 Litre
Weight Limit: 50lbs (23 kg).
If you want to carry your Yorkie for a long hiking trip or on public transport comfortably then Knavigate could be the one option for you. 
The backpack is roomy and has lots of space to carry other stuff for your hiking trip. You can also use its velcro at the front panel for custom patches.
Its dual-side pockets are good to carry water bottles. 
The backpack is comfortable for you and your Yorkshire. Its dog compartment has a padded base and to support your dog's back, its back panel is also well padded. Its pet lumber straps are also helpful to support the lumbar area of your dog.
We really like its full mesh side ventilation to maintain the proper airflow inside the backpack. 
The backpack is made with internal frame that supports the heavy load and its well-padded thick shoulder straps and waist belt helps to distribute the load evenly throughout your shoulders and hip area.
We find the hip belt has small pockets which are good to carry small items but some large size smartphones like iPhone 11 are not fitted inside it.
The downside of this backpack is the lack of accessibility. To get the things out from this backpack, you have to take the pack off or need the help of someone.
Overall In terms of comfort level K9 sports plus is slightly better than Knavigate but in terms of storage capacity and all the other features, Knavigate is a clear winner. 
6.
Sherpa Travel Yorkie Carrier Bag For Yorkie
Crash Tested, Roomy & Ventilated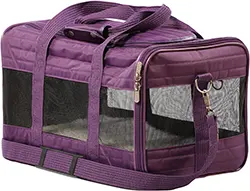 Its Physical Features
Available in 3 sizes-small, medium, and large.
Nylon exterior with washable plush bedding
Available in 7 different colors.
Weight: 1.83 Pounds
If backpacks don't please you then the Sherpa pet carrier will definitely impress you with its remarkable build quality.
Sherpa is a roomy pet carrier. It has a large space so that your Yorkshire won't feel trapped inside it. It has multiple entrances for your dog. You can put your Yorkie from the top as well as from the sides. 
Some highlighted features of this dog carrier are:
Spring wire frame allows it to push down its rear end a few inches to fit under the seat of an airplane.
Padded and adjustable carrying straps.
Machine washable.
Sherpa small and medium size pet carriers are airline approved. Its medium size is perfect for carrying a 10lbs Yorkie comfortably and safely. 
If your Yorkie weighs more than 10 lbs then you can consider its large size however large size of it is not an airline-approved model by most airlines. 
3-sided mesh ventilation and locking zippers provide your dog with a comfortable and secure sitting experience. 
It has a rear zipper pocket to carry a leash, snacks, and toys for your dog.
Many customers face zipper malfunction and quality of fabric issues with Sherpa. I think this is happening because Sherpa might downgrade the quality of its bags. 
The bag comes with car seat belt safety straps but Sherpa is not certified by any organization to ensure 100% safety of your pet. 
Overall a decent pet carrier for your dog if you do air travel very often. It is ventilated, spacious, and easy to carry.  
7. PetAmi Deluxe Pet Carrier Backpack For Small Dogs 
Another Cheapest Option For small Yorkie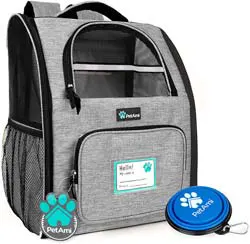 Its Features
Available in multiple colors.
Available in 1 size.
Weight Limit: 18 lbs.
This is a budget-friendly option for your Yorkshire.
My one friend that has a 6-year-old Yorkie with a weight of 6.2 lbs sits and stands up comfortably in this pet carrier. It has enough space that allows your dog to move his body easily.  
It has nice front and side mesh ventilation that keeps proper airflow inside the carrier. The top mesh zipper opening allows your Yorkie to head out.
It has mesh side pockets to carry some water bottles. It has sides and top openings that allow you to put in and take out your Yorkie from the carrier. 
It has wide and padded shoulder straps that feel comfortable on your shoulder but I found they get slipped during walking with this pet carrier. 
This budget-oriented pet carrier is best for those Yorkie parents who just bought a newborn Yorkie (Weight less than 18lbs) and want to travel with him. 
(FAQ)
Here in this section, I have answered some very basic yet important questions.
Are Pet Carrier Backpacks Safe For Yorkie?
Now manufacturers manufacture pet carrier backpacks that are mainly designed to provide a comfortable sitting experience for your dog.
These feature-rich backpack carriers help to tote your favorite puppy along with you wherever you are planning to go. 
But it also depends on how you carry your dog in a backpack and for how long. 
Can I Carry Yorkie on Airplane Under The Seat?
Yes definitely you can carry your Yorkshire on a plane and it can easily fit under the seat on most Airlines. 
You only need to buy a Dog carrier that comes with Airline approved design. 
I've listed one such kind of Pet carrier for your Yorkie, which is the Sherpa pet carrier. 
The carrier is large enough that can carry more than one Yorkies of small size as a carry-on. 
Conclusion
I hope this article will help you to choose the right pet carrier backpack for your Yorkie. After reviewing several dog carriers in the past few months, I would suggest going with the K9  Sport Sack Air Plus which comes with all the latest features, is comfortable for both of you, and is properly ventilated. 
It has a detachable storage bag that is a plus point for those who want to carry extra stuff with their backpack. 
If you are a hiking lover and want to carry your Yorkie on a hiking trail then K9 sport sack Knavigate. This is the most comfortable and secure dog backpack for hiking. 
If you want to carry a laptop during a hiking trip then a dog carrier backpack from Kurgo would be the best choice for you.