Philmont Scout Ranch is one of the largest youth camps in the world. It is located in New Mexico near a beautiful village called Cimarron. 
The best time to visit this adventurous place is between June to August. Every year more than 22000 backpacking lovers visit this place to explore the amazing backpacking trek and other outdoor activities. 
You can not enjoy any outdoor backpacking adventure trip without proper gear. 
One most important gear that is top in this list is a feature-rich, sturdy, durable, and comfortable backpack. 
But choosing the right backpack on your tight budget, especially for an adventure trip is a tricky task. 
But wait…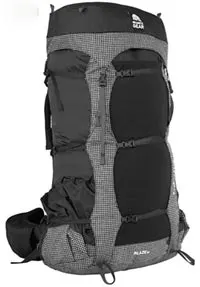 One of the Lightest backpacks that can carry heavy load comfortably.
Fully adjustable torso length.
Nice suspension And Proper Ventilation.
Tons of thoughtful pockets.
Multiple external straps.

You can also read Granite Gear every single feature in the detailed review section below. 
If you want to take your own buying decision then the below brief buying guide will definitely help you a lot.
There are several different brands that introduce their feature-rich backpacks every year which makes it a challenging and very confusing task that…
which one to choose and which one to avoid? 
So the question is …
How To Choose A Perfect Backpack For Philmont in 2023?
If you are in doubt then don't worry we are here to help you. 
Our Goal
Our goal is very clear, although you have to pay a few dollars extra never compromise the comfort and versatility of a backpack.
Size Of A Backpack For Philmont
The size of a backpack totally depends on the gear selection that you want to carry on the Philmont trek.
Normally a backpack with a 40 to 50L capacity is enough for a 10 to 12 days backpacking trip if you pack light and carry a small backpack. 
But, if you are going to use your tent gears and don't have the budget for compact backpacking gears then a backpack of 60L capacity is considerable. 
The truth is packing a backpack for Philmont like a backpacking trek in less than 60L capacity is difficult because the weight of trek food and crew gear is enough to down your morale to pack lighter than a 60L capacity. 
After hours of deep analysis of all the best available options in the market, I've listed some best backpacks for Philmont that come with fully adjustable torso length, top-class ventilation, decent comfort level, and most important give you the best value for your money. 
So without further ado
let's get started…
| Philmont Backpacks | Our Rating | Speciality | Weight | Volume | Material | Price |
| --- | --- | --- | --- | --- | --- | --- |
| | | One of the lightest backpacks in our test that can bear heavy load like charm. | | | 100D robic nylon with DWR coating | |
| | | Best For carrying Heavy Load And Come With Decent Fitting Mechanism | | | 420 HD nylon with DWR coating. | |
| | | Top-Notch Pockets, Ventilation & Comfort | | | Main body 100D nylon, bottom 420HD nylon. | |
| | | Medium Load Backpack For Comfortable Trip | | | 210D Honeycomb Criptorip & High Tenacity Nylon. | |
| | | Best For Pack Light & Explore More | | | 210D Nylon Mini Hex Diamond Ripstop | |
5 Best Backpacks For Philmont Detailed Review
1. Granite Gear Blaze 60L Backpack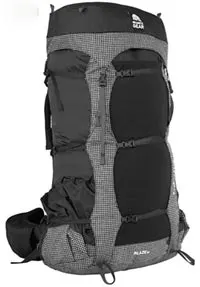 Its Features
Volume: 60L
Weight: 3 lbs
Material: 100D robic nylon with DWR coating.
Comes with hydration system.
This is the best backpack for backpacking in the Philmont-like adventurous trek.
Why This Backpack is Listed As An Editor Choice Award Tag In This List?
In terms of weight, functionalities, comfort, and adjustability, there is no best option other than Granite Gear Blaze.
Our Expert has a length of 6" and he finds a comfortable fit when he set the torso length between 18-19 inches.  
Its torso length can be set between 15-21 inches which can be fitted to the majority of Scouters having wide shoulders. 
Apart from being a perfect fit, it has numerous features such as its low weight and can handle up to 50 pounds of weight without losing the comfort level. Its Air current frame makes it possible. 
Its back panel escapes hot air effectively and keeps your sweaty back cool on hot days. 
It has a large size hip belt pocket that is really large. We are able to put our smartphone, map, compass, some protein bars, and other handy things. 
It also has side water bottle pockets, a top lid that can be removed if needed, and a long-hidden front zipper. 
Its suspension system is designed so well that you can hang some extra luxury items by using its 9 external straps. 
Overall due to its robust functionality and its lightweight and capability to carry a heavy load comfortably, this is an Expert Choice backpack on our list.
2. Osprey Aether 65 For Philmont Trek
Best For carrying Heavy Load And Better Fitting Mechanism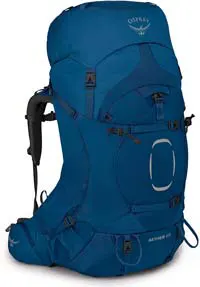 Its Features
Volume: 65L
Weight: 5 lbs
Material: 420 HD nylon with DWR coating.
Comes with a hydration system.
Comes with sleeping bag compartment.
The backpack from Osprey is for backpacking lovers who want to carry extra luxury gear without losing comfort on a Philmont arduous trek.
Osprey Aether 65 is known for its excellent weight-hauling capability and highly adjustable design. This is also a very comfortable pack that can bear the heavy load for long-distance travel. 
Aether is made of 420 Denier Nylon which is part of its top, bottom, and front body and makes it wear and tear-resistant. The rest of the parts are made of 210D to cut down their weight.
DWR coating and rain cover ensure you can use Aether in unexpected weather conditions. 
I found its suspension works great in weight handling and ventilation. It has an Airscape back panel which is quite different from the Anti Gravity.  Dense foam at back supports your back and also maintains proper airflow at your backside. 
Its shoulder straps have soft supportive foam which is thick at the top portion of it which makes it a comfortable pack for hauling heavyweight.  
You can access its internal compartment in three different ways. It has a large U-shaped front zipper to see everything in one sight. 
Its bottom has a sleeping bag compartment. It has a nice shove-in front pocket and it is good to carry wet items. Its hip belt pockets are also roomy and are good to carry phones, snacks, etc.
With a weight of 5 pounds, Osprey Aether is not a lightweight backpack but its suspension and new back panel design work very effectively to carry heavy weight without losing comfort. 
Overall a nice feature-rich backpack for a long trip that is spacious, and loaded with all the needy features. 
3. Osprey Atmos 65 Backpack For Philmont Trek
Better Ventilation And Suspension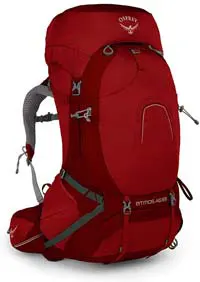 Its Features
Volume: 65L
Weight: 4.5 lbs
Material: Main body 100D nylon, bottom 420HD nylon.
Comes with a hydration system.
Comes with a sleeping bag compartment.
Aether 65L comes with a very user-friendly design, thoughtfully designed several pockets, nice suspension, and better ventilation but still, it has some cons that I'll discuss later on. 
Let's first talk about its build quality. Atmos is made of 210D nylon in its main body and 500D is used in its bottom area. I found the Anti-Gravity suspension works better than the Airscape back panel used in Aether.
It has a decent fitting mechanism due to its mesh back panel and hip belt design. Designers give keen importance to the design of its back panel and hip belt and make them fold inward naturally to ensure you will get a snug fit. 
The new model of it has 10 pounds less load-hauling capability than its previous model but on some trips, I'm able to haul 35+ pounds in it without losing comfort. 
I am really very impressed with its pockets, outer body lashing, and loop system. Its top lid comes with two zippered pockets, two mesh water bottle side pockets, and large-size hip belt pockets (both sides). 
I used to carry some fuel bottles, sandals, and other spare items in its meshy stretchable large stuff-it pocket. 
Overall, Its features are vast and I'm unable to cover all of them in this brief review. This is a pack that can easily bear up to 40 pounds of weight comfort and comes with tons of useful features. 
4. Gregory Zulu 55L Backpack For Philmont 
Best For Pack Light & Explore More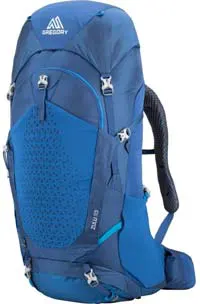 Its Features
Volume: 55L
Weight: 3.7 lbs
Available in 2 sizes.
Material: 210D Honeycomb Criptorip & High Tenacity Nylon.
Comes with a detachable hydration system.
Comes with a sleeping bag compartment.
Rain cover is included.
The backpack from Gregory is for those who want to experience a Philmont adventure first time. This is a low-volume backpack that can haul a medium load comfortably. 
The backpack feels comfortable due to the well-padded shoulder straps and waist belts. We like its suspension as it has a great ability to tote heavy loads comfortably.
Our Expert finds its ventilation is not as great as others have but a relatively breathable back panel works fine. 
We really like the position of the beavertail pocket at the front that can be used for carrying easily accessible rain gear like a rain jacket, etc. Its wide-opening top lid is great to put things in and provides a wide view to see all the inside stuff at one time.
The backpack comes in small/medium and medium/large sizes with 4 inches torso length that can fit the majority of people. 
Overall the backpack is best for packing light, walking more comfortably and in terms of durability, and adjustment, and carries a load of around 40 pounds. 
5. Osprey Farpoint 55 Backpack For Philmont 
Best For Pack Light & Explore More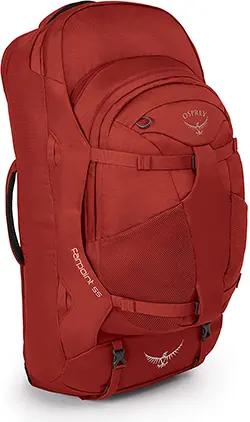 Its Features
Volume: 55L
Weight: 3.9 pounds
Available in 3 sizes.
Material:

210D Nylon Mini Hex Diamond Ripstop

Dimensions: 28 x 14 x 4 inches
If you are looking for a versatile travel backpack that can bear with you on a long walking trip, rock climbing, and backpacking in Philmont-like adventurous treks then Osprey Farpoint would never disappoint you. 
The backpack feels at its optimum comfort level when you pack it around 35 pounds.  It has a detachable day pack that has a scratch-free stash pocket and padded laptop and tablet sleeves. 
I really like its day pack that has tons of useful pockets and side mesh water bottle pockets that can hold 1 liter of water bottle easily.
The main compartment and detachable daypack are lockable that ensuring the proper security of your gear.
Its Light wireframe suspension makes it very comfortable and clever buckles on the day pack allow you to carry it in front of your body.
If we talk about durability then this pack is not that much durable as our above-listed packs are. 
But if you have lightweight backpacking gear and know how to pack light to cover long distances comfortably then this backpack could be for you. 
Common Doubts About Choosing The Right Backpack For Philmont(FAQ)
Here in this section, we've shorted out some very basic but important doubts regarding choosing the right backpack for Philmont. 
How Big A Backpack Do I Need For Philmont?
The size of the backpack totally depends on how much gear you want to carry with your backpack. 
If you pack light then a backpack with a capacity of 40 to 50L may be enough for a backpacker. 
But if you are backpacking with the crew, and family members then a 50L backpack does not fulfill your need in that case a backpack with more than 60L capacity is required. 
Benefits of Pack Light For Philmont Trek Adventure Trip
There are several benefits of packing light for any adventurous trip which are. 
You can enjoy more your Philmont adventurous trip comfortably and it makes your journey less difficult.
There are fewer chances of severe injury if you pack light. 
A Light pack allows you to hike fast and you have plenty of time to spend a little bit extra time with nature. 
Go light and make your Philmont-like adventure trip enjoyable and pleasant.
What Can You Not Bring To Philmont?
If you are planning to stay at the tent provided by Philmont then do not carry cotton items with you because they provide tent facilities there.
If you want to pack as light as possible then cut down the weight of a few items which you are not going to use like…
Avoid carrying a heavy backpack, sleeping pad, and bag. 
You can avoid a camp chair if you are not on a hiking trip.
Avoid carrying too many clothes and heavy boots with you. 
Conclusion
I hope this article will help you to choose the right backpack for your next Philmont adventurous trip.
If you want a lightweight, comfortable and feature-rich backpack that can carry a heavy load like a charm then no other than Granite Gear is best for you.
You can also go through our buying guide to choose the right backpack on your own.