Still using ordinary cardboard to carry your different networking tools, cables, and other equipment, then you need to make an upgrade to carry your networking tools safely and organized. 
But the question is… 
How To Choose The Best Network Technician Tool Bag? 
As a network technician, I hope you are not going to choose any random tool bag to carry your tools. The market is full of such bags and cases that claim to be the best tool bags for carrying your expensive tools. 
But are these bags really worth buying?
You have to understand some crucial points that help to make the final decision much easier. 
Characteristics Of A Right Networking Technician Tool Bag That You Have To Look For…
There are some key points you should remember before purchasing a networking technician bag…
A networking bag or case must be made of high-quality material. Nylon is a pretty common material that is known for its durability and long-lasting performance.
Thoughtful Organization Pockets
Network technician tools are different in size which means a backpack, a case, or a bag to carry networking tools must have plenty of small, medium, and large pockets to carry those networking tools safely and securely. 
Networking engineer requires lots of travel for their work, also networking tools are different in size and weight. 
It is mandatory to always choose a case that can carry your tools safely and securely without adding extra weight to your back. If you are using a backpack in hand or on your shoulder or if you are using a sling bag.  
This is a plus point for a networking tool bag for those technicians, who face frequent rain, where they live or commute. 
 A Good Networking Technician Tool Bag Should Have Enough Space To Carry These Most Common Networking Tools
Dozen of patch cables (6 inches to 15 feet)
Crimp
Plier
Drywall Saw
Tonner Tester
Cutter
Scissors
Taps(Duct, Electrical, Super Glue)
Some 30 feet of raw cable
RJ45 ends
Notepads
KeyStone
Wall Plates
But wait…
Choosing the right networking technician tool bag is a tricky task, as it requires lots of cumbersome research. 
But don't worry we are here to do all of the tiresome research for you.
Here, in this article, we have listed some best Network Technician Tool Bags, Backpacks, and cases, which are highly durable, spacious, and come with a ton of thoughtful organizer pockets.
Comparison Table
| Technician tool bags | Our Rating | Speciality | Weight | (Rating) Tool Hauling Capacity | Material | Price |
| --- | --- | --- | --- | --- | --- | --- |
| | | Dual compartment 53 pockets, 2 straps for cordless drill/driver and battery charger, Sturdy & Comfortable, LED light. | | | Wear and abrasion resistance | |
| | | 39 Pockets and Molded Base, Fully molded bottom, Orange interior for easy tool visibility, space for long screwdrivers, sturdy & comfortable. | | | 1680d ballistic weave for durability and water resistance. | |
| DEWALT Tool Bag With Light And USB Charging Port | | 33 Pockets, 2-level LED light, USB Charging Port, Large Pads for Back, Base Pad Feet | | | Iron material which is durable, Comes with a sturdy bottom. | |
| Fluke Pack30 Professional Tool Backpack | | 30 Heavy-Duty Pockets in 3 Storage Compartments, Waterproof Base, Laptop Compartment | | | Durable high-quality polyester, Waterproof | |
| Sleeri Network Electrician Mechanic Tool Bag | | Best for carrying small to medium hand tools in its 3 pockets, small & compact. | | | | |
5 Best Network Technician Tool Bags Detailed Review
1. CLC Custom Leathercraft Tool Backpack


Features
Dimension: 14.5 x 11 x 22.5 inches
Material: Wear and abrasion resistance
Weight: 5 pounds
Color: Black
PROS
The backpack is wear & abrasion resistance.
Love its design and versatility.
Comes with massive 53 pockets.
Two main storage compartments.
Comes with LED light that make much easier to find the right tools in dark.
Nice 2 straps keep your networking tools in place.
CONS
Little bit heavy when overloaded.
The first tool bag for network technicians is from the CLC store. The backpack is compact, durable, and versatile. 
The build quality is decent as it is made of wear and abrasion resistance material. I like its design and tons of thoughtful pockets and organization compartments.
It has 2 main compartments and 53 massive organization pockets to carry your networking tools steadily and safely.  53 pockets are also categorized into 3 different purposes such as…
 28 tool pockets.
14 accessories bit pockets.
11 multi-use pockets.
I really like its LED light at the top, which can be rotated 360 degrees and 3 levels of brightness allow it to be directed inside to identify the right tool and also in the work area.
Its side pockets are also spacious to carry some small tools such as pens, screwdrivers, tapes, etc.
The one thing I notice with this technician tool bag is some users find it a little bit bulky when they stuff a lot of tools inside it.
Overall the tool bag from CLC is one of the best networking tool bags that is very easy to fill up and it is very easy to access the needy tools from its main compartment.
2. Heavy Duty Network Technician Tool Bag From Klein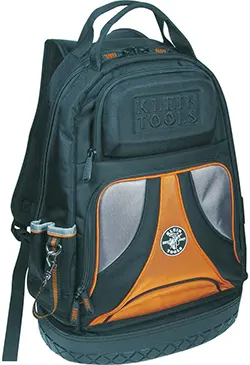 Features
Dimension: 14.5 x 7.25 x 20 inches
Material: 1680d Ballistic Weave
Weight: 6 pounds
Color: Black
PROS
Made of heavy duty 1680D ballistic Weave, highly durable & water resistance.
Comes with 39 pockets to carry maximum networking tools.
Front molded pocket to carry safety eye glasses.
Fully molded bottom for optimum safety of your tools.
Extra padded shoulder straps & handle
CONS
The quality of zippers need improvement.
The second network technician backpack is from Klein Store. the backpack is highly durable and looks very sturdy at first sight.
The build quality of this backpack is no doubt unquestionable. 1680d heavy-duty ballistic material with water resistance property makes it the perfect choice to work in challenging weather conditions.
The backpack comes with a molded front pocket to carry safety glasses and its molded bottom allows to throw it down on the damp and wet surfaces and can protect the inside tools from being wet.
It has nice 39 pockets to organize your small, medium, and large size tools so that you can pick the right tools with ease.
I found the quality of the zippers needs improvement, they have to upgrade them from plastic to other sturdy materials.
Overall the backpack is very convenient to carry due to its padded shoulder straps and handle. 
3. Dewalt With USB Charging Networking Tool Bag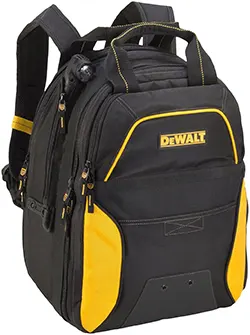 Features
Dimension: 13 x 17 x 10.25 inches
Material: Iron
Weight: 5.75 pounds
Color: Black & Yellow
PROS
Durable, wear & abrasion resistance.
USB charging dock can charge 2 devices simultanously.
Its padded base keep it dry in wet surface.
LED light for low light working condition.
Spacious to hold all of your networking tools. 
High quality zippers, padded web handle and adjustable shoulder straps make it comfortable and easy to carry.
CONS
Need 20 V battery to light up flash and for Charging purpose.
The Third networking tool bag in this list is from Dewalt. The bag looks compact and lightweight at first sight. 
It is made of Iron-based material with a padded base that keeps your bag and inside tools safe from being wet if you put your bag on a wet surface. 
The backpack has the facility to charge two devices simultaneously with its USB-based charging dock. For this, you have to purchase a 20v battery which is not included with this backpack. 
I really like its LED flashlight that is useful to light up the dark working place to work without any interruption. 
The backpack is very comfortable to carry due to its padded handles and back and also its adjustable shoulder straps provide a very convenient way to transport. 
You can store these networking tools in this tool backpack such as drills, extension cords, pliers, screwdrivers, wrench sets, drill bits, testers, and much more.
Overall a nice networking technician tool backpack with tons of organized storage pockets and comfortable back and shoulder straps.
4. Fluke Pack30 Professional Tool Bag


Features
Dimension: 20.8 x 14 x 10.3 inches
Material: Polyester
Weight: 4.98 pounds
Water Resistance
PROS
Made of high-quality durable Polyester.
30 + separate pockets to organize your tools. 
Water-resistance backpack.
six main storage compartments.
One dedicated laptop compartment.
Durable zippers 
CONS
The shoulder straps need improvement.
This could be one of the best backpacks for network technicians due to some really useful features. 
The first main highlighted feature of this tool backpack is its build quality. The Polyester material with a waterproof base makes it highly durable and protects your tools. 
It also helps to keep the backpack upright so that you can access the needy tools with ease.
I am really impressed with its roomy and organized pocket design. The tool backpack comes with 30+ separate pockets to carry different-different tools.  It has 6 dedicated main compartments, one for carrying a 20 inches laptop, and the others for carrying hand tools and safety tools.
To ensure extra safety and security of your gears, its top and front section is coated with EVA cover (Molded). Not only this, its outer body has clips, brackets, and straps to carry extra tools just outside of your bag.
Overall a nice tool backpack for network technicians to ensure that they can work with proper tools with optimum safety.
5. Best Network Electrician Mechanic Tool Bag From Sleeri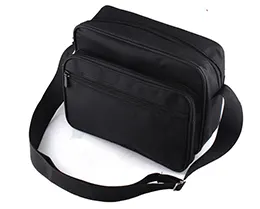 Features
Dimension: 26.92 x 21.59 x 2.79 cm
Material: Canvas
Weight: 249 gram
Color: Black
PROS
Best for carrying small to medium hand tools.
Small and lightweight tool bag.
It has 3 sperate pockets to store small to medium networking tools. 
Adjustable shoulder straps for convinient manuevaruing. 
CONS
Not good to carry big networking tools.
Very limited features and pockets.
If you are a network engineer and have to travel a lot for your work then a sling or shoulder bag from Sleeri could be the one choice for you.
As you see in the picture the bag looks very small and compact and is made of canvas material.  Its shoulder strap is adjustable and can be carried as a shoulder bag or as a sling bag.
It has nice 3 separate compartments to carry small to medium size networking tools without any problem. 
Overall a nice networking tool bag for network engineers who want to carry a small bag for their work.
Network Technician Tool Bag (FAQ)
Ans: According to our research a tool bag that has a nice arrangement of thoughtful pockets, is sturdy, wear and tear resistant, and is compact and lightweight could be the right network tool bag for your work.
In our research, a network tool bag from the CLC Store that is listed at the top of this article could be the right choice for you due to its several useful features.
Ans: I've listed 4 backpacks in this article that can be used as a network technician tool backpack.
If you want lots of space to carry most of your networking gear in one place then no doubt go with a CLC backpack. It has a LED light that can be rotated 360 degrees. 
If you want a backpack that has a nice arrangement to charge your devices on the go then go with the Leathercraft USB charging tool bag.
If you want a network technician tool bag that should be waterproof with lots of space and a durable design then go with Fluke Pack30.
Ans: If you don't want to carry lots of stuff in your networking tool bag then a shoulder or sling bag for your networking work could be the right choice for you.
Here, in this article, I've listed one of the best Network technician Shoulder Bags that can fulfill your requirements. 
Network Technician Tool Backpack Vs Network Technician Shoulder Bag
Many people find it difficult to choose between a backpack and a shoulder bag as a network technician. 
Here, in this section, we are going to clear this doubt. 
Network Technician Tool Backpack
A backpack is a more convenient and easy way to carry a heavy load on your back. Two shoulder straps distribute the overall weight of the backpack throughout the back and help to carry a heavy load with ease.
Both of your hands are free to do some extra activities. Some backpacks are made with external loops and bungees to hang additional tools just outside of the backpack.
If you are a network technician who needs to carry lots of networking gear then definitely goes with the Best Network Technician Tool Backpack.
Network Technician Shoulder Tool Bag
A shoulder bag or a sling bag is smaller in size than a backpack. Its small size makes it very convenient to carry some small to medium networking tools without hauling a bulky backpack on your back.
If your work requires small networking tools to carry then definitely the best network technician tool backpack could be the right tool for you. 
Choosing the right tool bag as a network technician is really a tricky task. This also depends on which type of tools you have to carry for your work.
If your work is related to carrying some medium to large tools then a backpack could be the right choice for you.
If the size of your tools is small to medium then a shoulder/sling bag could be the right choice for you. I've listed some best quality tool bags in this article, you can choose any one of them according to your need and budget.