The backpack in Fallout was introduced after the wild Appalachia update. This is an armor item that is very useful to increase the weight carrying capacity of a player. 
It helps to carry more supplies to survive for a long time and enjoy the game fully. 
Backpacks are available in different capacities at different levels. They are fully customizable and you can use different mods to use them according to your fashion sense and personal tastes.
Many players want to hide their backpacks due to many personal preferences. Whatever your preference is there are some straightforward steps to hide your backpack in the Fallout 76 game. 
Step-By-Step Guide To Hide Your Backpack In Fallout 76
If you want to show off your pretty dress to other players in the game then follow these steps to make your backpack invisible in Fallout 76:
Step 1: The ON/OFF toggle button is available in the game setting. What you do is turn your head into the game setting, which is headed as "Game".
Step 2: Under this section, the thirteenth option from the top is "Backpack Visible". By default, this option is "ON" as seen in the below picture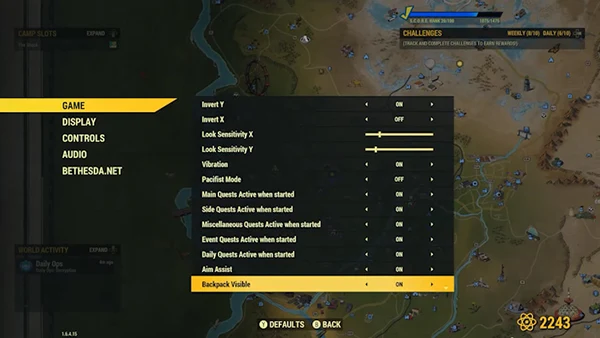 and you can see the backpack on the shoulder of the player as shown in the below image.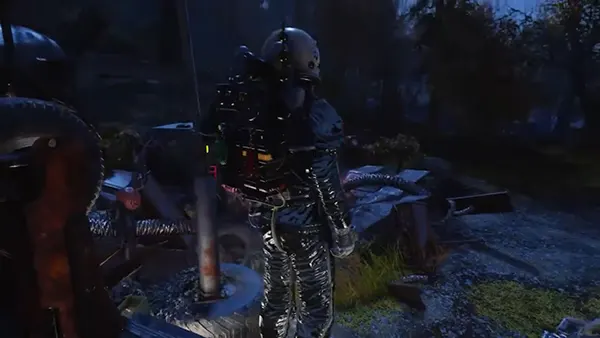 Step 3: Just set this option "OFF" as you see in the below image.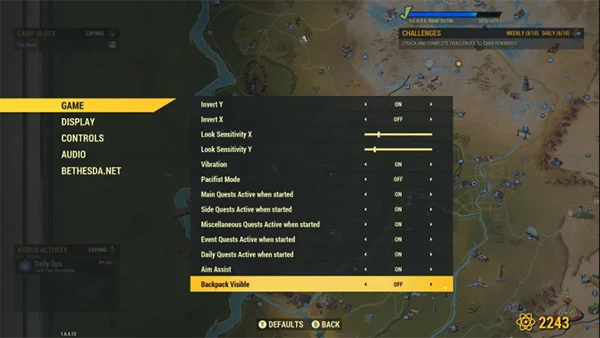 Step 4: Now your backpack becomes invisible to you and to other players. The good thing about this method is it hide only your backpack, not other players' backpack, and you can see other player backpacks.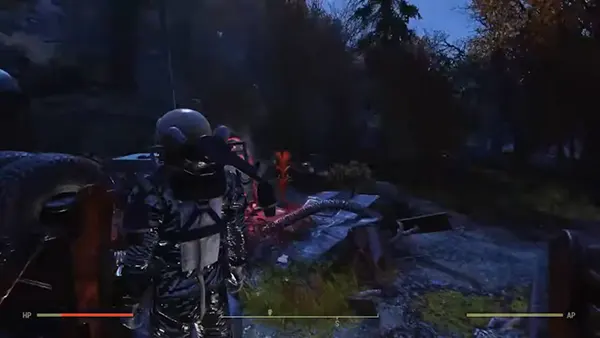 If you wear a jetpack then it remains visible. 
Note: This technique of hiding your backpack works perfectly and nobody will see your backpack. 
---
Why Do Fallout 76 Players want To Hide Their Backpack?
This totally depends on the player's personal preferences. Some players want to hide their backpacks for some of their characters while they want their backpacks visible to others. 
How Do I Get A Backpack In Fallout 76?
Many players are unable to get even a small backpack in Fallout 76. If you have played so many levels like 48, and 49 then you should have at least a small backpack to survive with more needy things. 
How To Get A Small Backpack In Fallout 76?
You can get a small backpack, by visiting Morgantown Airport. When you reach this airport, you have to find the overseer's cache located upstairs in the office. Here, you will get a plan for a small backpack inside the cache. 
How To Get A Standard (Large) Backpack In Fallout 76?
You can also get a large-size backpack by answering some quest. These quests are known as Order Of The Tadpole Quest and are designed for the pioneer scouts. You have to visit the Pioneer Scouts Camp to attend those quests.  
---
Conclusion About How To Hide Backpack In Fallout 76
Hiding your backpack in Fallout 76 is not a big deal, you can hide your backpack by simply following all the steps mentioned in this article. When you hide your backpack, this is invisible to all the players, and the good thing is it can not hide the other player's backpack. 
I've also covered, how you can get a backpack (small and a standard size) in Fallout 76 so that you can carry more needy armors without any problem and can enjoy your game fullest. 
---
FAQ
Q.1 How Can I Hide My Backpack?
Ans: You can hide your backpack by entering into the Fallout game setting heading "Game". Under this section, you can see the thirteenth (13th) namely "Backpack Visible". Just off this option to invisible your backpack. 
Q.2 How I Show My Backpack In Fallout 76?
Ans: You can show your invisible backpack by vising the game setting with the heading "Game". Under this setting scroll down to see the 13th option namely backpack visible. Just On this option to show your backpack.