Appalachian is one of the most favorite hiking trails for hikers which spread from mount Katahdin to Springer mountain. It is an approximately 2175 miles long trail that stretches from Georgia to Maine. 
If you are planning for an Appalachian trip, then this is going to be a memorable and exciting trip because it has many scenic views and beautiful places to visit.
However, it is not easy to hike on this trail. You should be prepared before you start hiking. You can start hiking with the best hiking shoes for the Appalachian Trail. These hiking shoes are light and comfortable to wear.
They have a good grip and good traction. They also have a breathable mesh upper. They are designed for people who want to go hiking on the Appalachian Trail.
But the market is full of numerous hiking shoes in every price range, which makes you in the puzzle about which one to buy that can justify your needs. 
So the question is…
How To Choose The Right Shoes For Appalachian Trail Trip?
As a backpacker and amateur hiker, I have tasted many types of shoes over the year. 
With my love for hiking, I have tried various types of shoes and footwear such as Hiking boots, Trekking boots, and Trail runners, Hiking shoes During my trail trips, I found that majority of people prefer to wear trail runners for their hiking trips, and hiking boot is their second choice. 
Very few hikers go with hiking shoes. I also found that lots of those hikers who have completed their hiking trip successfully wear trail runners, and hiking shoes. 
Find out which shoe will keep your feet dry and comfortable, and protect them from the sharp rocks and roots of the Appalachian Trail.
People by mistake invest hundreds of dollars on those hiking shoes that come with a lack of protection, and comfort, this is why I'm here to help you in choosing the right hiking shoes for the Appalachian trail trip which are comfortable, durable, and protect your feet when you walk on the tough and challenging trail.
So without further ado…
Let's get started…
7 Best Shoes For Appalachian Trail 2021 [Trusted And Durable]
1. Saloman Men's X Ultra Hiking Shoes For Appalachian Trail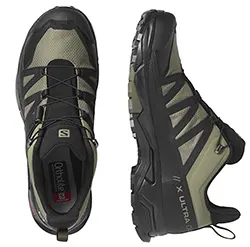 Features
Upper material: Textile / Synthetic
Gore-Tex membrane Waterproofing Material
Weight: 1.76 lbs
Midsole: EnergyCell
Outsole: Contagrip MA Rubber
Quicklace lacing system
Salomon is known for its top-quality hiking and trail shoes. If you are looking to buy hiking shoes that will stand up to tough situations, then look no further than this pair. These hiking shoes are designed specifically for Appalachian hiking on rocky trails
Let's have a look at its features:
Durability: The shoe is constructed by using lightweight synthetic material, which is used in its large part to make it durable and super sturdy. To ensure that the shoe can deliver long-term durability the seems of its upper portions are welded rather than sewn. 
Comfort: Lacing on this hiking shoe is very quick and convenient thanks to its Quicklace lacing system for a streamlined lacing experience. Whether you want to get rid of sand or dust from the shoe or have to go inside and outside of your tent very often, taking this shoe on and off is hassle free without tangling in tying or untying its laces.
The company put several technological advancements to enhance the comfort of its hiking shoes. Its wide gusseted tongue and Ortholite Sockliner don't let you realize inner seams or stitching.
Weight: Its weight is only 1.76 pounds which makes it one of the lightest hiking shoes available on the market. The company achieves this lightweight by using EnergyCell foam EVA midsole on this model. Using slim ADV-C chassis could be another reason behind it. 
Support: In my testing, I found the hiking shoe from Salomon is not only lightweight but also provides top-level support to your foot. ADV-C Chassis provide structural stability and provide much more support to your foot when you walk or run on the Appalachian Trail. 
Traction: Its outsole is made of Contagrip MA rubber compound which is known for its amazing durability and stickiness. The rubber is soft and provides a long-lasting performance on your several hiking trips.
Overall this is one of the best hiking shoes whose performance is at the top level in our various testing. The shoe is not expensive but performs decently on your day-to-day hiking trip. 
Pros
Deliver excellent performance to the Appalachian hikers.
Water resistance is best for the wet surface.
One of the lightweight hiking shoes for your trip.
Comes with great traction and support.
Cons
The Quicklace feature is my favorite but might be not for others.
Some users face that its cuff is uncomfortable on their ankle.
2. Salomon Men's Outline Hiking Shoe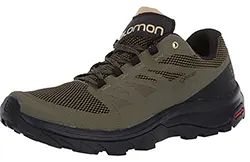 Features
Upper material: Waterproof textile
GORE-TEX Waterproofing Linning
Weight:  1.62 lbs
Midsole: Injected EVA
Outsole: Nonmarking Contagrip rubber
The flat laces lacing system
This is another amazing hiking shoe with good traction and narrow fitting if you don't want to spend $150 on a hiking shoe. 
This is Salomon Outline. This is a comfortable, waterproof, and lightweight hiking shoe that everyone wants to wear on the Appalachian trip. 
Let's have a look at its features:
Durability: The shoes seem less durable as per the review of some testers. They complained about the outsole is separated from its upper portion. Thread on the heel worn down is also faced by a few testers.  
However, some testers give some positive feedback about its Gore-Tex liner, which keeps its upper portion dry in some challenging situations.
Comfort: This shoe is capable of providing all-day comfort so that you can explore more of your Appalachian trip without being tired. Its injected EVA midsole & OrthoLite insoles make you feel comfortable even walking or running on the rocky trail.
Its narrow design might be not suitable for the hikers having wider feet but this could be the right choice for those who have small feet and want a sloppy fit with a hiking shoe. 
 Weight: When it comes to hiking shoes, the best ones are the ones that don't weigh you down. You need a lightweight pair of shoes that are comfortable enough for your feet to last, even when you're out for days at a time. That's where the Salomon Outline Hiking Shoe comes in. Its weight is under 2 pounds. It's a perfect balance between lightweight and sturdy build, but still packs a powerful punch when you need it.
Overall a nice hiking shoe that offers a little bit of everything. It has an insole and collar to enhance comfort level, its reliable traction is supportive and stable. 
Pros
A waterproof shoe with decent traction and stability.
The shoe has proper cushioning and provides desired comfort even after its lightweight.
The performance of the shoe is pretty impressive in various terrains. 
Teo cap cover is made with outline GTX which prevents water seepage. 
 
Cons
You might face the sizing issue due to its narrow outline.
3. Best Trail Running Shoe For Appalachian Trail From Salomon S/Lab Ultra3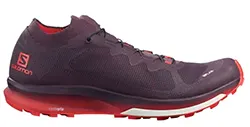 Features
Upper material: Anti-Debris mesh with sockliner
GORE-TEX Waterproofing Linning
Weight:  610g/ 21.5 oz
Midsole: Energy Save PU foam with Profeel Film rock protection.
Comes with Rock Plate.
Outsole: Contagrip MA Rubber
Quicklace with garage.
If you want a stable, unbeatable fit, highly comfortable, and lightweight trail running shoe for your Appalachian trip then Salomon Ultra 3 is one of the best shoes right now. 
Better Foot Protection: The midsole of this shoe is made of PU foam which very effectively protects your feet from sharp rocks. I really like the quality of its foam which is durable and has better shock absorption, it doesn't wear out easily and is not spongy or squishy like other materials. In terms of foot protection, this shoe gets the top space among the other hiking shoes.
Traction: The shoe has excellent traction. Thanks to its Contagrip MA traction, which allows you to run and walk faster on the stony or rocky trail without losing comfort. But its soft rubber may wear down quickly if you use it every day on a harsh or rough surface. 
Sensitivity: Although Salomon is a most comfortable, durable, lightweight hiking shoe, you will find this not very sensitive. You can feel the trail when you walk or run over it. 
Stability Test: The shoe is undoubtedly the best in this segment. The reason is its perfect fit. Its fitting is unmatchable and there is no rival of this shoe in terms of fitting. Your foot remains snug and won't slip or move around. 
Comfort: The shoe offers unmatchable comfort due to its perfect fitting, and its shape. The shoe is neither broad nor too narrow. Here, you will find a balance between its design and craftsmanship. 
Overall the hiking shoe from Solomon is a perfect companion for those who want to explore the unseen beauty Appalachian trail, without worrying about their feet. 
Pros
The shoe offers an unmatchable fit.
Very comfortable on a tough trail.
Unrivaled underfoot protection. 
Absorbe very little water on the wet trails. 
Ankle color keep dust and debris out. 
One of the most stable hiking shoes among others.
Cons
Expensive.
It is advisable to wear ankle height socks.
4. Altra Peak 6 Trail Running Shoe For Appalachian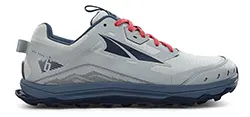 Features
Upper material: Quick-Dry Air Mesh
Weight:  550g/ 19.4 oz.
Midsole: Altra EGO foam.
Comes with Rock Plate.
Available in 5 colors. 
Outsole: MaxTrac rubber, TrailClaw lugs
Traditional lacing system.
The shoe for Altra comes with a balance of stability and durability. There are some changes in its lacing system to its previous model. The shoe offers a wider area to the hikers, which means you will face a fitting issue if your feet are narrow. 
Let's have a look at its features:
Protection: The new Alter EGO foam of the Lone Peak 6 is a new foam that's been specifically formulated for hiking. The foam performs best up to a few miles but after that, I've noticed that the midsole is not as supportive as before. The upper is made of tightly woven mesh which prevents sands and pabbles from going inside.  
Traction: The trail claw lug design and a wide toe box provide the ultimate grip and traction on the rugged trails of the Appalachian Trail. The trailclaws also offer a soft and cushioned sole for comfortable walking long distances. MaxTrac outsole has soft rubber which helps to climb rock slabs. 
Weight: The weight of the shoe is 9 oz. This is because of its TPU film. The quick dry and draining system also helps to achieve such a lightweight even having enough cushioning underfoot.
Comfort: Soft EGO foam and ultralight mesh uppers feel very comfortable while you walking or running across the trail. Narrow feet hikers face sizing issues with this shoe. It
Stability: Wide feet and zero drop design make it stable, if you don't have narrow feet, otherwise your feet slide and move around in this shoe.
Overall, this hiking shoe is most suitable for wide feet due to its zero drop design and is good for all types of trails. 
Pros
The shoes feel soft and flexible which is enough to provide a sensible level of ground feel. 
Lightweight shoes for Appalachian trial.
Stable and comfortable shoes. 
Cons
Good for wide feet and might be not suitable for narrow feet hikers.
I found the cushion of this shoe worn quickly. 
5. Altra Peak 4 Trail Running Shoe For Appalachian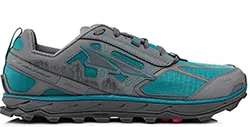 Features
Upper material: thinner ripstop nylon
Weight:  23.9 ounces for each pair.
Midsole: Thinner ripstop nylon.
 StoneGuard with a thin layer of rubbery plastic.
Outsole: Altra's Maxtrac rubber
If you don't want to compromise with the experience that you want during your Appalachian trip (AT) then the hiking shoe from Altra Lone Peak is a perfect choice for hikers, runners, and backpackers, who need a lightweight, durable, and supportive pair of shoes for their AT hike.
Note: In terms of performance and durability Altra Peak 6 (listed above) is better than the Peak 4.
It has a wider and roomy fit toe box which is made of a wide leather overlay. 
This hiking shoe has a trail-ready design with an innovative and versatile midsole system that helps stabilize the foot, reduce shock and fatigue, and keep you on the trail longer.
Shoes come with water drainage hones located in the overlay reinforcements and in the toe cap. I found the shoe is the least absorptive and is capable of draining water quickly as compared to its other competitors. 
The TrailClaw lug pattern gives you extra traction and safety on challenging trails, while the Grippier MaxTrac outsole and StoneGuard rock plates are engineered to keep you stable on rugged terrain.
With the help of the Altra ZeroDrop platform, your feet will be naturally aligned as you run. And the GaiterTrap hook-and-loop tab keeps your gaiters (sold separately) secured to your trail shoes so you don't lose them along the way.
Pros
Highly durable upper fabric with moisture-wicking liner material inside makes it perfect for AT. 
This is a highly comfortable shoe for the trail runner.
Drain water well.
Least absorptive and quick drainage system. 
A sensitive and responsive shoe for your Appalachian trail trip. 
Cons
Little bit heavy
Its rubber outsole grips the dry rock very well but is not as grippy as on the wet rock.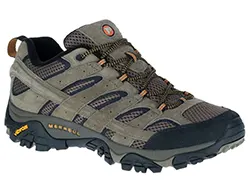 Features
Upper material: Suede leather and mesh
 No waterproof.
Weight: 2.20 lbs /1kg.
Midsole: EVA.
Outsole: Vibram TC5+
The Moab 2 Vent Hiking Shoe by Merrell is a hiking shoe with a ventilated mesh upper, a lace closure, and a toe guard. This shoe is a great option for those who like to hike on the Appalachian Trail or take trips to the desert.
These hiking shoes are made with pig suede leather and breathable mesh uppers. The traditional lace closure keeps out debris while the bellows tongue keeps the water out. The protective and abrasion-resistant toe cap keeps your feet safe from rocks and other obstacles.
The protective and abrasion-resistant toe cap keeps your feet safe from rocks and other obstacles.
The breathable mesh lining keeps your feet cool in the summer and warm in the winter. The Merrell Air Cushion in the heel absorbs shock and adds stability.
Overall the shoe is very comfortable and durable and can easily fit under your tight budget.
Pros
You will get a comfortable hiking experience on most of the trails.
Comes with decent traction.
A durable shoe for the Appalachian trip.
Good for a day hiking trip. 
Cons
Not suitable for more than one backpacking trip.
A heavy shoe for your trip.
Not a waterproof hiking shoe.
A hiking shoe with average performance. 
7. Oboz Firebrand II B-Dry Hiking Shoe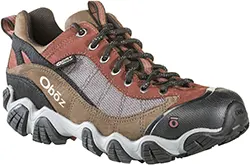 Features
Upper material: Nubuck leather/nylon mesh
BDry Waterproof lining.
Weight: 2.46 lbs /1.12kg.
Midsole: EVA.
Outsole: Rubber
If you come across to buy this hiking shoe for your Appalachian trip, then this review will help you to understand, if this shoe is worth buying or not. 
If you are a trail hiker and want a durable, supportive, and protective shoe for your trail hiking then this may be one option for you. 
The easy lacing system, OFit insole, and durable toe cap make it comfortable to wear while extra leather on its body makes it difficult to breathe in the summer.
The weight of this hiking shoe is high but provides good support to your feet on the challenging trail. 
I found its burly outsole, midsole, and dual-layer EVA foam provide good support whether you are on the sandy trail or on the wet and muddy trail. 
its traction works well only in light hiking, and it performs average on tough and rough trails. The shoes are water resistant and can keep your feet dry up to 4.2 inches at flood height, but due to the heavy material breathability is not great. 
Pros
The hiking shoe from Oboz is durable.

The shoe provides good support to your feet.
Cons
The shoe does not look good.
You can easily feel its weight when you wear it. 
The shoe is good for a day hiking and overnight backpacking trip, for a long hiking trip you will get an average performance from it. 
A Detailed Buying Guide Of Choosing The Right Shoes For Appalachian Trail
There are different types of shoes hikers prefer to wear on their Appalachian Trail trip which are: 
Sandals
Hiking shoes
Trail runners 
Hiking boots
The majority of hikers prefer to buy trail runner shoes for their Appalachian hiking trip. Almost all age groups people love to wear them for their adventure trips, and hiking shoe is their second choice and is popular among the 40 to 70 years of age group people. 
In my research which is conducted among 200 hikers, I've found that people prefer to wear lightweight hiking shoes rather than sturdy and heavy shoes. 
Hiking boots are less popular choices for hikers due to the chances of completing the trail hiking trip comfortably being very less. Where 80% of hikers have completed their hiking trip by wearing trail running shoes, this percentage dropped to 60 % for a hiking boot. 
When Do Hikers Prefer To Change Their Shoes?
Hikers want a shoe that is lightweight, comfortable, and sturdy to tackle the tough situation of the Appalachian Trail. Almost 10% of hikers change their shoes due to fitting issues, 
pain, or blister. The most common time for hikers to change their shoes is during the first two weeks of hiking. Sizing is another main factor in changing shoes. Some hikers find that the size of their feet increases, they become wide, and they want a shoe having wider underfoot space, for comfortable foot placement. 
How Many Pair Of Shoes Do You Go Through On The Appalachian Trail?
Appalachian Trail hikers have to change their shoes depending on the following situations:
The distance they are willing to cover.
How old they are?
Either they are male or female.
The average km hike per day.
What type and quality of footwear they are using for their trip?
and many more.
Usually, hikers have to change their shoes when they walk around 300 to 500 miles with them. A long-distance hiker who wants to complete their hiking trip on the Appalachian Trail might have to went through 3 to 4 pairs of shoes.
What Do Hikers Prefer in Their Shoe?
There are many factors that affect a hiker's preference for shoes such as
The type of terrain.
Weather.
Hiking distance,
and others. 
Conclusion
In conclusion, to find the best hiking shoes for the Appalachian Trail, you need to consider your foot size, your physical condition, and your personal preferences. The right hiking shoes will make the difference between a fun, memorable experience and a painful, miserable one.
I hope that you found this article useful. You can also leave your valuable comment for further queries.